Not everyone has a credit card, and those who do have one don't always prefer to use it. There are many reasons for this especially when booking something online, ranging from lower credit limit to security concerns. The fact is, in Southeast Asia, cash is still king. Yet, many airlines leave online users with no other option.
Thankfully, some airlines continue to provide more alternatives to credit cards. Scoot, for example, has recently announced their partnership with DragonPay! This is great news because Scoot is a formidable force in the low-cost aviation in the region. They're one of the very few budget airlines that connect the region to destinations like the Maldives, Berlin, and Athens! Having more payment options means allowing more Southeast Asians like Filipinos to reach more places and new heights.
"The Asian payment landscape is fragmented and diverse. No two countries have the exact same preferences, and this is something Scoot has addressed by continuously expanding the payment methods by which customers can access its services across its global network," said Warren Hayashi, President of Adyen Asia-Pacific. "To encourage customer loyalty and a seamless transaction, businesses need to offer payment methods that customers trust. We are excited to continue working closely with Scoot in both the Philippines and China to ensure customers enjoy a frictionless and convenient experience when they fly with Scoot,"
With Dragonpay, customers in the Philippines can book flights online and pay for add-ons. The options available include: payment center, online banking, over-the-counter cash at banks, physical ATM payments and GCash credits.
These additional payment options make Scoot's low fares within reach for budget travelers in the Philippines. Customers can now book flights to the Maldives, India, Australia, Germany (Berlin) and Greece (Athens) via Singapore.
WHAT'S COVERED IN THIS GUIDE?
How to Book Scoot Flights
Visit www.flyscoot.com.
Choose your destination, dates of flights, and number of travelers.

Select your flights. You'll be presented with a weekly calendar with available flights and fares (rectangle-marked in the screenshot below.). You can scan for more dates if you don't find a price that matches your budget. If you need to change dates or destinations, click on the EDIT button on the top bar (encircled). If you can't find a good price yet and you want to be notified when the rates lower, click on the WATCH PRICES button on the right side (arrow-marked).

Once you have chosen a flight, click on it. You'll be presented with options: FLY, FLYBAG, FLYBAGEAT, and SCOOTBIZ. Choose the best for you.
– FLY, you'll be paying for the seat only. No baggage allowance or meal.
– FLYBAG, seat and baggage allowance only. No meals.
– FLYBAGEAT, you'll be paying for the fare, baggage allowance, and meals.
– SCOOTBIZ, business class.
Once you've picked for both flights, click on NEXT PLEASE.

Fill out passenger information and contact details. You'll also have the option to choose meals or add baggage allowance here. On the next page, you'll be asked to choose your seats. You can skip it.

You will then arrive at the payment option page. Choose the option that is most convenient for you.
---
How to Pay Using DragonPay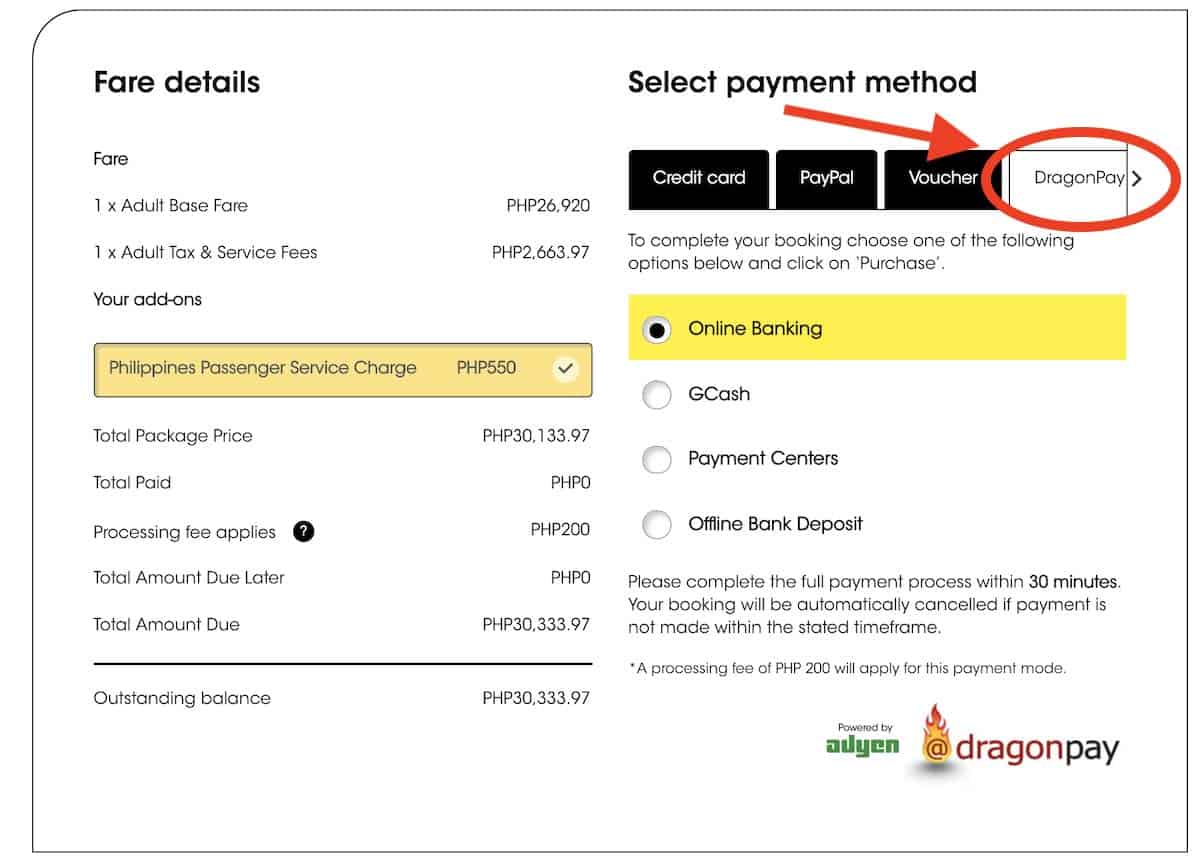 On the next page, you will be asked to enter your contact details and choose your payment option. You'll see several choices: credit card, PayPal, voucher, and DragonPay. Click on DragonPay!
Choose whether you want to pay via: Online Banking, GCash, Payment Centers or Offline Bank Deposit.
Follow the steps below, depending on the payment mode you have chosen.
Make sure to pay within 24 hours. Otherwise, your booking will be automatically cancelled.
Once payment is done, you should receive an email from Scoot confirming your booking!
---
Via Payment Center
At the payment option page, select PAYMENT CENTER.
You will be transferred to a 'Payment Voucher' page. Write down or take a screenshot of the reference number and exact amount you need to pay.
Go to any of the following payment centers: Robinson's, SM, Cebuana Lhuillier, LBC or Bayad Center.
Show them the reference number and exact amount of your purchase.
---
Via Online Banking
At the payment option page, select Online Banking.
You will be redirected to another page where you'll select which bank you'll be making the payment through. You'll also see the reference number and the exact amount you need to pay.
Choose your bank. Type in your mobile number. The bank will send a one time password (OTP) for verification. Check your phone and type the password given to you.
Proceed with the payment transaction.
---
Via GCash
At the payment option page, select GCash.
You will be redirected to another page where it will ask for your Globe mobile number.
Type your mobile number and click PAY.
---
Via Offline Bank Deposit
At the payment option page, select OFFLINE BANK DEPOSIT.
You'll be redirected to a different page where you'll select which bank you'll deposit in.
After making the selection, you'll be redirected to another page the 'Payment Voucher.' It contains the reference number, the expiration date and time of the voucher, and a P50 additional fee.
Go to your bank and pay. For example, for BPI, go to the electronic kiosk and choose 'BILLS PAYMENT >> Other Merchants. You'll then need to input the account name and number. Type in 'Dragonpay Corporation' for 'BILLER NAME' and 0071071065 for the 'ACCOUNT NUMBER.' When asked for a reference number, input the one found on the 'Payment Voucher' page and enter the EXACT AMOUNT to be paid.
Customer's don't have to use a credit card to fulfill their wanderlust and go on an epic adventure to their dream destination with Scoot. They can choose from different payment options when booking online.
---
Cover image courtesy of Scoot.
2️⃣0️⃣1️⃣8️⃣ • 1️⃣2️⃣ • 2️⃣0️⃣
---