Published: June 2020. For the latest protocol and other updates, visit the official Cebu Pacific website.
---
If you will be flying soon, know that there have been changes to the airport, check-in, boarding and deplaning processes. Airlines and airports have implemented preventive safety and sanitation measures that are a lot stricter.
Cebu Pacific recently published an album of infographics featuring their new travel guidelines for a safer contact-less experience. Here they are. If the images are too small or unreadable on your device, we also typed them down.
WHAT'S COVERED IN THIS GUIDE?
Booking Flights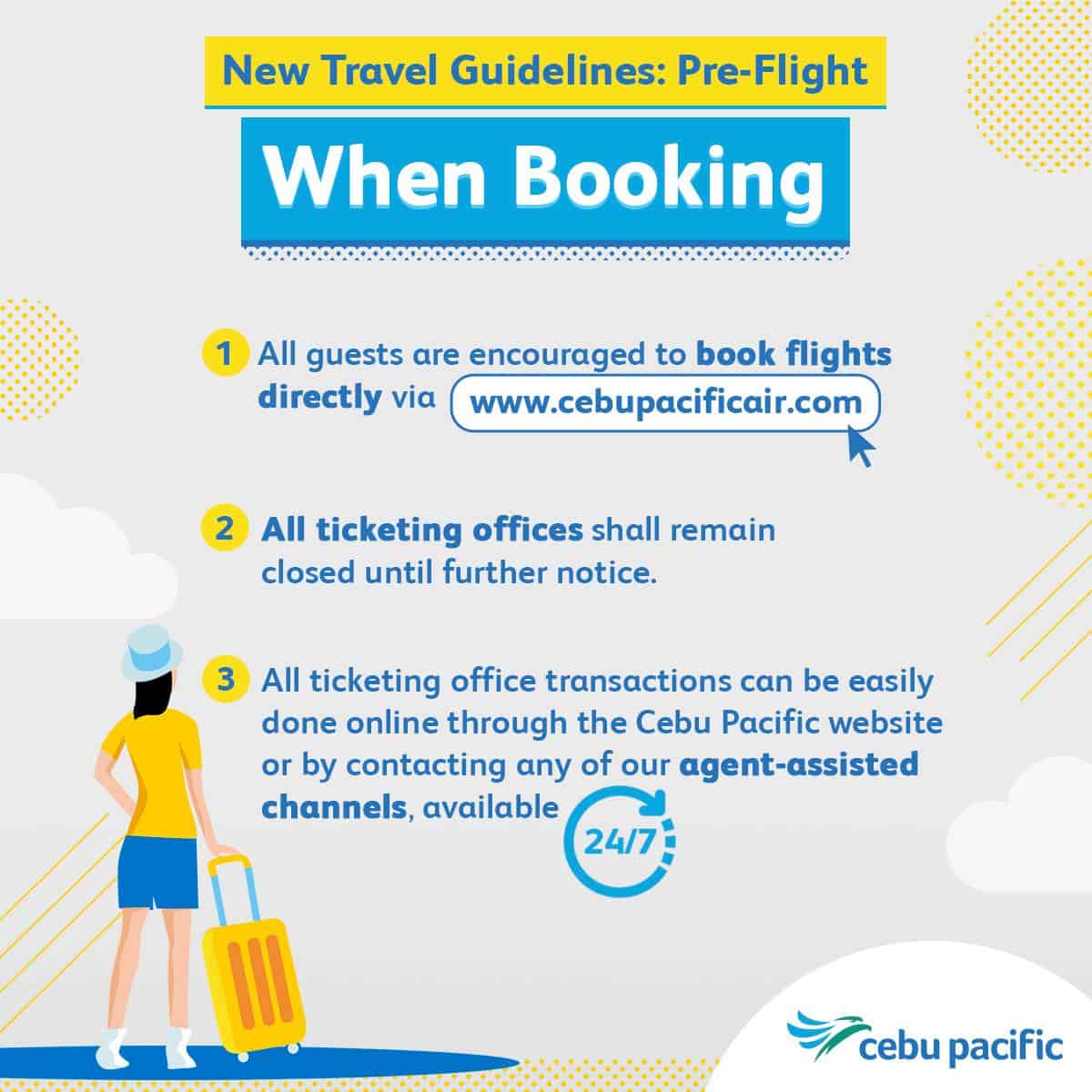 Cebu Pacific encourages guests to book their flights directly on their website.
Ticketing offices will remain closed until further notice.
Transactions done at ticketing offices can be done through the Cebu Pacific website or through their agent-assisted channels that are available 24/7.
---
Before Going to the Airport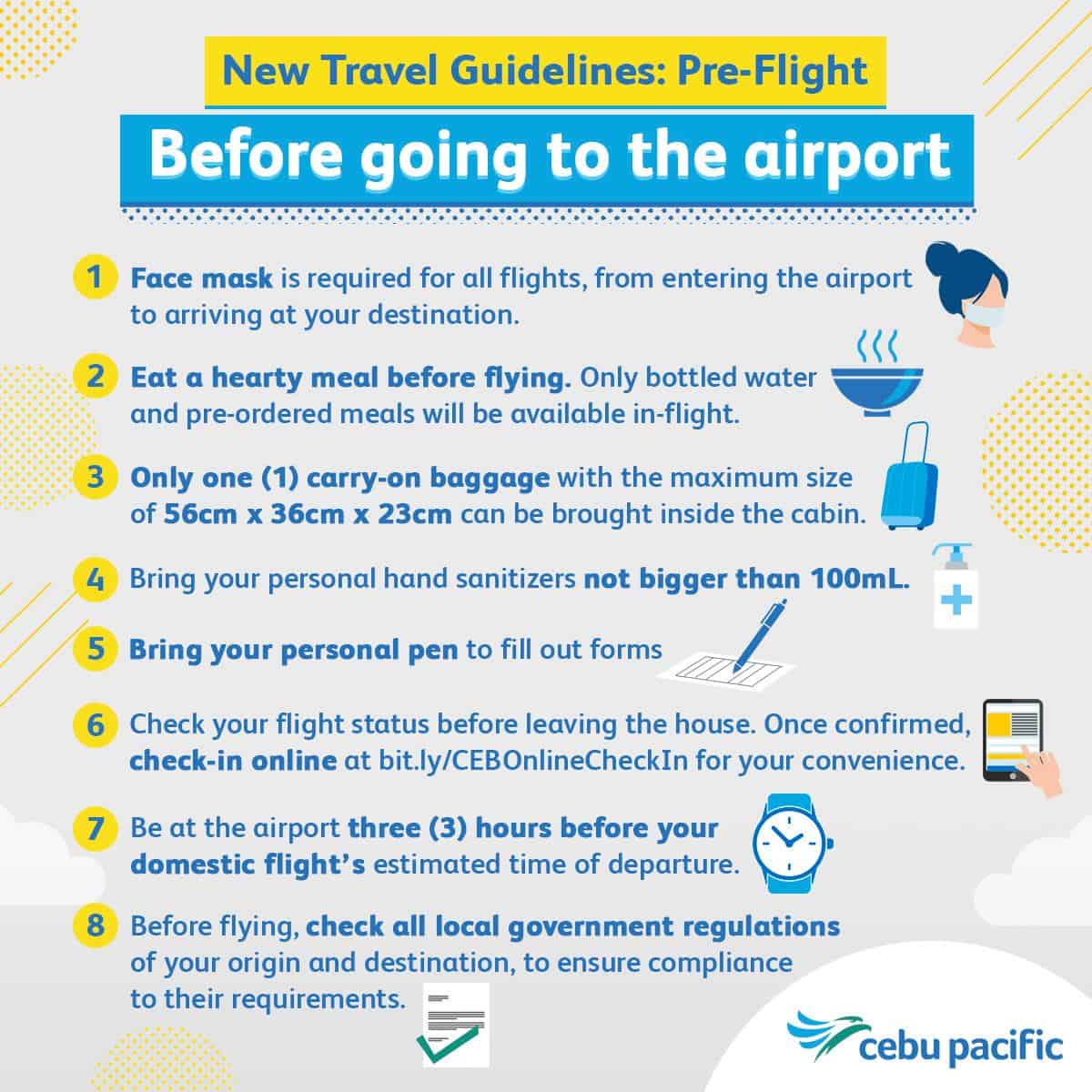 Face mask is required from entering the airport to arriving at your destination. This is applicable for all flights.
Have a meal before flying. Only pre-ordered meals and bottled water will be available in-flight.
Each passenger can only bring one carry-on baggage with the maximum size of 56cm x 36cm x 23cm inside the cabin.
Passengers must bring personal hand sanitizers not bigger than 100ml.
You must bring a personal pen to fill out forms.
Before leaving the house, check your flight status and once confirmed, check-in online for your convenience.
For domestic lights, be at the airport 3 hours before your estimated time of departure.
Check all local government regulations of your origin and destination before flying to make sure you can comply to their requirements.
---
At the Airport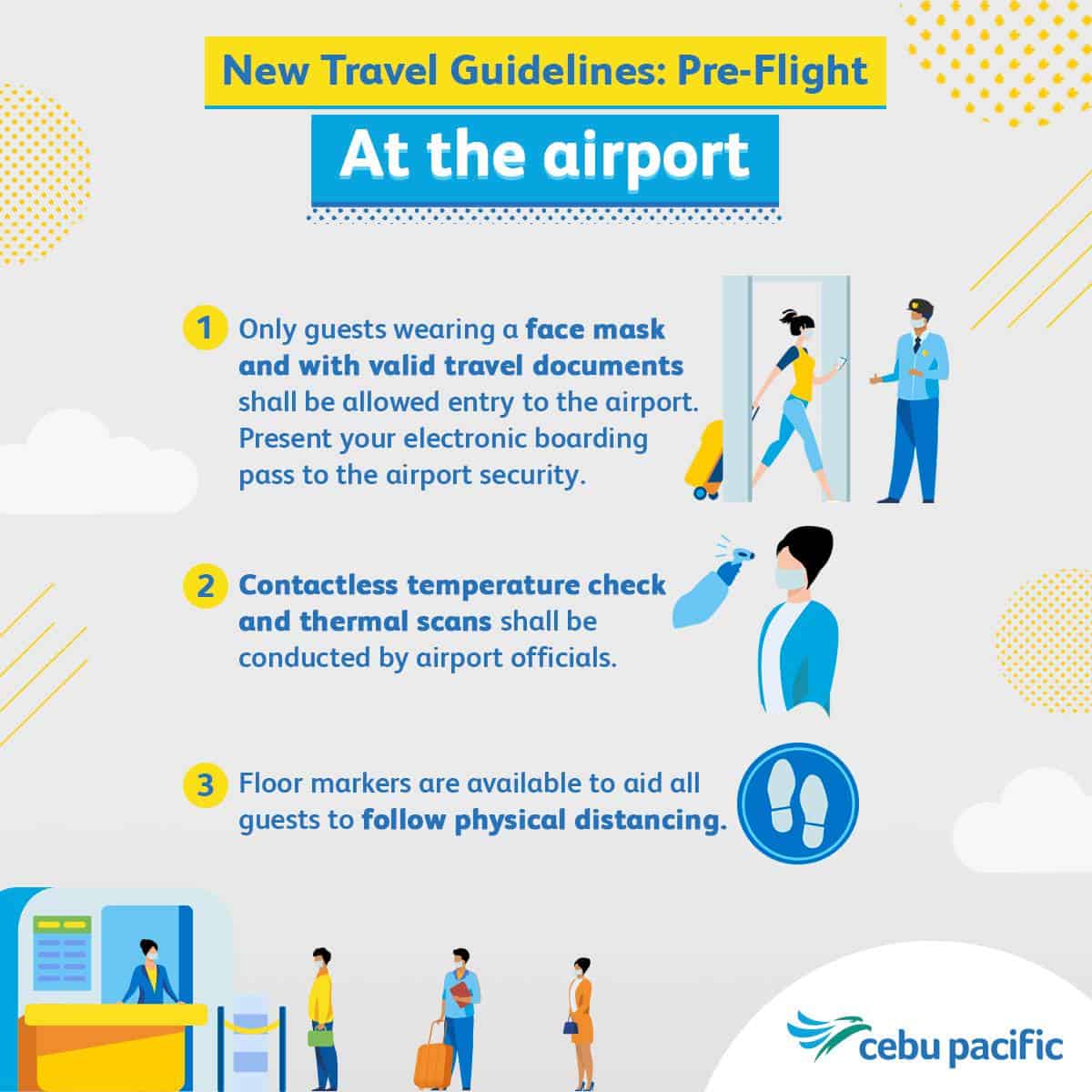 Only guests with a valid travel documents and wearing a face mask shall be allowed to enter the airport. Guests must present their electronic boarding pass to the airport security.
Airport officials will conduct contactless temperature check and thermal scans.
Follow the floor markers to maintain physical distancing.
---
Check-in or Bag Drop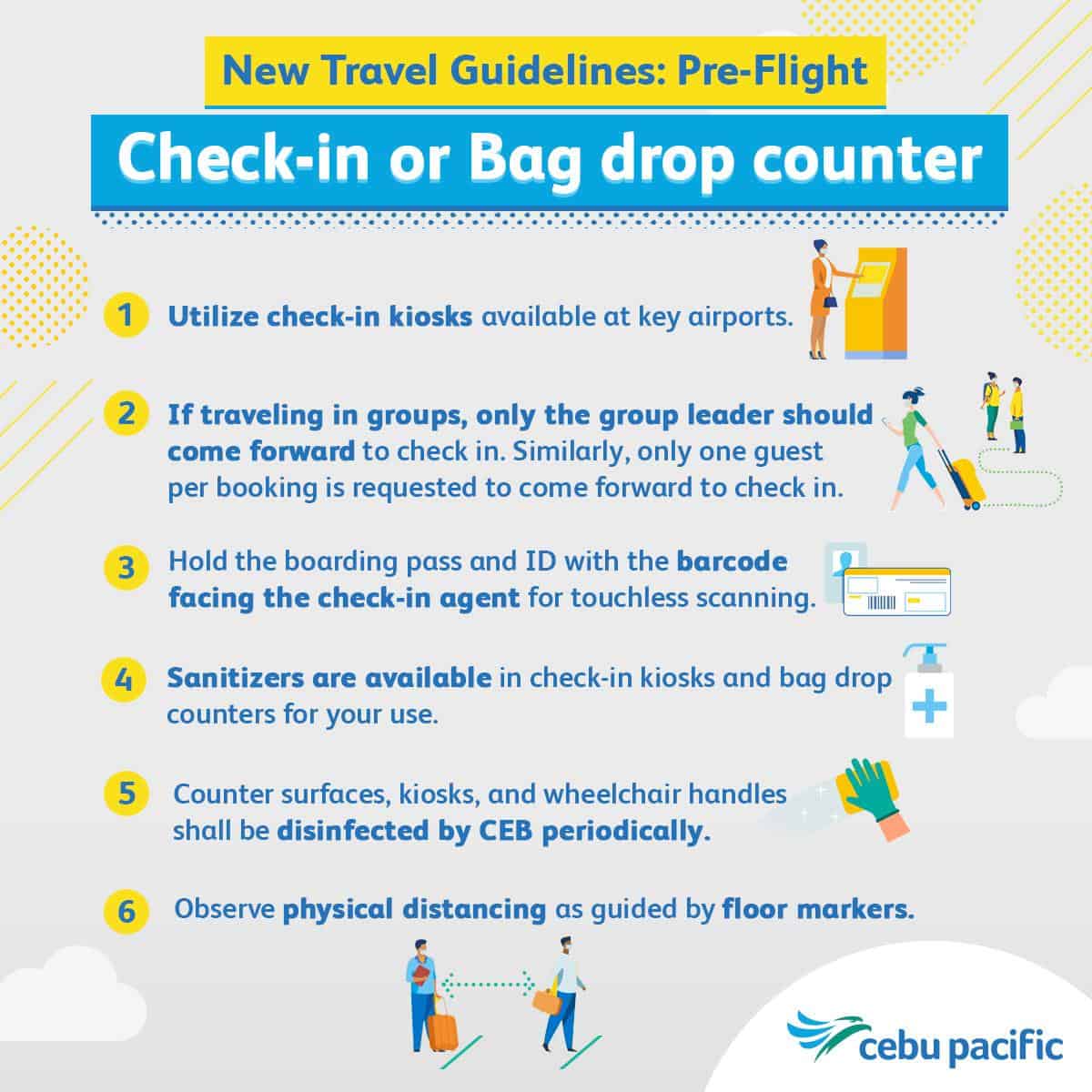 Use check-in kiosks available at key airports.
If traveling with a group, only the group leader should come forward to check-in. Likewise, only one guest per booking must come forward to check-in.
Make sure you hold your boarding pass and ID with the bar code facing the check-in agent for touchless scanning.
There are available sanitizers in check-in kiosks and bag drop counters for guests to use.
CEB shall disinfect counter surfaces, kiosks, wheelchair handles periodically.
Maintain physical distancing at all times by following the floor markers.
---
Pre-Departure and Boarding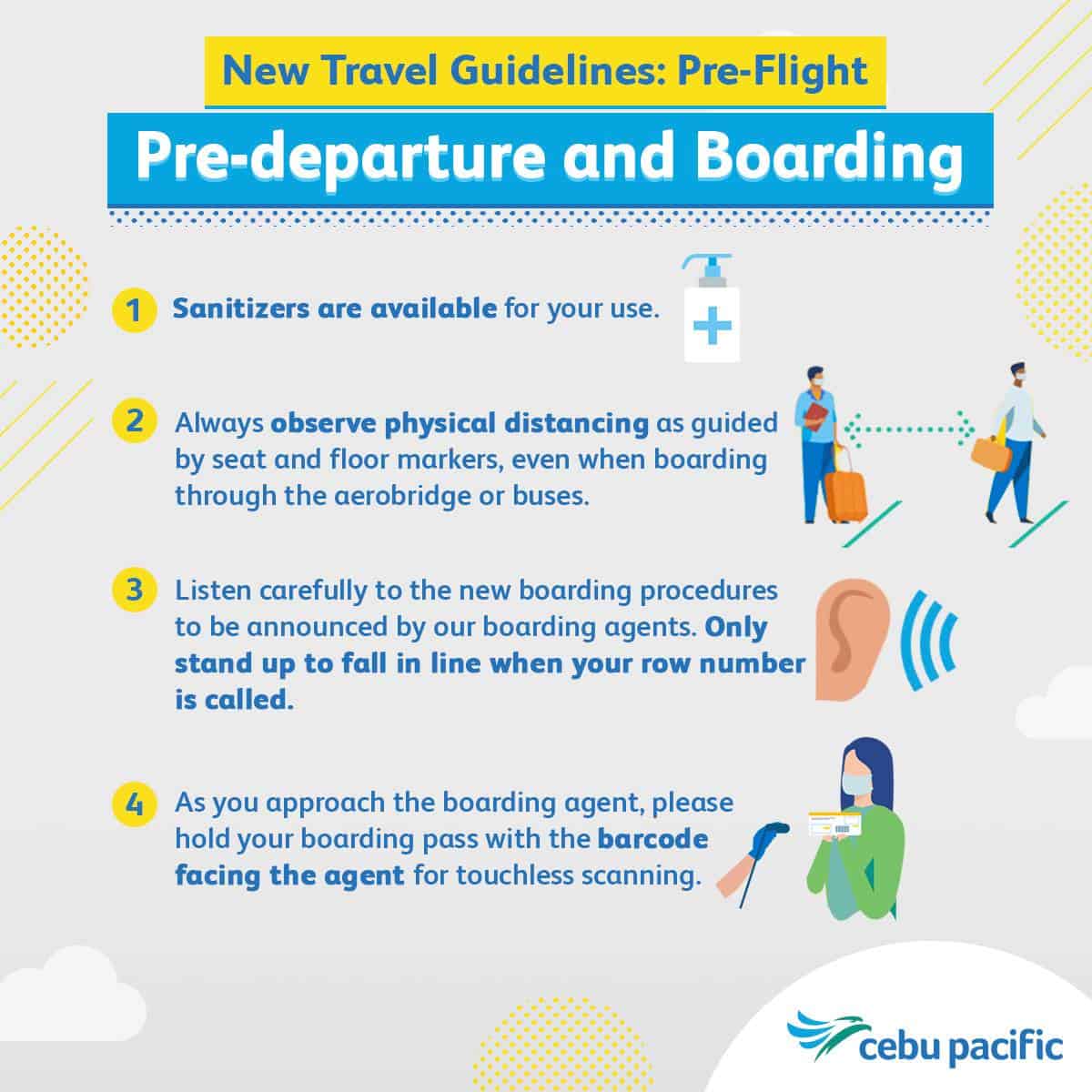 Sanitizers are available for guests to use.
Observe physical distancing at all times by following the seat and floor markers, even when boarding through the aerobridge and buses.
Listen intently to the new boarding procedures to be announced by boarding agents. Stand up and fall in line only when your row number is called.
Hold your boarding pass with the barcode facing the boarding agent when you approach for touchless scanning.
---
Inside the Aircraft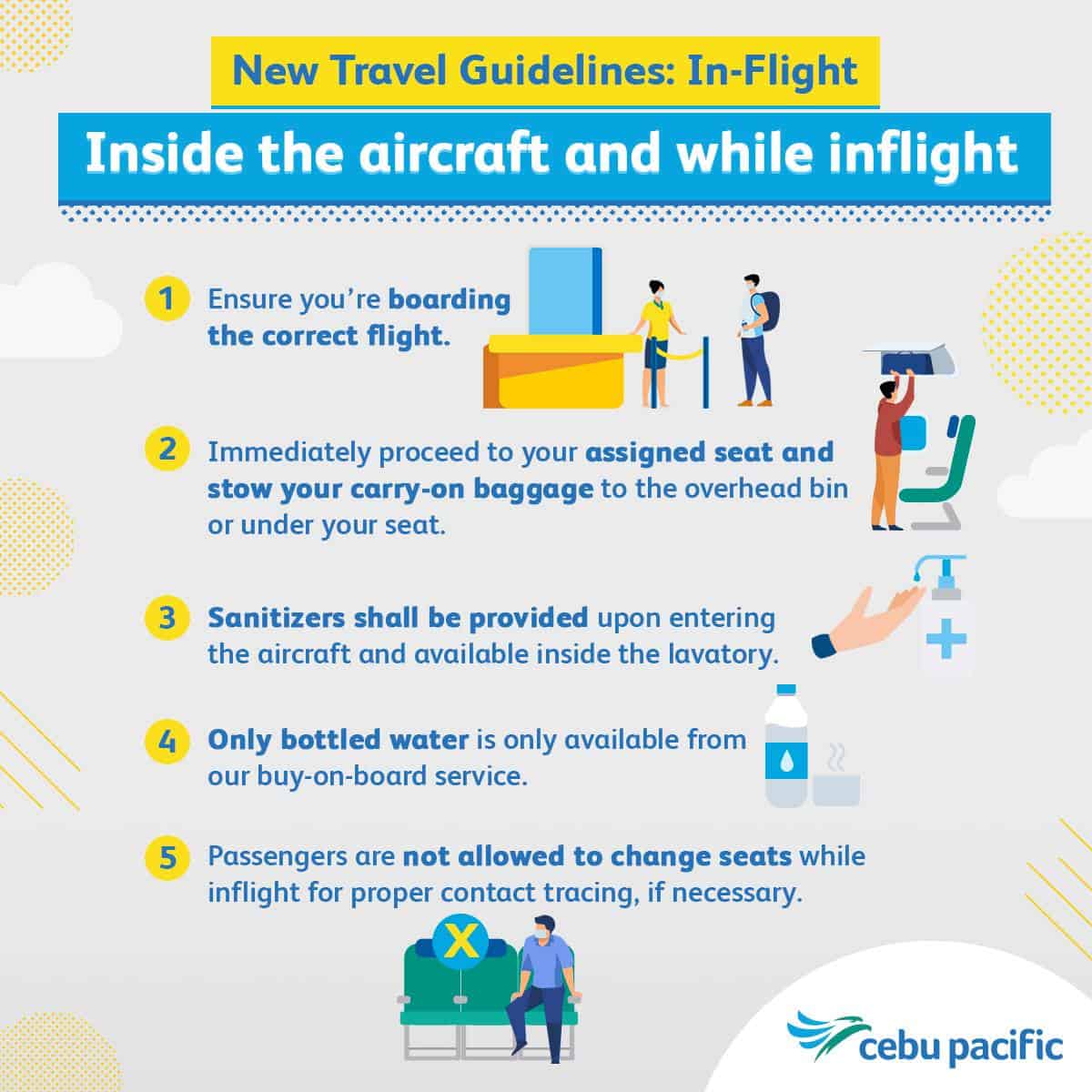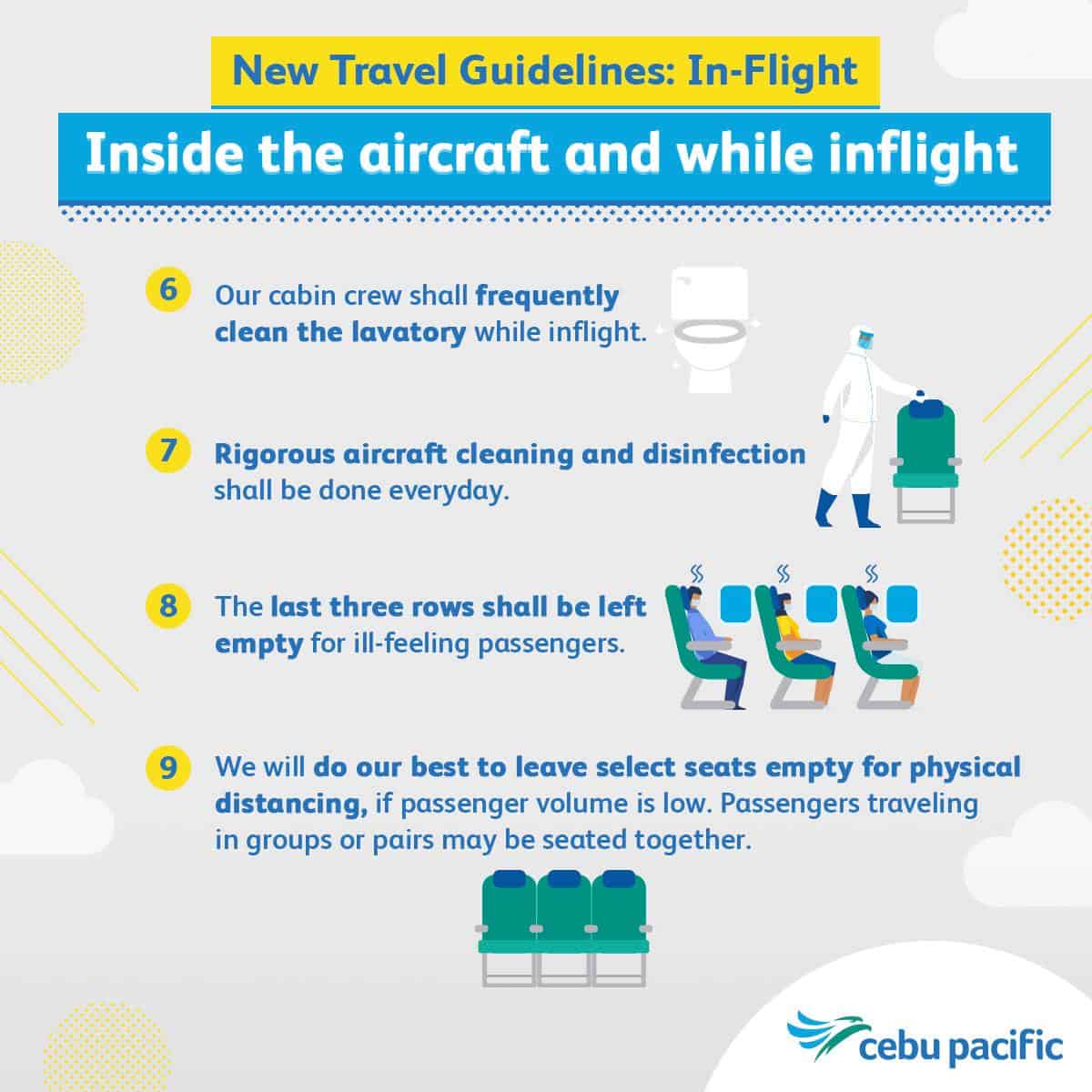 Make sure you're boarding the correct flight.
Proceed to your assigned seat and stow your carry-on baggage to the overhead bin or under your seat immediately.
Sanitizers must be provided upon entering the aircraft and available in the lavatory.
Buy-on-board service only offers bottled water.
Passengers won't be allowed to change seats while in-flight for proper contact tracing, If necessary.
The cabin crew shall clean the lavatory frequently while in-flight.
Rigorous aircraft cleaning and disinfection shall be done daily.
The last three rows shall be left empty for ill-feeling passengers, if any.
For physical distancing, select seats will be left empty if passenger volume is low. Passengers traveling in groups or pairs may be seated together.
---
Deplaning and Disembarkation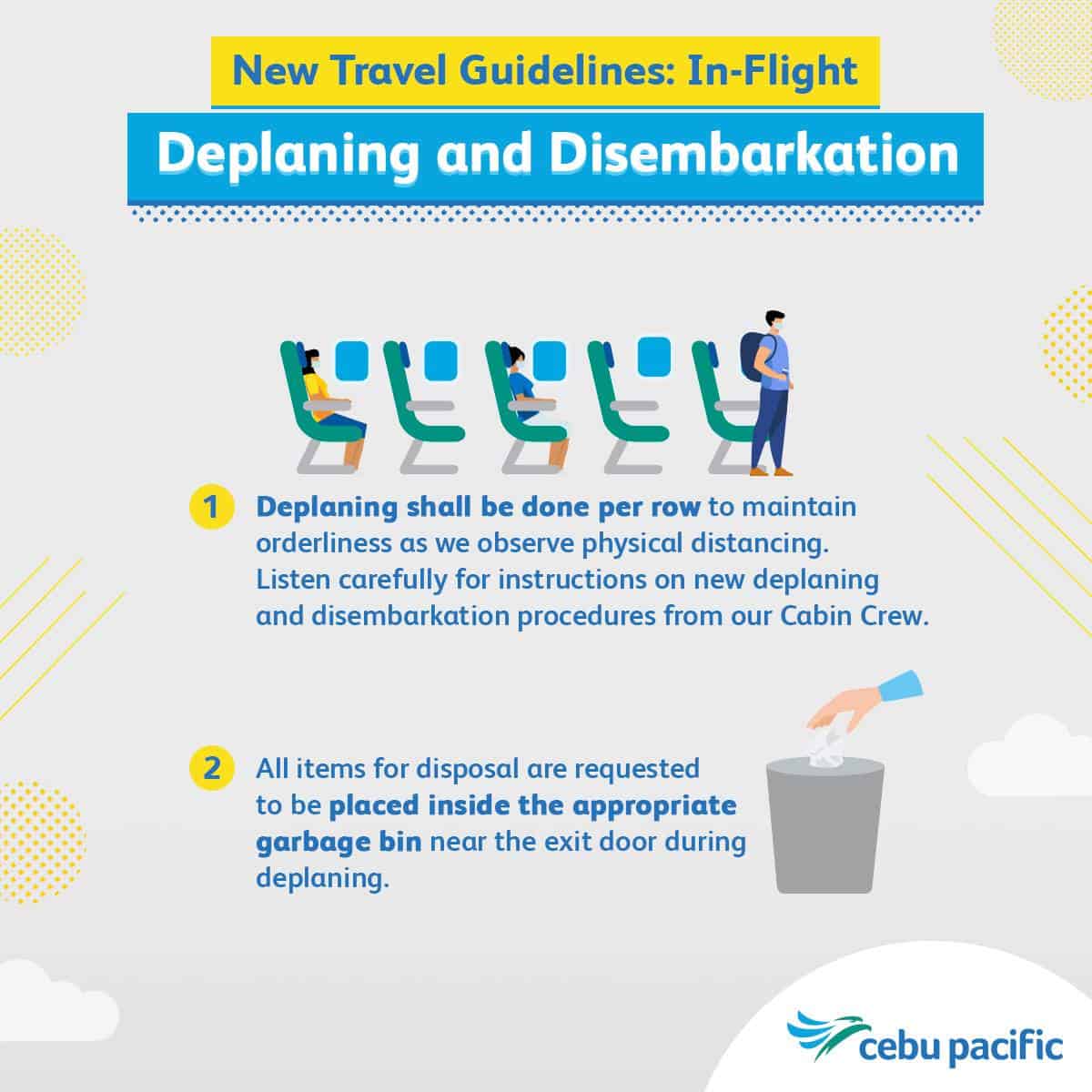 Deplaning shall be done per row to maintain orderliness and observe physical distancing. Listen carefully to new deplaning and disembarkation procedure instructions from the Cabin Crew.
All items for disposal are requested to be thrown in the appropriate garage bin near the exit door during deplaning.
---
Arrival at the Airport Destination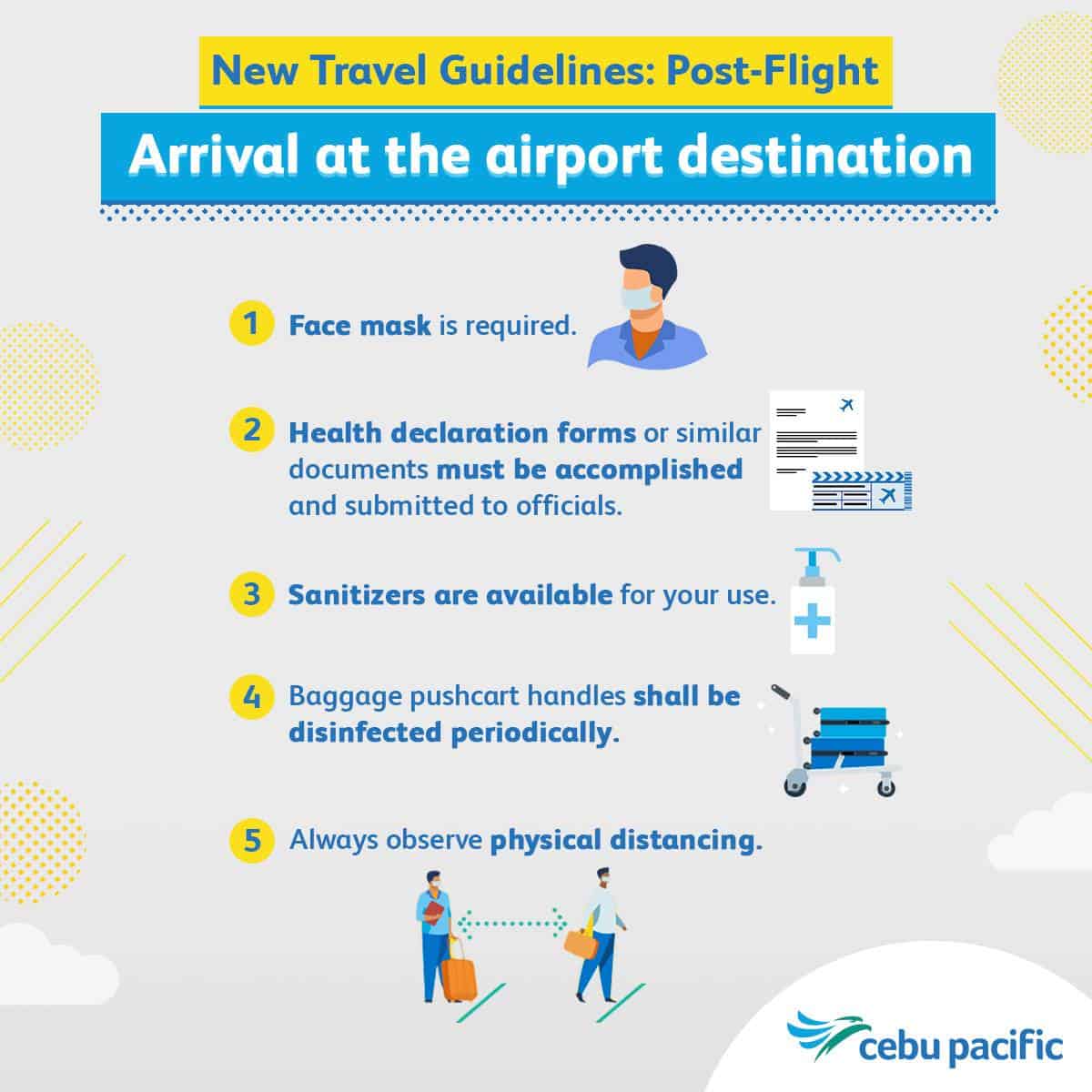 Face mask is required.
Guests shall accomplish health declaration forms or similar documents and submit them to officials.
Sanitizers are available for guests to use.
Baggage pushcart handles shall be disinfected regularly.
Physical distancing must be observed at all times.
For a swift and hassle-free journey, before booking a flight, get in touch with the local government unit of your origin or destination to check for travel requirements.
---
Related Posts
---