Published: 2020 • 6 • 23
A few months after its temporary closure last January, Hong Kong Disneyland has finally opened its doors again. Disney characters and cast members welcomed guests back on 18 June 2020.
For the protection of the guests as they go on their magical journey, the resort started implementing several health and safety measures and social distancing guidelines.
Here are the new and enhanced health and sanitation measures being implemented at Hong Kong Disneyland:
❗️IMPORTANT REMINDER❗️ Travel for leisure in and from the Philippines remains prohibited. This article is for those who are planning a trip much later, when travel for leisure is allowed; and for those coming from parts of the world without any restrictions for Hong Kong travel.
When Planning Your Visit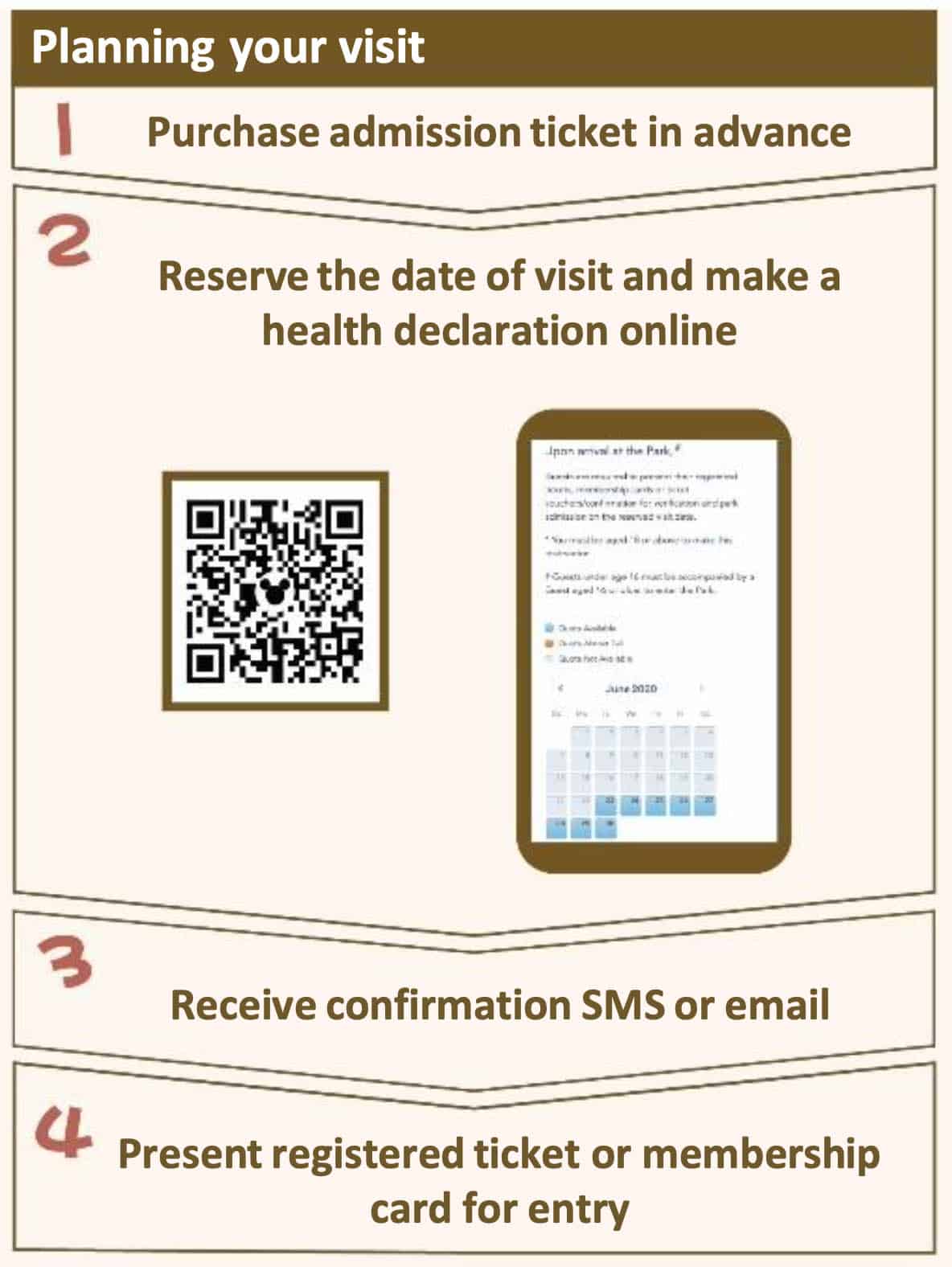 Purchase admission tickets in advance. The park now requires advance reservations as part of their new measures and procedures.
Reserve the date of visit and make a health declaration online. There is no specific cut-off time for each day's reservations, but a quota is set for park admission every day. Guests will not be able to register once the quota is reached.
Check your inbox. You should receive a confirmation SMS or email.
Present registered ticket or membership card for entry. Don't forget to have it ready with you before entry.
---
Before You Visit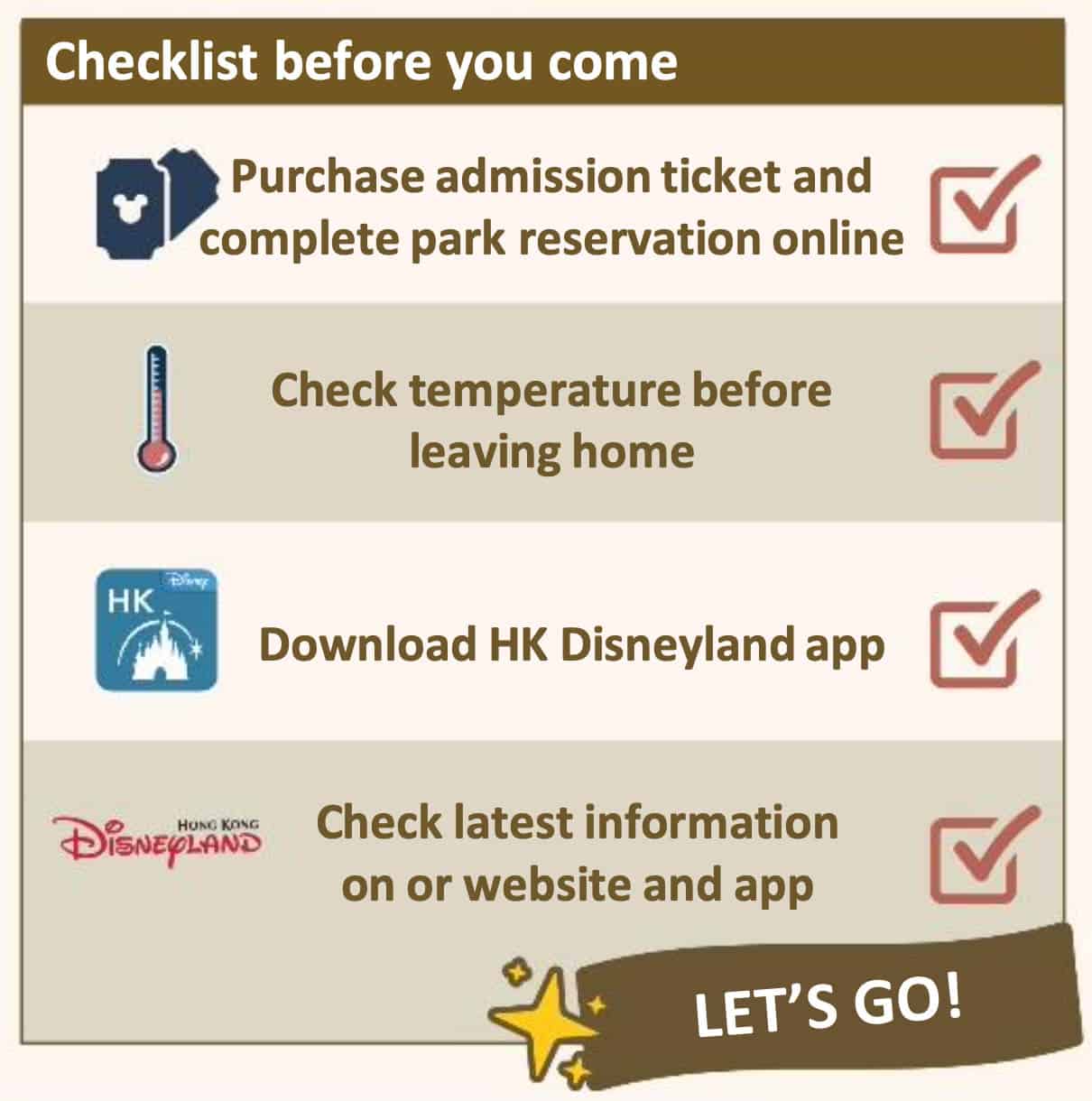 Purchase admission ticket and complete park reservation online. Each reservation is limited to one ticket or membership card, but if you're going with a group, you can make reservations for additional tickets or membership cards using the same contact information.
Check temperature before leaving home. Note that the ideal body temperature is from 36.1°C to 37.2°C.
Download HK Disneyland app. The HK Disneyland app is available for both iOS and android. It keeps guests informed about everything from operating hours to entertainment schedules. It also has a GPS enabled map to help you find your way around the park including the lolcations of hand sanitizers available throughout the resort. You can also make reservations for park restaurants through the app.
Check latest information on the Hong Kong Disneyland website. You may also check the official app.
---
At the Park
Temperature will be screened before entering the resort. Anyone with a temperature of 37.5°C or higher will not be allowed to enter.
Wear a face mask and maintain social distancing. Guests are required to wear a face mask at all times except when having food or drinks at catering premises.
Follow floor markers and instructions of cast members when queuing. This is to ensure social distancing.
Follow capacity control notices on queues and at restaurants, merchandise stores, and attractions to maintain social distancing.
Hand sanitizer dispensers throughout the park. If you want to locate these dispensers, you can check the HK Disneyland app.
An increased frequency of cleaning will be done throughout the resort. High-touched locations like ride vehicles, handle bars, and queue railings will be cleaned and sanitized more frequently.
Use contactless or cashless payment as much as possible. This is to minimize contact with the staff.
Use the mobile app to view more info like restaurant menus, attraction availability and showtimes on the HK Disneyland app.
Here's an infographic summarizing the guidelines.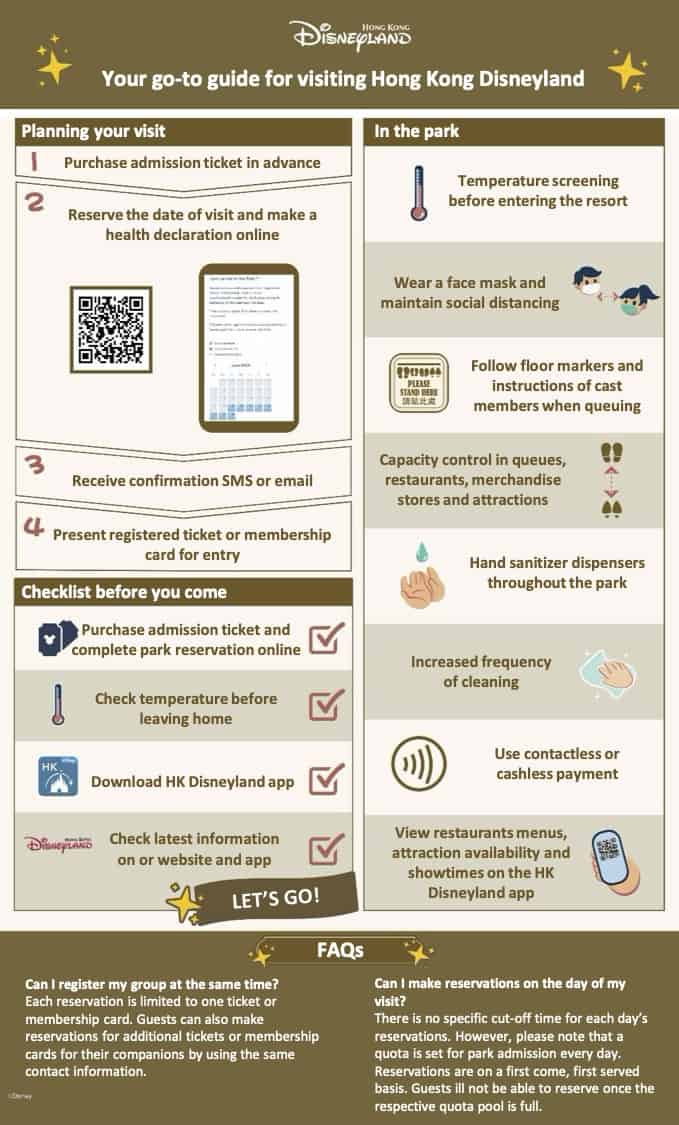 You can also download a PDF version.
Guests are also in for a treat for new surprises from Disney characters Mickey Mouse, Minnie Mouse, and their closest friends. There are also food and beverage offerings and merchandise to welcome back guests as they create magical memories.
During a special celebration to mark the official reopening of Hong Kong Disneyland, Stephanie Young, Managing Director of the resort announced the continued construction of the Castle of Magical Dreams, which is something to look forward to. It is now on its final stage of transformation and is scheduled to launch late this year. "The castle will stand as a shining beacon of courage, hope and possibility, which we will forever hold dear to our heart," said Young.
---
Featured image and infographics provided by Hong Kong Disneyland.
---