Our trip to Hong Kong was filled with first times. For starters, it was my family's first trip abroad. It was also my first time in Hong Kong. It was their first time to ride the plane and first time to stay at an airport. Imagine the excitement of my mom, sister, niece and nephew. That's why even though our flight was scheduled at 5:40 am, we were already at the NAIA Terminal 3 as early as 3am.
What to Do Upon Checking In
Cebu Pacific Air's check in counter opens at around 4am so we had a full hour to kill. We decided to check the important items that we needed to bring. I'd like to share with you our check list!
Passports
Cebu Pacific Air tickets/itinerary
DSWD travel clearance (only if you have minors whose parents are not going with you)
Valid IDs (just to be safe. The passport serves as an ID already)
Credit cards (in case we decided to splurge)
Money (in US dollars)
Maps of Hong Kong
Our itinerary in Hong Kong
A sheet of paper where we wrote important contact numbers and addresses (Important!)
A pen!
You might be thinking, "Why should I bring a pen?" Well, you will need it. In fact, one of the first things you should do is to find a stack of immigration forms at the check in counter. Accomplish the immigration form by providing personal information and the address of the hotel where you will be staying. Thus the sheet of paper with addresses and contact numbers in the check list. You should also accomplish forms for the children with you. You will need to present these forms with your passport and ticket upon check in.
After filling out the forms, we fell in line and when it was our turn, we handed the check-in agent our documents. We decided not to check in any baggage since we were traveling light. But apparently, my sister brought an umbrella. Umbrellas are not allowed to be hand-carried in the Philippines so we had to throw it away. Poor umbrella.
Travel Tax and Departure Fee
After the check-in agent processed our boarding passes, he asked us to pay the travel tax and departure fee first (the counter for this is at the near end of the airport).
Travel tax — P1,620
Departure fee — P550.
After paying, we returned to the check-in counter and secured our boarding passes. (We didn't have to fall in line this time. The check-in agent just handed them to us.) We then headed to the Immigration Booths to have our passports stamped. Yipee! May tatak na naman passport ko! Simple joys, sorry. :P
And then of course, the final security check.
During the Flight
Our plane departed at exactly 5:40am as scheduled. My niece and nephew couldn't believe they were on a plane. They kept on looking outside. It was sunrise and the clouds entertained the kids.
At one point during the flight, flight attendants distributed arrival cards to all passengers. We accomplished it.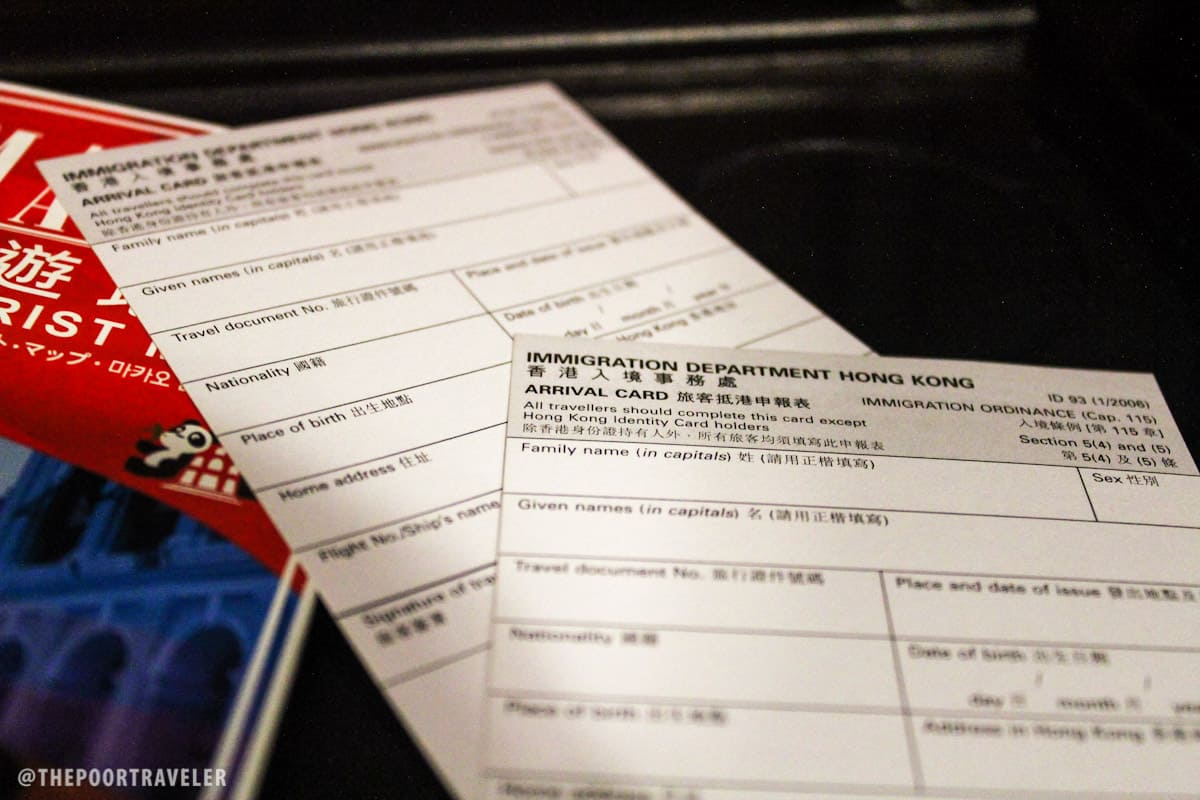 Arriving at Hong Kong International Airport
Our plane landed two hours later, on schedule. However, we were quite saddened by the rain. It was raining so hard when we arrived.
Because our plane parked in the far end of the terminal, we had a long walk to the Immigration Counter. We walked really, really fast because we kinda expected the long lines at this point since the Immigration Officers would be asking routine questions to tourists.
When we approached the Immigration Counters, we presented our passports and immigration cards (the forms we filled out on the plane). As expected, the Immigration Officers asked us routine questions like "When is your flight back to Manila? Where will you stay? Do you know anyone in Hong Kong?"
Another important thing to remember is that taking pictures around the Immigration Area is prohibited.
---
---
Hong Kong Tourism Board Visitor Information and Octopus Cards
After going through Immigration, we chose to drop by the Hong Kong Tourism Board Visitor Information to get free brochures and maps. Yes, it's free so don't be shy grabbing some.
We also bought Octopus Cards for each of us. It was wise to get Octopus Cards because every form of transportation we would use accepted Octopus Cards. We didn't have to worry about coins or change. All we need to do was flash the card when boarding the bus or train.
The standard Octopus Card costs HK$100 plus HK$50 deposit. There is a special rate for children: HK$20 load and HK$50 deposit. The deposit for both standard and children's cards is refundable when you surrender the card. To learn more about Octopus Cards, visit their official website here.
Exchanging Currencies (PHP or US$ to HK$)
While we were planning the trip, we learned from online communities that although the exchange rate at the airport was good, money changers at Tsim Sha Tsui (downtown) offered better rates.
Our original plan was just to exchange a small amount, enough for breakfast and bus fare, and then convert most of our US dollars to HK dollars in Tsim Sha Tsui. Fortunately, we didn't have to do that since we already had Octopus Cards and that was all we need to go to Tsim Sha Tsui.
From the Airport to Tsim Sha Tsui
Tai San Guest House, our hotel, is located in Tsim Sha Tsui. To be exact, it is at 15th floor, Burlington House, 91-94 Nathan Road, Tsim Sha Tsui. It only takes a bus ride to get there from the airport. It was great that the rain subsided a little.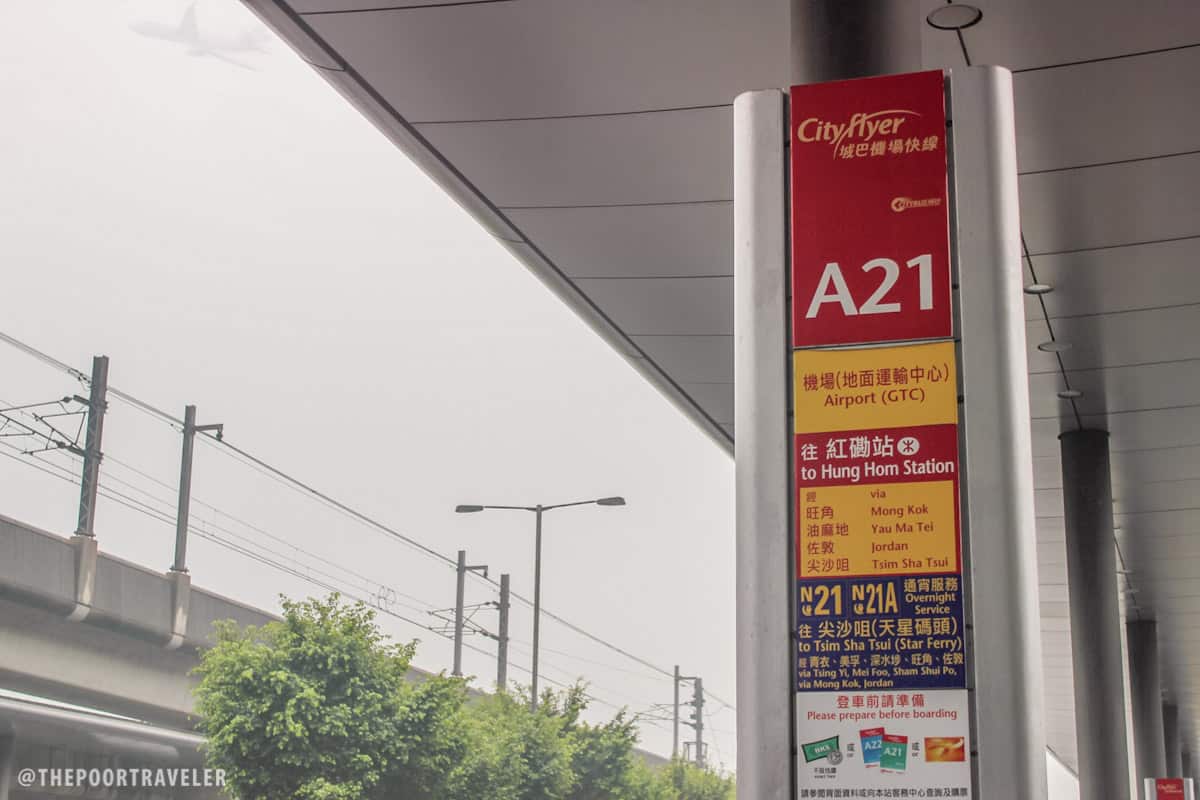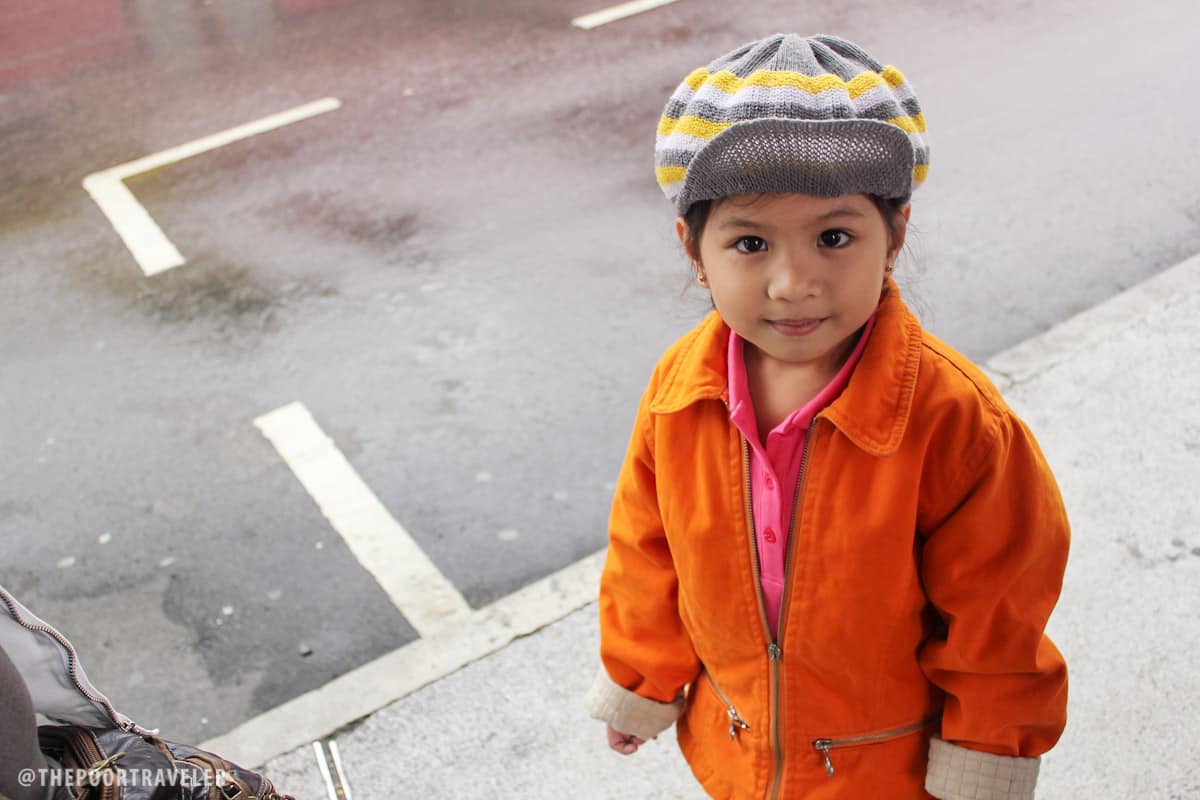 To get there, we boarded an Airbus 21, a double decker bus. It was a long ride but we didn't fall asleep. We didn't want to skip our stop. We knew that the Tsim Sha Tsui bus station was the 13th stop (with the airport being the first) so, silly as it may sound, we actually counted the number of stops. (Actually, we didn't have to do that because the name of the stop was displayed on the screen inside the bus.)