These past few years have highlighted the usefulness and convenience of online banking and cashless transactions. Many of us have relied on various apps and websites, removing cash from many of our transactions.
One of the most popular payment and remittance services is GCash, owned by Mynt, a subsidiary of Globe Telecom. Many online and physical merchants accept GCash as mode of payment, so having a GCash account may prove useful. It's also pretty easy to use, especially when making a GCash-to-GCash transaction.
But it's also possible to pay or transfer money from your bank account to GCash. In this post, we'll share with you how to do just that if you have enrolled your BDO account online. This works for "reloading" your own GCash account (cash in) or sending payment to someone else's GCash account.
If you have a BDO Online account, here's how to transfer funds from BDO to GCash.
1. Visit the BDO website.
You'll find it at https://online.bdo.com.ph/.
You may also visit www.bdo.com.ph and click on the small Online Banking Login button in the upper right corner of the screen. It will open a new tab that will take you to online.bdo.com.ph.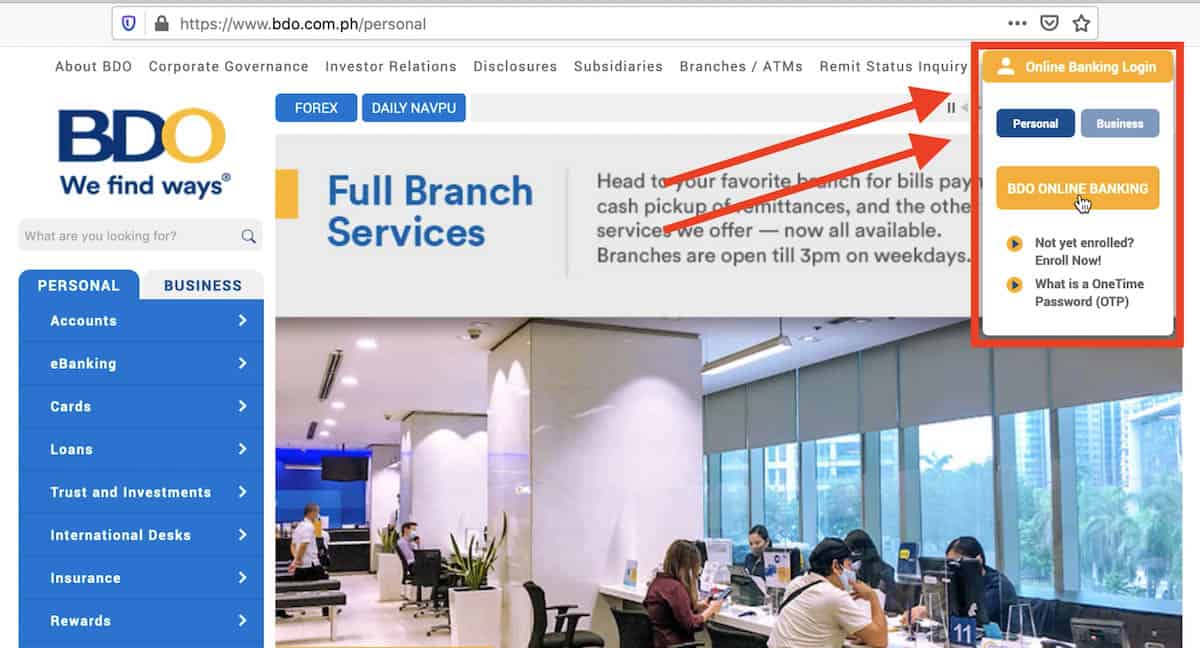 Either way, for security reasons, we strongly recommend that you type the URL yourself and NOT click on any other link you may find online. It's safer that way.
---
2. Log in to your BDO account.
Enter your username and password. Hit enter.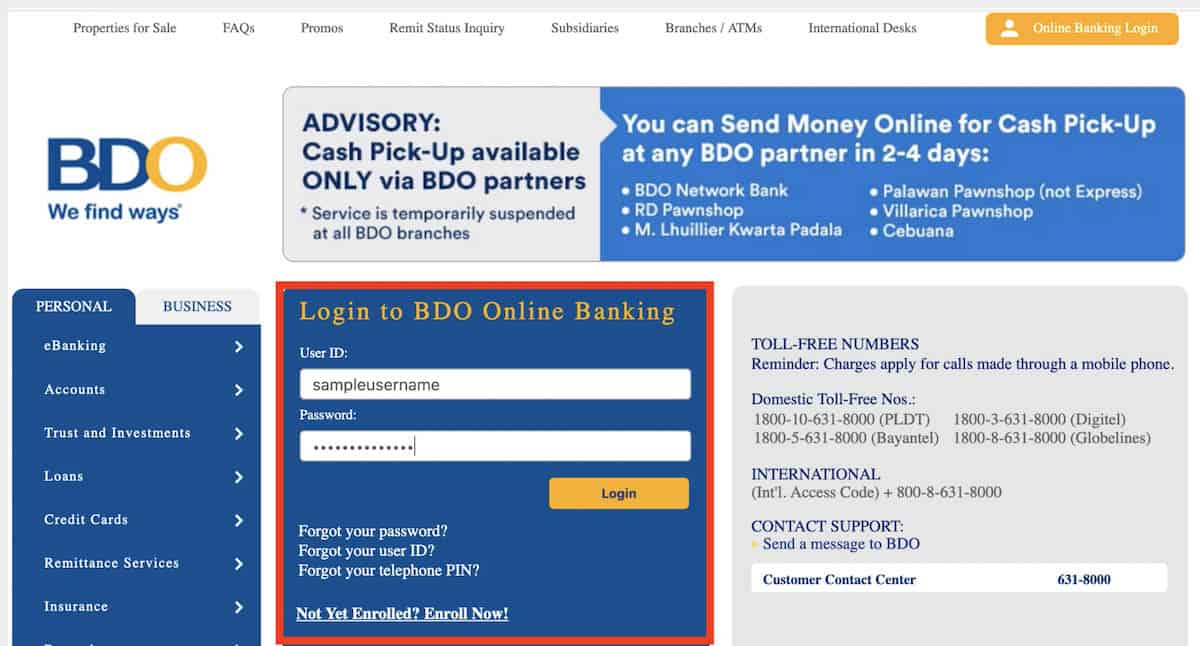 You will be sent a one-time pin (OTP) via your registered mobile number. You need to enter the code within the next five minutes or it will expire.
If you don't have an online account yet, you need to enroll your account first.
---
3. Click on SEND MONEY.
After logging in, you will have an overview of your accounts online. On the left menu, click on SEND MONEY.
A dropdown will appear. Select TO ANOTHER BANK.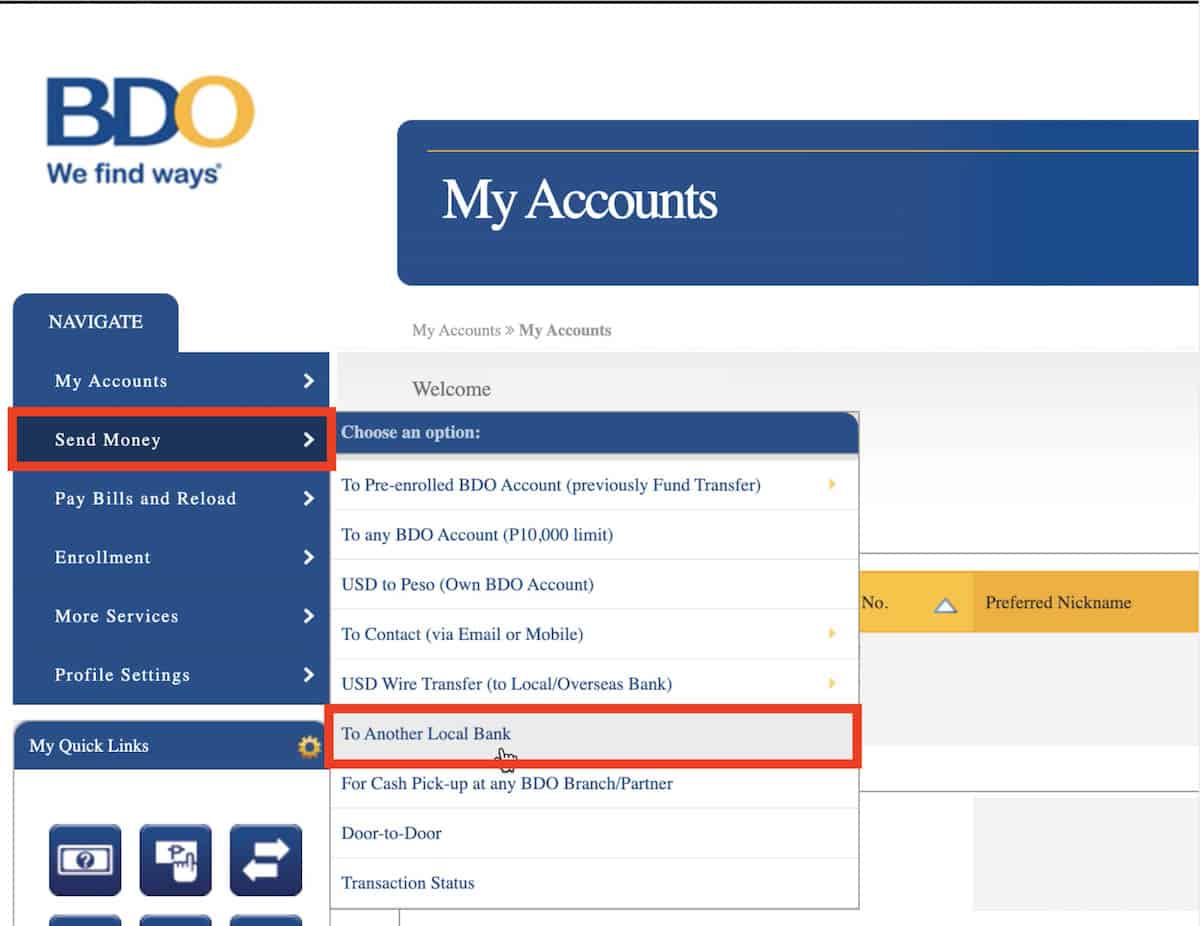 ---
4. Proceed without Template.
On the next page, select PROCEED WITHOUT TEMPLATE if it's your first transaction or you have not saved a template before.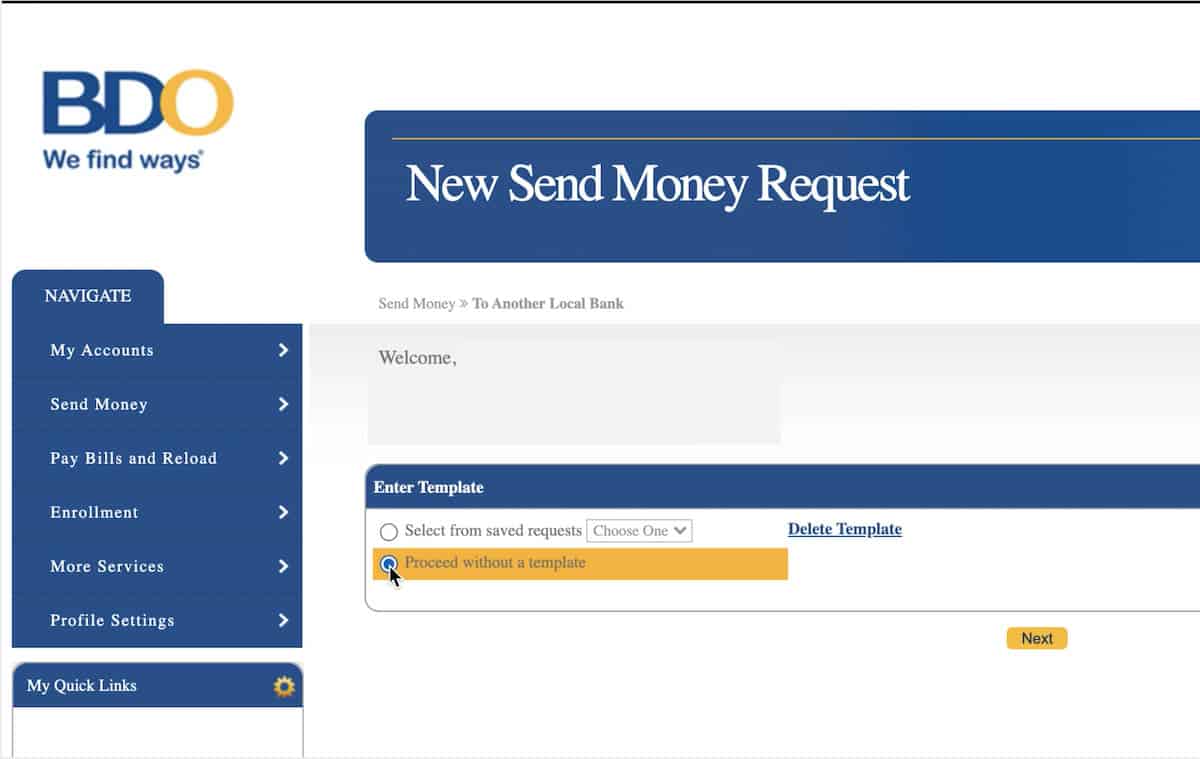 Click NEXT.
---
5. Fill out the next form.
The next page will display a form asking for the following details: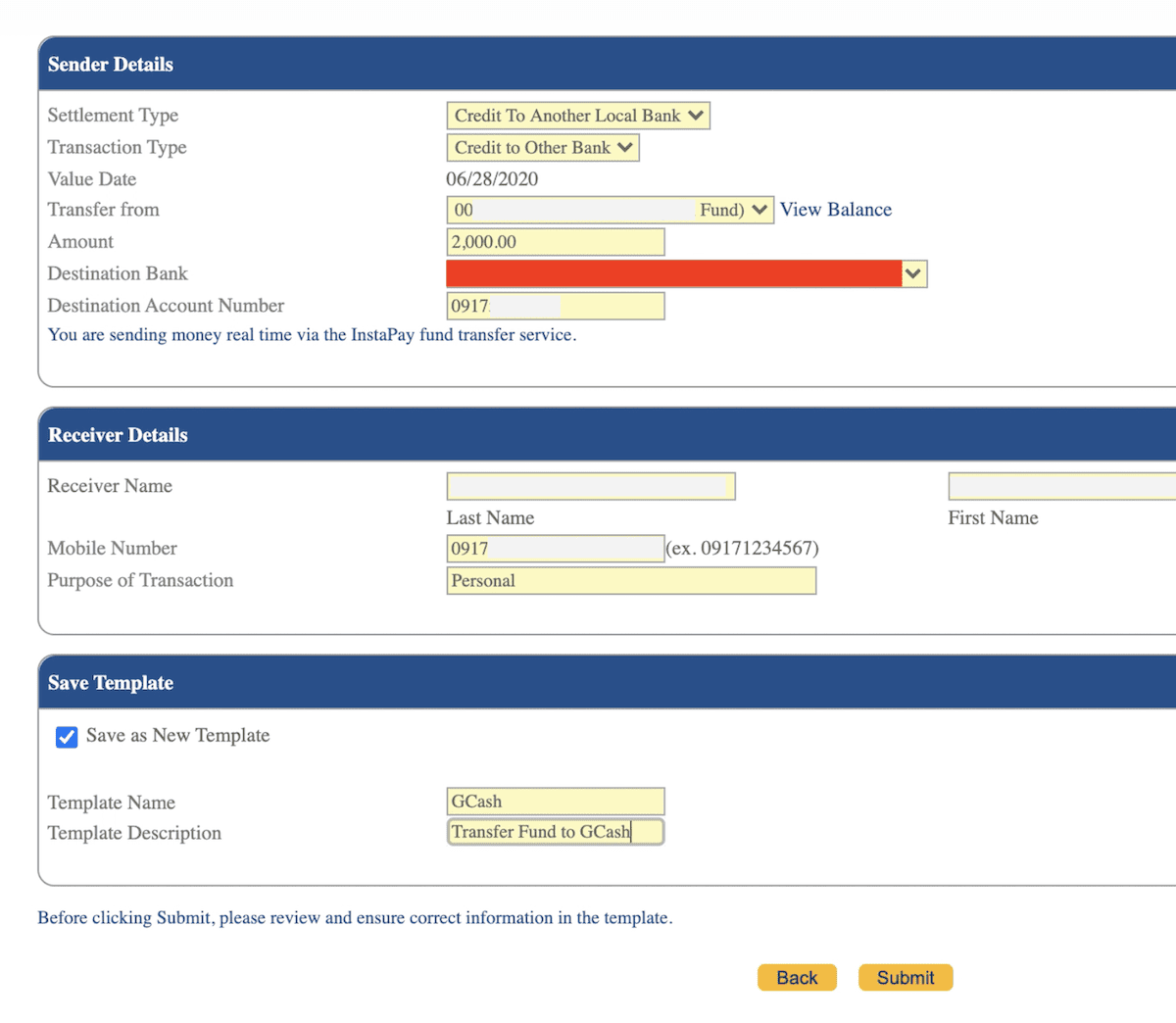 SENDER DETAILS
Settlement Type: Choose CREDIT TO ANOTHER LOCAL BANK.
Transaction Type: Choose CREDIT TO OTHER BANK
Transfer from: Select the account where the funds will be deducted from
Amount: Type the amount you want to send
Destination Bank: Choose GCASH [GXI]
Destination Account Number: Enter the 11-digit mobile number of the account where you wish to send the money.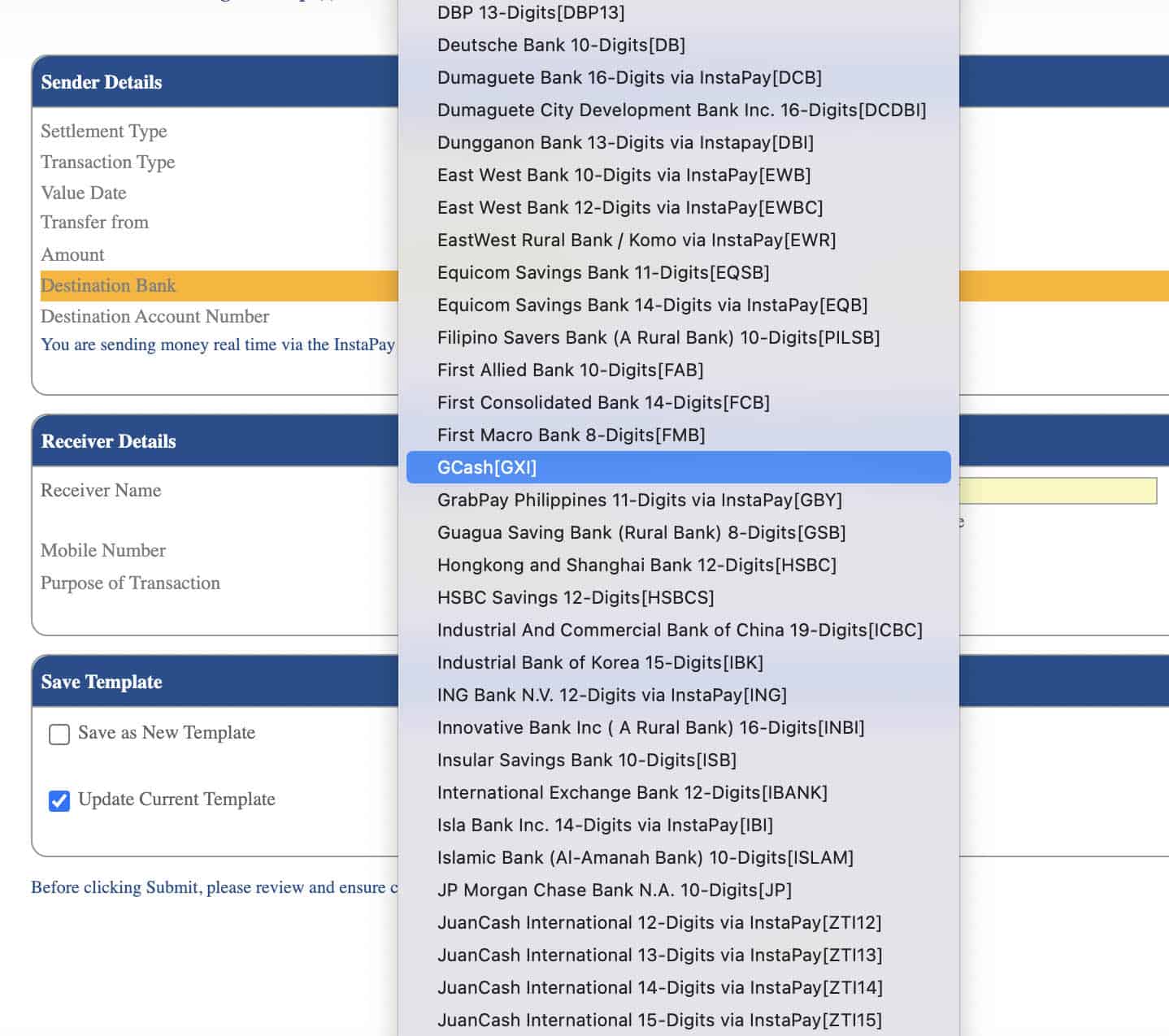 RECEIVER DETAILS
Receiver Name: Provide the LAST NAME, FIRST NAME, and MIDDLE INITIAL
Mobile Number: Enter the 11-digit mobile number of the account where you wish to send the money.
Purpose of Transaction: If you're sending to yourself, you can just type PERSONAL. If you're paying for something, you can type PAYMENT.
You'll also find a SAVE TEMPLATE tab. If you anticipate making this transaction again (Same destination account number), you may save this transaction as a template. Just tick the box beside SAVE AS NEW TEMPLATE. A small form will appear asking for TEMPLATE NAME and DESCRIPTION.
Once everything is in order, click SUBMIT.
---
6. Review the details.
A pop up will appear containing a summary of your transaction. Double check the details and make sure they are correct.
How much is the charge for BDO-to-GCash transaction? PHP 25.
This service charge will be added to the amount that will be deducted from your account.
If everything looks good, click CONTINUE.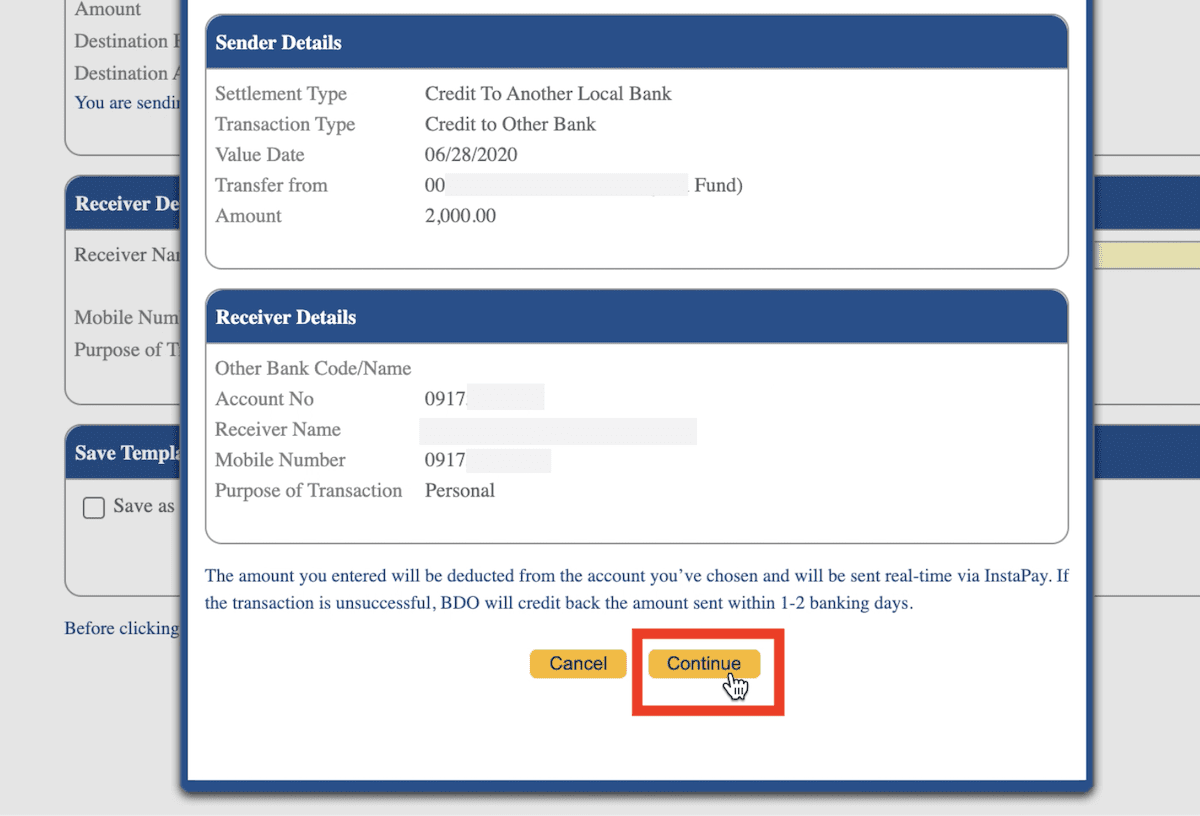 ---
7. Enter the OTP.
You will receive another One-Time PIN on your phone (via SMS). Enter the code within the next five minutes and click SUBMIT.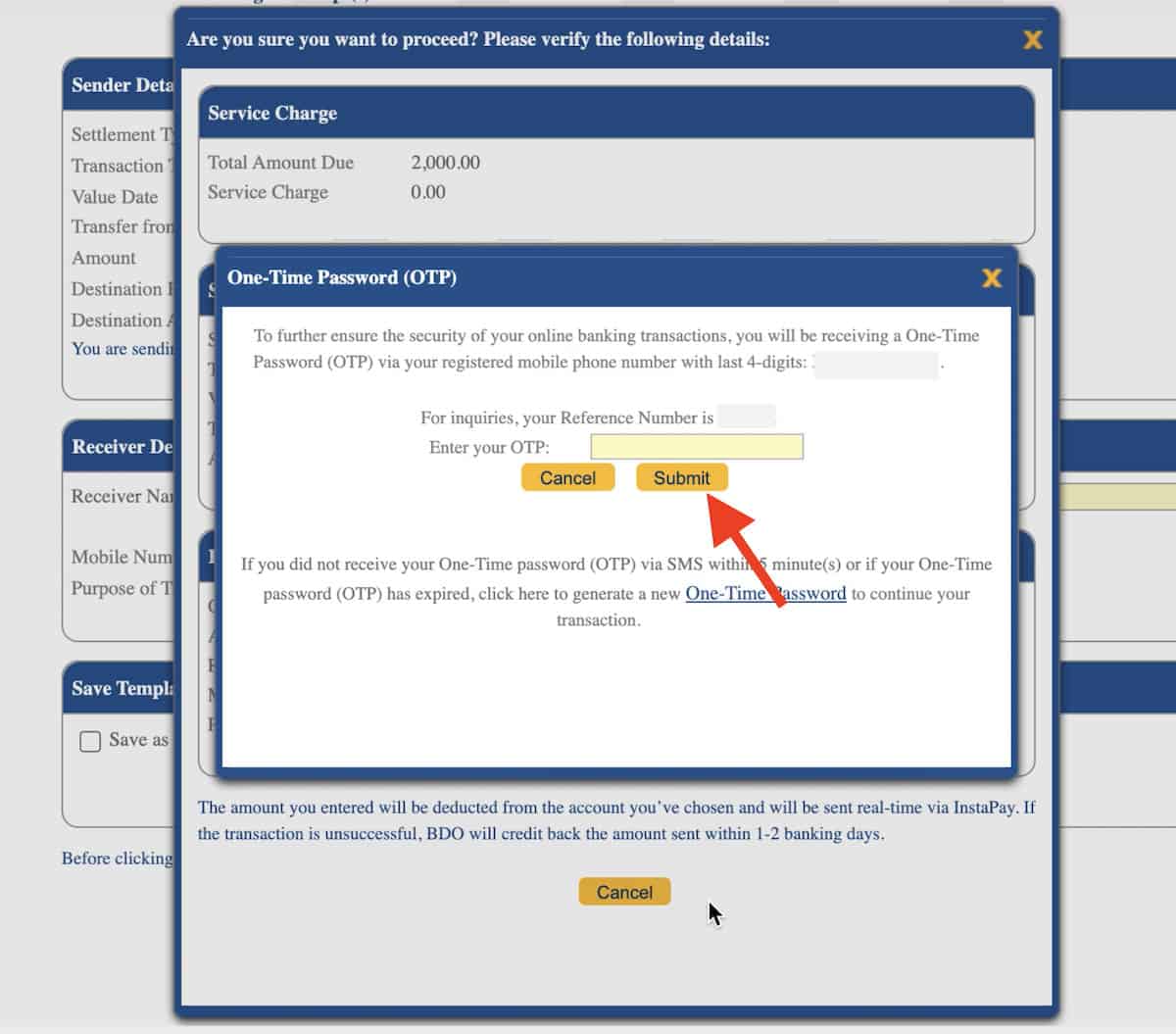 ---
8. Take note of the Reference Number.
The next page will tell you that your transaction has been successful. Another summary will be displayed.
Take note the reference number so it's easy to find your file in case you encounter a problem. A simple screenshot will do.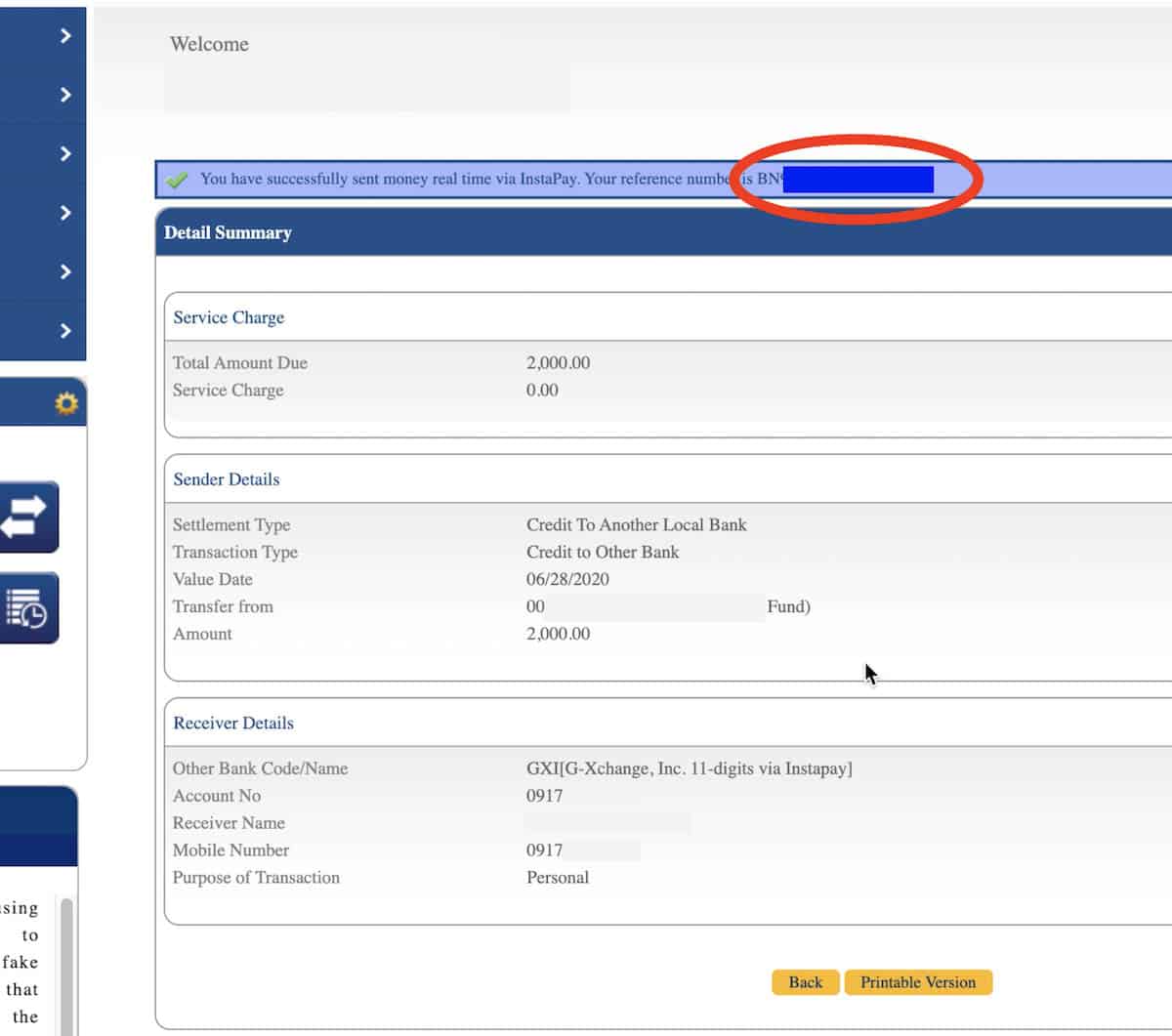 If you want to print out the transaction summary, click on PRINTABLE VERSION and print it out.
That's it! Don't forget to log out of your account especially if you're using a shared computer or connection!
We'll create separate posts for BPI to GCash, BDO to Paymaya, GCash to GCash, and other transactions.
---
Featured image courtesy of GCash.
Last updated: 2021 • 11 • 14
---