It's going to be a Christmas like no other.
This year has been challenging, to say the least, especially for us, Pinoys. 2020 started with a literal bang, when the Taal Volcano spewed ash all over the surrounding provinces. And we have just survived another typhoon recently. In between are months of quarantine, brought about by the COVID-19 pandemic. We are now in a world of social distancing, minimized contact, and extra cautious gatherings — something that none of us are used to, lalo na ngayong magpa-Pasko.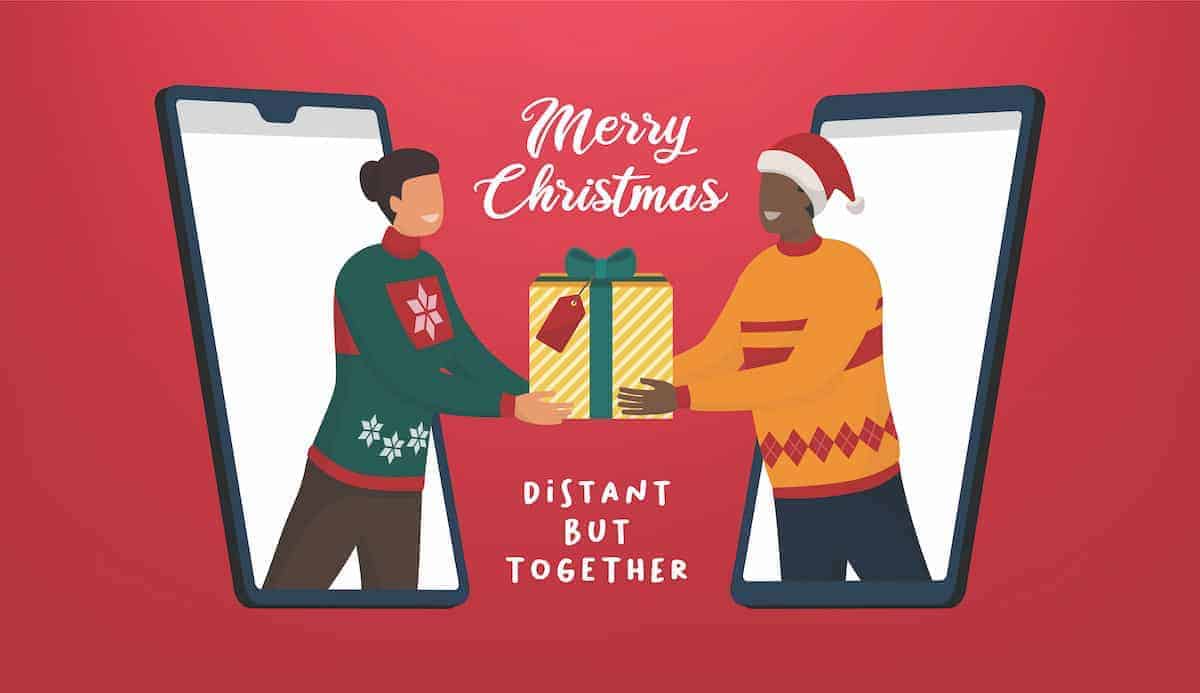 This Christmas might be a bit different. There will be fewer Christmas parties and fewer holiday trips. And because many have lost their jobs and sources of income, some of us might need na maghigpit ng sinturon a little bit more.
But here's the thing: Christmas is not all about how much we spend or how grand you make the celebration. All we need is good food and good times with the people we hold closest to our hearts! Here are some simple diskarte tips to make your ChristMAS Masaya kayang-kaya!
---
1. Take care of your errands via on-demand service apps.
The end of the year is also a season of errands! And with most of us working from home, things may get a bit too overwhelming for you to mind small tasks. Not to mention that many are still not comfortable venturing outside.
You can hire someone to shop, pick up and deliver stuff, or pay bills for you. We've tried this many times over the quarantine period – from sending a parcel to filing taxes to purchasing a hard-to-find item on the other side of the city!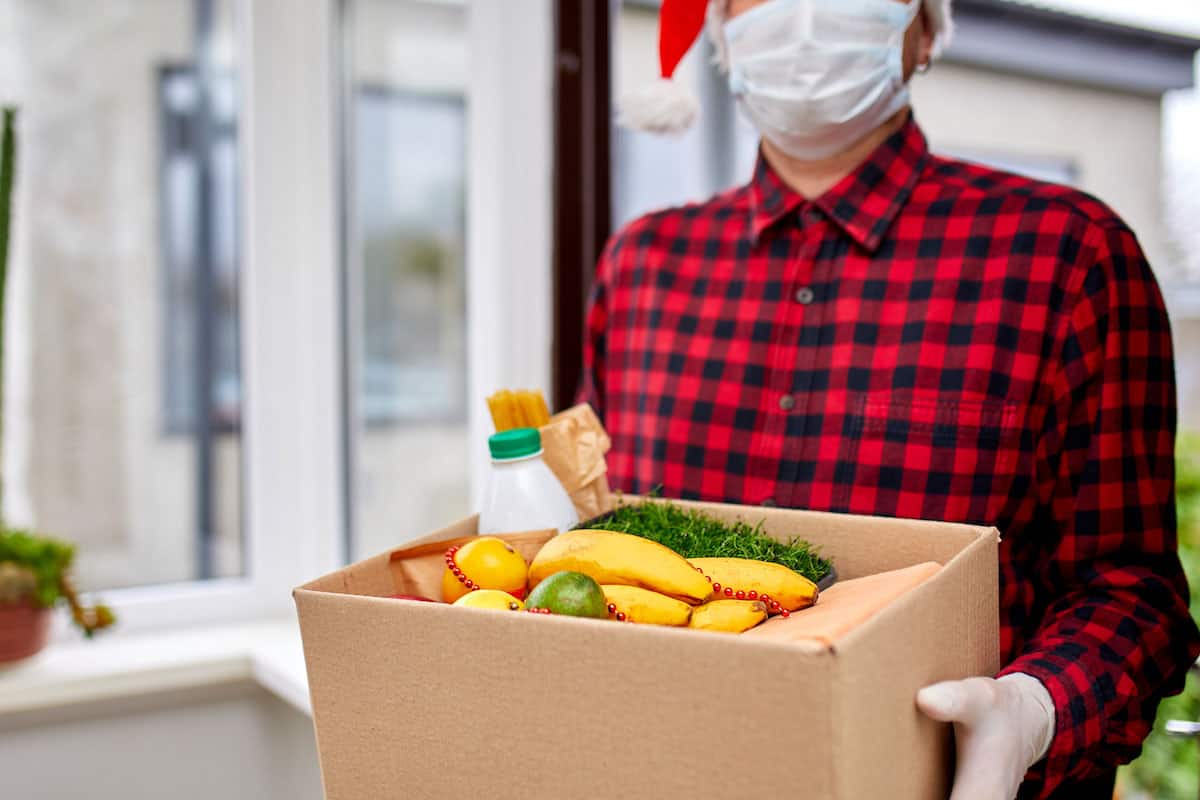 You can use apps like MyKuya or you probably know someone who offers this service. Many members of the workforce who lost their jobs have turned to this raket for additional income. Getting their service benefits both parties. Convenience for you. Earnings for them.
---
2. Buy in bulk to score discounts.
Buying in bulk minimizes contact with other people because you reduce the number of times you go out! This is important especially for those who are living with vulnerable individuals.
Aside from that, another advantage of bulk buying is something we already know: It's cheaper in the long run.
When it's Christmas season, bundle promos and freebies are everywhere! One walk down a grocery aisle and you'll find freebies begging for your attention.
For example, Maggi Magic Sarap offers a Christmas Value Pack. If you buy 42 pieces of Maggi Magic Sarap 8g sachets, you'll get a FREE 200g tomato sauce. (And admit it, this season, you're probably gonna need both items!) It's available in supermarkets, Shopee & Lazada. These little freebies add up to big savings!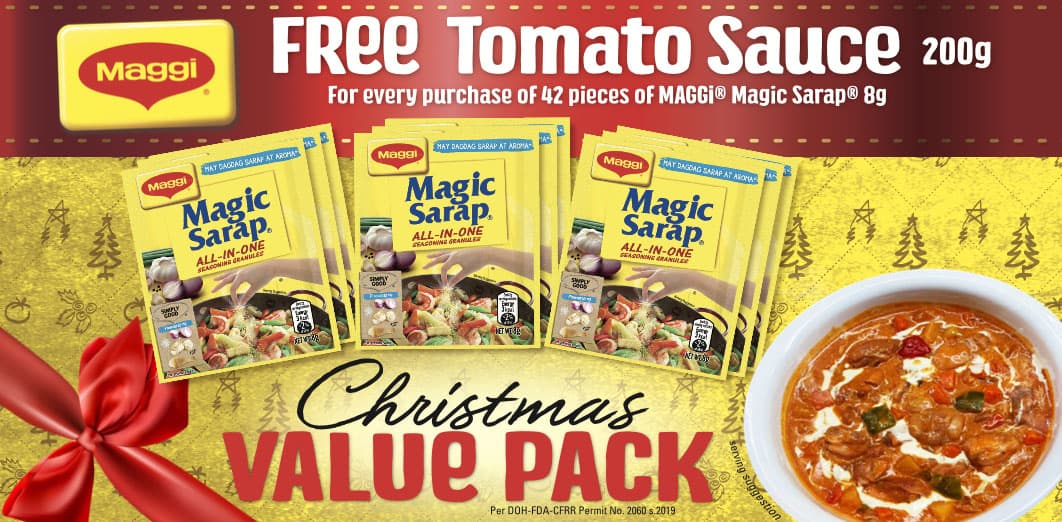 What if you don't need that much? Well, you can store them for a long time. (They normally have long expiration periods!) But what we usually do to take advantage of these bundle promos is join forces with neighbors or friends. We usually text them if gusto nilang magpasabay, especially if you're shopping online. Why? Because you also get to split the delivery fee!
---
3. Try new ingredients and supreme cooking hacks!
Good food doesn't need to be complicated or expensive! Over the past few months, we have been living on our own, without much access to a variety of ingredients. We're not blessed with culinary skills, either. But you know what we realized? It's still entirely possible to come up with great dishes despite that. We get a little help from maggi.ph, which features online recipes that are simple and easy to pull off. Most recipes use only a few ingredients and can be done quickly, but they still deliver tasty, flavorful dishes!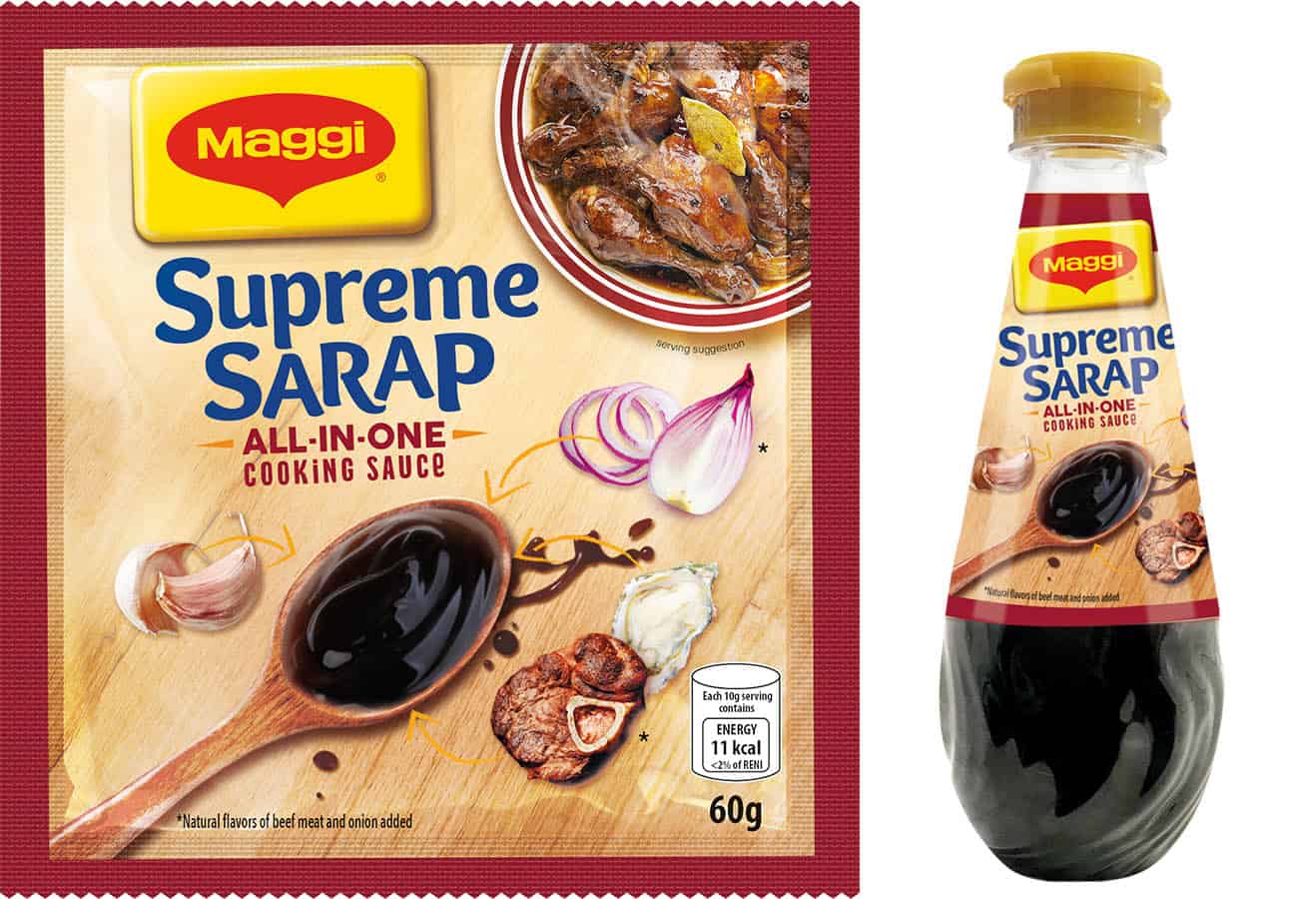 For example, we cooked pork humba the other week. Aside from the usual soy sauce, we usually like it with a little bit of oyster sauce for more depth. But since we couldn't get out much to buy ingredients, we simply used Maggi Supreme Sarap, which already combines the flavors of soy sauce, oyster sauce, meat, onion and garlic.
The humba below took less than 20 minutes and uses only seven ingredients – pork, cooking oil, bay leaves, vinegar, sugar, banana blossoms, and Maggi Supreme Sarap — but it tastes exactly like the traditional humba but at a fraction of the time and cost. Pitong ingredients lang! All-in-one talaga siya!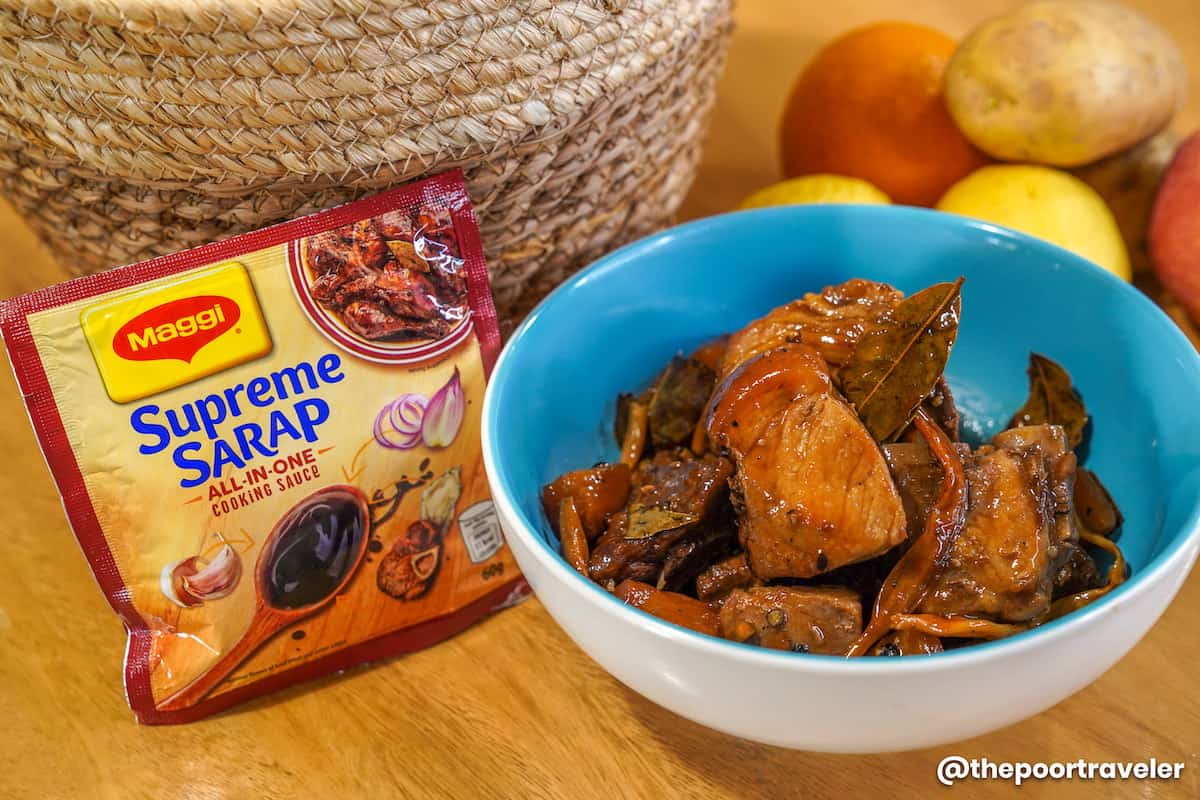 In the same way, now that the price of pork has skyrocketed, we now use corned beef as a substitute when cooking spaghetti meat sauce.
TLDR: When time, money or cooking skills are lacking, you can find alternatives that can deliver similar taste profiles without spending too much time or money!
---
4. Cook for others and get extra income!
But if you have a knack for cooking, why not venture beyond preparing food for your family by extending your service to others for a fee. Magluluto ka na rin lang, damihan mo na at pagkakitaan!
Are you good at baking? Do you have a talent for making ordinary food special? Do you know someone who can supply you with ingredients in bulk? Help each other do business.
Paluto isn't a new concept for us. But it's much easier to market products and services these days! Thanks to a whole suite of digital platforms like Facebook Marketplace. Ang dami naming kakilala na kumikita online from selling 'yung mga niluto nila or other services like pasa-buy.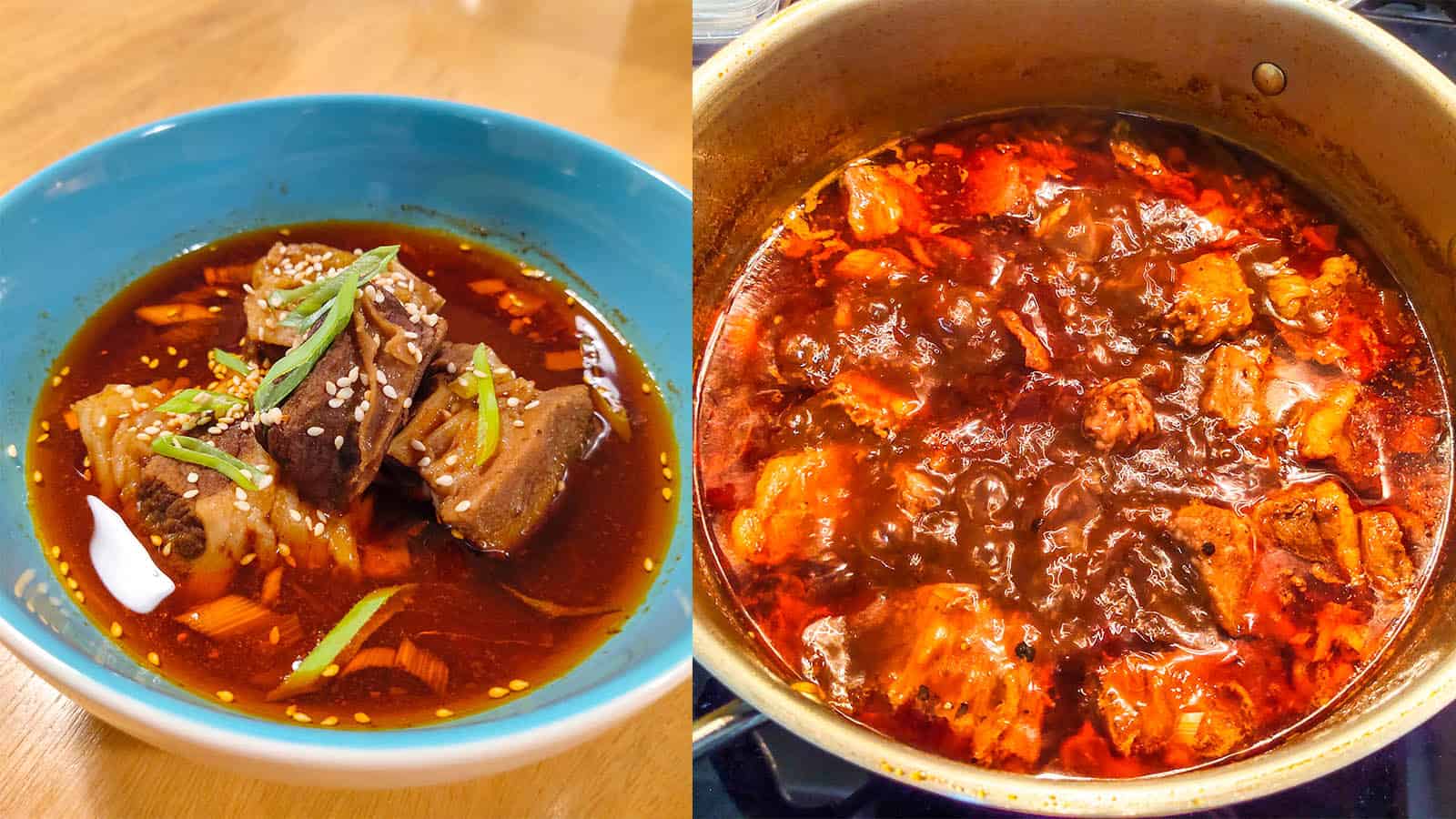 If you don't want to sell, you can have some delivered to your friends. You can even ask them to send you some of their creations too and set-up a video conference.
Just a few weeks ago, we cooked Korean beef stew and sent them to some of our closest friends para feel namin na kahit magkakalayo, we're still dining together! Just let technology do the rest! Works for e-numan sessions too!
---
5. Declutter and give away items as Christmas gifts.
The idea of decluttering might be a strange concept, especially for the sentimental people, until Marie Kondo came and shocked all of us. Suddenly, we see people posting their efforts to declutter and free their spaces.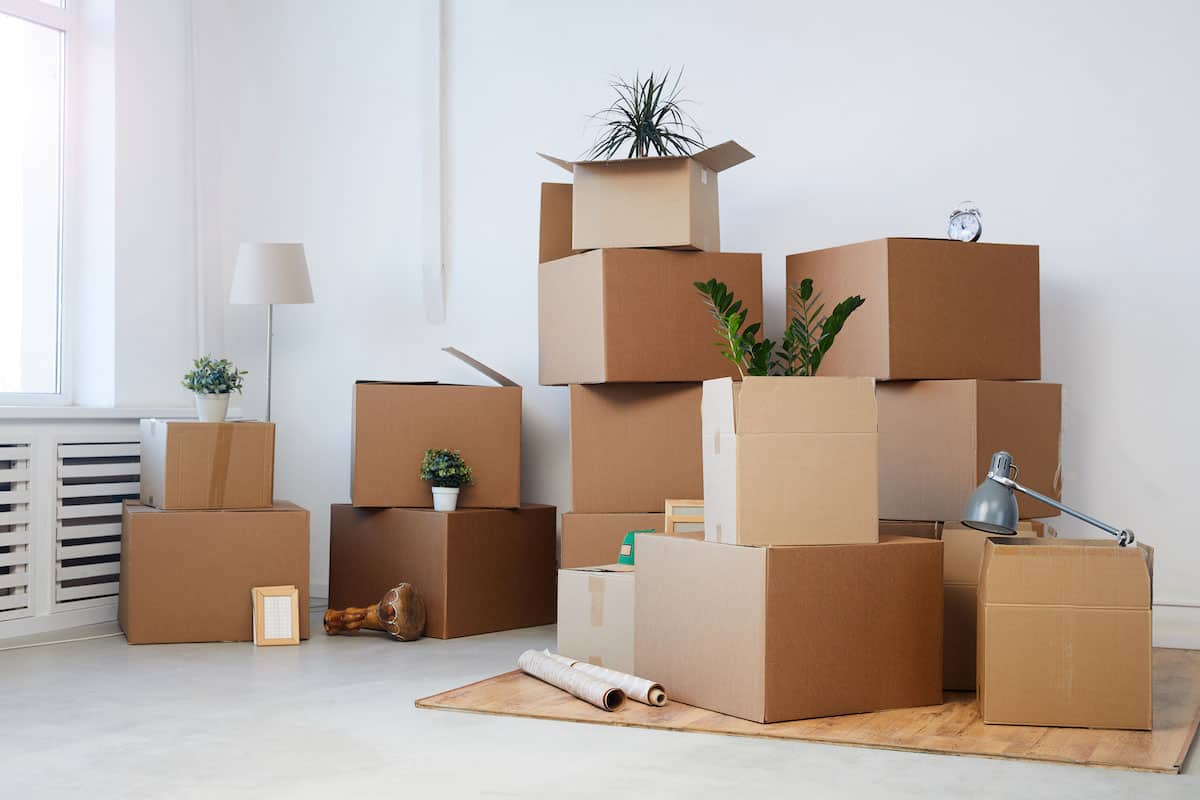 We don't have a concept of "spring cleaning" in the country, but most of us do a version of it right before the holidays. Use this opportunity to declutter and get rid of belongings that no longer spark joy.
But you know what's better? Instead of throwing them out, give them away as gifts. A lot of people appreciate pre-owned items – myself included — especially if it's from the heart. You can upcycle some of your belongings and produce a personalized gift for special people in your life. You can even write a heartfelt letter to go with it, which is always a nice touch.
Besides, in this economy, it's completely understandable if we don't spend much on gifts. It's sustainable too! Circular living is the way to go!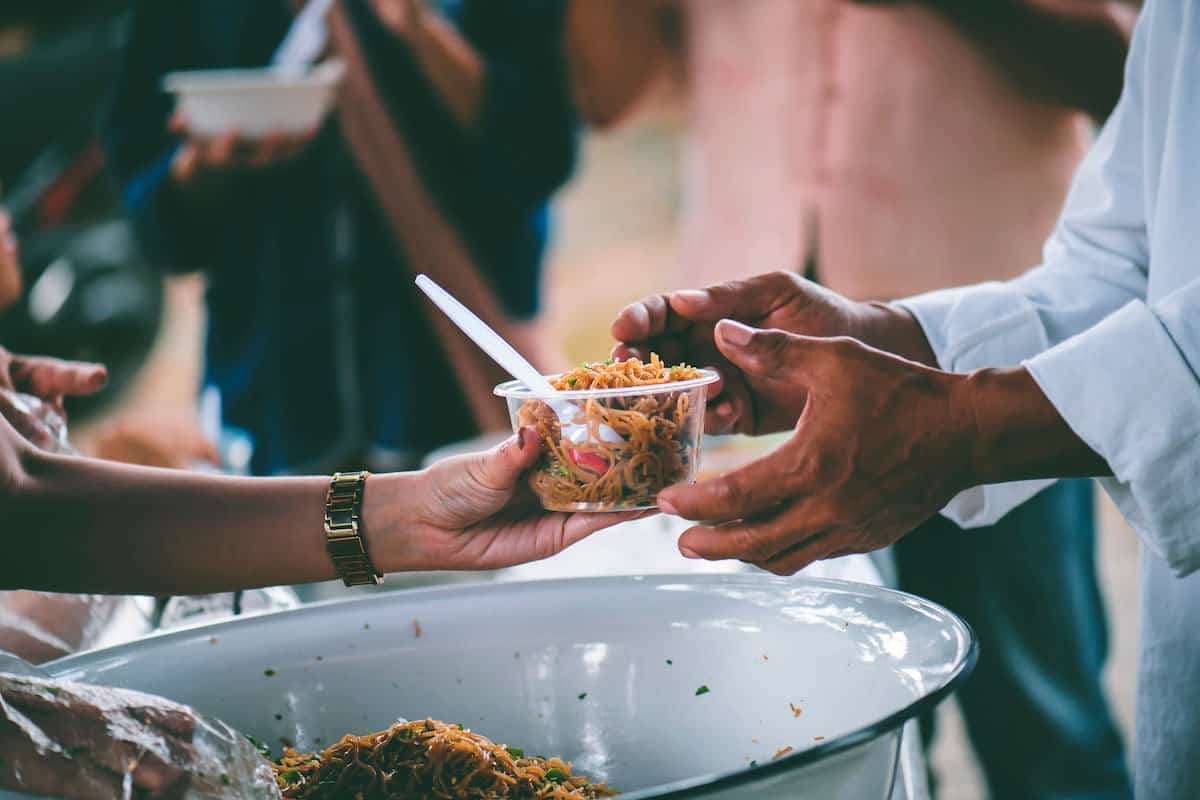 At the end of the day, diskarte is not always about what you can get. It can also be about what you can give. After all, Christmas is the season of giving!
For many, this year may have been their worst. A lot have lost their jobs. Many industries have been struggling. Some have been hit by the typhoon, volcano or both. If you have excess supply from buying in bulk or you cooked more than you thought your family can consume, you can always give them to those in need in your area. Not only will you be freeing up some space at home or avoiding food waste, which is a massive problem around the world, you also get to help others and make it ChristMAS Masaya for them as well!
Kahit iba na ang panahon ngayon, pwede pa rin bang maging special ang Pasko? Oo naman! Whatever diskarte tip you follow, always remember that basta sama-sama with family — physically man or virtually – we can always make ChristMas Masaya Kayang-kaya!
---
2020 • 12 • 11
More Tips on YouTube ⬇️⬇️⬇️