2021 • 2 • 22
Antipolo has flourished into one of the most popular weekend destinations near Manila; thanks largely to its proximity and accessibility. Although the city center is highly urbanized, its mountainous fringes exude a countryside vibe and rustic charm that appeals to those who want a quick easy escape from the metro. This is why idyllic spa resorts, concept restaurants, and relaxing nature parks are scattered throughout the city.
One of the most well-known leisure centers is Cloud 9 Sports and Leisure Club, which was originally opened to the public as a restaurant in 1995. Eventually, it included lodgings and other recreation and events facilities.
But the main highlight is the 360° View Deck, which allows a panoramic view of the surrounding area including the Metro manila cityscape in the distance and an unforgettable sunset. A thrilling hanging bridge leads to the viewing platform.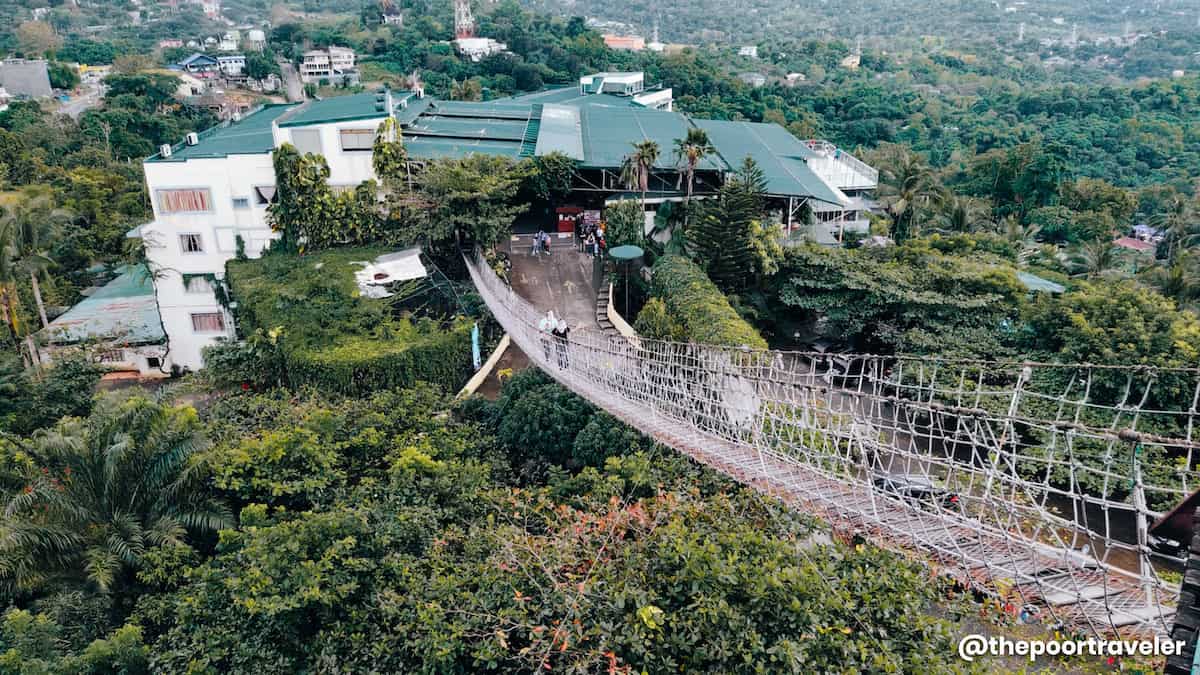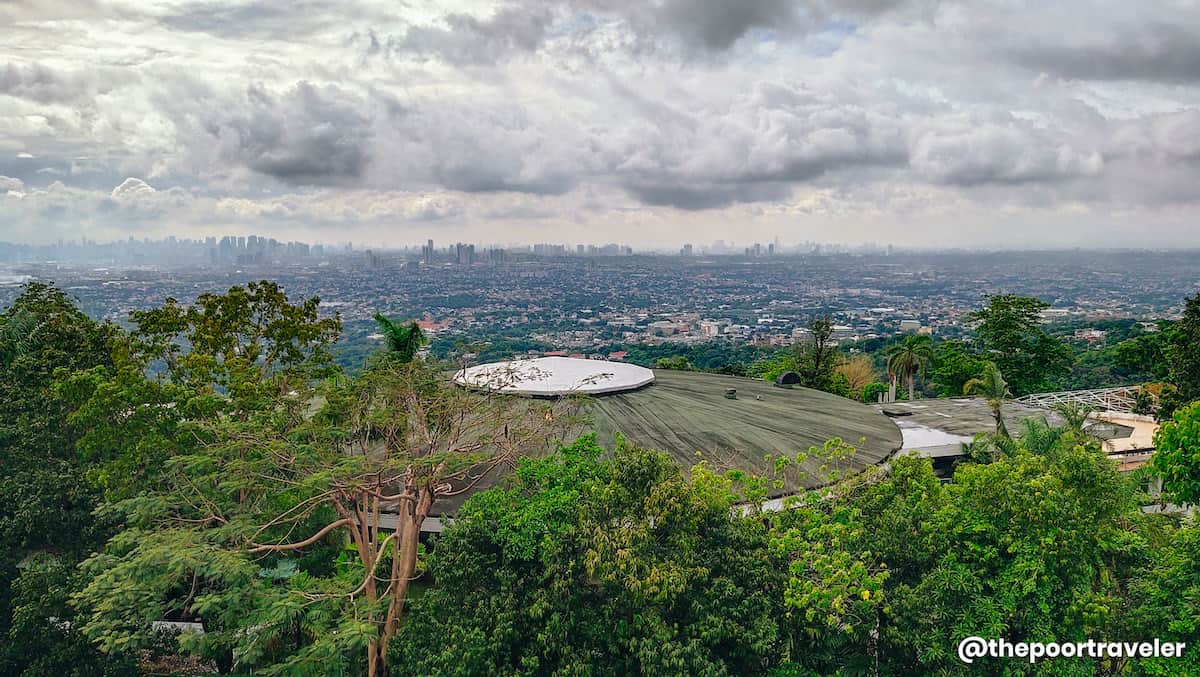 If you are planning to go anytime soon, here are some of the things you should know before you go.
---
WHAT'S COVERED IN THIS GUIDE?
What are the operating hours?
8:00 AM – 10:00 PM
Monday – Sunday
Notes:
This schedule is for the restaurant, 360° View Deck, and hanging bridge. For the accommodation, the check-in time starts at 2:00 PM and check-out time is at 12:00 nn the following day.
The opening hours might change without prior notice, especially during these extraordinary times, so please check the official website or Facebook page before visiting.
No face mask, no entry policy.
Face shield is also required upon entrance.
---
How much is the entrance fee?
P60: 360° View Deck + Hanging Bridge
FREE, if you are eating at Cloud 9 Restaurant. If the total cost of your order is above P300 per person, you'll get complimentary admission to the hanging bridge, 360° View Deck, and Butuan Caraga Heritage Museum. You need to present the receipt, so keep it with you.
---
Are kids and elderly people allowed?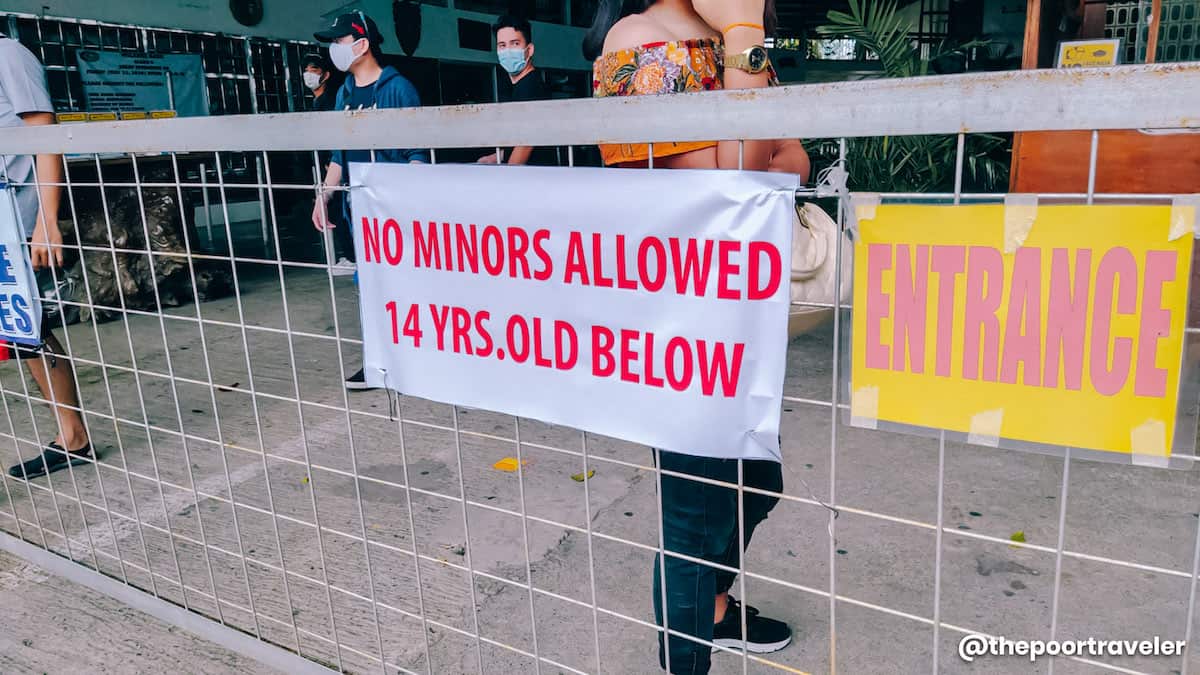 Only visitors 15-65 years old are allowed inside the premises.
Note that visitors with higher health risks or who are immunocompromised cannot enter either. This is in accordance with the IATF mandate and protocols.
---
Do we need to secure a reservation first?
No. No reservations needed to visit the restaurant, hanging bridge, and 360° View Deck.
However, if you are planning to stay in one of the rooms, it is highly advised to make a reservation or advance booking, especially if going on a weekend and holiday.
---
When is the best time to visit?
Weekdays. We visited on a weekday, so we got to secure a table at the restaurant quickly. We didn't even have to fall in line for the hanging bridge either because there was no queue. We were able to appreciate the view and take photos at our pace.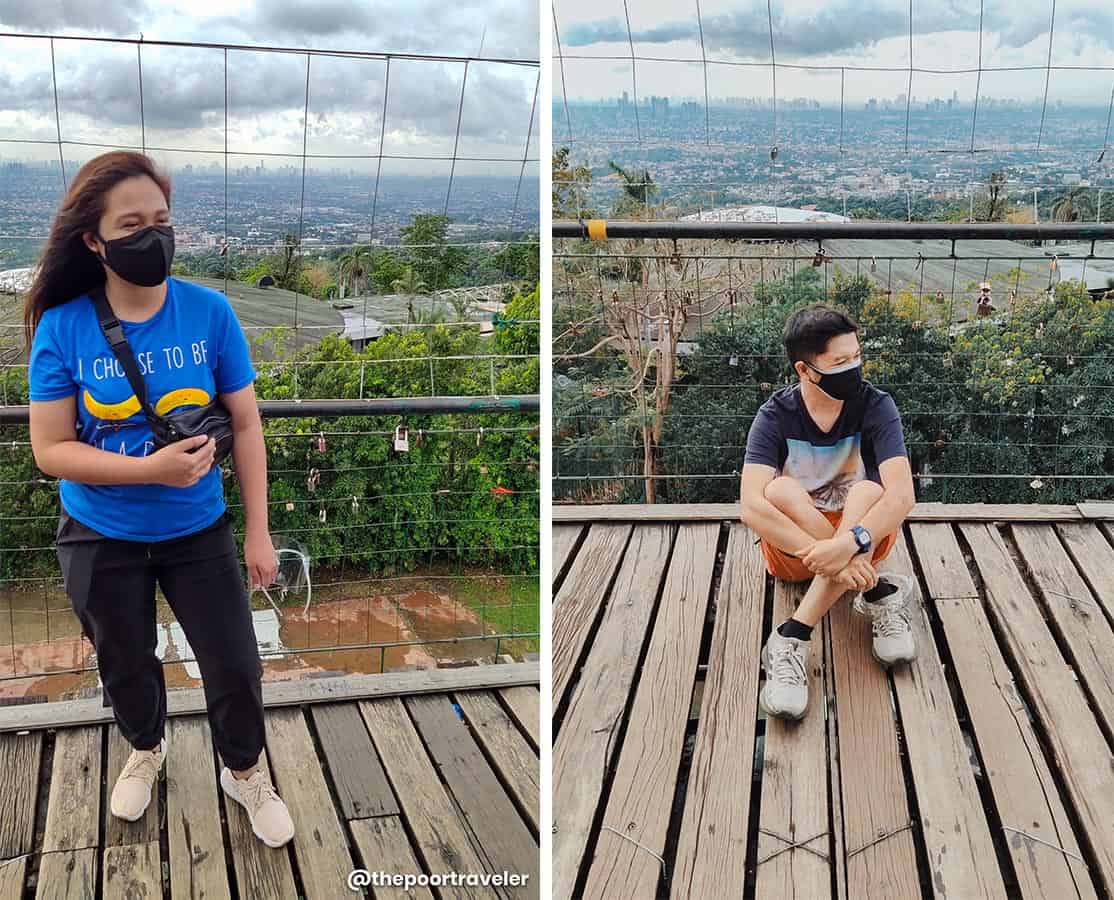 If you can't help going on weekdays or holidays, be there early to make the most of your visit. If you are planning to have lunch at the restaurant for the free entrance to the viewing deck and hanging bridge, go before 11:30 AM and opt to have brunch instead.
---
How to get to Cloud 9 Sports and Leisure Club?
Cloud 9 is located along Sumulong Highway in Barangay Santa Cruz, near Kaulayaw Coffee.
Public Transportation. From Metro Manila (particularly Mandaluyong, Pasig, or Cubao), take a jeepney, FX, or UV to Antipolo, either to Antipolo Church or those plying Sumulong Highway. If you are dropping by Antipolo Cathedral, you can alight there first. From there, you can take a tricycle to Cloud 9.
Private Car. It is best to use Google Maps or Waze. There are designated parking areas inside Cloud 9. Parking is free of charge.
---
What are the popular attractions inside Cloud 9?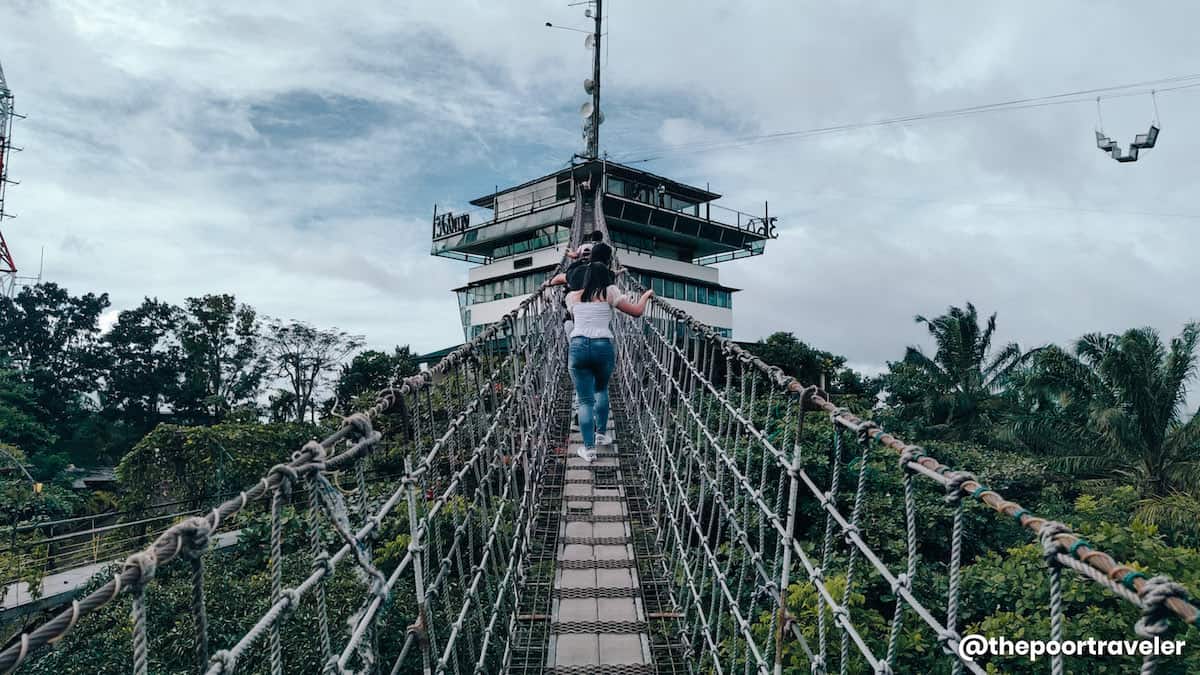 Sky Bridge. This is the hanging bridge connecting the information building, where the restaurant and museum are also located, and the building hosting the 360° View Deck and a few rooms for lodging.
360° View Deck. Whether day or night, the viewing deck provides a scenic view of the surrounding area and the skyscrapers of Metro Manila. This is also a popular sunset-watching spot. You will also notice the metal railings with a few love locks.
Butuan Caraga Heritage Museum. This houses a small collection of archaeological items and artifacts related to Butuan City and Caraga Region (Region XIII).
Metal Walkway. This is at the lower level of the 360° View Deck building. This metal walkway leads visitors to the exit and back to the Information Building. The walkway is embellished with greenery, making it look like a plant canopy and a favorite photo-op spot.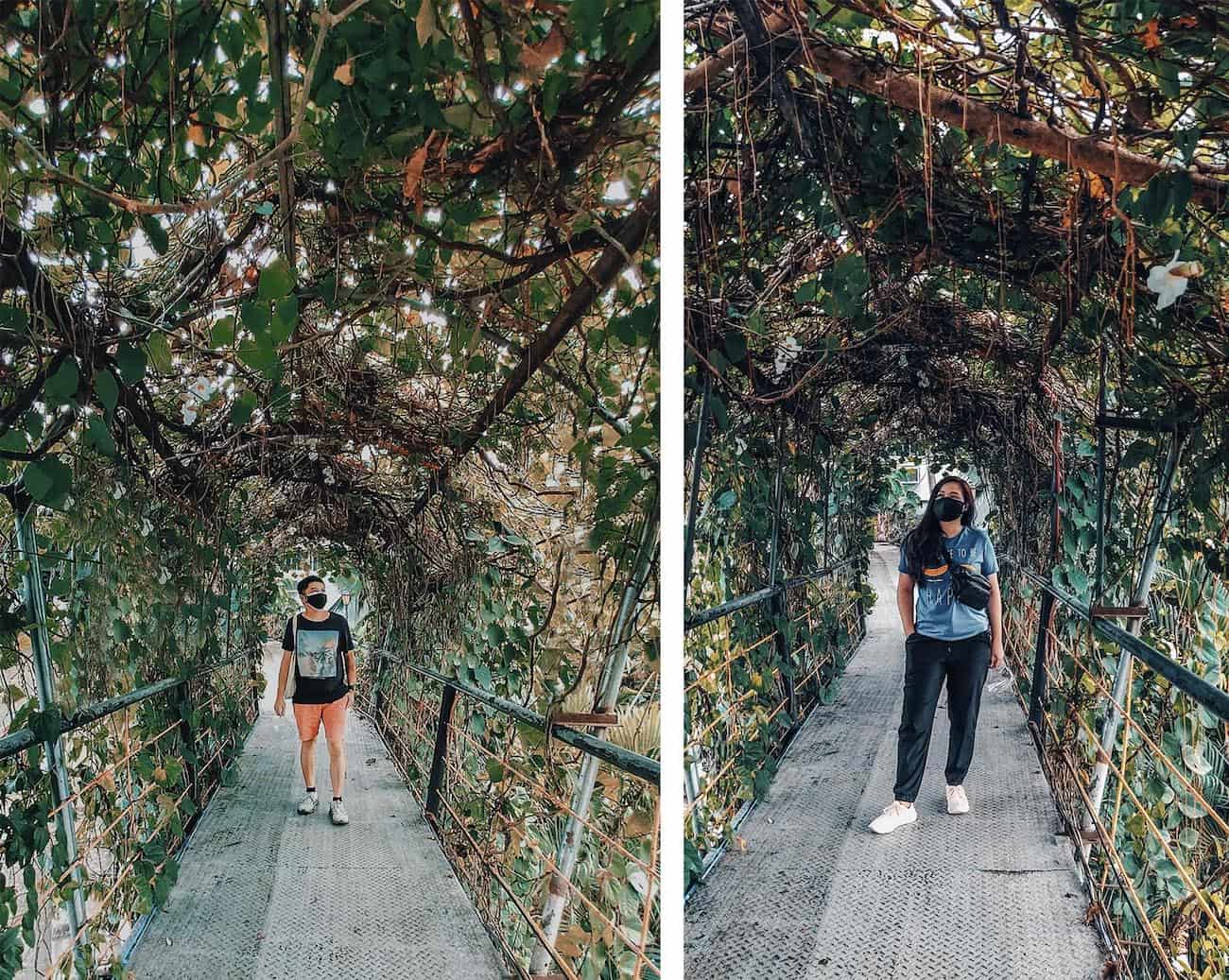 ---
What are the other amenities?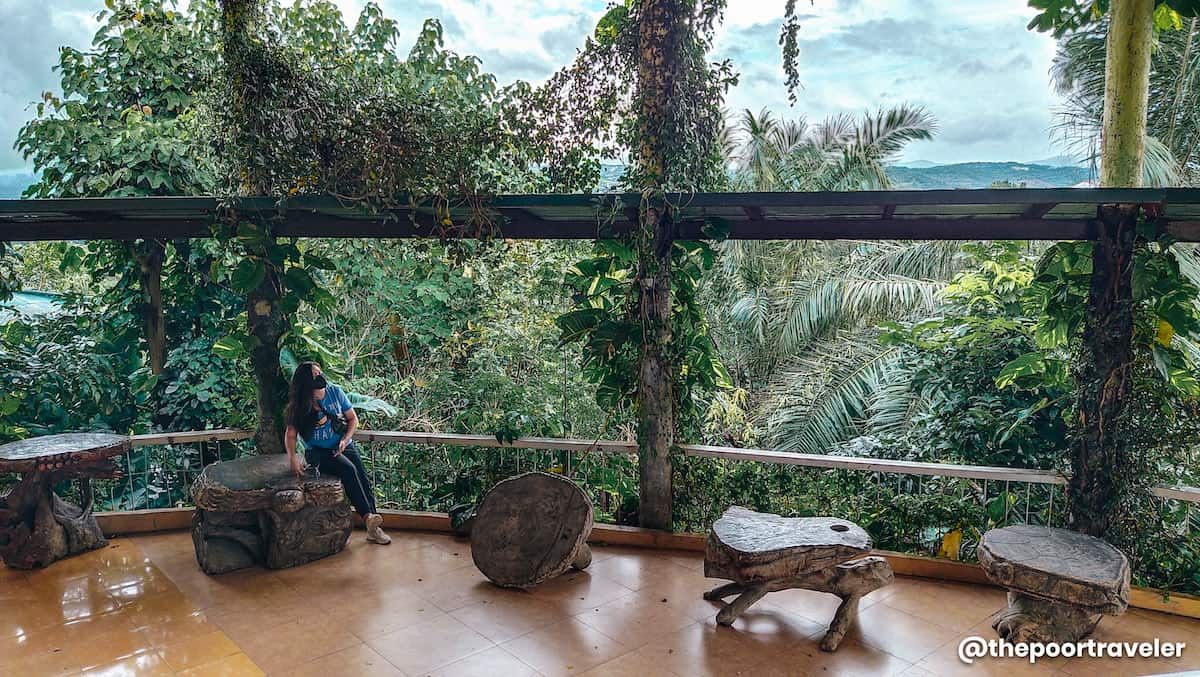 Lodging/Room Accommodations
Swimming Pool
Events Venue
Seminar and Team Building Venue
---
Where to eat?
Cloud 9 Restaurant. This is spacious and located just across from the Information Office. They have a pretty extensive menu so it took us a while to finalize our orders.
Our team tried Grilled Liempo, Fish Shanghai Roll, Sinigang na Bangus sa Miso, Miki Bihon, and Tokwa't Baboy. The food is satisfactory, while the price range is slightly higher compared to other Filipino casual dining places. That's fine for us, though, because you are not only paying for the food but also for the view and access to the amenities. After dining, you can go to the restaurant's terrace which also functions as a viewing deck.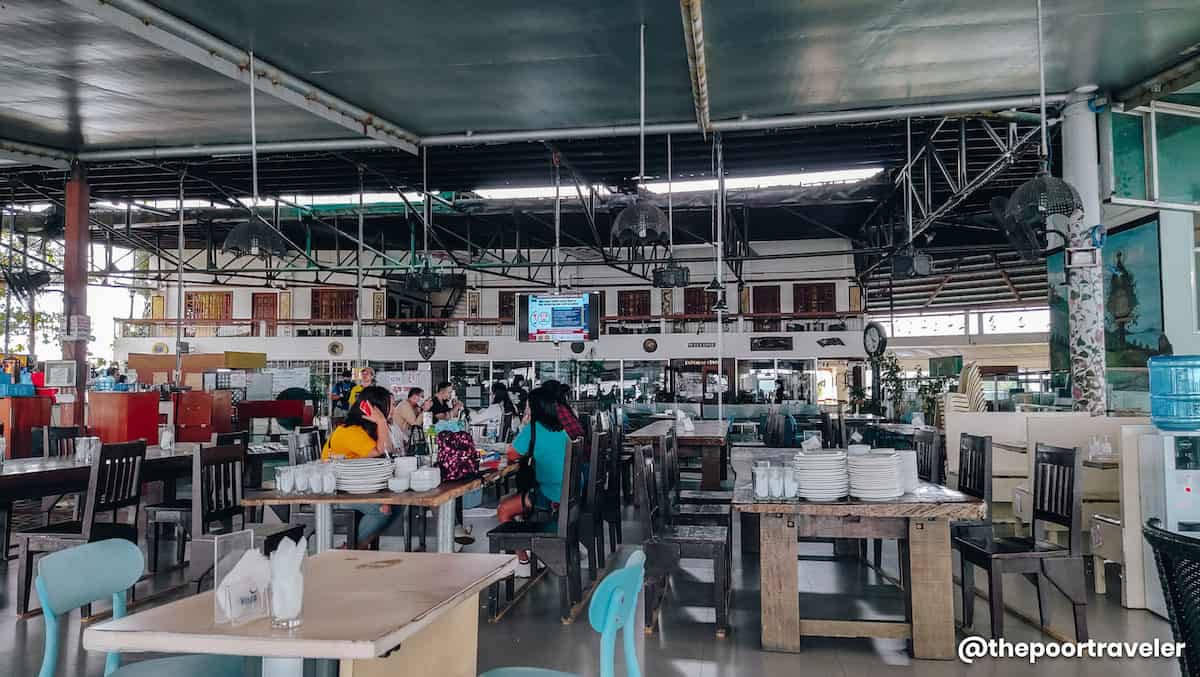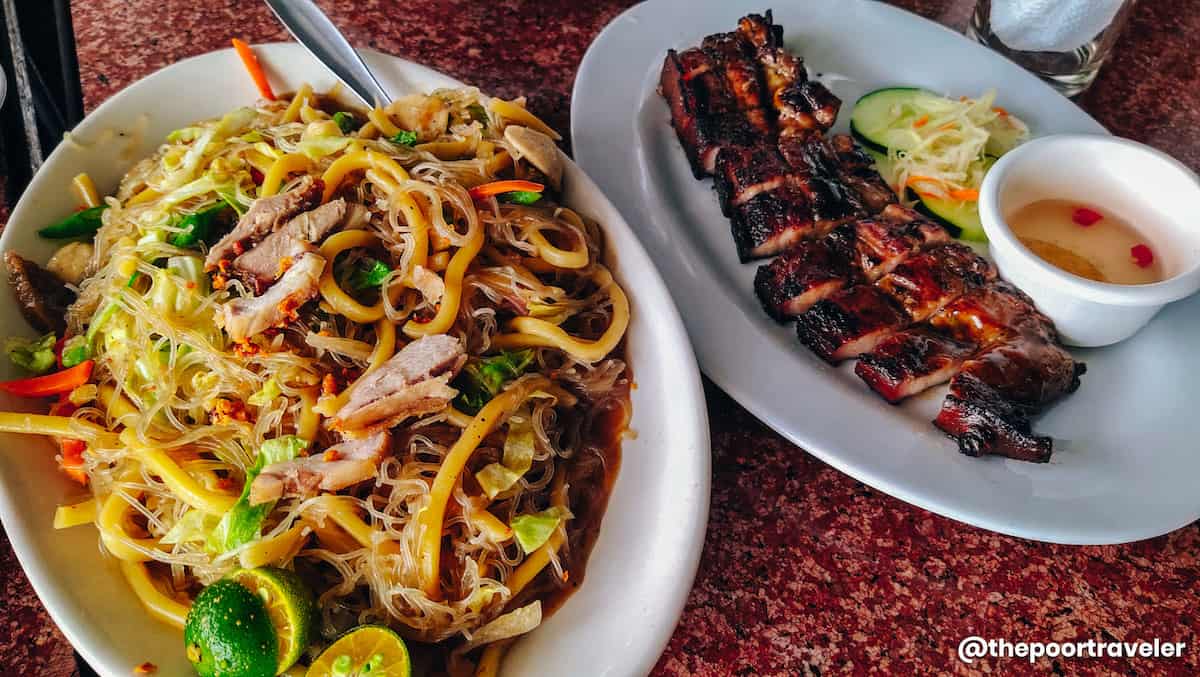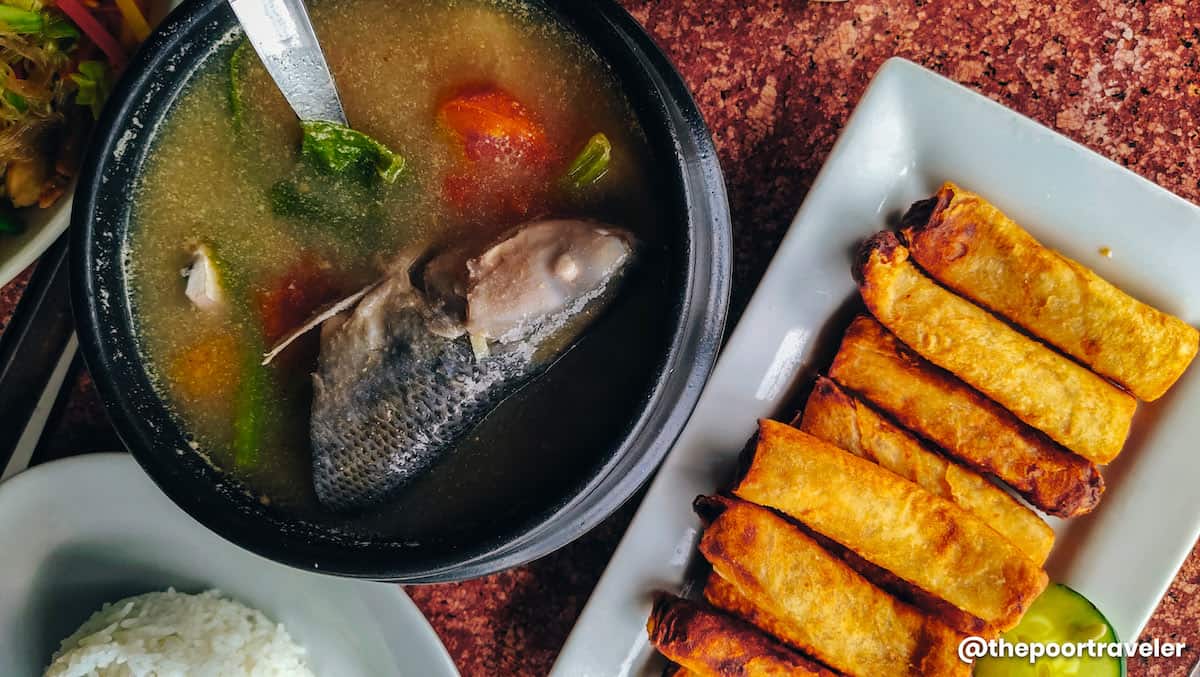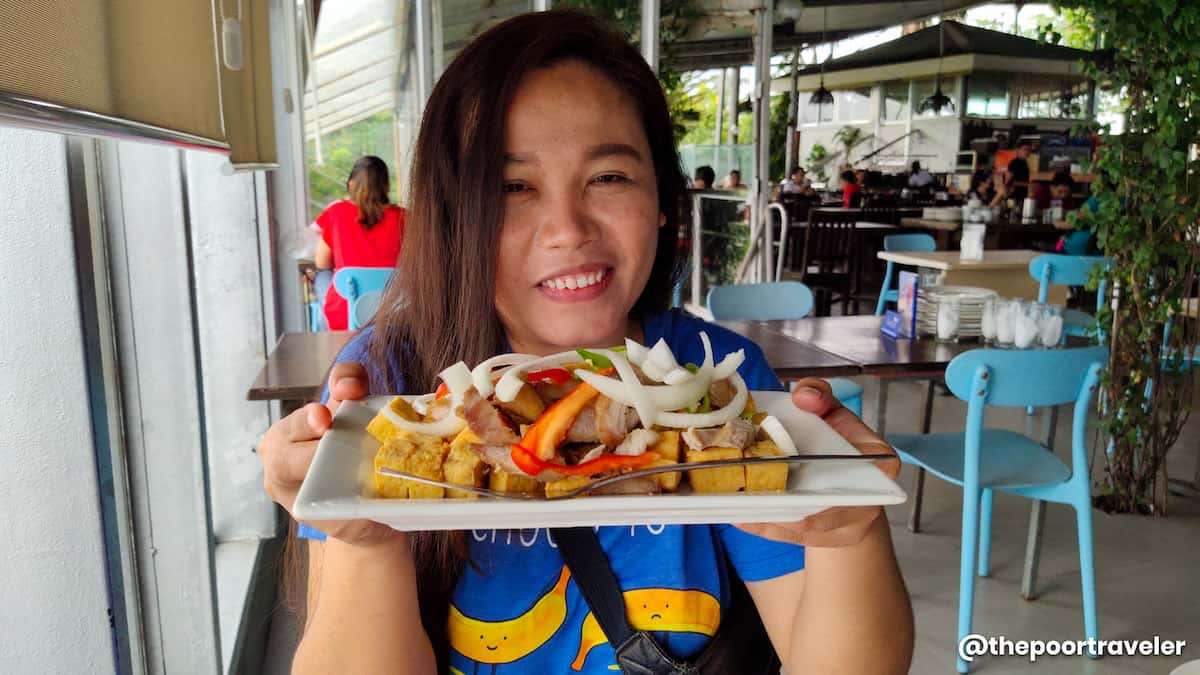 For the drinks, the restaurant offers hot/cold beverages, beer, cocktail & long drinks, and wine & liquors. You may also avail of these other amenities for rent:
KTV Room: P300/hour
Kubo Type: P50-200/hour (depending on the size and type)
Umbrella Type: P40/hour
---
Is there an ATM within the premise?
None. Bring enough cash or withdraw money before going. The restaurant is accepting Visa and MasterCard credit card payment transactions.
---
Is Cloud 9 a romantic spot?
No, not really. Not to me, at least.
The lookout has wall screens where you can add a love lock and the hanging bridge would make your date hold your hand in fear, but other than that, it's not really romantic. The overall aesthetic of the site (including the restaurant) is not that conducive to quiet conversations or romantic moments.
To me, it's more like a family or a barkada destination. Many of the other visitors who were with us were friends and officemates.
---
What are the rules and regulations?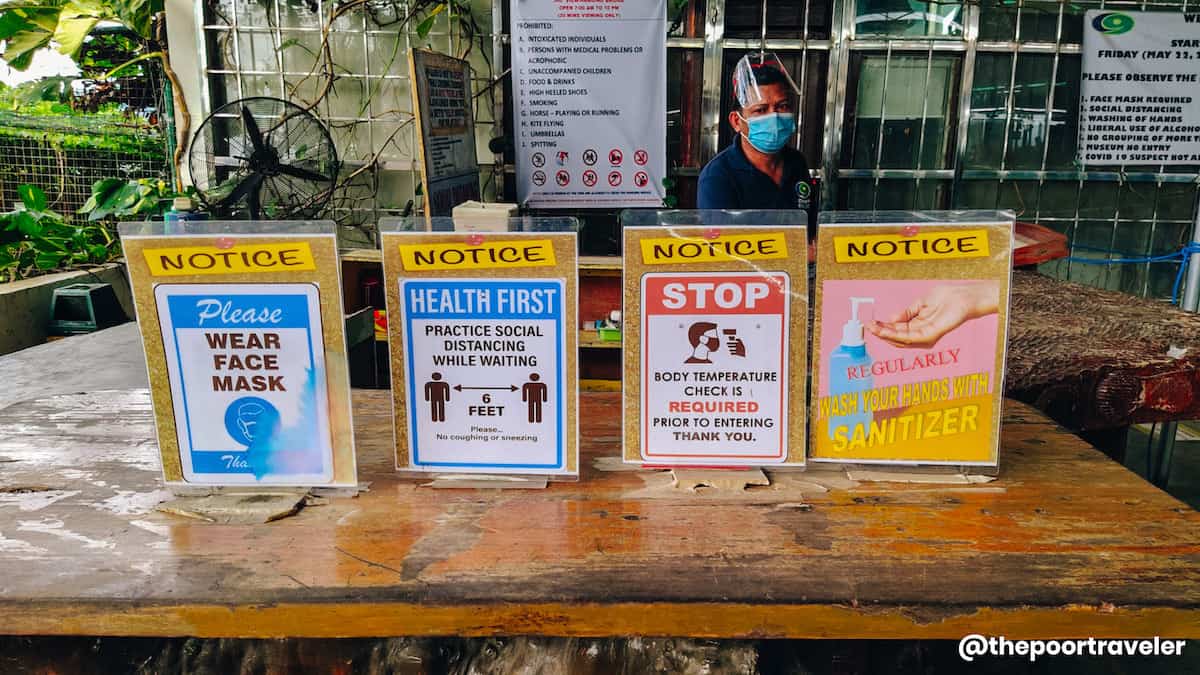 General Rules
No face mask and face shield, no entry.
Strictly observe social distancing — one meter apart.
No pets allowed.
No smoking.
Sky Bridge & 360° View Deck
Only 15 people at a time are allowed when crossing the hanging bridge.
No selfie while crossing the bridge to avoid delays and congregating on certain parts of the hanging bridge.
Maintain a one-meter distance at all times.
Intoxicated individuals are prohibited.
Persons with medical problems are not allowed.
Persons suffering from acrophobia are not permitted.
Children must be accompanied by parents or guardians.
No food or drinks allowed.
Those wearing high-heeled shoes are not allowed to cross the hanging bridge.
No smoking.
No spitting.
No running, skipping, and horseplaying.
No kite-flying.
Umbrellas are prohibited.
---
Other Tips or Reminders
The restaurant is likely to get jampacked during weekends, holidays, and peak hours. There's a high chance that you will need to wait for tables to clear before you can be seated.
Expect long queues during busy hours, weekends, and holidays if you want to experience the hanging bridge because there's a limit of 15 people at a time to cross it.
At the viewing deck, guests are only allowed 10 minutes to appreciate the view and take photos, but the implementation might not be too strict if going on a weekday.
There are alcohol dispensers placed around the museum. However, it's best to bring your own hand sanitizer or alcohol.
Please be mindful of others. Do not stay too long when taking photos in popular spots.
Wear comfortable clothes and footwear.
Please do not litter. Dispose of your trash properly.
Please follow the rules and regulations.
---
How can we contact the management for inquiries?
For event and photoshoot inquiries, reservations, or bookings, here are the contact details:
Landline: (02) 584-3011 to 14
Mobile Number: 0917 800 3424 / 0998 590 1125 / 0908 973 2389
E-mail Address: cloud9rlc@yahoo.com / cloud9rlc@gmail.com
Website: www.cloud9hotelresort.yolasite.com
---
Top Antipolo Resorts & Hotels
Cloud 9 has its own lodging facilities, but if you'd rather stay elsewhere, here are some of the top properties on Agoda as scored by their guests.
---