The humming of the car engine was just about to lull us to sleep when I spotted a giant white fan sticking out in the distance. All of a sudden, everyone was alive, scanning the horizon, watching out for more.
If I didn't know exactly where we were at the moment, I would easily assume we had reached Bangui in Ilocos Norte. But we were just driving for over an hour from Paete, Laguna, making our way back to Manila. And this place isn't along the shores of Ilocandia but in the highlands of Rizal. Outside Ilocos Norte, it is the first of its kind in Luzon.
Located in the humble barangay of Halayhayin in Pililla, to be more precise, the Rizal Wind Farm is the newest addition to the growing list of tourism hotspots within close proximity of the capital, just two hours away. According to Alternergy Wind One Corp, the company that leads the operations of the farm, Pililla is an ideal setting for a wind farm because "it is part of a natural wind corridor created by the unique geographical features surrounding the lake."
A lane of 27 wind turbines stand atop sloping hills at 300 meters above sea level, towering over Laguna de Bay and standing along the NW-SE line to capture the Amihan from October to March, whose speeds can reach 36km/hour. Each turbine can produce 2MW. The entire farm is estimated to be able to generate almost 150 Gigawatt hours of electricity every year.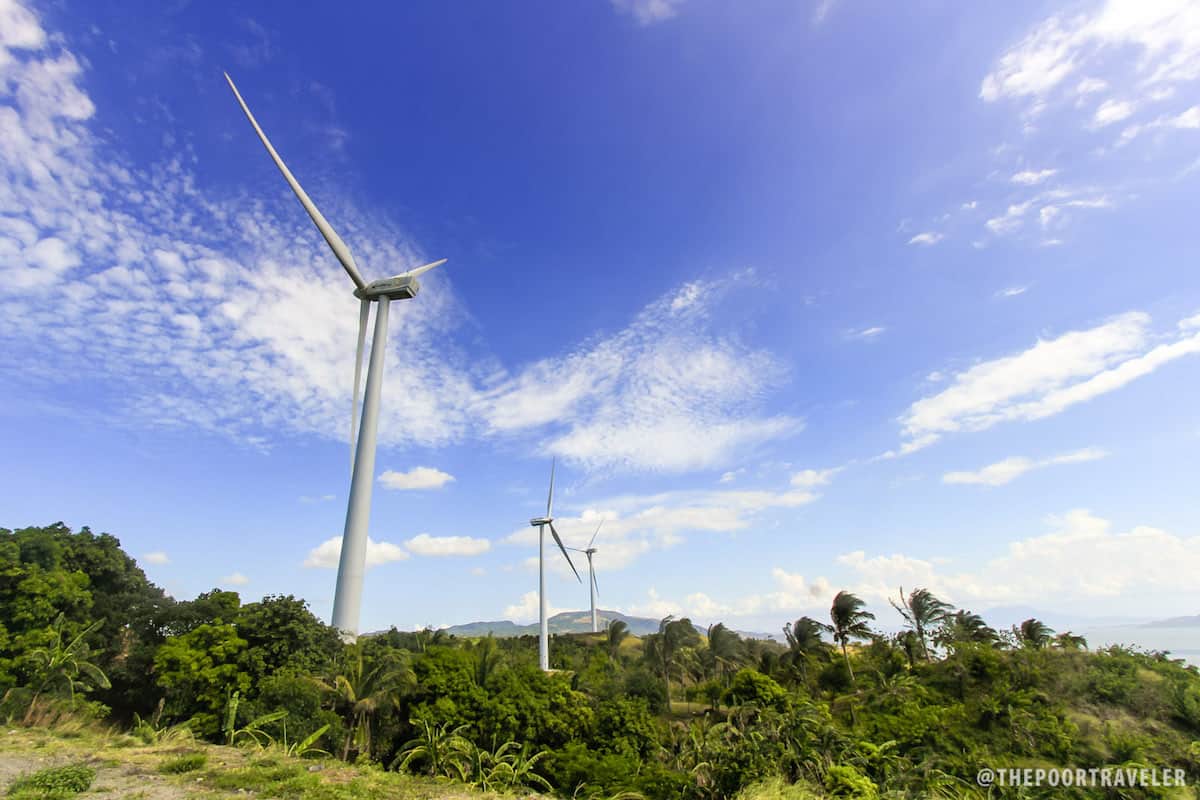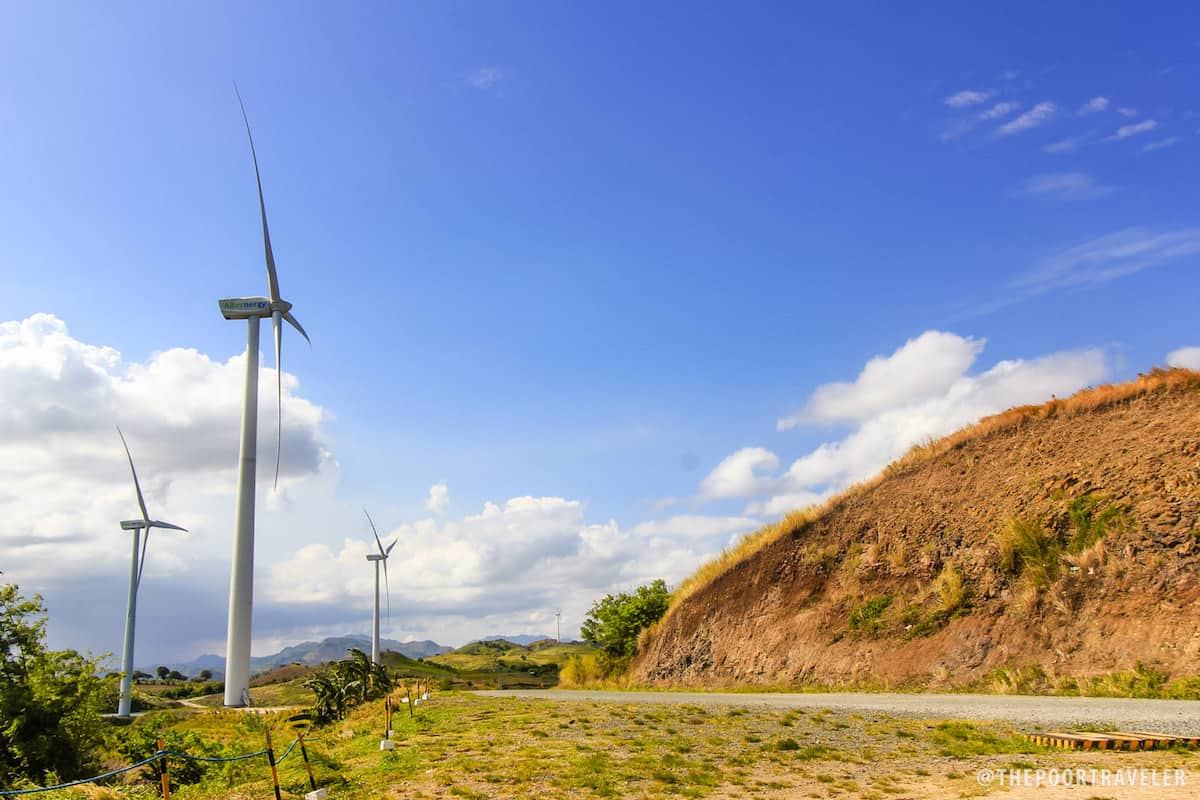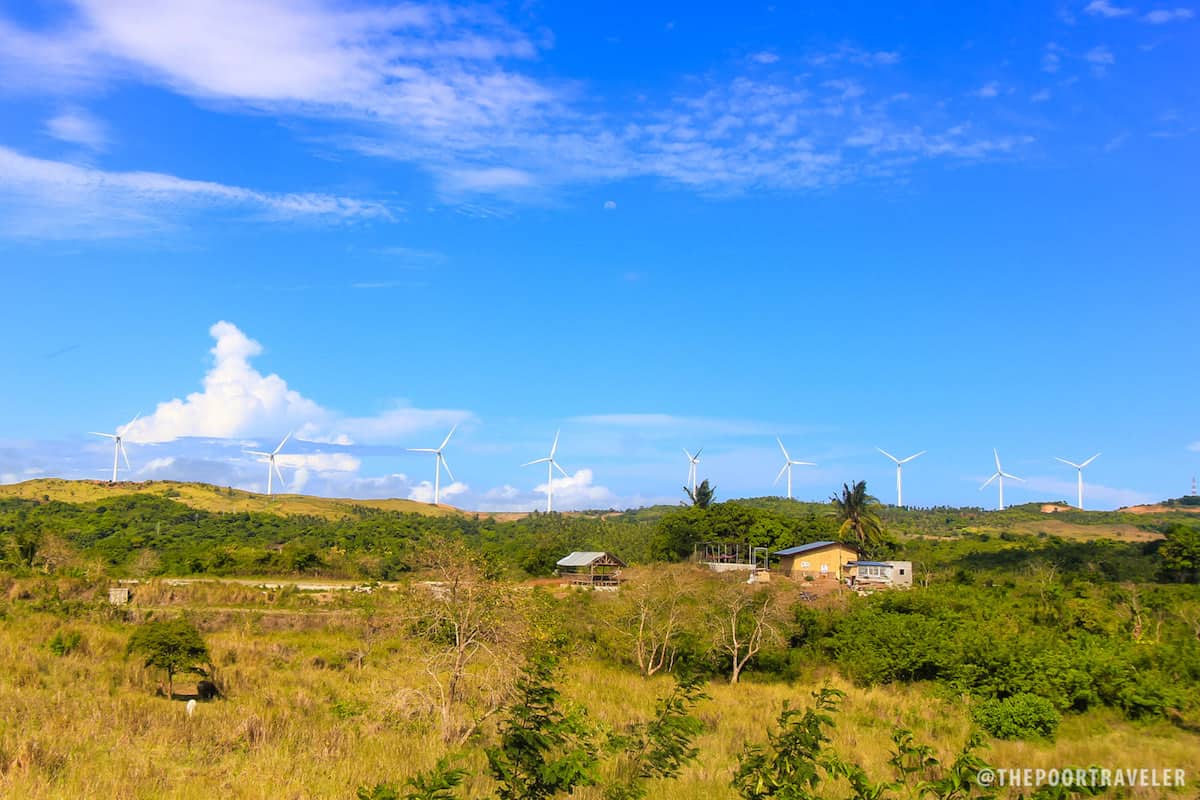 A 2015 Inquirer article reports that this $100-million project was built to supplement energy supply in Rizal and Metro Manila, the country's largest electricity demand area.
"This means the electricity generated by this wind farm only needs to travel a short distance to be consumed, ensuring all the electricity generated here will be used without grid constraint or transmission loss," Alternergy adds.
There were a dozen vehicles occupying the parking lot when we arrived, so it isn't exactly a secret anymore, but many of them simply made a stop here on the way to or from the capital. Other than gawking at the humongous fans and learning more about renewable energy, there isn't much to do here. But if you're touring parts of Rizal or Laguna, a stop here can be a refreshing addition to your itinerary. We visited at noon and couldn't stay any longer for many reasons, but if you can, stay until sunset, when the golden rays of the sun make its way through the windmills.
How to get to Rizal Wind Farm in Pililla:

By Private Transportation (Driving Directions)

If you're coming from EDSA, drive to Manile East Road through the towns of Taytay, Angono, Binangonan, Cardona, Morong, Baras and Tanay.
Stay on Manila East Road until you make it past Villa Lorenza Resort (should be on your left). At the fork, turn left (the other road is Pililla-Jala-Jala-Pakil Road).
Keep driving until you reach another fork. The entrance should be on your left. You'll know you're there when you see a parking lot.

By Public Transportation

From Starmall Mandaluyong (opposite Shangri-la Plaza/Megamall on the other side of EDSA) or Araneta Center in Cubao, Quezon City, take a van or FX to Tanay Public Market in Sampaloc. (Fare: PHP 70)
At the market, take a tricycle to Pililla Wind Farm. (Fare: PhP 300 per way.) Make sure you negotiate for a roundtrip cost.
---
---
2️⃣0️⃣1️⃣6️⃣•7️⃣•1️⃣1️⃣