2021 • 2 • 16
Established in 2010, Pinto Art Museum was born from the art collection of its founder, neurologist Dr. Joven Cuanang, who wanted to open connections between diverse cultures and perspectives through arts, hence the name pinto, which means "door".
The museum presents various types of arts — sculptures, paintings, installations, mixed media — which revolve around religion, historical events, and different modernist movements. It also showcases the works of Filipino contemporary artists.
But it is a museum that is breathtaking inside and out. The art pieces are housed in a number of white mission-style structures, designed by artist Antonio Leaño. This 1.5-hectare art complex is enclosed in a two-hectare botanical garden, which fosters a serene atmosphere. Every nook and cranny is picturesque; every placement well thought out. It's not surprising that this is one of the most Instagrammed museums not just in the Philippines but in the world.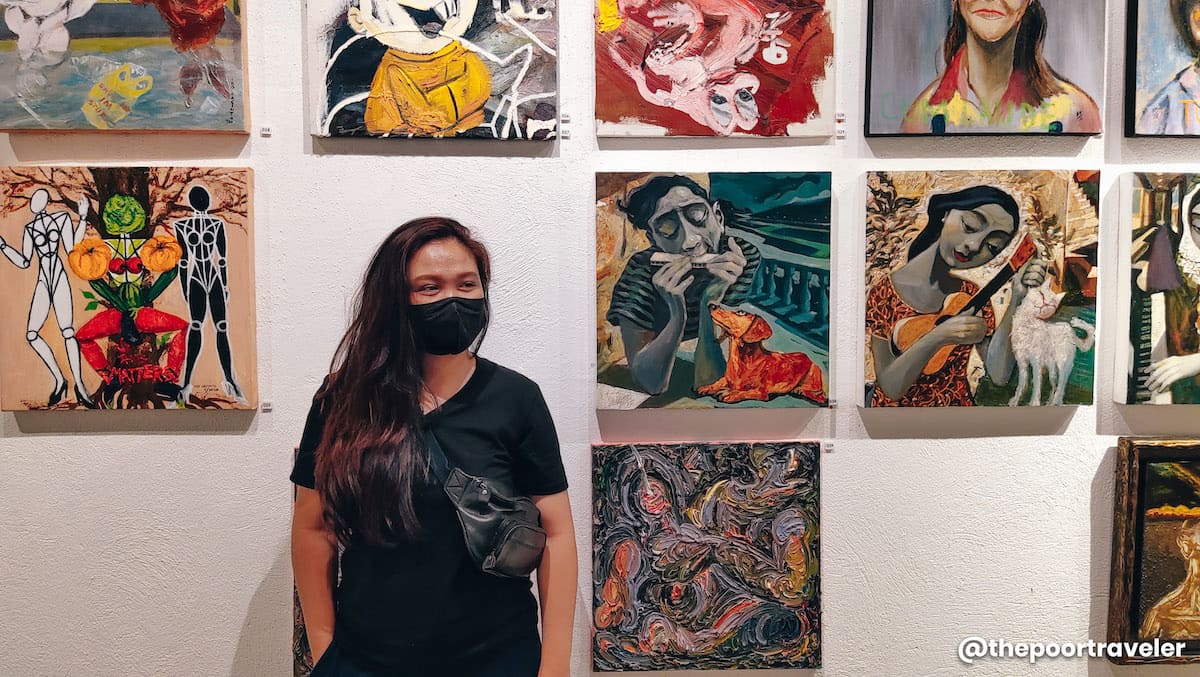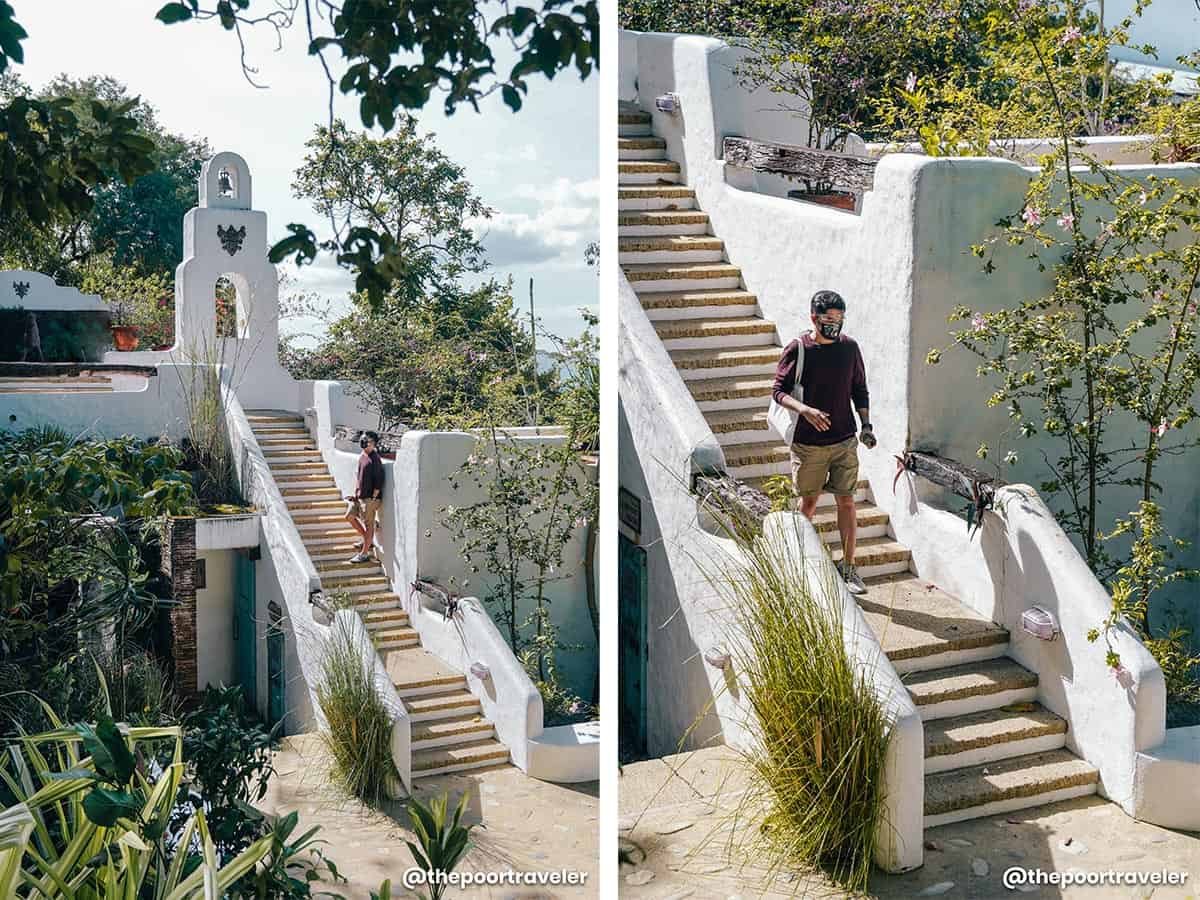 The place is also open to couples who want to do a prenuptial shoot. Another popular feature that you should not miss when you visit is its in-house restaurant, the Cafe Rizal.
---
WHAT'S COVERED IN THIS GUIDE?
What are the opening hours?
10:00 AM – 6:00 PM
Tuesday to Sunday
CLOSED
Monday
Notes:
The opening hours might change without prior notice, especially during these highly unusual times, so please check the official website or Facebook page before visiting.
No face mask, no entry.
You need to fill out the health declaration form at the entrance/ticket booth area. To do so, scan the QR Code displayed by the entrance. This will direct you to the e-form. Accomplish the form. Please be truthful and honest. Then click "submit".
If the QR Code fails to launch, you can type "https://tinyurl.com/y35d68od on your browser.
If you don't have internet connection, you may inform the staff at the ticket counter for the physical health declaration form.
Pay the entrance fee.
Don't forget to observe social distancing.
---
Do we need to secure a reservation first?
No. No reservations needed to visit the museum. The museum accepts walk-ins.
But expect significantly more visitors on weekends and holidays. If you can visit on a weekday, better.
---
Are children and elderly people allowed?
Yes. As of October 2021, no more age limit for guests.
There's a special entrance for the elderly and PWD. Let the guard or the staff know, so they can assist you.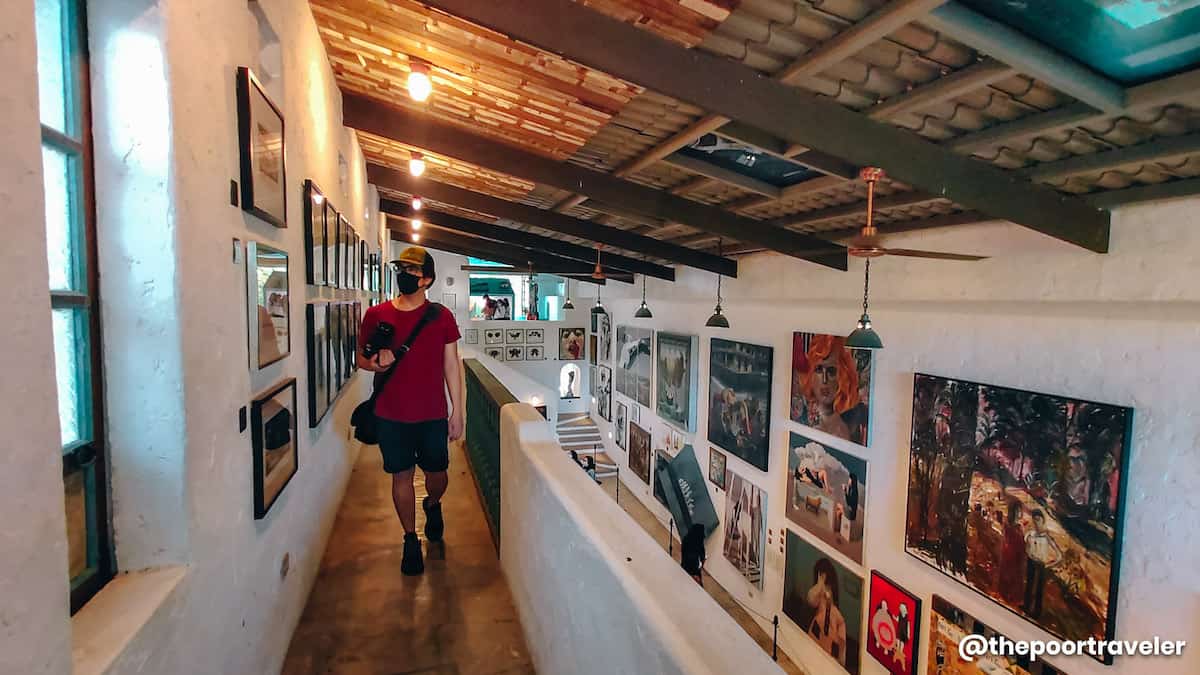 ---
How much is the admission fee?
P250: Adult
P200: Senior Citizen/PWD
P125: Student
FREE: 3 y/o and below
Notes:
Students, senior citizens, and PWDs need to present their valid school ID (or registration form).
The management has the right to escort outside the premises those guests who are deemed unruly and loud.
---
When is the best time to visit?
Weekdays, particularly Tuesday-Thursday.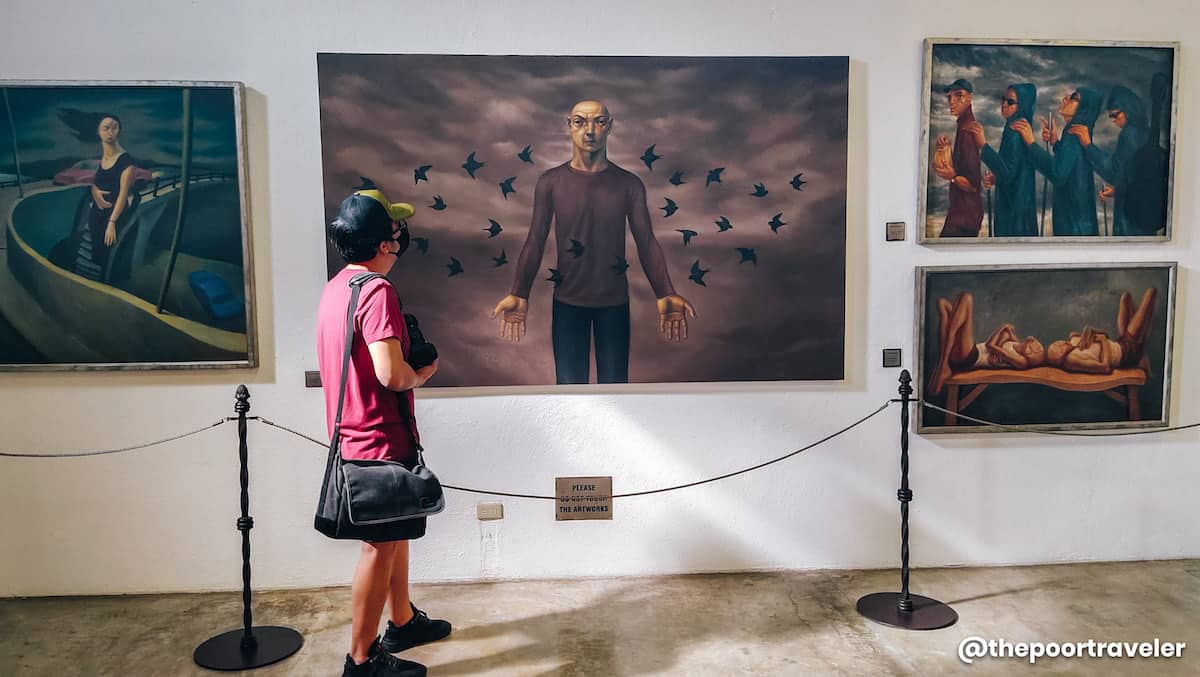 We visited Pinto Art Museum twice — one on a weekday and another on a weekend. We found that one can appreciate the place more and maximize their time when you share the place with fewer guests. Expect more visitors during holidays and weekends.
If you can't help visiting on a weekend or a holiday, come early to make the most of your time there and to avoid rushing.
---
How to get to the Pinto Art Museum?
Pinto Art Museum is located at #1 Sierra Madre Street, Grand Heights Subdivision in Barangay San Roque in Antipolo. Whether by private car or by commuting, getting there is not that complicated. The museum complex is right beside the subdivision's gate / guardhouse. The entrance is along Sierra Madre Street.
Public Transportation. From Metro Manila (particularly Mandaluyong, Pasig, or Cubao), take a jeepney FX, or UV to Antipolo. You can alight at any of these landmarks in downtown Antipolo: Antipolo Church, Robinsons Antipolo, or Ynares Center. From any of these stops, hire a tricycle to take you to Pinto Art Museum. It's better to mention Grand Heights Subdivision because some drivers might not be familiar with Pinto Art Museum yet.
Private Car. Use Google Maps or Waze. As of writing, those bringing their cars need to pay P20 for the road user's fee. There's no parking fee, but you may give any amount to the parking attendant.
Grab Car or Taxi. A separate drop-off area is assigned, which is located just outside the subdivision. Don't worry because the museum entrance is close to the subdivision gate.
---
What are the attractions inside Pinto Art Museum?
The museum complex is vast. You will be given a map at the ticket counter area, so that will serve as your navigation guide when you explore on your own.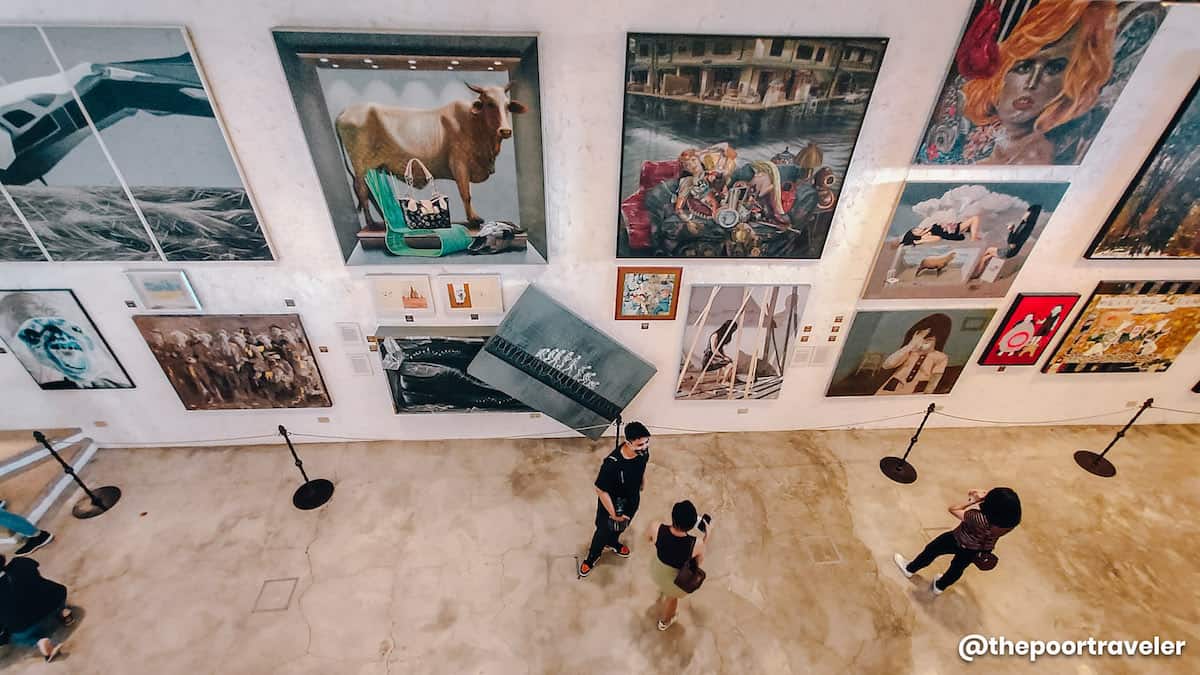 Chapel, which is one of the first distinct structures that will greet you upon entry. You will spot a minimalist altar with two single kneelers. Check out the unusual statues inside and outside the chapel.
Café Rizal, which can be found at two locations inside the complex. You will spot the bigger main café as you walk past the chapel. You can eat al fresco or inside the restaurant. A smaller cafe is located in between Galleries 3 and 4, serving as a breather or resting spot, where visitors can refresh by ordering a drink or grabbing a quick snack. We'll talk more about the specialties later in another section.
Contemporary Art Collections, housed in seven galleries. Every gallery not only offers thought-provoking masterpieces but are also displayed in beautiful spaces. The setting is an attraction itself.
Pinto Arboretum of Philippine Plants, a paradise for plantitos and plantitas. This covers almost one hectare of green space of indigenous Philippine trees and plants. This is another passion project of the founder in helping raise awareness and conserve these endangered trees and plants.
Upper Garden, located across the main Rizal Café. The spacious garden has a pool, lounge seats, and a building with a roof deck.
Sunset View Roofdeck, accessible via the Upper Garden. There are lounge seats and garden table sets. You can have a good view of the garden, which is adorned with a pool and lounge seats.
Pinto Museum of Indigenous Art, located at the Lower Garden. The museum houses the founder's huge collection of cultural artifacts.
Pinto Academy of Arts and Sciences, an educational center that focuses on studying the relationship between science and humanities. Those who are taking the tricycle back to Antipolo downtown will pass through the building as they exit Pinto Art Museum premises.
Museum Shop, where you can buy museum merchandise and souvenirs. This is also the last stop before you exit to the parking area.
---
How do I make the most of my visit?
Get there early on a weekday.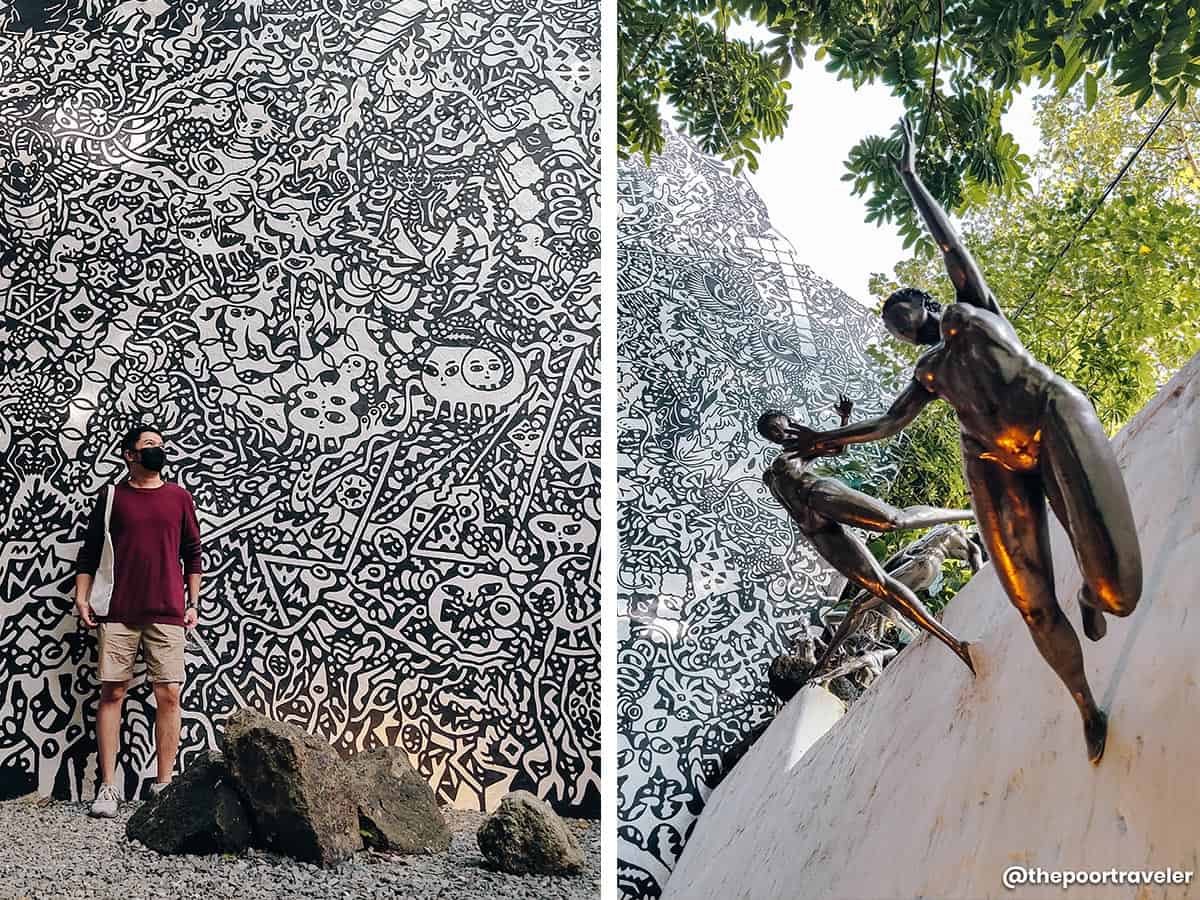 You may also take a guided tour. A guided tour is recommended if you want an in-depth exploration of the artworks and installations. The knowledgeable guide will tell you more about the story behind the works of art. Taking a guided tour guarantees that you will tackle the highlights and important information that other visitors (exploring on their own) might miss. Just ask the staff at the ticket counter.
---
Where to eat?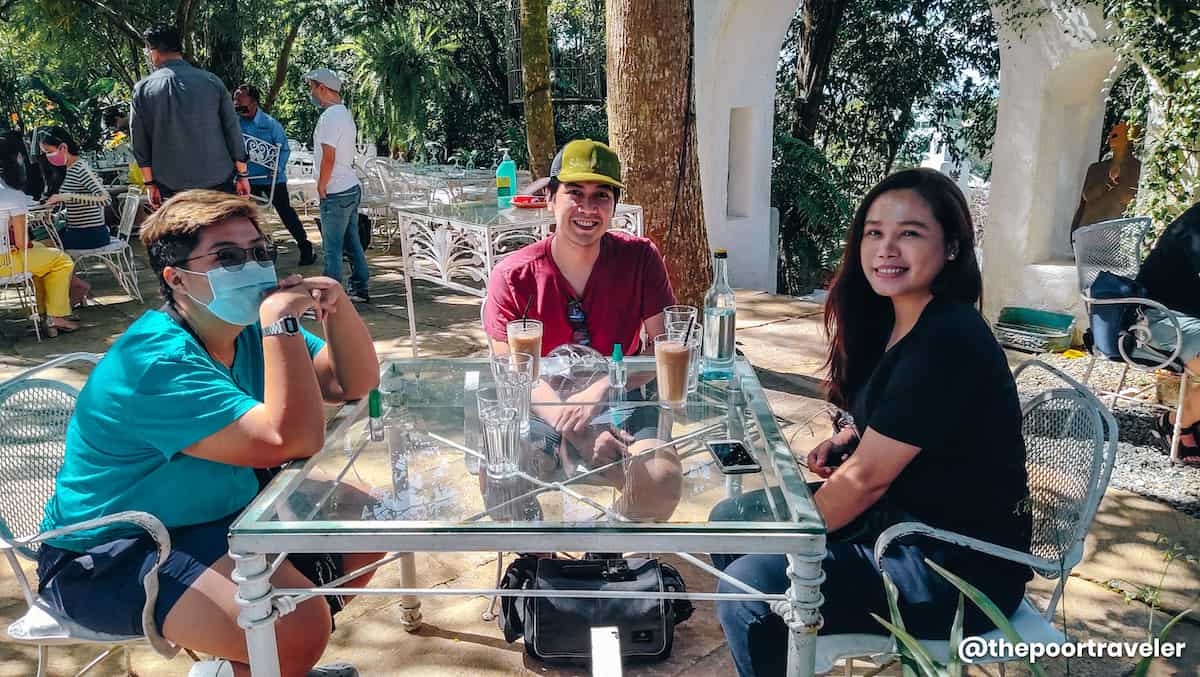 There are two dining places within the museum complex; both are named Café Rizal. The main restaurant is located right after the chapel, while the other one was located in between galleries, particularly Gallery 3 and 4. We ate at the main restaurant and ordered the following:
Seafood Pasta. We thoroughly enjoyed this savory oil-based pasta with generous serving of clams, mussels and shrimps.
Monte Carlo Chicken. Baked half chicken with Italian herbs, french beans, and sun-dried tomatoes.
Rizal Pork Adobo. The presentation made us salivate but it was a bit too greasy and salty for our taste. Could also use more acid (vinegar) that Pinoy adobo flavor is known for.
Tamarind Shake. Loved loved loved it. Don't leave the museum without trying this.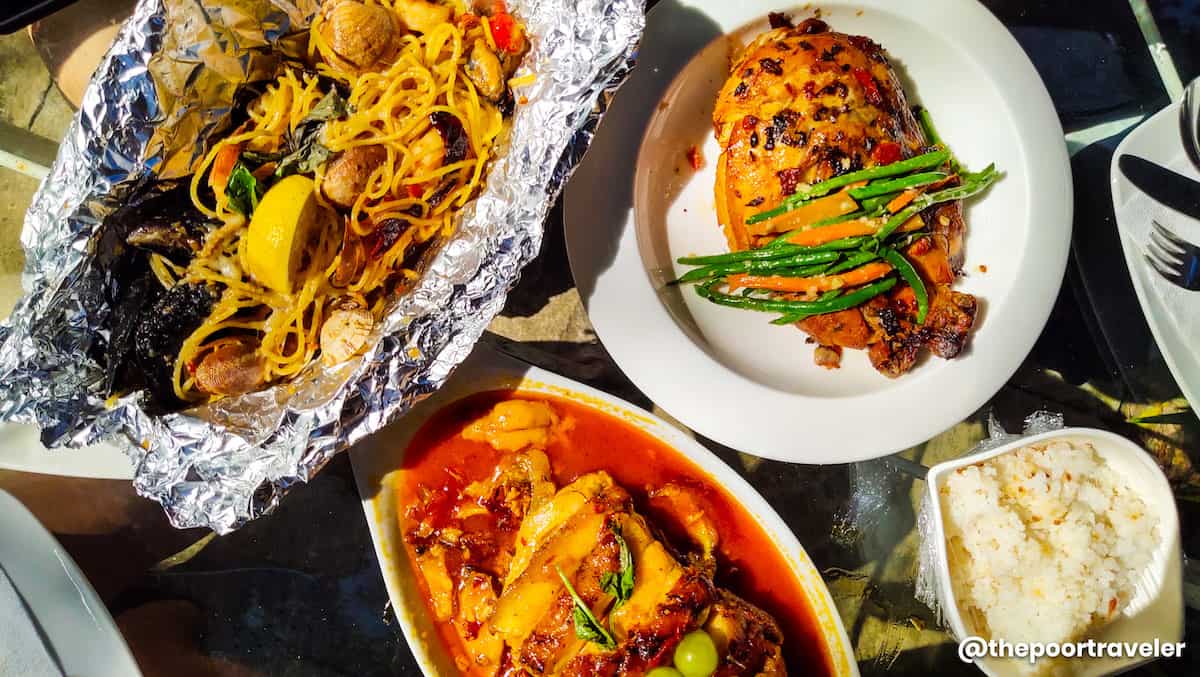 Café Rizal is open from 10:30 AM to 6:00 PM. The busiest time is around lunchtime, especially on weekends. They are also selling drinks.
Antipolo is also a foodie haven, so you still have several options outside if their menu doesn't appeal to you.
---
Does the museum allow photoshoots?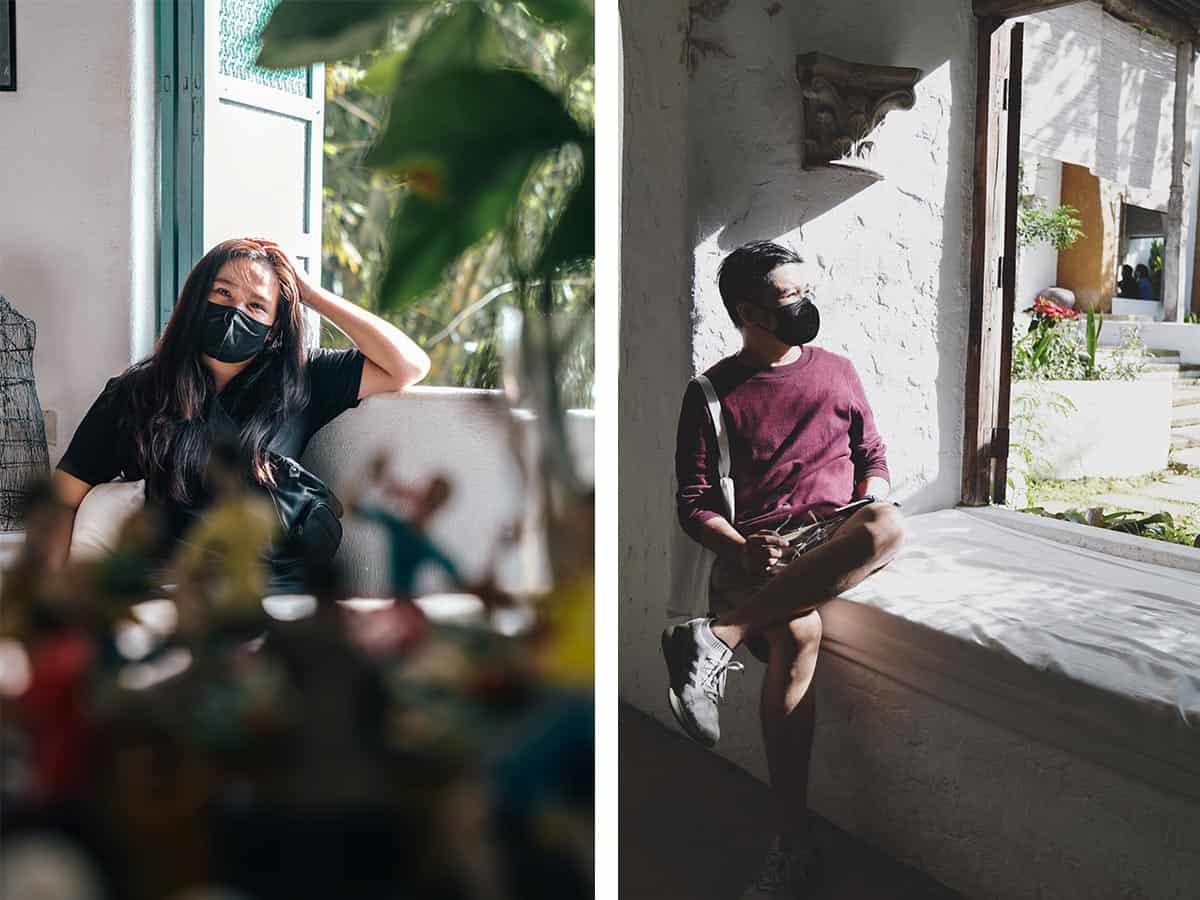 If you mean taking occasional casual photos or even selfies inside the museum, YES.
If you mean professional photo shoots, YES, but for a fee. You need to call the office for inquiries regarding schedule and availability. We will provide the contact details right after this section. In the meantime, here are the rates for professional photoshoots:
P10,000: Upper Garden and Lower Garden (Outdoor Only)
P15,000: Pinto Academy (Outdoor Only)
P18,000: Upper Garden, Lower Garden, Indigenous Art Museum Garden, and Gallery 5 Pocket Garden (Outdoor Only)
P25,000: Upper Garden, Lower Garden, and Gallery 7 View Deck
P25,000: Upper Garden, Lower Garden, Indigenous Art Museum Garden, and Academy (Outdoor Only)
These rates are inclusive of the following:
5-Hours Shoot
5 Pax
1 Holding Room (air-conditioned)
Note: There is an additional charge of P300 per head if the team has more than 5 pax, and P1,000 per hour if the shoot goes beyond 5 hours.
---
How can we contact the management for inquiries?
For inquiries, here are the contacts for photoshoots and other event reservations/bookings.
Landline: (+63 2) 8697-1015
E-mail Address: pintoartmuseum@yahoo.com
Other contacts:
Official Website: www.pintoart.org
Facebook Page: Pinto Art Museum
---
What are the rules and regulations?
Here are the new normal guidelines when visiting Pinto Art Museum: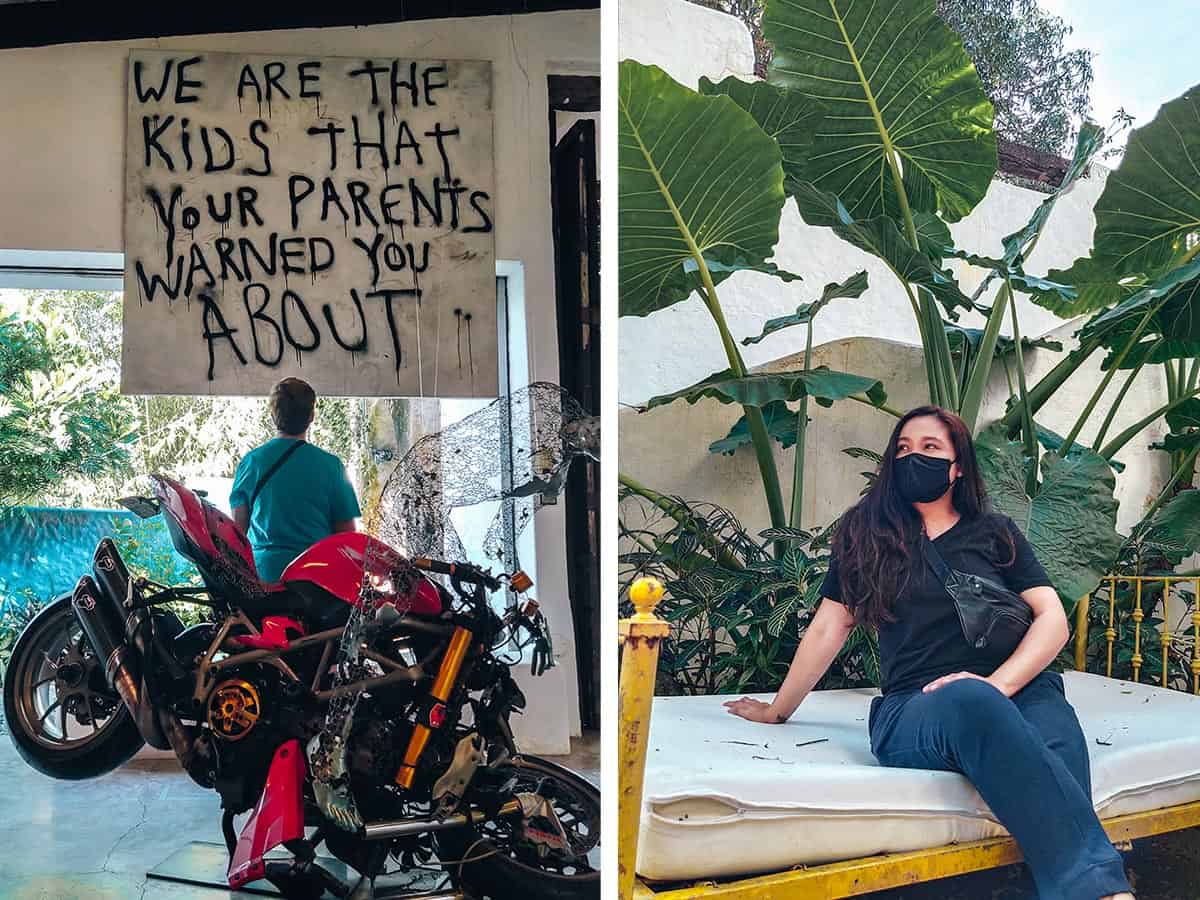 No face mask, no entry.
Face mask must be worn AT ALL TIMES. Yes, even when taking photos. The only exception is when eating at the café.
Fill out a Health Declaration Form, which can be accessed via QR Code.
Have your body temperature checked before entering.
Strictly observe social distancing — one meter apart.
There are alcohol dispensers placed around the museum. However, it's best to bring your own hand sanitizer or alcohol.
Large bags and backpack are not allowed.
No smoking and spitting.
Pets are not allowed.
Outside food and drinks are prohibited.
Do not litter.
Do not touch or lean on the artworks.
Flash photography, video recording, and drone flying are not allowed.
No changing of clothes, no formal attire, and no bringing of props without permission from the management.
Poaching is prohibited. This includes uprooting, cutting, and picking the plants within the museum complex.
---
Other Tips or Reminders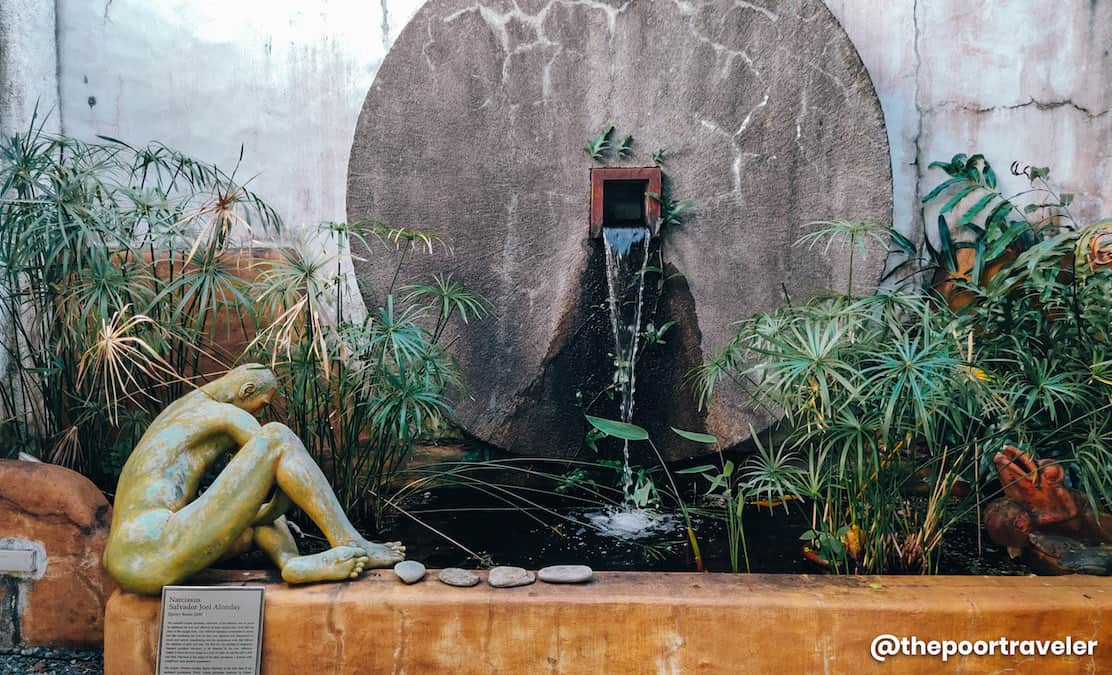 Due to the museum's uneven terrain, the pathways include stairs and ramps. This might be challenging for senior citizens, people with mobility problems, and other medical issues
There's no baggage counter, so leave your large bags inside your car or don't bring them at all, especially if you are commuting.
Wear comfortable clothes and footwear.
There are resident cats. If you see them lounging or sleeping in one of the lounge seats, please don't bother them.
Please be mindful of others. Do not stay too long when taking photos in popular spots around the museum complex.
Use the map handed to you at the ticket counter. It will help you navigate around the complex easily.
Please follow the rules and regulations.
---