2021 • 2 • 16
Kaulayaw Coffee, also known as Kaulayaw Café or simply Kaulayaw, is a rising homegrown dining and hangout place in Antipolo, Rizal. Throngs of locals and weekenders flock to the three-level building along Sumulong Highway for the breathtaking views, astonishing sunset, and some good time.
"Kaulayaw" is a Tagalog word, meaning someone's intimate companion, an apt moniker given how romantic the setup is. The founders built the business around the core value of supporting local farmers and suppliers, coming up with the tag line, "Ethically sourced, locally grown".
And just like the place's name, most of the items on the menu are named after Filipino nouns and adjectives including Makisig, Dalisay, Paraluman, Pagsamo, Sinta, Magayon, and Hiraya, among others.
If you are planning to include this in the itinerary for your Antipolo (road) trip, here are some of the things to know before you go.
---
WHAT'S COVERED IN THIS GUIDE?
What are the operating hours of Kaulayaw?
1:00 PM – 10:00 PM
Monday to Friday
7:00 AM – 10:00 PM
Saturday to Sunday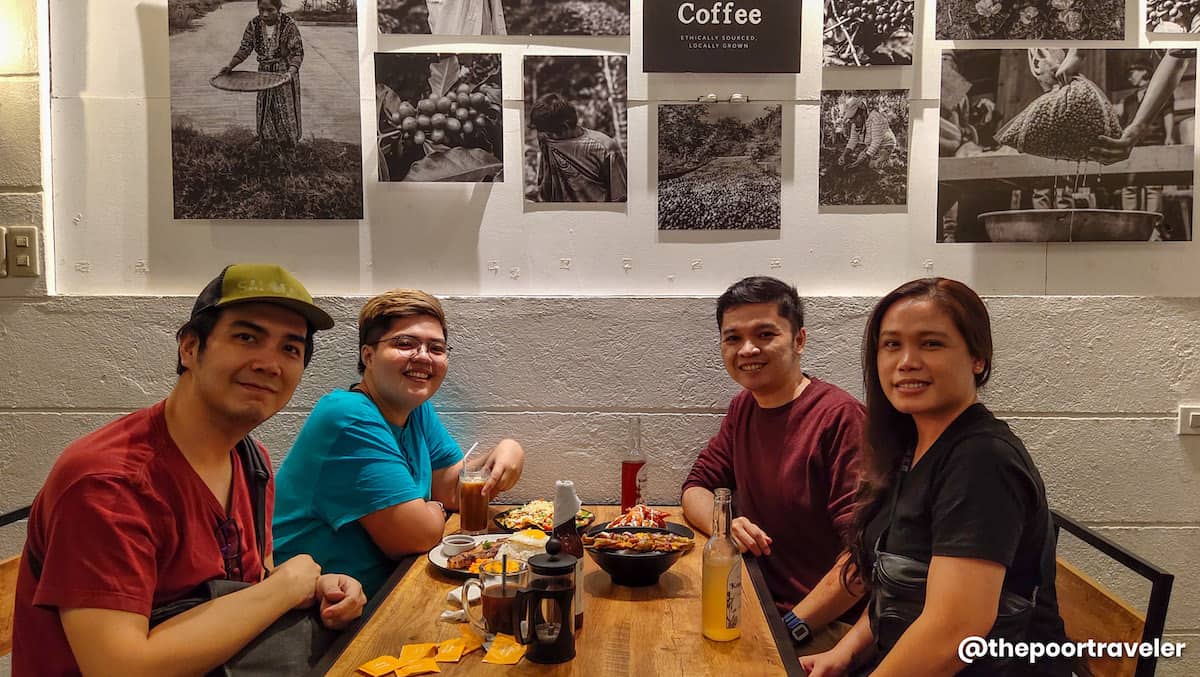 Notes:
The opening hours might change, especially during these extraordinary times, so please check the Facebook page or contact the management before visiting.
To accommodate everyone on the waiting list, it may close earlier than usual on some days due to the long queue.
---
When is the best time to visit?
Weekdays, late afternoon, in time for the sunset and dinner.
Here's the view of the sunset when we visited.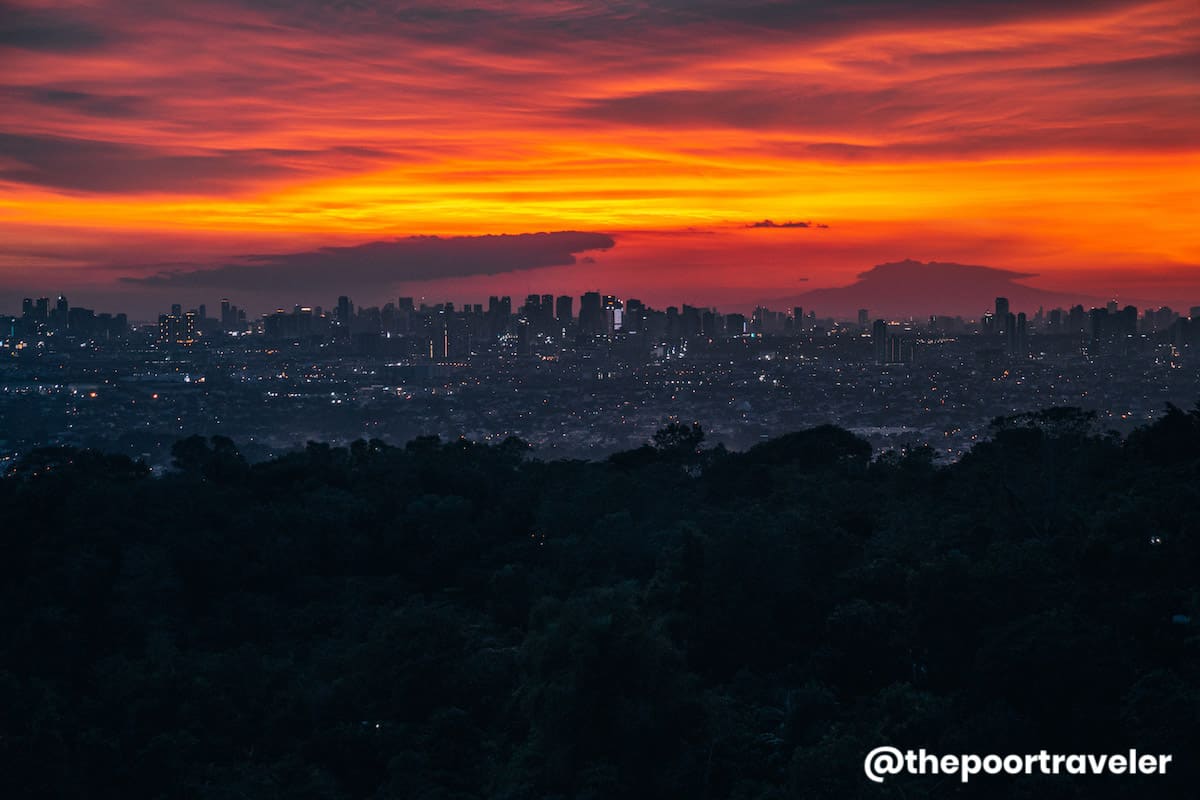 Weekdays, because there tends to be a surge of customers on weekends.
Late afternoon, because the view of the sunset here is spectacular, to say the least. The cafe overlooks Metro Manila and the lush greenery in between. It's also breathtaking under the sun and in the evening, but it is during the transition from day to night that it gets magical, when the setting sun paints the skies with pink, purple, and orange. This will let you appreciate the view during the day, at sunset, and at night.
That said, many customers are also after the same thing so expect more people.
If visiting on a weekend or holiday, come in the morning, before lunchtime, and after lunchtime. By the way, Saturday night is acoustic night.
---
Do I need a reservation?
As of writing, Kaulayaw does not accept reservations.
Prior to our visit, we contacted them but were told that they only accept walk-ins.
We hope they reconsider accepting reservations on peak days. More on that later.
---
How long is the waiting time for a table?
That depends on the day and time of your visit.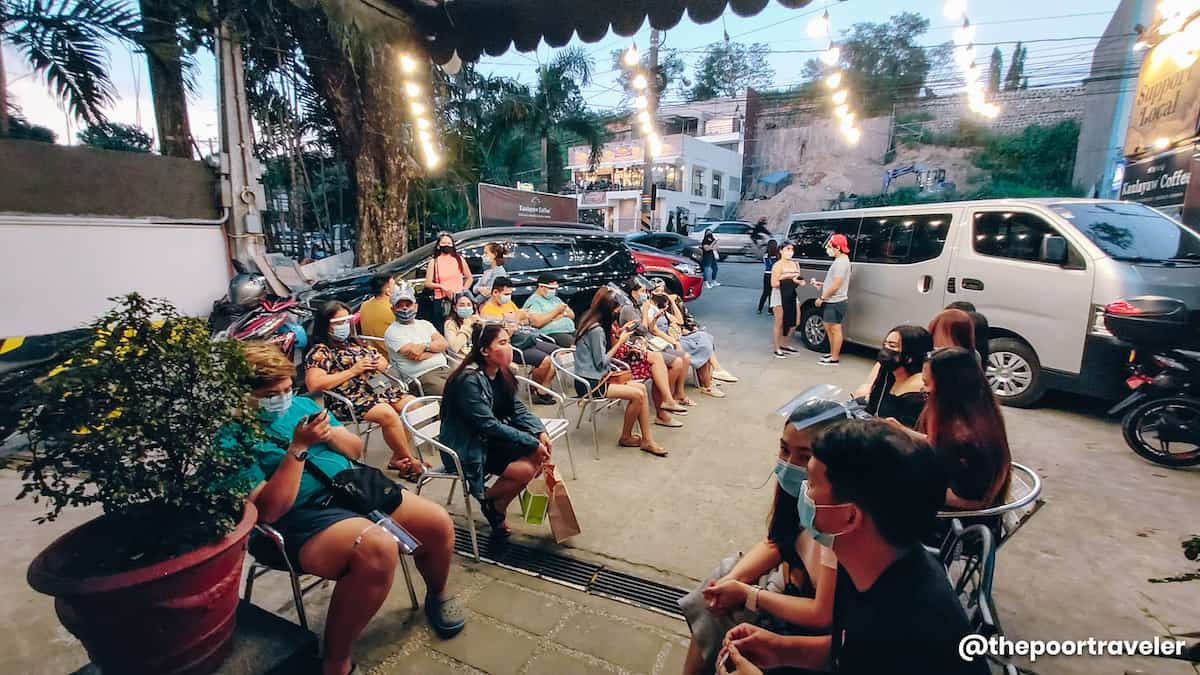 The staff mentioned that it usually doesn't take long on weekdays, especially on dead hours like 3 to 5pm. But if you visit on a weekend, expect to wait long. In our case, we waited 1.5 hours. We visited on a Saturday, arrived at 4:30 pm, and we got seated at 6 pm.
Here's how to get a seat, based on our personal experience.
Upon arrival, approach the staff by the door and get listed. On busy days, expect to see a long queue. However, don't mind the line yet. Go straight to the staff and sign up. That's the "queue" that matters. If you fall in line first and you don't get listed, they will never call your name.
Once listed, wait for your name to be called. On lean days, this shouldn't take too long. But on weekends, this can take over an hour. Use this idle time to use the restroom, check out the menu online, and fill out the forms. There are two waiting areas: one inside and one outside. The one outside is arranged like a queue, which is why first-timers immediately fall in line without getting listed.
Once called, follow the staff to your assigned table. Kaulayaw is housed in a three-story building and each floor is pretty wide. The staff will ask you if you're OK with the table. You can decline if you don't like it, but you'll wait a bit longer for the next table to free up. Note, however, that regardless of your table, you are free to approach the edge at any time for a better view.
When we arrived, there was already a pretty long queue forming in front of the building. There was a staff member by the door. We fell in line and waited for our turn.
When we finally reached the door after a long time of queueing, we realized that the physical queue does not matter at all. One has to get listed to be called. We didn't know this — there were no signs about this and the staff never reminded the people on the line. We ended up waiting even longer.
We hope they reconsider accepting reservations (even with an appointed length of time) on weekends and holidays, especially during the pandemic. It's just more efficient and a lot safer. This will avoid wasting customers' time, crowding at the waiting area, and exposure.
---
Are kids allowed?
No. Quoting the FB page announcement posted on January 13, "A gentle reminder, guests ages 15 and below are not allowed and will not be accepted in the cafe for everyone's safety."
While we were waiting, there was someone who wanted to dine but with kids and they were told that they could not accept them, so it is being implemented (at least when we were there).
---
How to get to Kaulayaw Coffee?
Kaulayaw Coffee is located at 23 Sumulong Highway in Barangay Santa Cruz along Antipolo ridge.
From Manila, the most convenient and safest option is to go there by private car. Use Google Maps or Waze to guide you. One of the landmarks is Starbucks The Ridge, located near Kaulayaw on the same side of the road.
The place is also popular among bikers/riders.
---
Is there a parking area?
Yes, but slots run out fast, particularly on weekends.
We managed to get a parking slot at a vacant lot between Kaulayaw and Starbucks. Other cars parked in front of other establishments or on the side of the road. There are parking boys who will assist you. Parking fee is P50.
---
Where is the best spot inside Kaulayaw?
The closer to the edge / balcony, the better.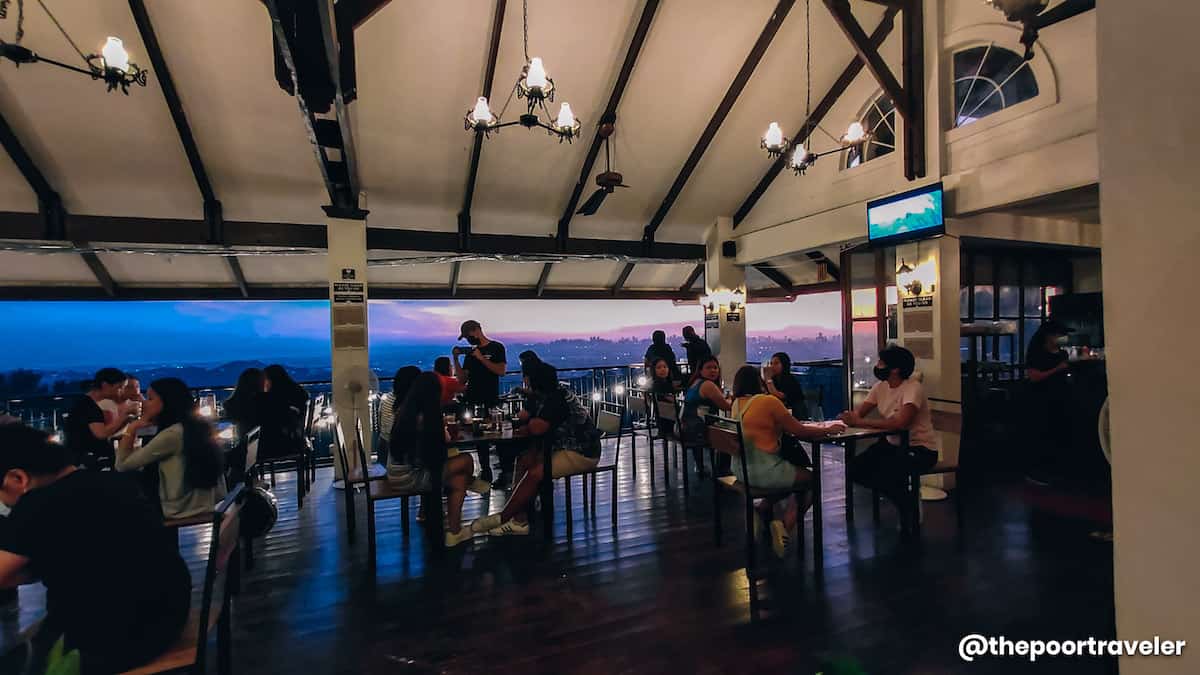 But at the end of the day, it doesn't matter much because regardless of which area you are seated in, you can still approach the edge of the balcony at any time while you're there.
All three levels have open space areas that function as viewing decks. The first level is under construction when we visited, the second level has a balcony, and the third level looks like a veranda. We were seated on the third level against the wall opposite the viewing area, but we still enjoyed the view from our table.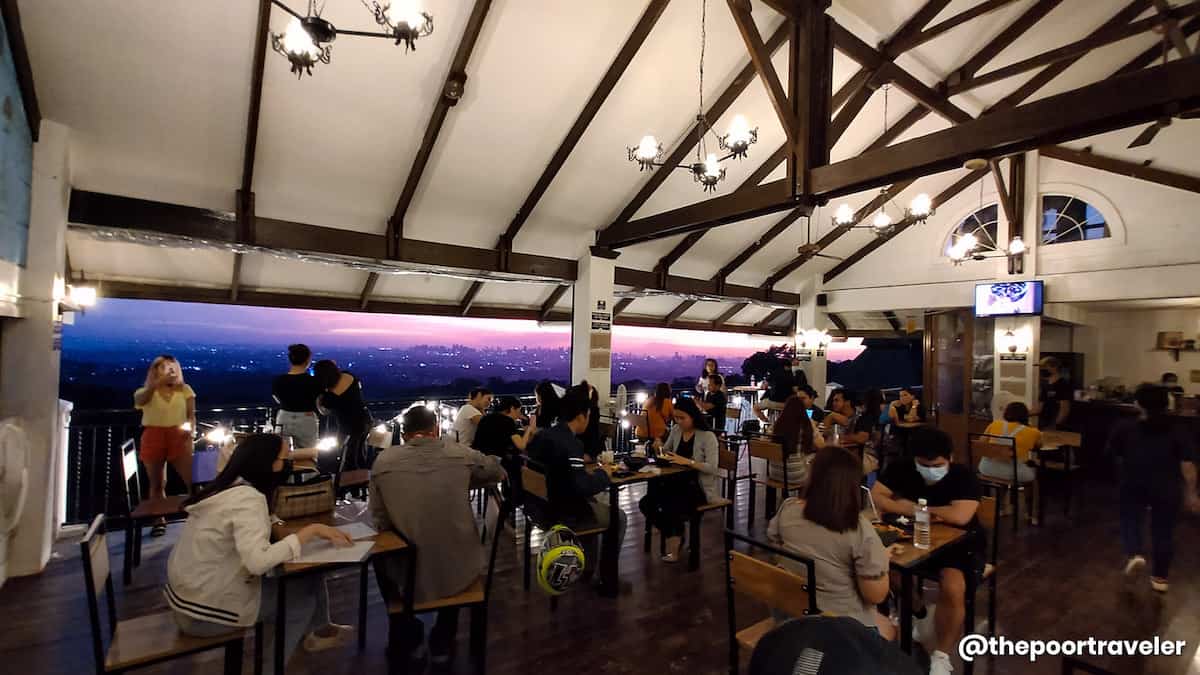 ---
What are the items on the menu?
Here's the current menu of Kaulayaw Cafe.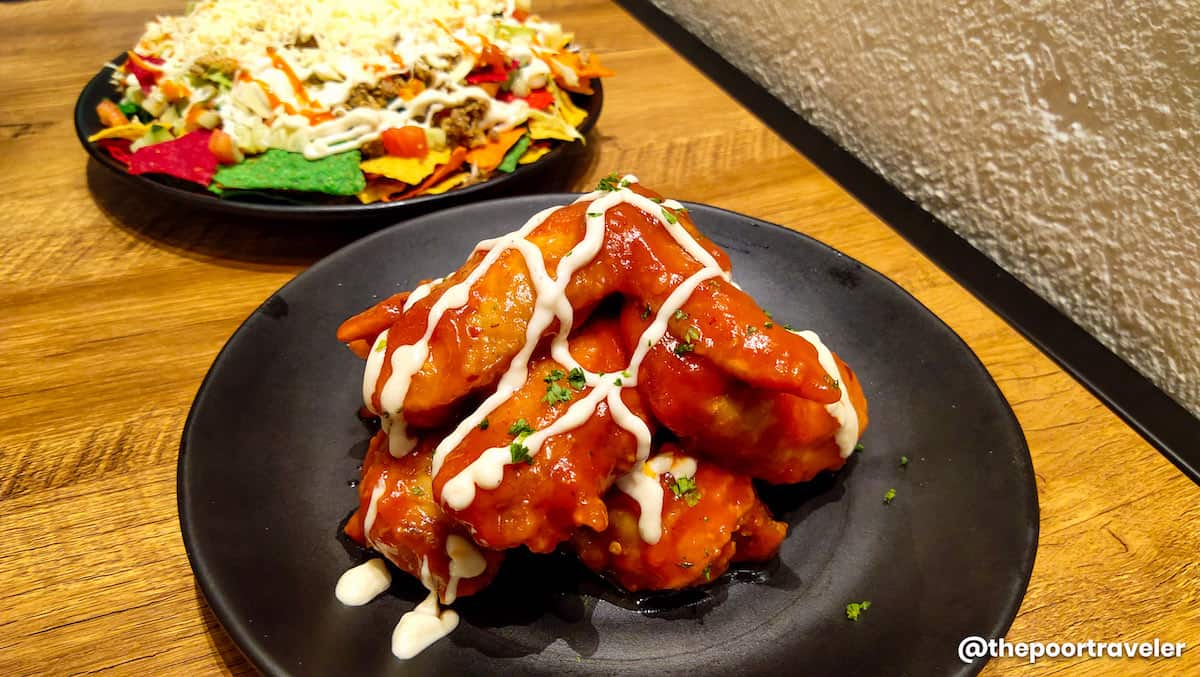 Food
KAULAYAW OVER RICE
Price Range: P225 – P280
Marikit (Tocino w/ Egg over Rice)
Matahum (Longganisa w/ Egg Over Rice)
Magayon (Tapa w/ Egg Over Rice)
KAULAYAW ENTREES
Price Range: P245 – P700
Chicken Satay w/ Fried Egg & Peanut Sauce
Barbecue Pork Ribs w/ Fried Egg
Pan-seared Wagyu Cubes
Buttered Garlic Salmon Steak
Butter Aged Ribeye Steak
PASTA
Price Range: P195 – P250
Kalinaw (Aglio e Olio)
Paraluman (Carbonara)
Gunita (Salmon Pasta w/ Tomato Cream Sauce)
SANDWICHES
Price Range: P95 – P150
Dalisay (Plain Cheese Tosti w/ Tomato Dip)
Mabini (Ham and Cheese Tosti w/ Tomato Dip)
Liwayway (Bacon and Egg Pancake Sandwich)
TOASTS
Price Range: P155 – P290
Padayon (Baguette w/ Spinach Dip)
Katipan (Kaya Toast and Soft-Boiled Egg)
Marahuyo (Toast w/ Cashew Butter, Berries, and Chia Seeds w/ Yogurt and Cream)
Makisig (Eggs on Toast Topped w/ Beef Tapa, Radish, and Dill)
Kinaiya (Toast w/ Herb Avocado Topped w/ Egg, Dill, and Tomatoes)
PANCAKES
Price Range: P145 – P190
Kundiman (American Pancake)
Sinta (Roti Pancake w/ Banana)
Harana (Okonomiyaki)
MORNING SPECIALS
Price Range: P55 – P300
Suman
Cheese Roll
Ensaymada
Masagana
(Breakfast Platter: Fried Eggs, Beans, Sausage, Bacon, Pancake, and Tomatoes)
KAULAYAW HORS D'OEUVRES
Price Range: P185 – P400
Bayanihan (Premium Fries)
Silakbo (Cashew Nuts)
Maharlika (Chicken Satay)
Bahaghari (Nachos Supreme)
Pahimakas (Fish & Chips)
Pagsamo (Sisig)
Alpas (Buffalo Chicken Wings)
---
Drinks
For the coffee selection, they have brewed (classic & premium), hot, iced, and drip. Local coffee beans used include the following:
Benguet Beans
Sagada Beans
Saranggani Beans
Matutum Beans
Kaulayaw Exclusive Beans
For non-coffee drinkers, tea and choco tablea are available too. You may also choose to put extra whip cream and syrup (hazelnut, roasted almond, toffee nut, and Irish cream).
Price Range:
Brewed: P119 – P140
Hot: P99 – P160
Barista Special: P179
Drip: P79 – P90
---
Serbesa at Iba Pa
One of the things I like here is that they serve classic and flavored Kombucha, fermented black or green tea, and local craft beers. Yay! Tequila, whiskey, and Italian wines are available too; however, they are sold per bottle.
KOMBUCHA
Price: P179/bottle (350ml)
Original
Ginger and Lemon
Hibiscus Blueberry
Mango
LOCAL CRAFT BEER
Price Range: P148 – P180
Alcalde Pale Ale
Crazy Carabao
(Golden Ale, Pilsner, Wheat, and Pale Ale)
Nipa Brew
(Tropical Haze, Sun Stoked, Bliss Point, and Drop Zone)
Nipa Brew Expedition Series
PER BOTTLE
Italian Wines: P890 – P1,000
Tequila: P1,480 – P1,900
Whiskey: P1480 – P3,000
---
Would you recommend it?
For the view, YES!
For the beer and kombucha, it's another yes for us. We ordered Ginger and Lemon Kombucha, Hibiscus Blueberry Kombucha, and Alcalde Pale Ale.
As for the brewed coffee, Vins enjoyed his hot Kaulayaw special blend (medium roast).
The food is another story though. We ordered Alpas (Buffalo Chicken Wings), Chicken Satay with Fried Egg & Peanut Sauce, Barbecue Pork Ribs with Fried Egg, and Bahaghari (Nachos Supreme). Although they were tasty, much of what was served to us could use some more cooking time, especially the chicken wings. Any other time, we would have sent them back to the kitchen to be cooked longer but we ran out of time. It was possibly just a one-off and we were just unlucky. It wasn't that much of an issue for us because we were not there for the food, to begin with.
But come for the view and the drinks! I would gladly return and bring some of my other friends.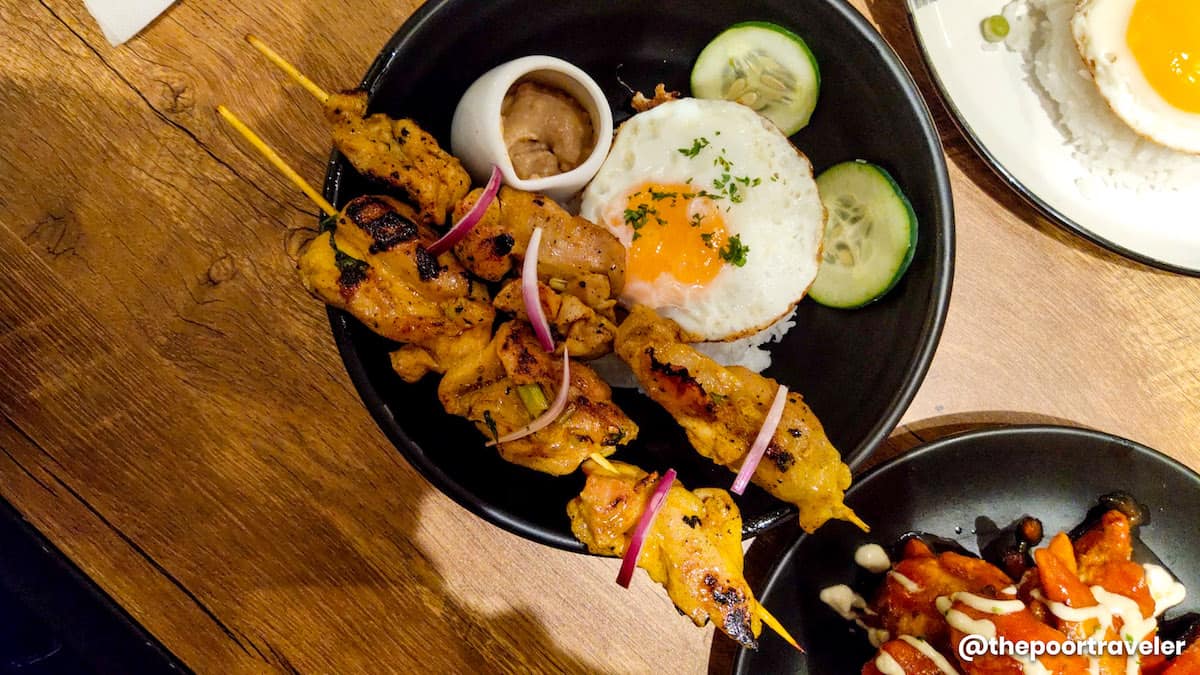 ---
Kaulayaw Contact Details
Mobile Number: 0917 690 2582
E-mail Address: kaulayawcoffee@gmail.com
Official FB Page: Kaulayaw Coffee
---
With additional words from Yosh Dimen