Movies! If there's one thing that I am so addicted to other than traveling, that has to be the movies. That's why Universal Studios in Singapore is my idea of wonderland! I just couldn't help but feel giddy in excitement as my mom and I made our way to Resorts World. Add the idea that my all time favorite TV show is Battlestar Galactica. Fraaaaak!!!
Our plan for our Day 2 was simple: Explore Sentosa Island. And we're starting with Universal Studios. As early as 8am, we were already up and ready for our day of getting lost in the movies!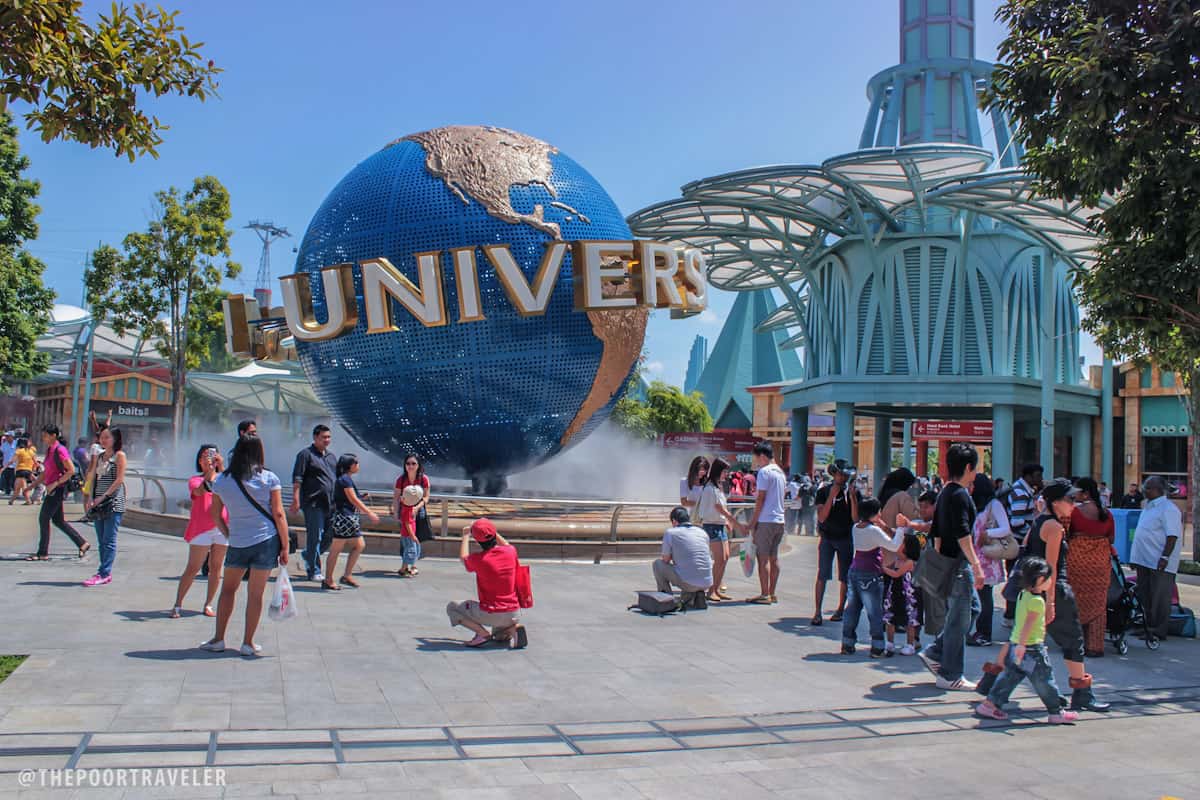 Upon arrival, my mom and I immediately camwhored around the Universal Studios globe rotating just before the park's entrance.
How to Get There
We decided to take the train to Sentosa. If you want to do the same, allow me to share with you exactly how we did it:
Take the North East Line going to Harbourfront.
Alight at the last stop — Harbourfront Station.
Walk into the VivoCity Mall and climb to Level 3 of the Mall.
Proceed to Lobby L. You know you're at Lobby L when you see Food Republic. You might want to have breakfast or lunch before going to Sentosa.
Fall in line and purchase a ticket. The ticket costs S$3and it already includes Sentosa Island Admission charge. Keep your ticket. Don't lose it.
Board the monorail train.
Alight at Waterfront Station.
Follow the signs and you'll find yourself staring at the Universal Studios rotating globe soon after.
That's it. To return to the city proper, just trace your steps back.

About Universal Studios Singapore
Universal Studios Singapore is Asia's second and Southeast Asia's first movie theme park. Located within Resorts World Sentosa, the place covers 49 acres (20 hectares) of land, harboring a total of 24 exciting attractions! The park is divided into seven zones, each with its own theme that is based on a popular TV show or a blockbuster film. Each zone also has its own characters, restaurants, shops and rides.
Hollywood!
Located just after the entrance to the park, Hollywood is the first zone that you will see. Surrounded by palm trees and amazing structures, the park's look is based on the real Hollywood Boulevard. Popcorns, Marilyn, Hollywood Walk of Fame — many elements here remind visitors of the old Hollywood.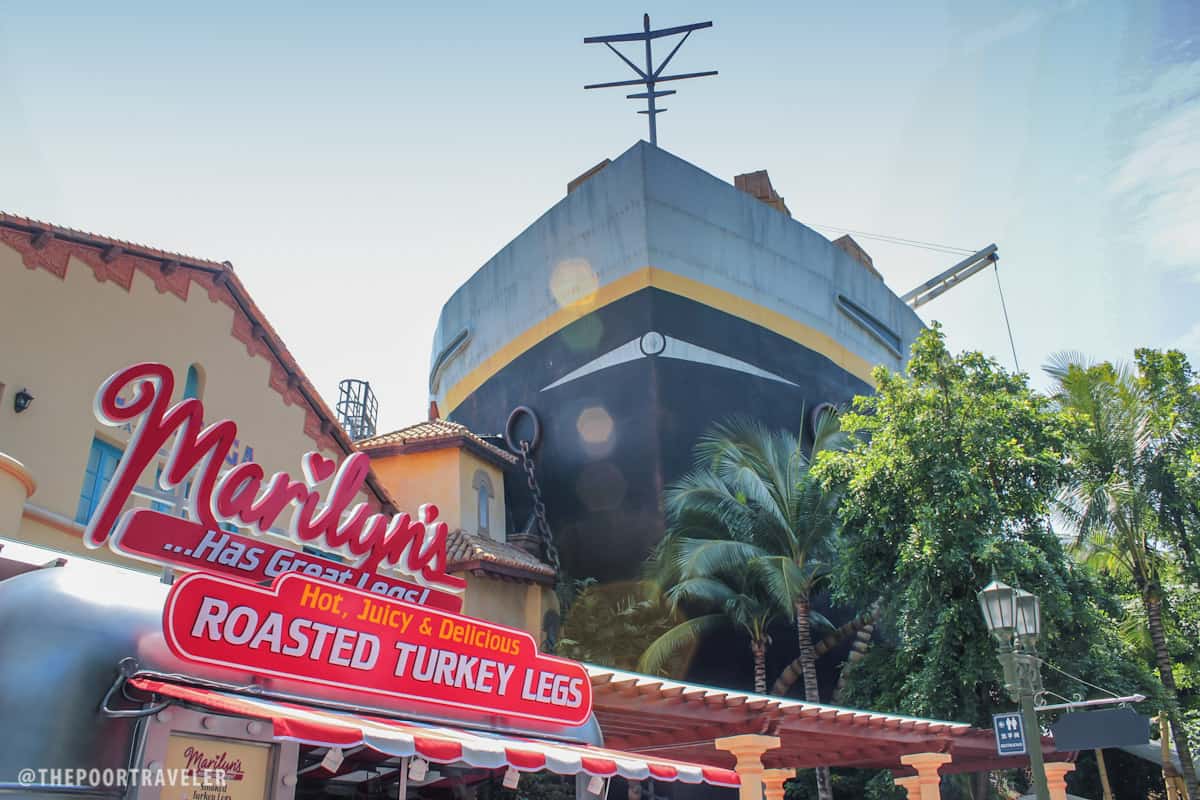 Madagascar!
"My nephew would kill me!"
This was what I said when I found myself surrounded by the hilarious characters of Madagascar. My nephew is a big fan and he'd be upset had he known that I'd be meeting the crazy penguins without him.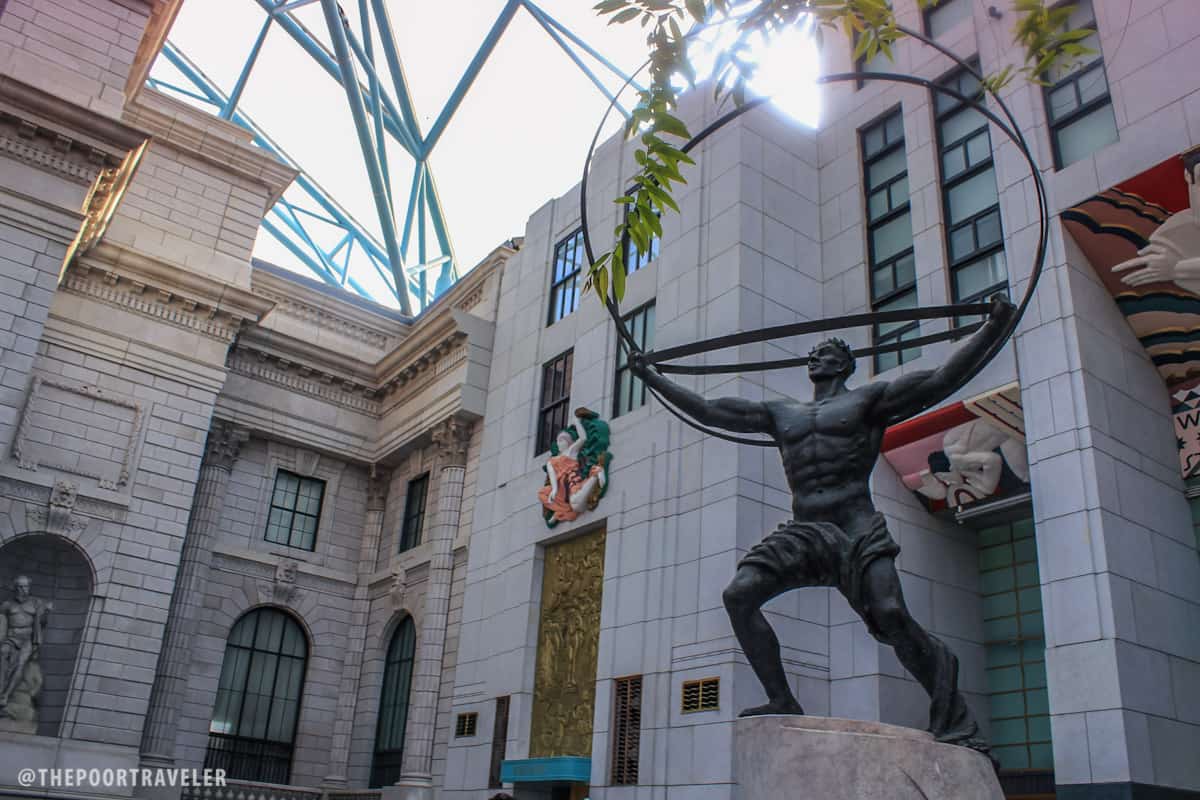 The main attraction at the Madagascar Zone is the Madagascar: A Crate Adventure ride. It is a fun ride but made primarily for children and fans of the show. We spent more than an hour falling in line but it was worth it somehow.
Far Far Away
Based on the Dreamworks animated blockbuster, Far Far Away features Shrek and the other characters like Princess Fiona and Donkey. The main structure in this zone is the castle which houses a theater. Here, you can enjoy the Shrek's 4-D Adventure movie.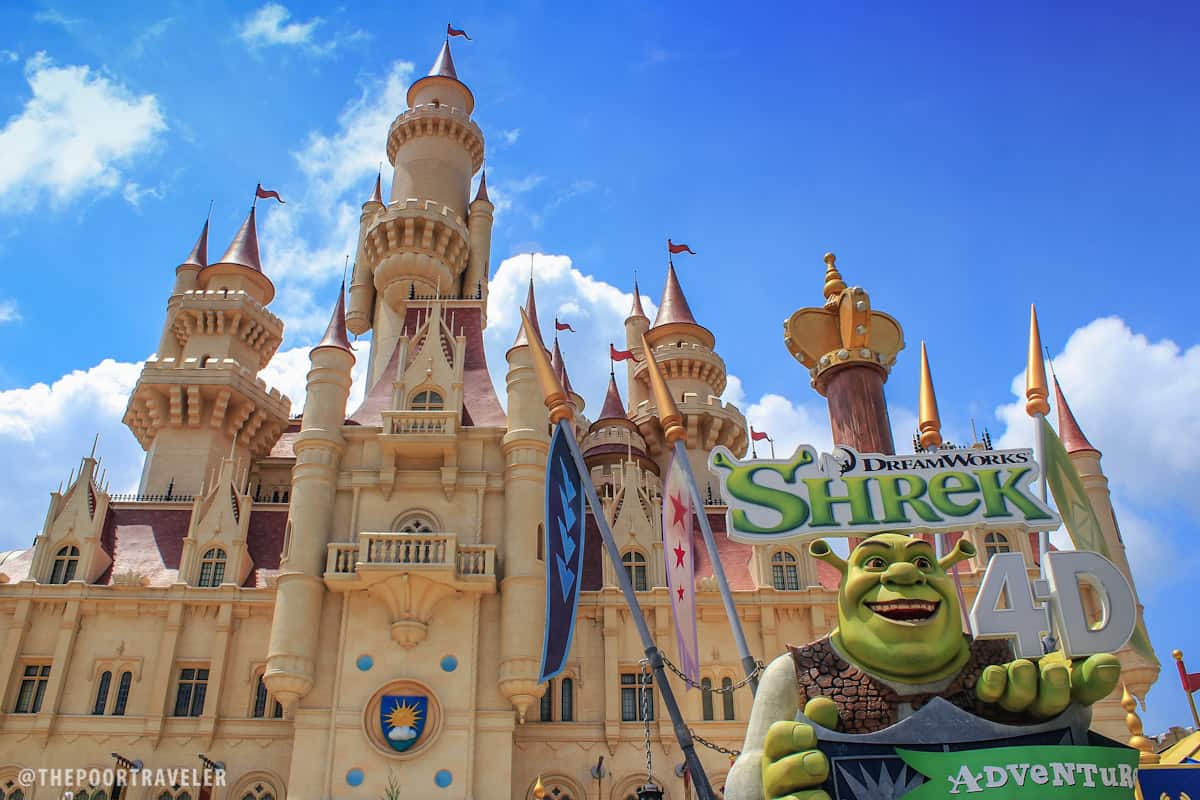 The Lost World
The Lost World is divided into two areas — Waterworld and Jurassic Park. In Waterworld, visitors get to enjoy a live, action-packed water stunt show in an amphitheater. My mom and I enjoyed the show tremendously.
A warning, though: If you don't want to get wet, don't sit in the front rows.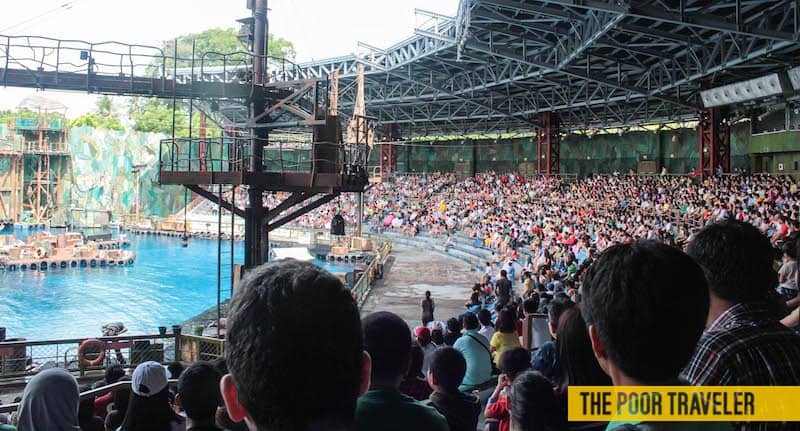 If you want a wet-and-wild adrenaline-pumping adventure, then head to the Jurassic Park where dinosaurs abound. Enter the world of velociraptors and then escape from them in this ride.
Ancient Egypt
Based on the Golden Age of Egyptian Exploration in the early 20th century, Ancient Egypt is home to the Revenge of the Mummy indoor rollercoaster ride where you get to be face-to-face with scarab beetles and, well, mummies!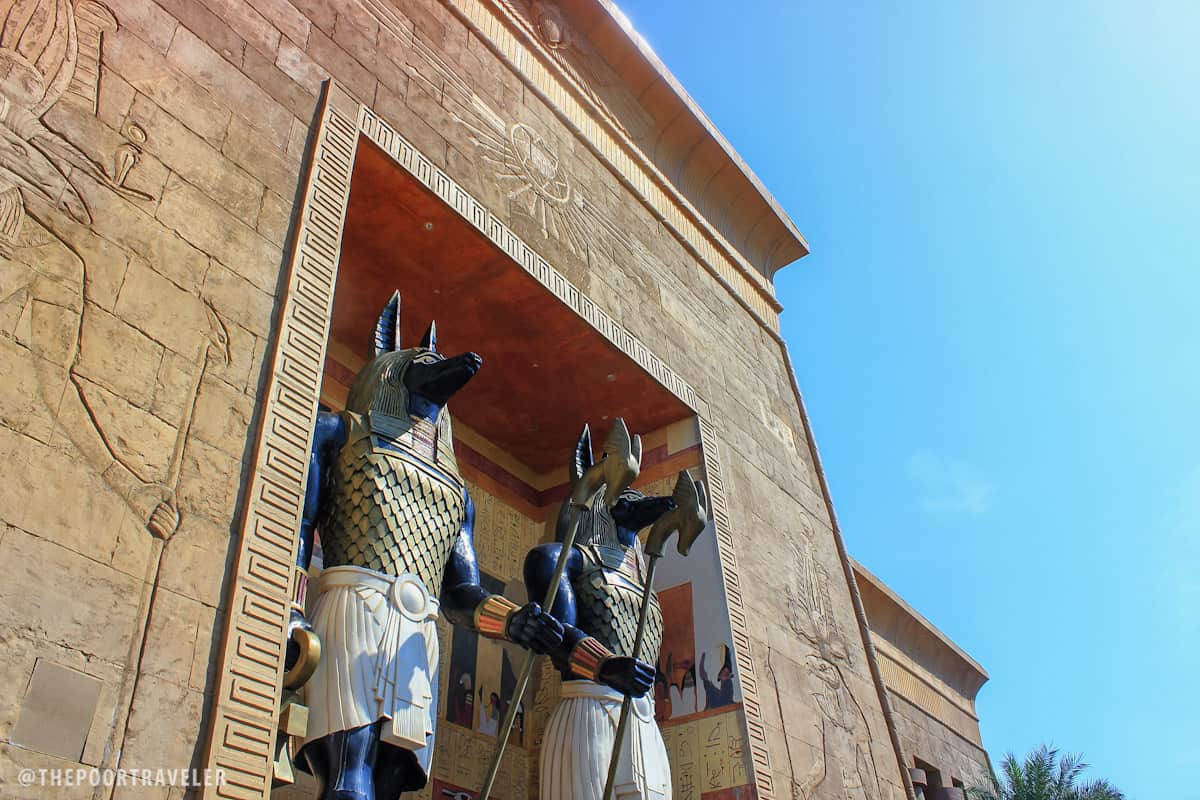 Sci-Fi City
And now, into my favorite zone! Sci-Fi city's most popular attraction has to be Battlestar Galactica. These dueling rollercoasters set thrill-seekers on an out-of-this-world mission via a turbulent and high-speed chase which involves sudden drops, lifting and dramatic acceleration. You may choose between Cylon and Human. Cylon, the blue track, looks more challenging.

New York
New York is themed after, well, New York City and its most recognizable landmarks. When we were there, there was a group of men dancing in the streets entertaining the crowd. The main attraction here is Lights, Camera, Action: Hosted by Steven Spielberg.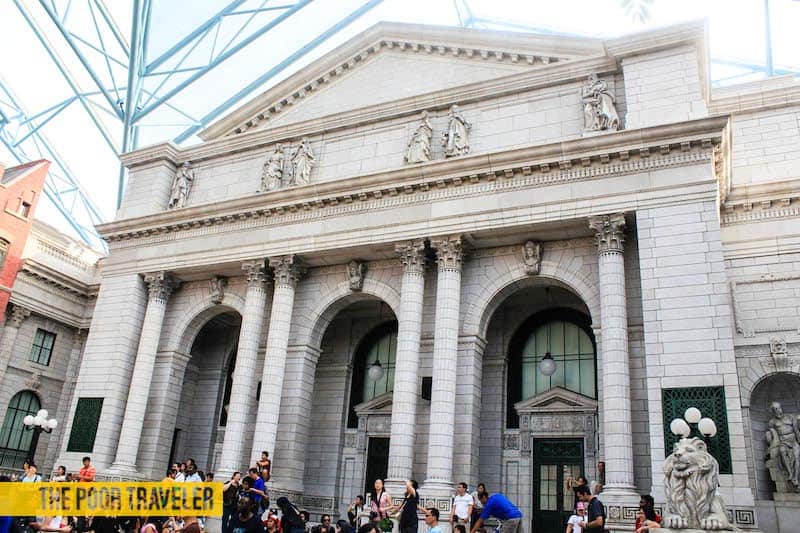 Rates and Tips
We paid S$72 per person because it was peak season. Here's the complete list of ticket types and prices as of August 2011: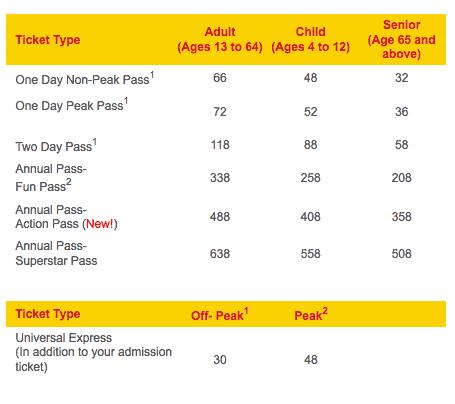 Just a tip. If you're visiting on a weekend of a peak season and you still have budget, get an EXPRESS PASS. (Yes, all caps, boldface, underlined.) I bet it was worth it. We did not avail of it and it was our biggest regret. We didn't know about the Express Pass before and we only learned about it when we saw visitors not queuing at all. Apparently, they had the Express Pass. It will save you a lot of time, giving you more chances to enjoy more rides and make the most out of your stay.
Note that availing of the EXPRESS PASS is only wise if it's a weekend of the peak season and you are so damn sure that the lines are long. Otherwise, don't. After all, if you're with really fun companions, waiting can be pretty enjoyable, too, if not tolerable.
Overall Experience
Overall, I had a blast at Universal Studios Singapore. My favorite part was riding Battlestar Galactica: Cylon, Waterworld and Shrek 4-D Adventure. The only letdown was that because it was Saturday and it was peak season when we were there, the lines were too long. As expected, most of our time was spent queuing rather than really enjoying the place. Yes, we should've bought availed of the Express Pass.
Universal Studios Singapore: Journey to the Movies

,
Got something to say? Spill!