Our Day 3 in Singapore started early. We were up as early as 7am. The first item on our itinerary for that day was the Chinatown Heritage Walking Tour, which I was very excited about because I had never been to this part of Singapore before. Note that it is a Do-It-Yourself tour. Even before the trip, I already determined the places to go to so I somehow knew what to expect. Armed with just a map, my mom and I headed to Telok Ayer Street for a relaxing, and hopefully enlightening, walk around Chinatown.
Although part of Singapore Chinatown, Telok Ayer Street boasts of multi-religious buildings and structures. Aside from a Chinese temple, the street is also home to a mosque, a Methodist Church and an Indian shrine. Confused? Welcome to the club. But that's what makes this place more endearing. It tells you so much about how Singapore values diversity in culture and religion.
WHAT'S COVERED IN THIS GUIDE?
How to Get to Telok Ayer Street
We were coming from G4 Backpackers' Hostel in Little India and we only took the MRT to get to Telok Ayer Street. Here's how we did it:
From Little India MRT Station (North East Line), take the train going to Harbourfront.
Alight at Outram Park
Transfer to East West Line and take the train heading for Pasir Ris.
Alight at Tanjong Pagar
Look for Exit G. Follow the signs.
From Tanjong Pagar Station, you will easily see a building almost right across — the Chinese Methodist Church.
A long time ago, Telok Ayer was on the beachfront. So when you start walking, imagine yourself walking on the beach as you marvel at these fantastic temples and heritage houses. Hehe. It must have been completely different then. Regardless, Telok Ayer is still a great place to visit because buildings are restored and well-preserved.
Here are the interesting structures that you will enjoy as you walk around the area:
1. Telok Ayer Chinese Methodist Church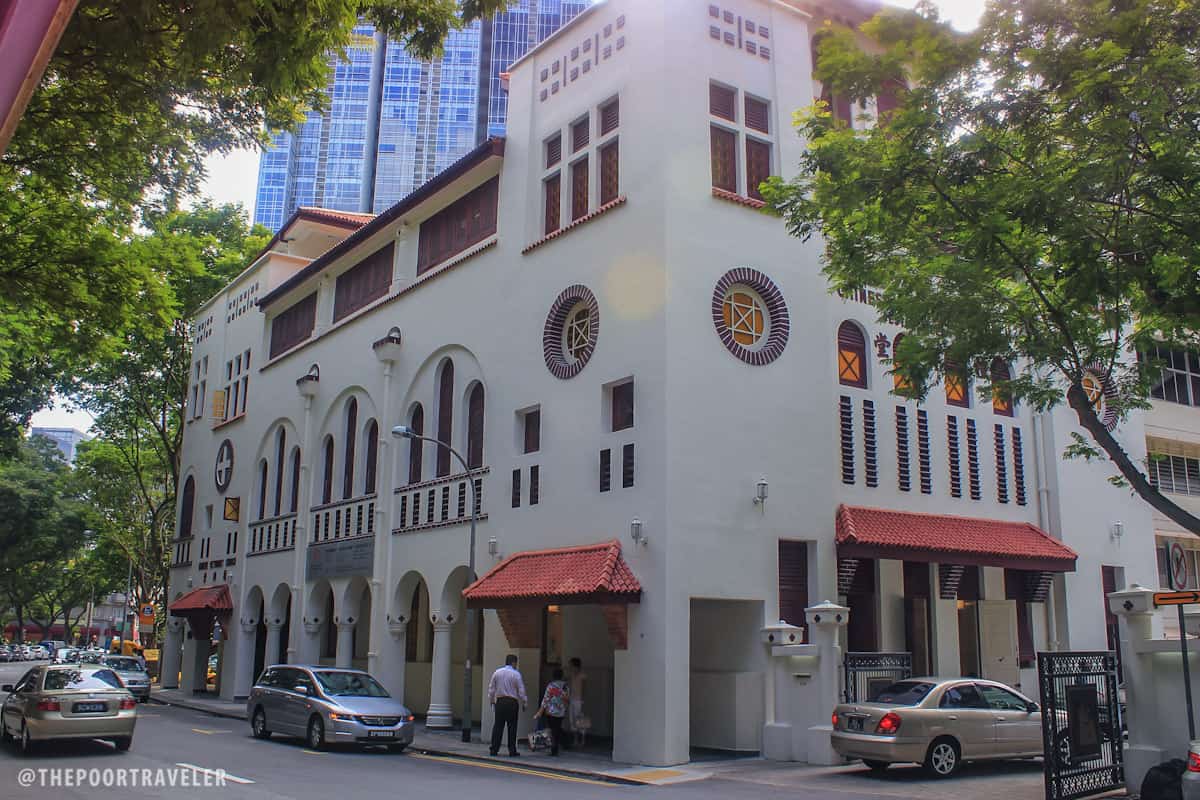 One of Singapore's earliest Chinese Christian churches, the Telok Ayer Chinese Methodist Church  features a combination of oriental and western influences. The Chinese-style roof caps this building but its Art Deco features can be noticed in the windows.
Because we were really hungry, we decided to grab a quick breakfast at Amoy Street Food Centre. It was still very early so only a few food stalls were open. Fortunately for us, we found a stall that we really liked. You may choose to eat here or if you're not hungry, finish this walk first and then walk to Maxwell Food Centre, which is just around the corner.
2. Al-Abrar Mosque (Masjid Al-Abrar)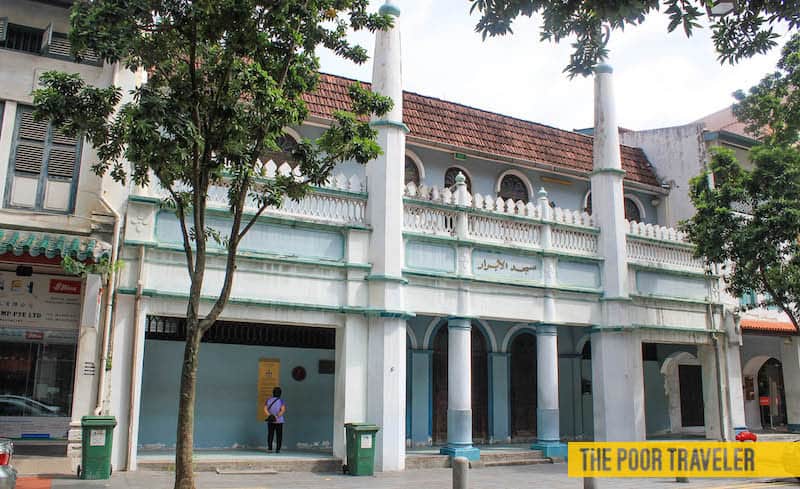 Al-Abrar Mosque started out as a thatched hut in 1827. This humble beginning is why it is called by its other name "Kuchu Palli," which means "small mosque" in Tamil. It is also called Masjid Chulia because this was where immigrants from Coromandal Coast in Southern India worshiped.
This mosque has come a long way from being a thatched hut. Between 1850 and 1855, it underwent a series of transformation. But much of what we see today is a product of the extensive 1986 renovation.
3. Thian Hock Keng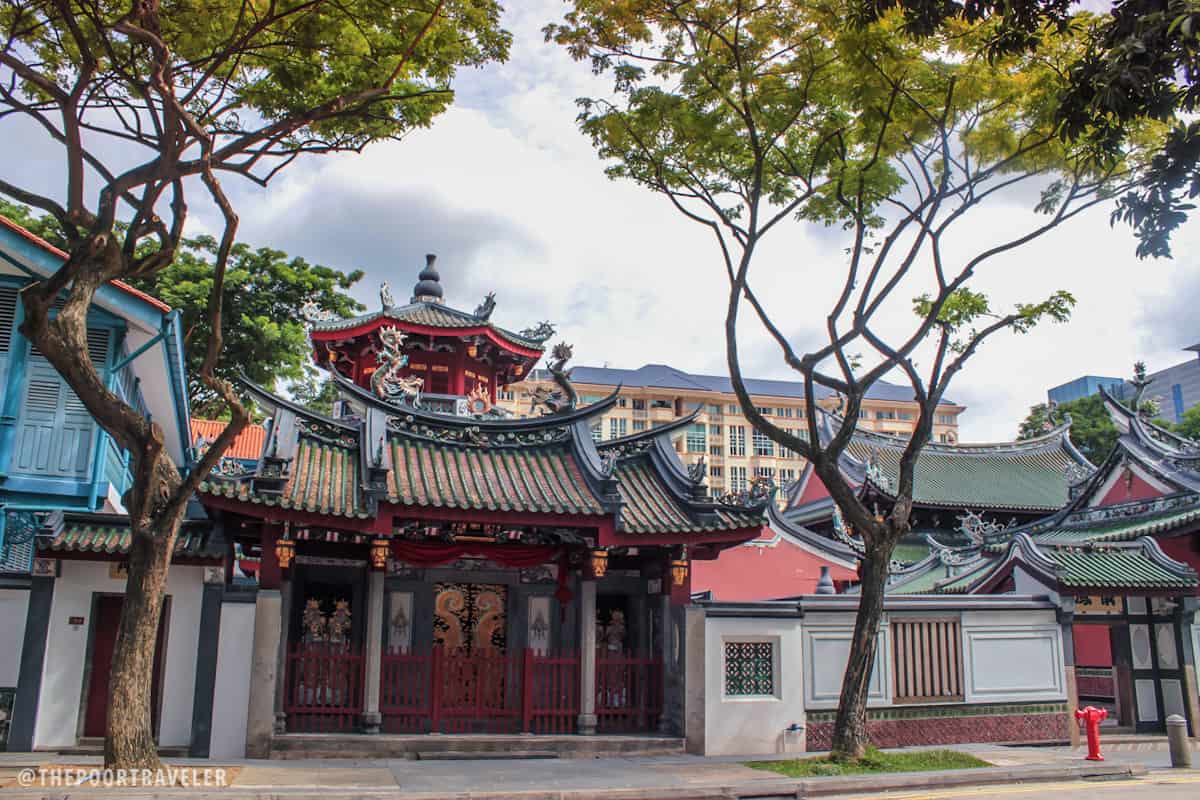 Thian Hock Keng is probably my favorite part of the walking tour. It was just a stand-out! The facade or the gates were gorgeous and its interior was even better. The main prayer hall is home to an image of the Queen of Heaven. Beside it are Bao Sheng Da Di, the Protector of Life and Guan Ti, the God of War. They say that this temple is primarily Taoist but there are Confucian and Buddhist elements in it too.
Said to be the oldest Chinese temple in Singapore, this beautiful structure started out as a humble joss house in 1821-1822. It was built to honor the Protector of Sojourners, Ma Zu Po. That's why in its early years, Chinese immigrants would visit this place to give thanks for safe travel. Centuries ago, this temple was actually on the beach and it was the first place that Chinese travelers would go to when they reach the island.
From 1839 to 1842, the humble joss house went through a major reconstruction using Chinese techniques. The reconstruction was started by philanthropist Tan Tock Seng. The most amazing part of how it was constructed was the fact that the whole structure was supported by only wooden and brick walls and nowhere in the temple will you find nails. Not a single one.
The design of everything in the place is just mind-blowing. Everything is intricately made. I just can't. Just can't. BEAUTIFUL!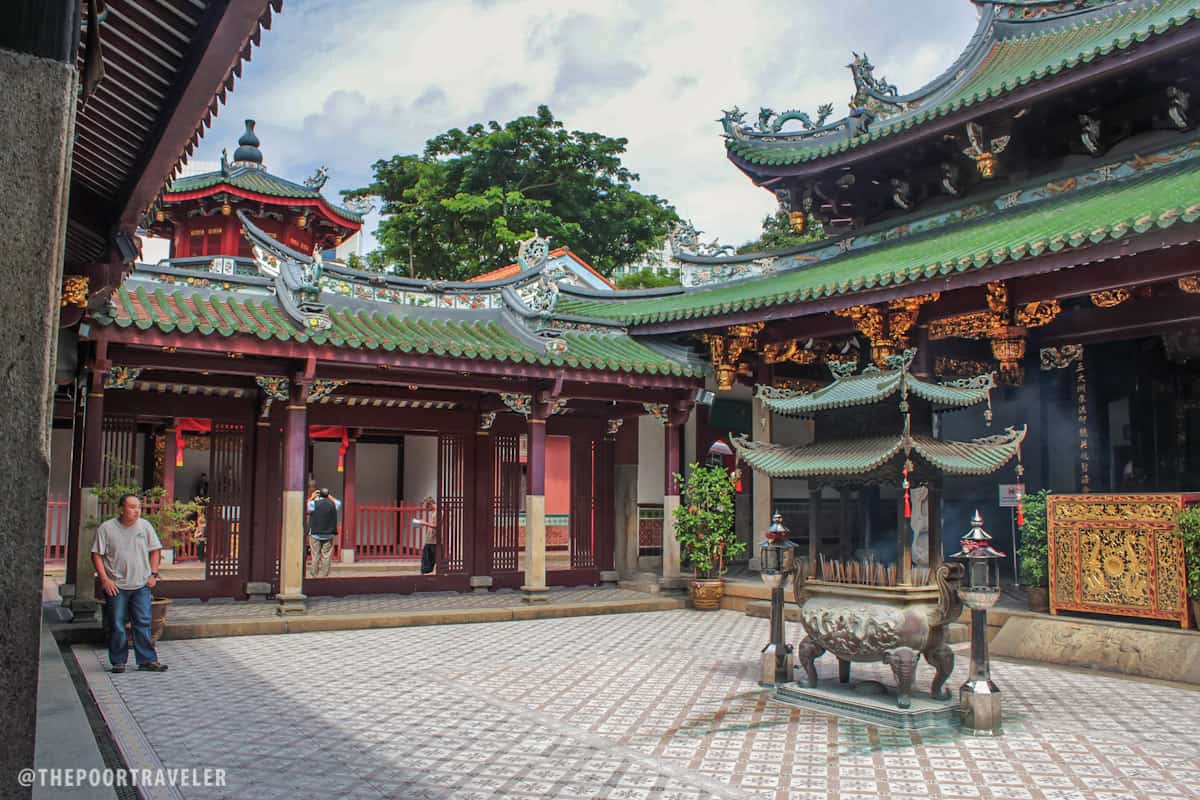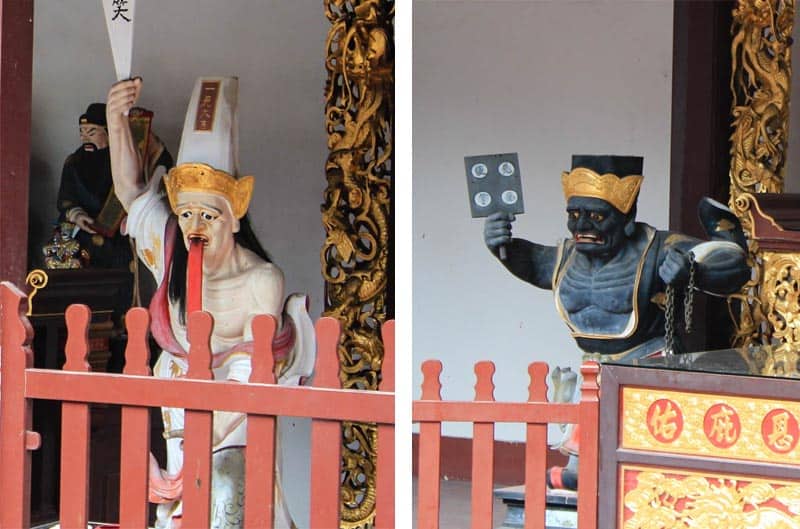 You see the lower right part of the photo above? That's one of the door guards that's supposed to protect the temple.
The one thing that I liked the most being in this temple was that while I was taking pictures, I realized that although I was in an ancient site, I could still see the gorgeous, modern buildings. It's an overwhelming mixture of the past and the present of Singapore.
Note that photography is allowed in most parts of the temple but NOT in the main prayer hall.
4. Nagor Durgha Shrine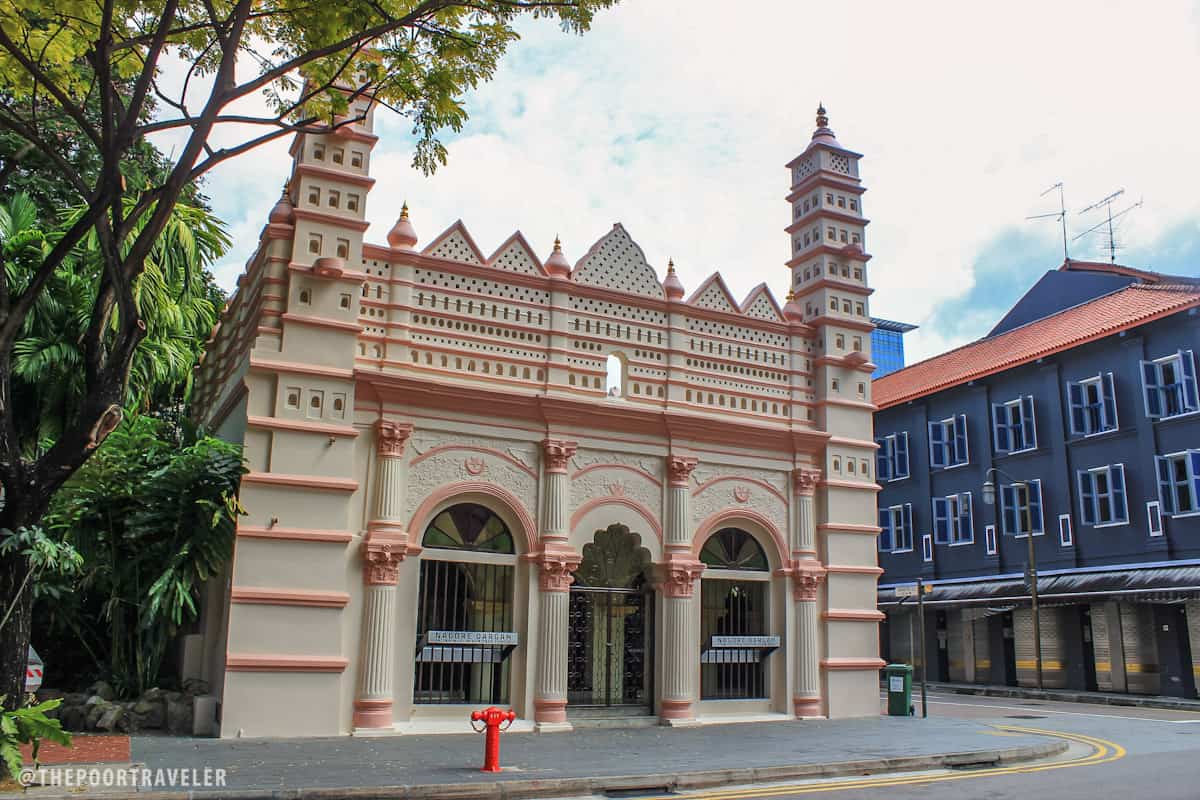 A few yards from Thian Hock Keng stands the Nagore Durha, a beautiful Indian shrine, which I thought looked like a giant layered cream cake. :D
Originally called Shahul Hamid, this Indian Muslim shrine was built in 1828-1830 by muslim immigrants from Southern India. This explains the pretty combination of Classical and Indian Muslim elements in its architecture. The facade features an arched doorway in between arched windows. Above the windows and the doorway is an intricate lace-like design that resembles a palace. In the corners are tall layered minarets.
5. Amoy Street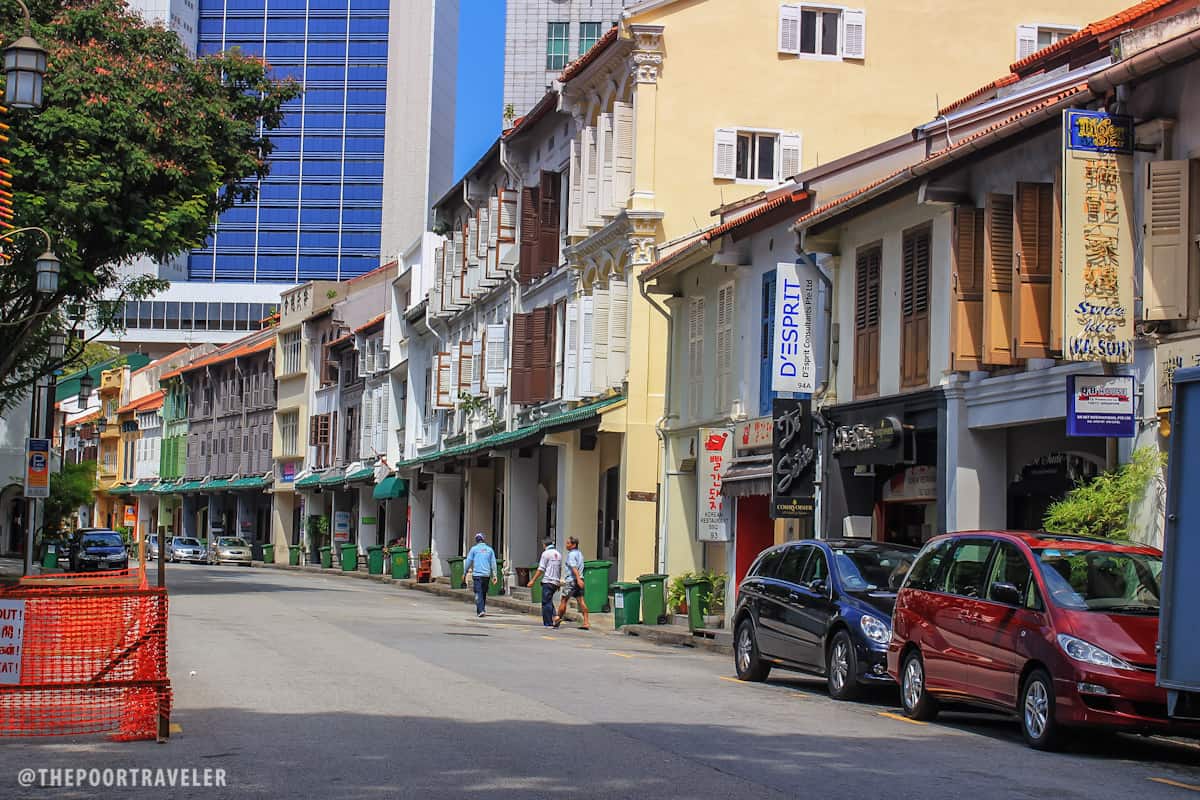 After getting blown away by Nagor Durgha, turn left onto the street perpendicular to Telok Ayer — Boon Tat Street.  Then turn left again onto Amoy Street. It's a beautiful, relaxed street (maybe because it was a Sunday when we were there). Walk down Amoy Street and see the many second transitional style shophouses there. You'll see a lot of various influences in the architecture of the houses on this street.
Walk until you reach the end of the road and you'll find yourself at the Amoy Street Food Centre again. From here, you may choose to go back to the Tanjong Pagar MRT Station or if you're hungry, find your way to the Maxwell Food Center nearby.
6. Buddha Tooth Relic Museum and Temple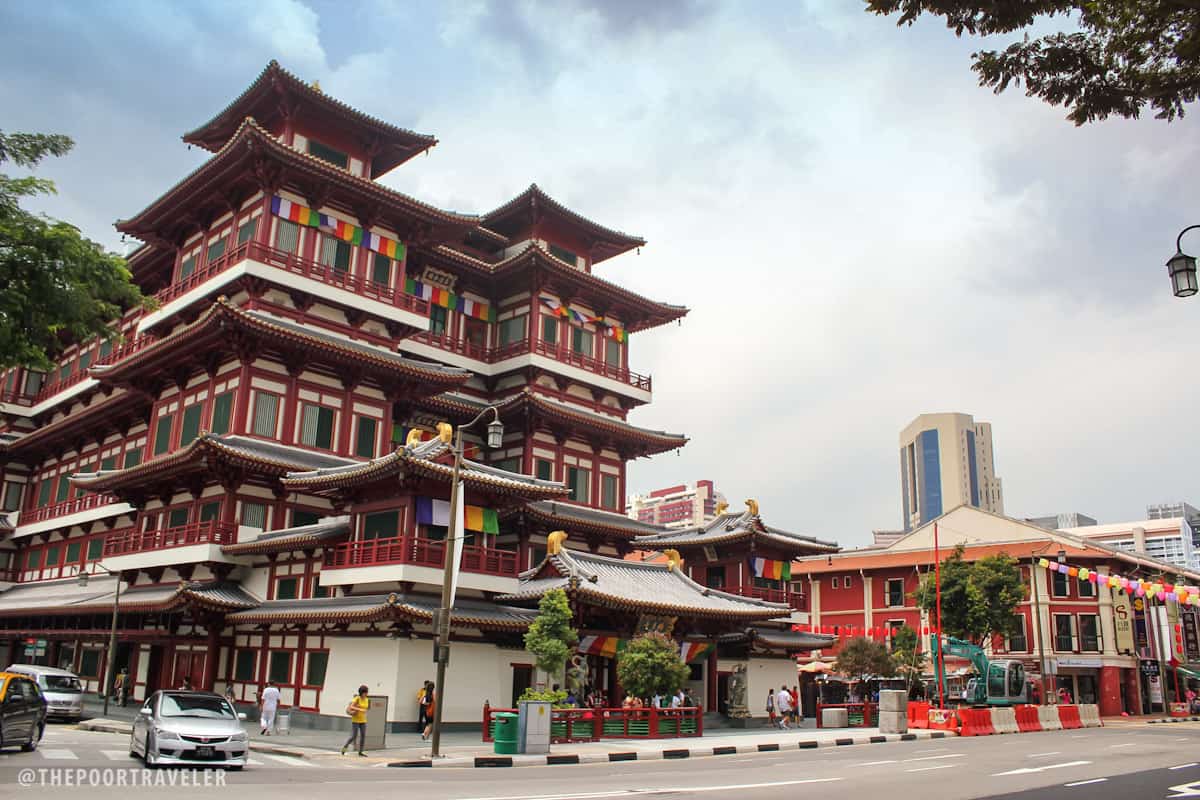 Standing just across the Maxwell Food Center is the Buddha Tooth Relic Temple and Museum. Opened in 2007, the Tang-style structure houses sacred Buddhist artifacts including bone and tongue relics, the most treasured of which is the tooth relic exhibited on the fourth floor.
From here, continue walking along South Bridge Road and explore the rest of the Chinatown Proper. You'll see plenty of shops, eateries, and museums along Mosque, Temple, and Pagoda Streets.
7. Chinatown Heritage Centre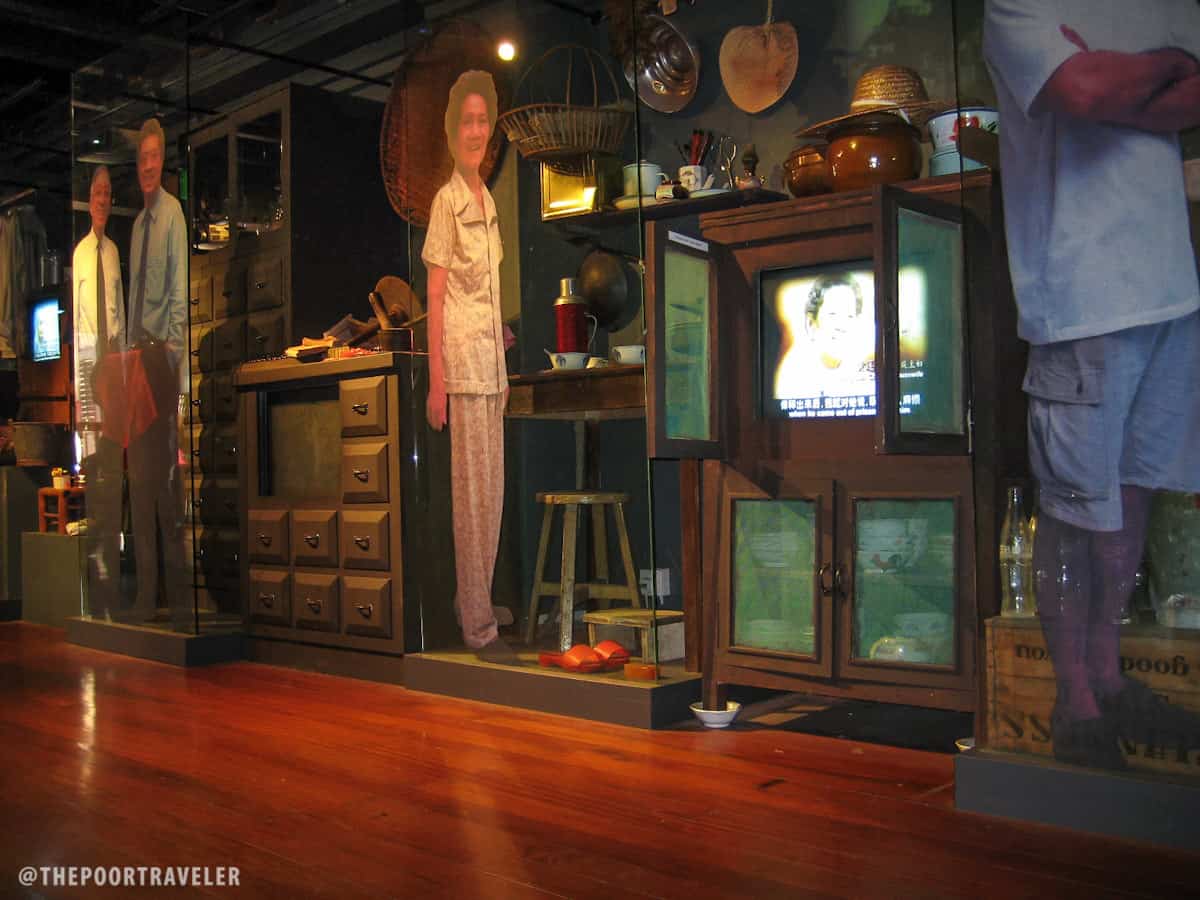 Located along Pagoda Street, the Chinatown Heritage Centre showcases the history and heritage of the early Chinese migrants in Singapore in a restored three-story shophouse.
From here, the MRT Chinatown Station can easily be reached on foot.
---
Top Budget Hotels and Hostels in Singapore
As ranked by Agoda reviewers.
Posted: 2011 • 8 • 7