2012 • 7 • 4
A wooden board displaying instructions on how to communicate with God stood just outside the main temple hall. My friends gathered in front of the board while trying to think of the perfect questions to ask God and excitedly anticipating whether the answer would be Yes, No, or Maybe. But before they could come up with any, another friend invited us to explore the rest of the Cebu Taoist Temple complex.
The Cebu Taoist Temple was built in 1972 by the Chinese community of Cebu City. Located in Beverly Hills Subdivision, this multi-tiered temple stands on top of a small hill at an elevation of 300m above sea level. It is the center of the Taoism religion in Cebu but is open even to non-worshipers from 8am to 5pm.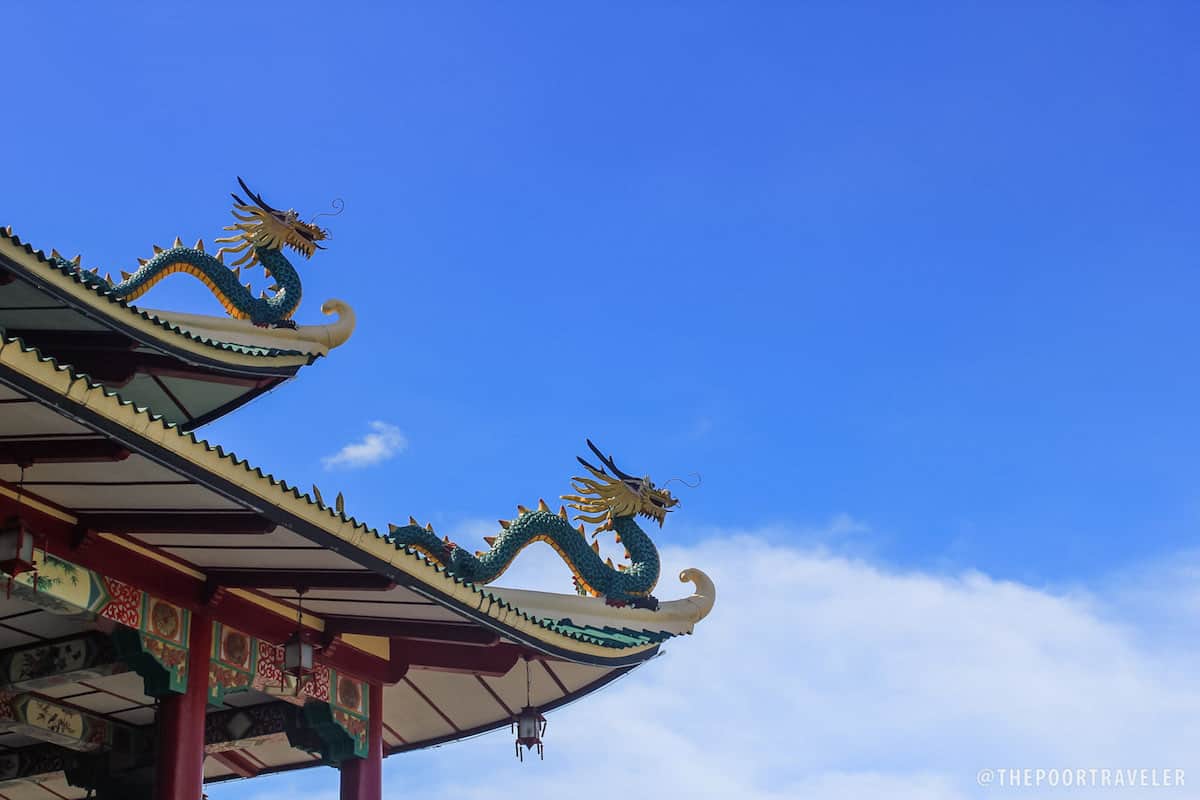 WHAT'S COVERED IN THIS GUIDE?
Architecture and Design
The temple complex, they say, can be accessed via three separate winding paths. We entered the site through a small Chinese door that opens to a winding stairway that leads to a gazebo and another stairway, which then leads to the main temple facade. If I'm not mistaken, the pathway that looks like the Great Wall of China, beside a massive statue of a dragon, is another entrance. I don't know where the other access point is but that leaves me something to come back to this place for.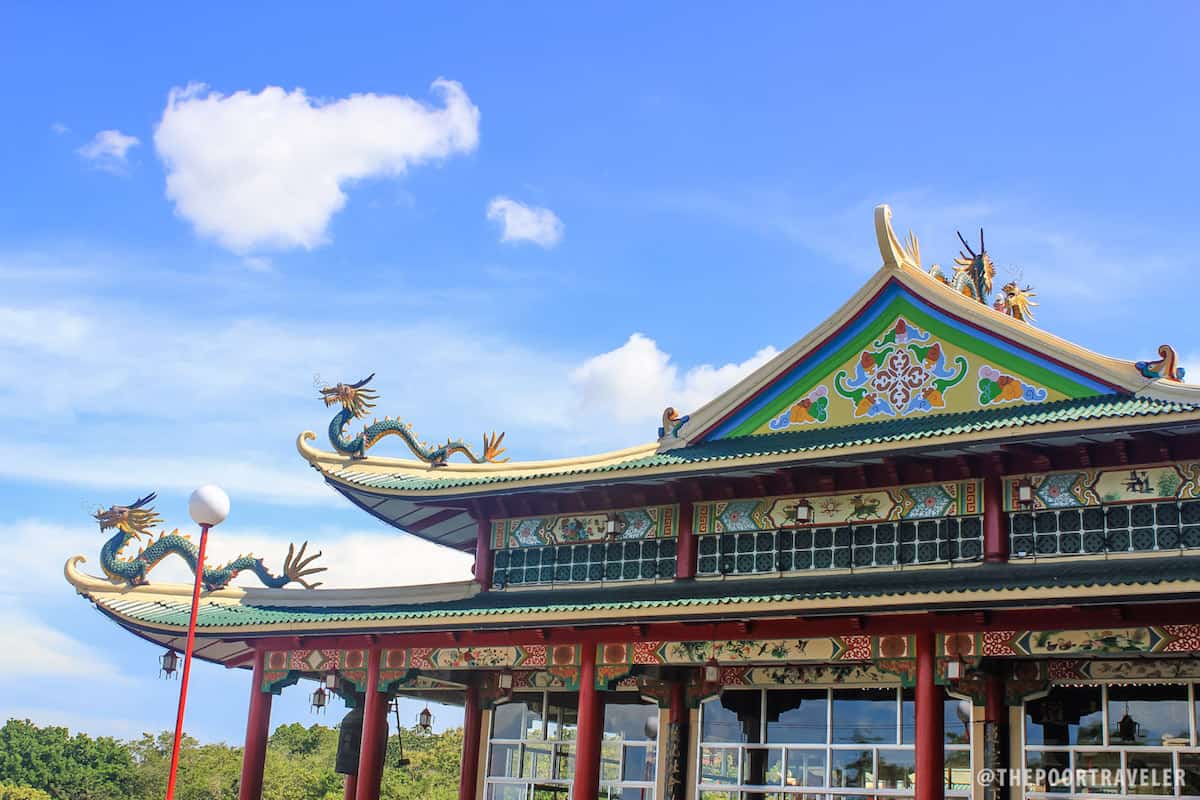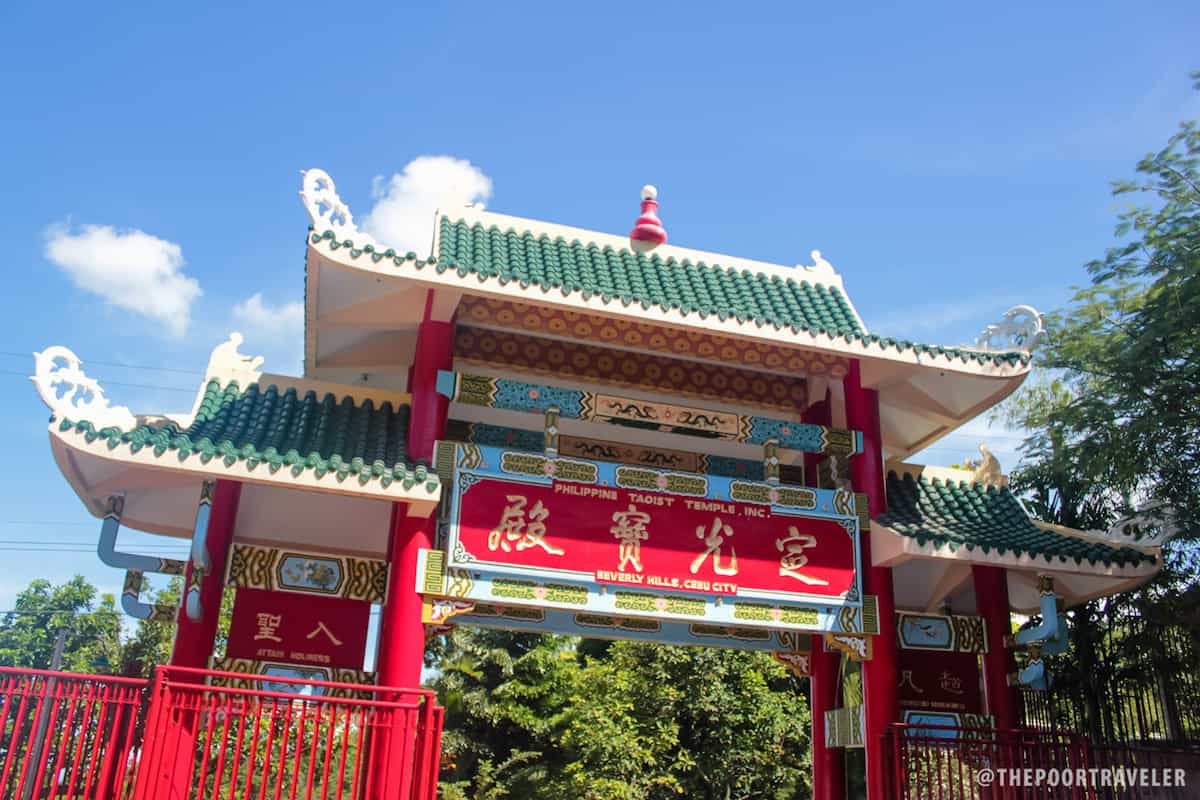 If my nape could talk, it would have complained so much during my visit to the temple but I'm pretty sure my eyes were very satisfied. I just could not help but look up and let my eyes linger at the many colorful and interesting details that paint a fantastic scenery.
Chinese dragons stand on the temple's roofs like protectors and sentinels of the site. Their green scales and yellow accents matched the blue skies that seemed to shift when white clouds move when seen from the base of the temple. The dragons look like they, themselves, communicate with God. The edges of the roofs create blue waves in a sea of white — the ceiling — which is lifted by glossy crimson columns and beams, striping a white soffit and ceiling.
The cornered spandrels between columns are intricately painted red and green images of suns, vines, thorns, animals, and frets. Even the gables underneath the top roof are painted with — hmm, I'm not really sure what to make of them but they look like —  animal faces with bright eyes and twirly tops and clouds. Red and white lanterns hang from soffit, perhaps to illuminate the crimson colonnade and porches at night. A massive old bell hangs in one corner of the porch.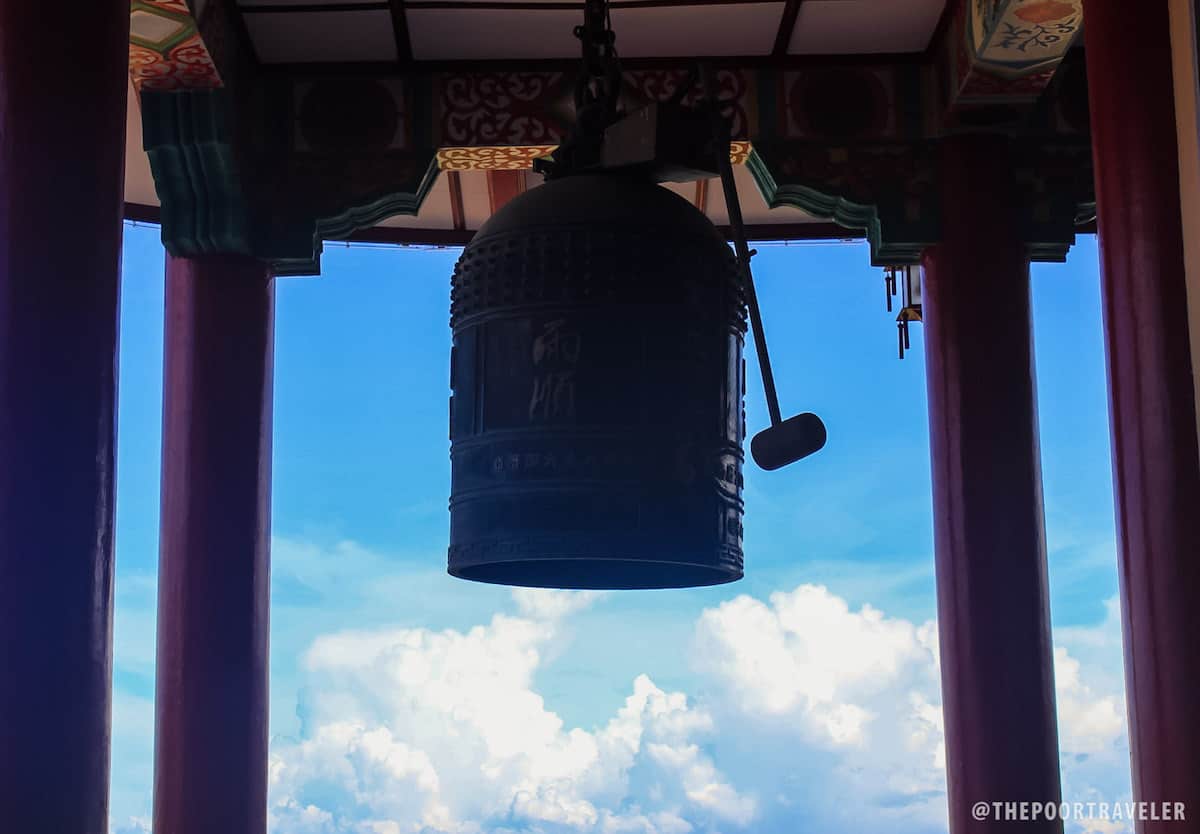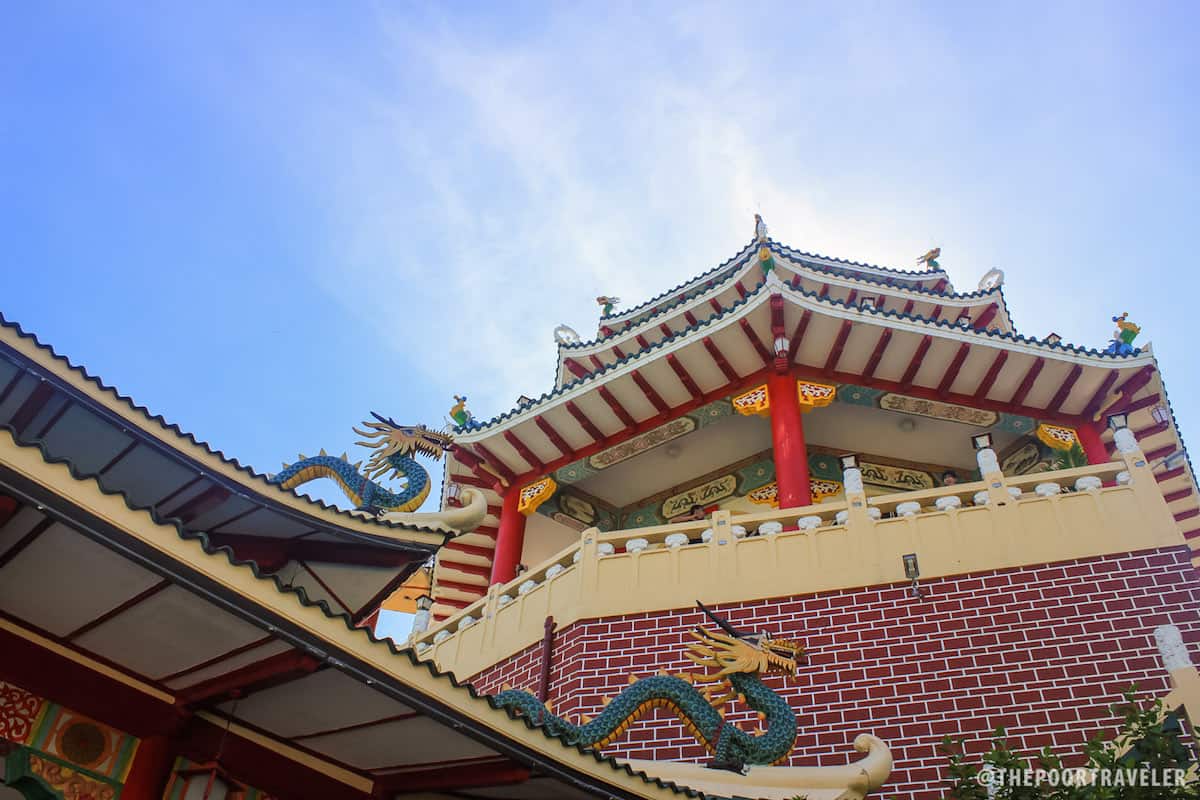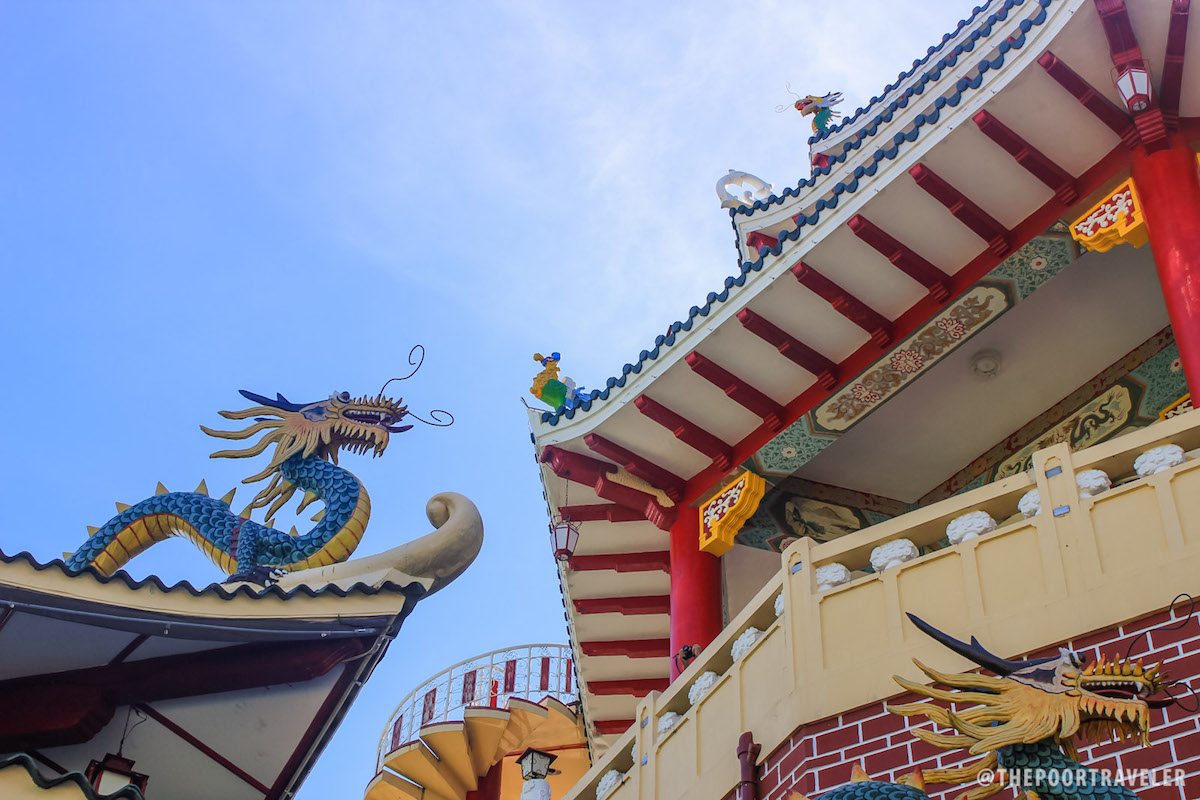 Adjacent to the main temple building are a small prayer room and a staircase that leads to another prayer room, which is bigger and multi-tiered. This one is topped with three layers of octagonal roofs, with dragon statues overlooking from some of its corners. Like the main temple, it has glossy red columns and beams, and blue roofs whose edges form small circular waves. The place also provides a fantastic vista of the complex and — if you're lucky and it's a clear day — you can even see the islands of Mactan and Bohol from here.
The site is also littered with gorgeous stone statues, red and white lanterns, a fountain, and gardens.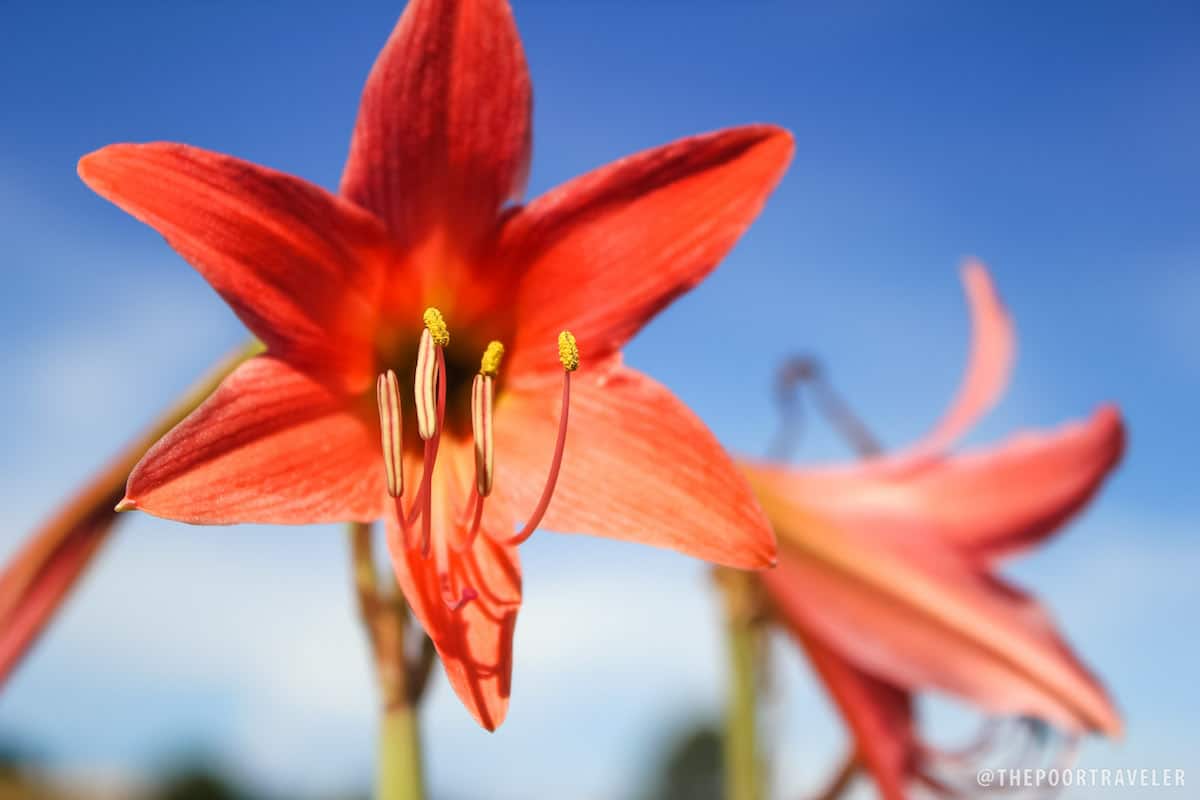 Rules of the Temple
Remember that you're a visitor and you're expected to abide by the rules of this place. You may not share their faith but you must bear in mind that this place is sacred to the worshippers and that it is a place of prayer, meditation, and communication with God.
No photography inside the temples and prayer rooms. While you are allowed to take photos of every other part of the complex, please do not take pictures of the interior of the buildings and anything inside.
Observe silence. Again, it is a place of prayer so zip it and explore the place quietly.
Stay in the temple for only 30 minutes to 1 hour.
Respect the rules and Leave Nothing But Footprints!
Taoist Procedures in Communicating with God
According to Taoist beliefs, you can communicate with God using a pair of kidney-shaped wooden blocks. Whether you have a question, a problem, or a wish, you may receive God's answer by doing this correctly.
Wash your hands (which symbolizes cleanliness)
Light a joss stick, kneel while holding the joss stick with both hands, and ask for guidance and enlightenment
Hold two wooden blocks flat side up
Ask your question or say your wish one at a time
Drop the wooden blocks and see God's answer.
Check out this image to see what the positions of the wooden blocks mean and reveal God's answer.

But before you go shooting personal questions and wishes, you must ask God first whether you're accepted to communicate with God. Do the same procedure above. If YES, then you may now ask your question or say your wish. If NO, come back another day. If MAYBE, then your question or wish is not very clear so make it simpler and ask again.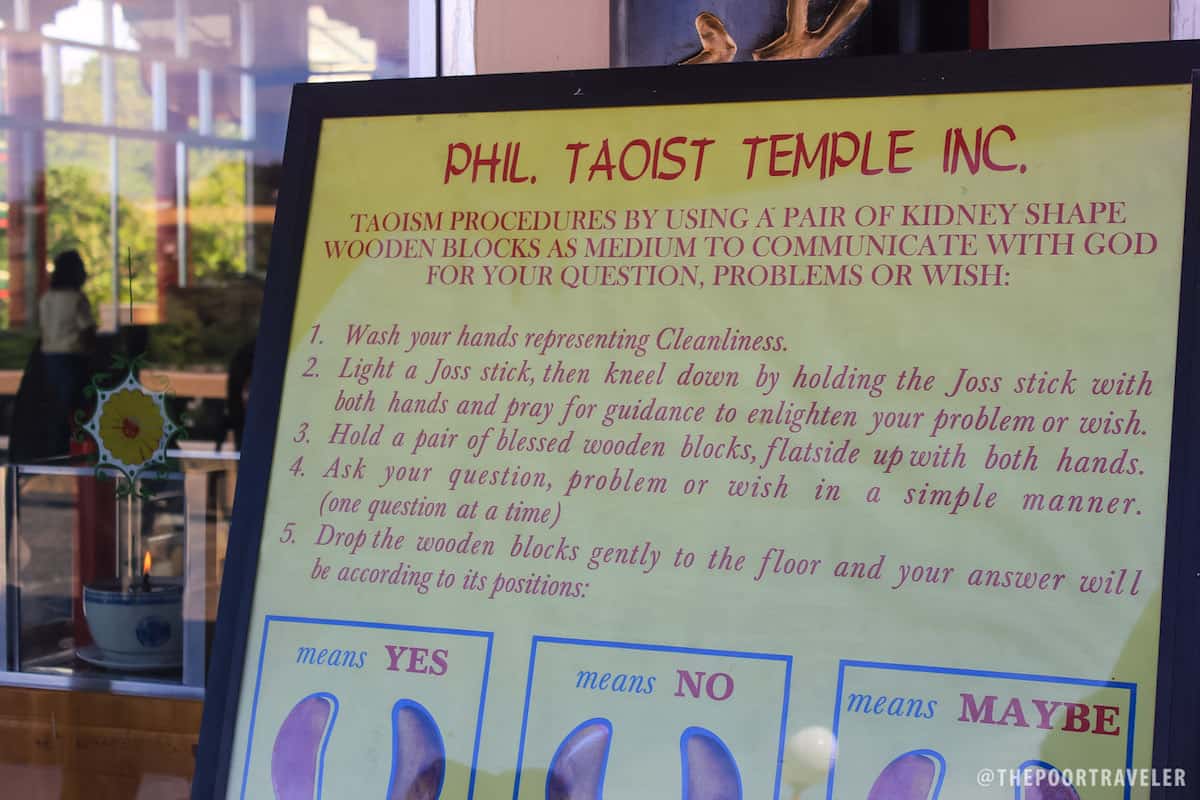 Unfortunately for our group, none of us were able to do this because we took so much time exploring the complex and taking pictures along the way that we didn't realize that it was time for us to go.