"We're on the wrong boat," he shouted in utter exuberance as he turned his gaze back to the nearby junk. The other boat was having a party, complete with loud electronic dance music that reverberated onto the walls of ours. Kid — his name was Kid — posed as though he was ready to jump into the water and swim to the "party boat", as what he called it. The only thing that stopped him was the humongous jellyfish that Matt caught earlier that night. "There might be plenty of them where it came from," Matt warned.
"I'm right where I want to be," I said joshingly as I climbed the stairs in search of a little quiet. This was exactly how I imagined my day would end — lying comfortably on the top deck of the boat, with a drink in one hand and a Neil Gaiman book in the other under the velvet skies. Starless — stars have become as elusive as peace of mind these days — but the emptiness was oddly therapeutic.
I shared the boat with a dozen other tourists from all around the world: three couples from the US, Australia, and Portugal; two friends from Switzerland; a small family from New Zealand, and three other solo backpackers from Canada, Spain, and England. Kid, the Canadian, was the liveliest of them all. It's funny how only after a day of touring, we felt like one big happy family, like brothers and sisters. Or not, given that Kid and one of the Swiss women had been dancing flirtatiously in one corner.
WHAT'S COVERED IN THIS GUIDE?
From Hanoi to Halong Bay
My journey to Halong Bay started in Hanoi, 170 kilometers to the west. On my fifth day, I had finally decided to get out of the city and this world-famous UNESCO Heritage Site was an easy choice. Hanoi Municipal Hotel, where I stayed, offered a wide array of tours at competitive rates. I got this cruise for only USD60. Not bad, I thought. The next day, I was picked up by a van and was transferred to a mini-bus bound for the bay. It's a two-and-a-half-hour ride, interrupted only by a long stop at a souvenir shop, where I grabbed breakfast in the form of fresh pomelo.
When we reached the wharf, we were asked to wait for a short while before boarding. We were then ushered to the restaurant onboard and prepared for lunch. There was nothing special about the meal, except that its being "not special" was a good conversation starter. Great friendships always begin with something like, "Man, what the fawk are we eating?"
---
The Junk and the Bay
The junk boats were not how I pictured it. They were all painted white like the ghosts of what I imagined them to be. And like ghosts, they were easily masked by the thick mist that loomed over the quiet waters. Ours did not have the signature sails, but every corner was neat and tidy. Even my room had nothing that I could complain about. It was small, as expected, but comfortable enough. No problem, I would be spending much of my time outside.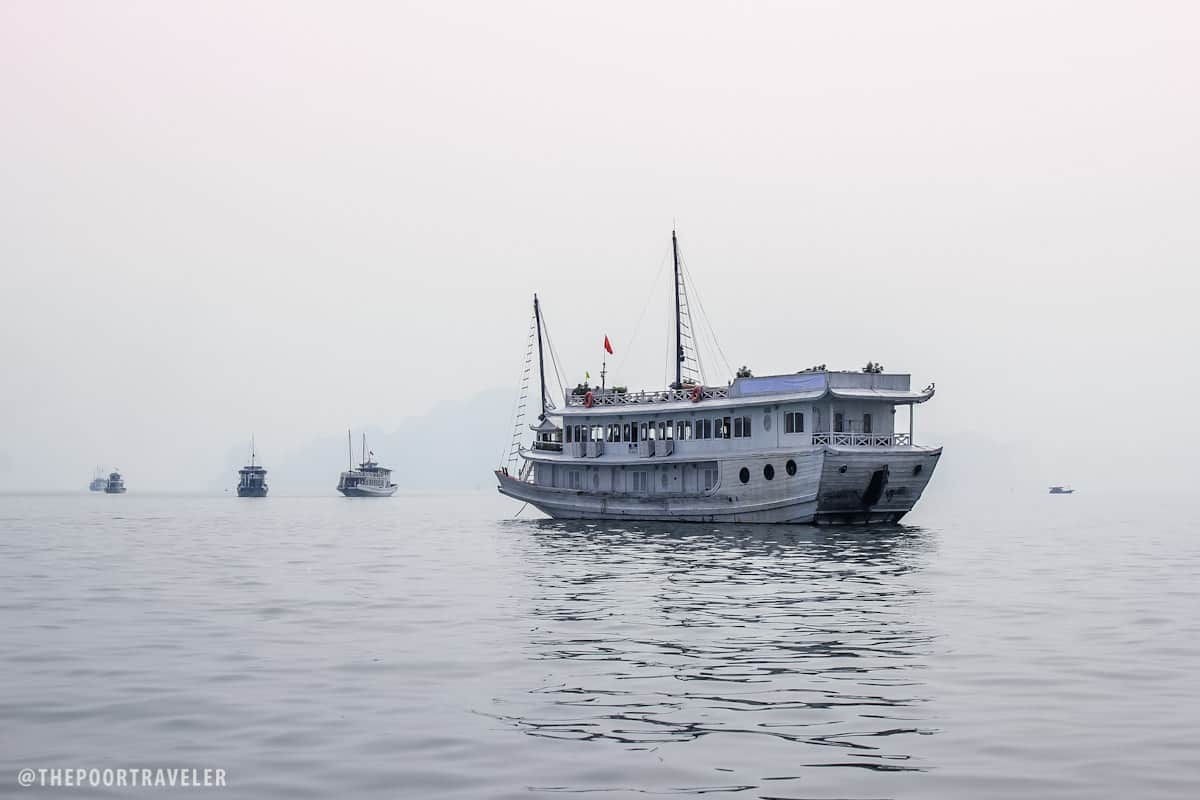 The top deck became my comfort zone. And it looked like it was the same for everyone else. We always found ourselves sprawled on one of the beach beds while watching the karst cliffs pass by. There was no running out of them. Almost 2000 islands rise from the water that could glisten under the sun if not blocked by the fog. Our boat sailed gently and carefully in between the peaks and through the mist that fostered an atmosphere of mystery. Just like in fantasy movies! This is how adventures start! Wrong.
There is nothing adventurous about our stops that day. They were all jam-packed. I was ready to get pissed at tourists in general, but then I realized I was one of them. Burn.
---
Sung Sot Cave (Surprise Grotto)
When the boat docked by the wooden platform on Bo Hon Island, the group instantly headed for the exit and followed the crowd up a staircase to the big gap on the immense karst wall towering before us. Sung Sot Cave, also known as Surprise Grotto, is one of the most popular stops in Halong Bay. The ascent was not that difficult as foliage provided shade, although unneeded at the time. The climb slowly revealed a fantastic panoramic view of this part of the bay.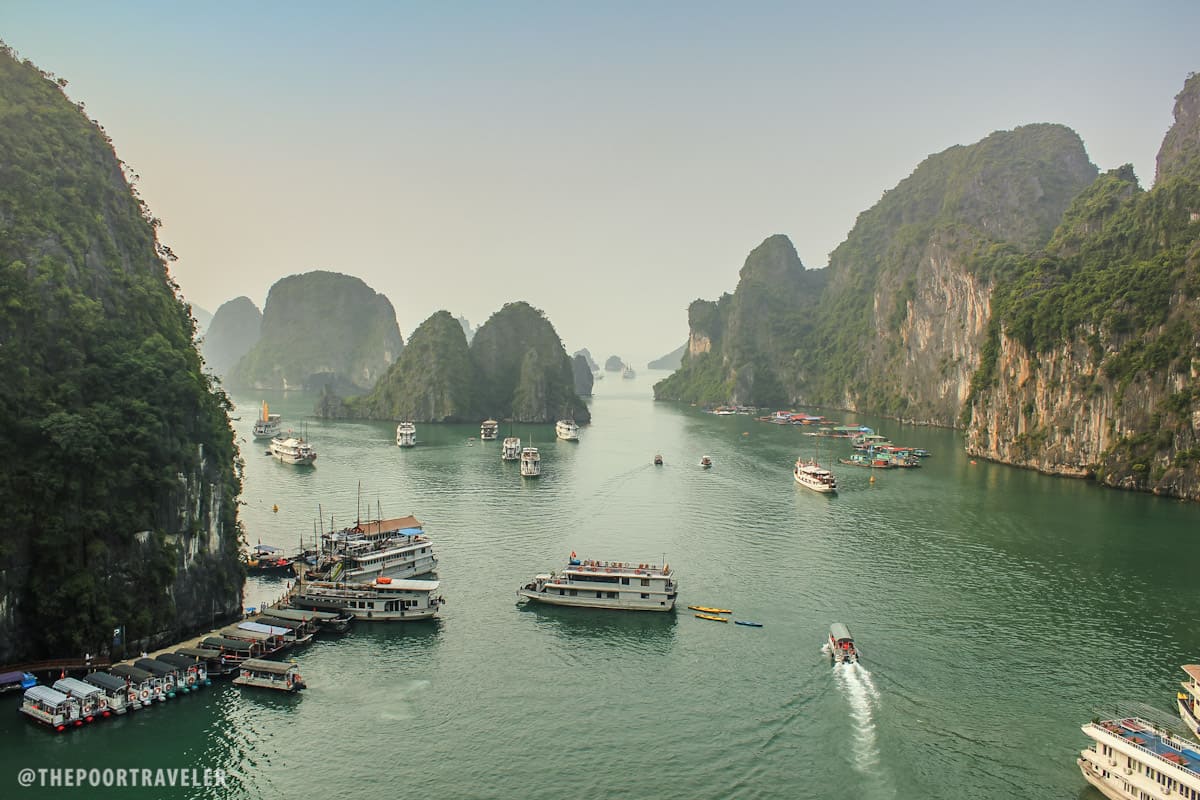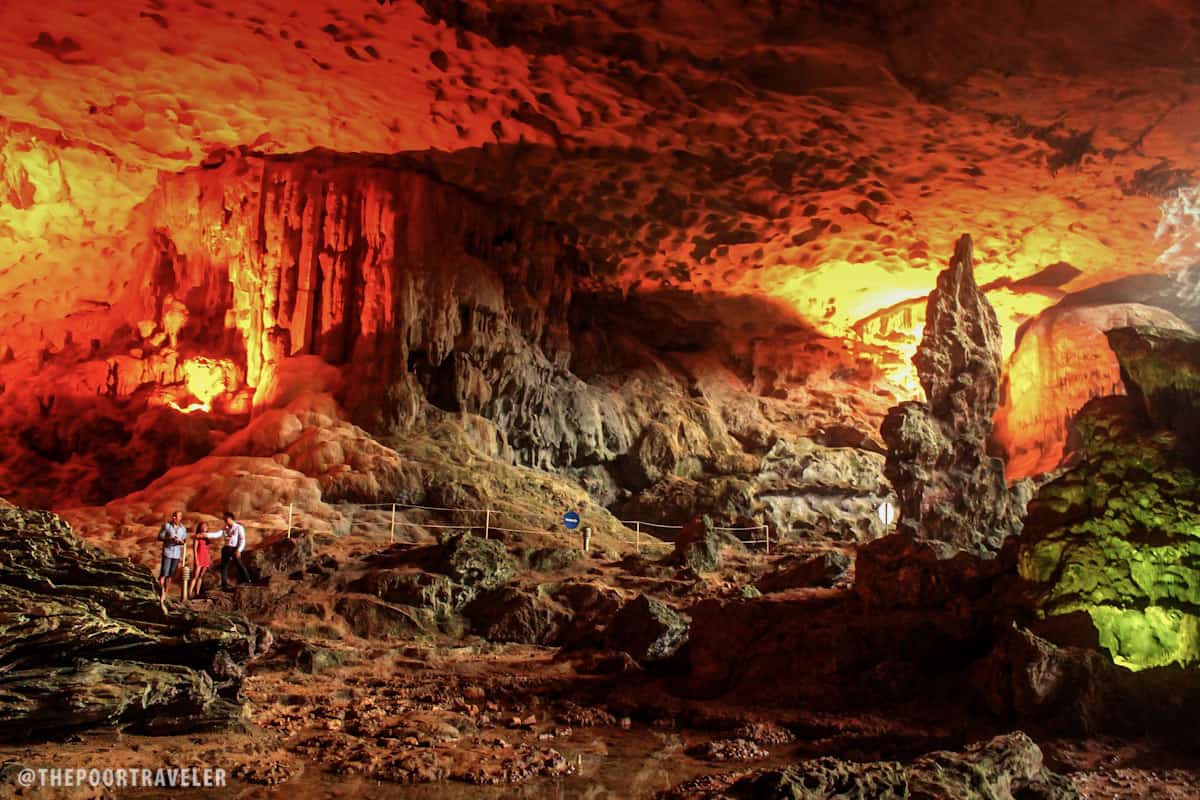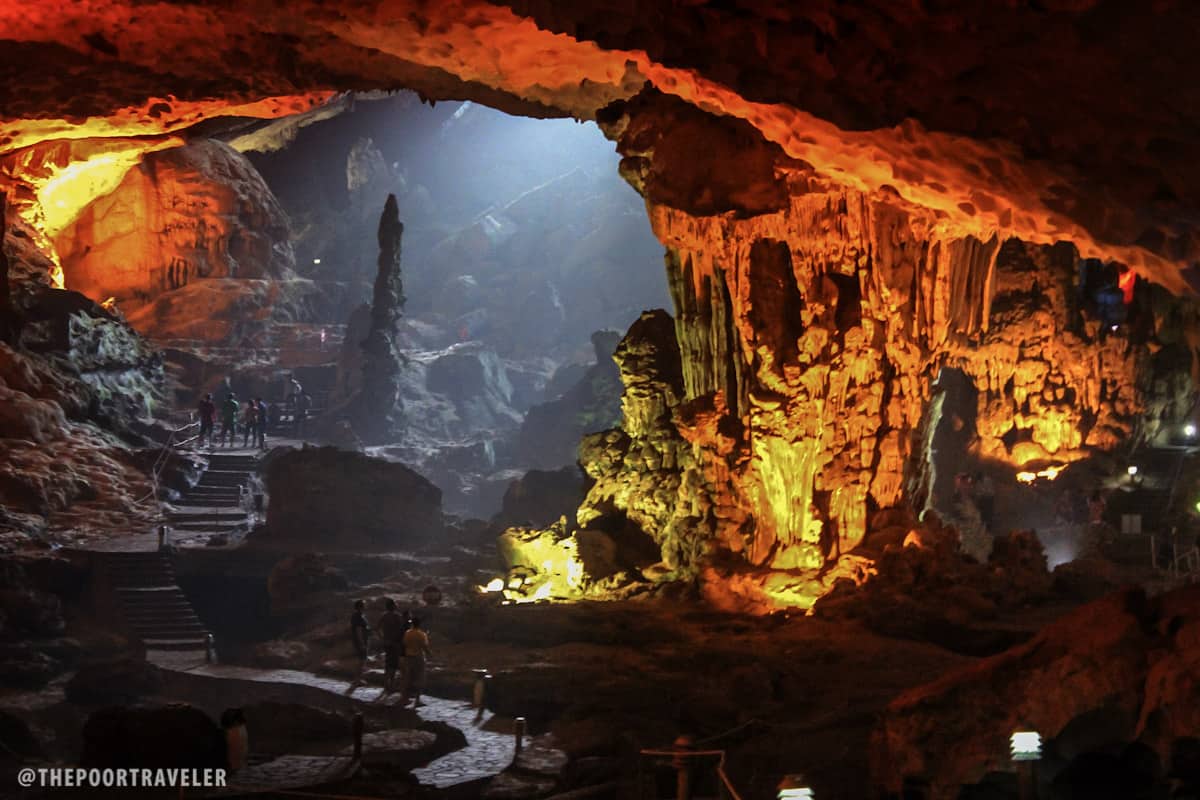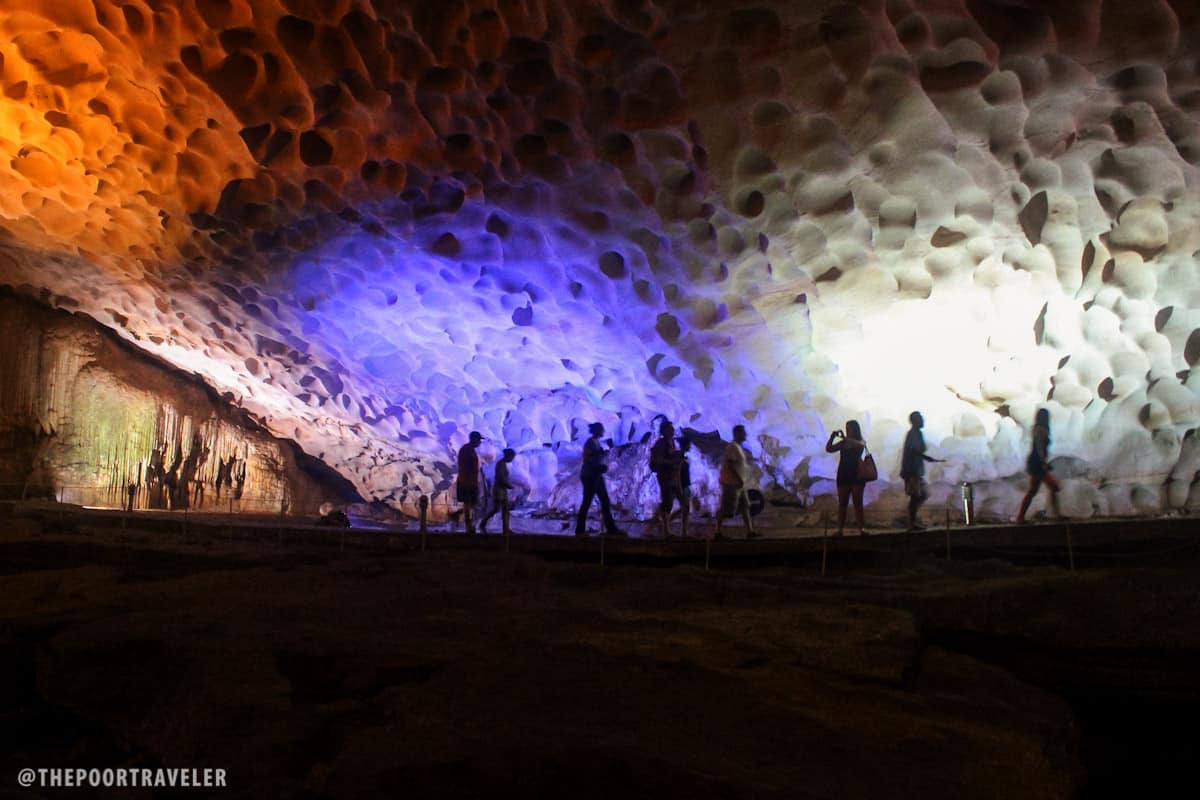 Sung Sot Cave houses two chambers. The first resembles a theater hall, while the other intimidates with size. The second chamber is said to be able to accommodate up to a thousand people at once. A large opening allows plenty of natural light in, but multi-colored lamps paint artificial vibrance on the walls of the cave. Stalactites adorn the ceiling, and rock formations — one looks like a dinosaur tail and another looked like a proud penis — serve imaginative entertainment along the way.
---
Ti Top Beach
Our second stop was a crescent-shape, sandy strip called Ti Top Beach, named after Russian austronaut Germane Ti Top, who set foot on this island with President Ho Chi Minh in 1962. The beach is small and so crowded during my visit that walking along it without getting in contact with a sun-bather proved almost impossible. There was a bar. There was a football game. It felt like all it would take was one more person and the island would sink into the depths of the sea.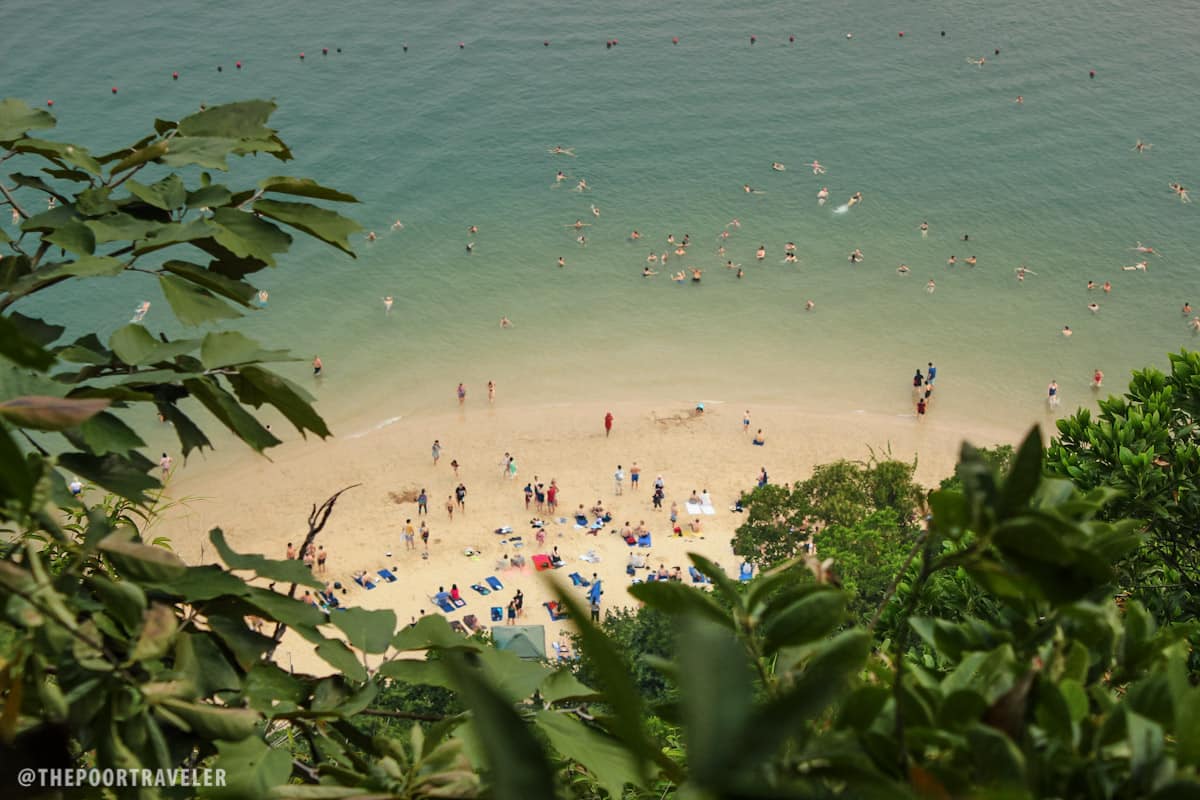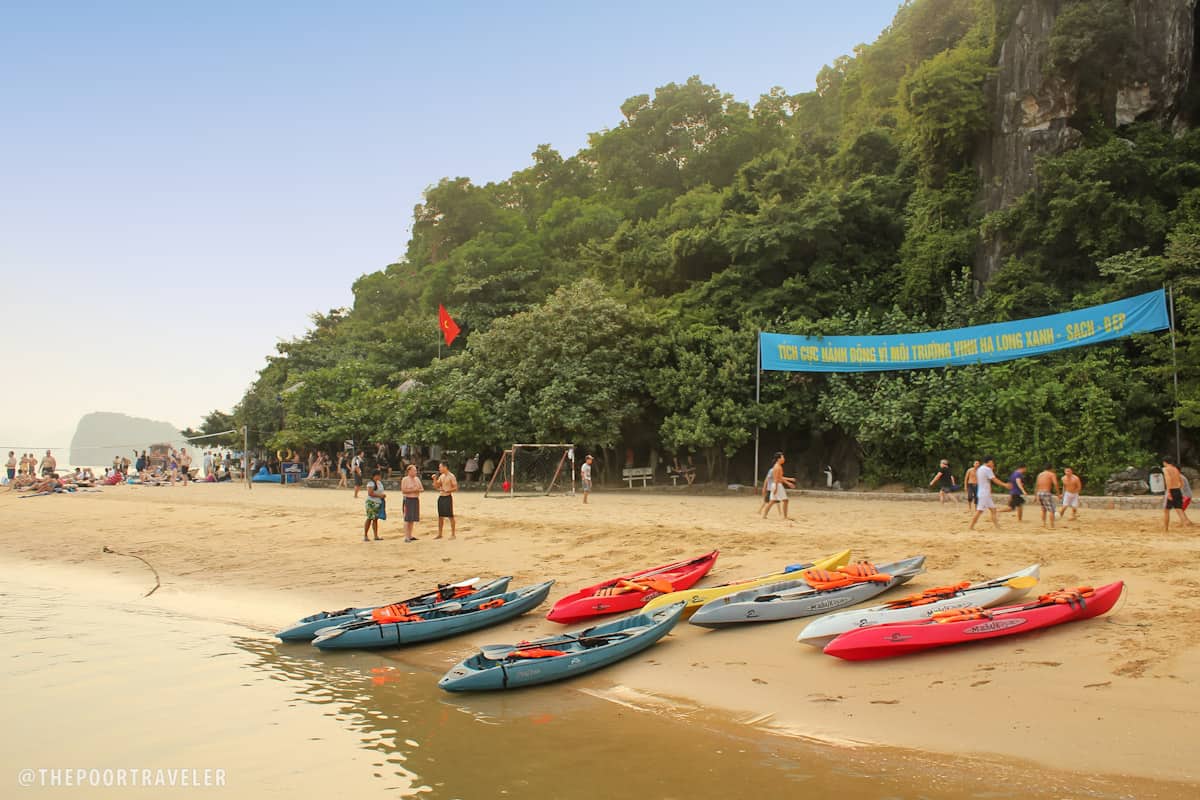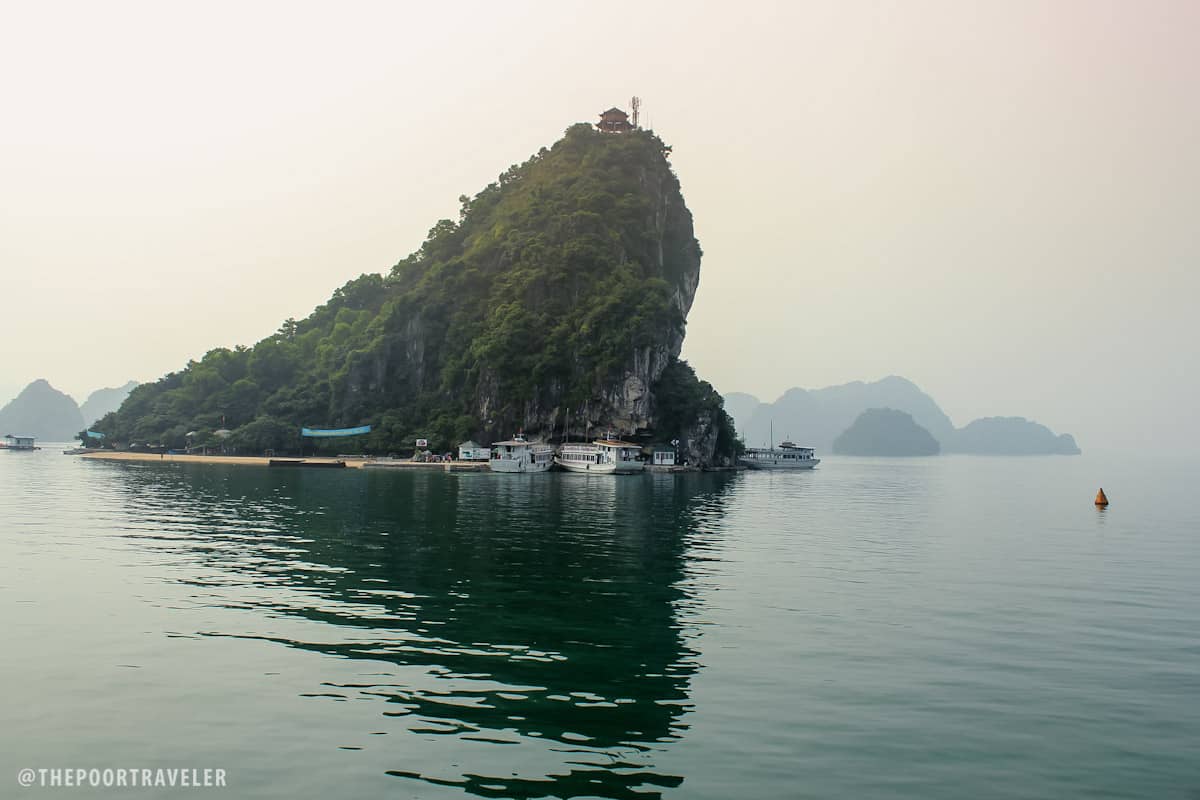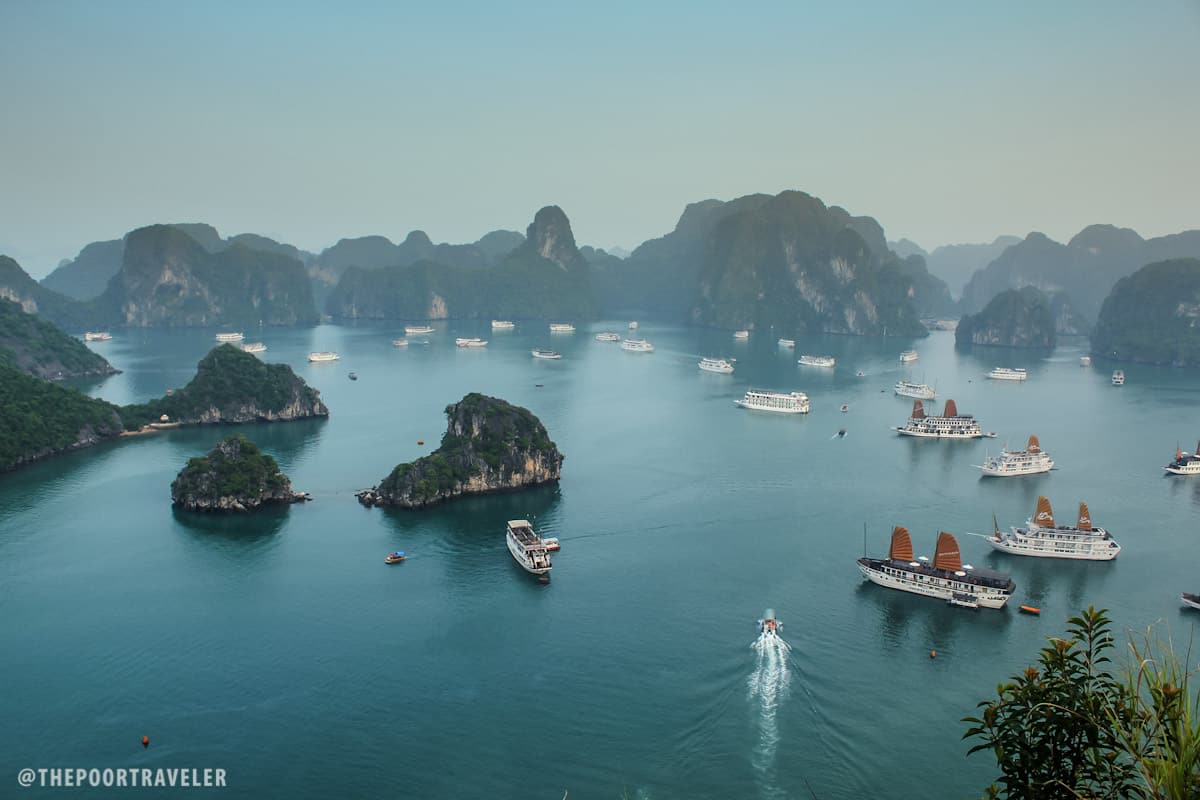 The major crowd-drawer here was the viewpoint, perched atop a cliff. The way up was steep and so narrow that one would have to stop and move aside to allow the opposing traffic. The view, while good, isn't as captivating as the one from the Surprise Grotto, so if you're not that much of a hike fan, you might want to skip it.
---
Floating Market
Our kayak stop was a series of rafts that carried wooden huts. Our group divided into pairs, each picking a bright painted kayak. "Thirty minutes," yelled our guide, but no one heard or followed. At that point, most had already paddled away and most would return more than an hour later, looking for refreshments. And right on cue, sellers steering their boats of goodies approached the area.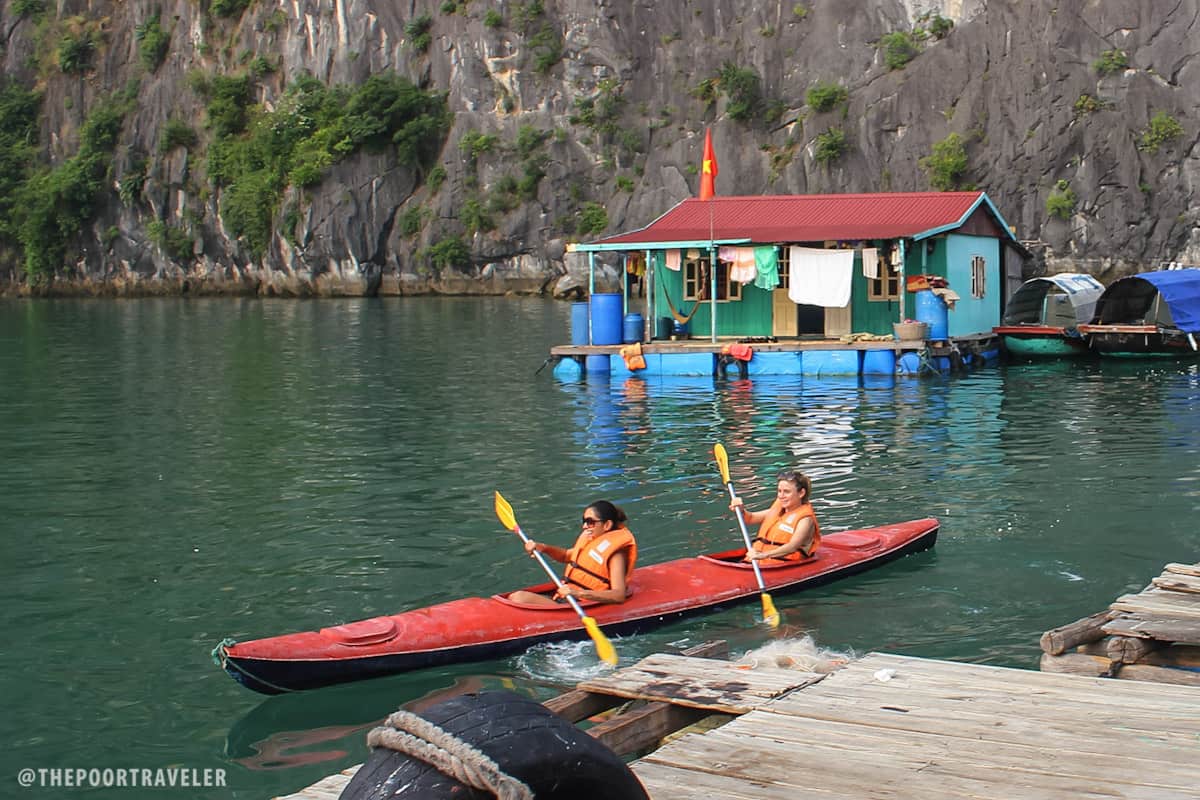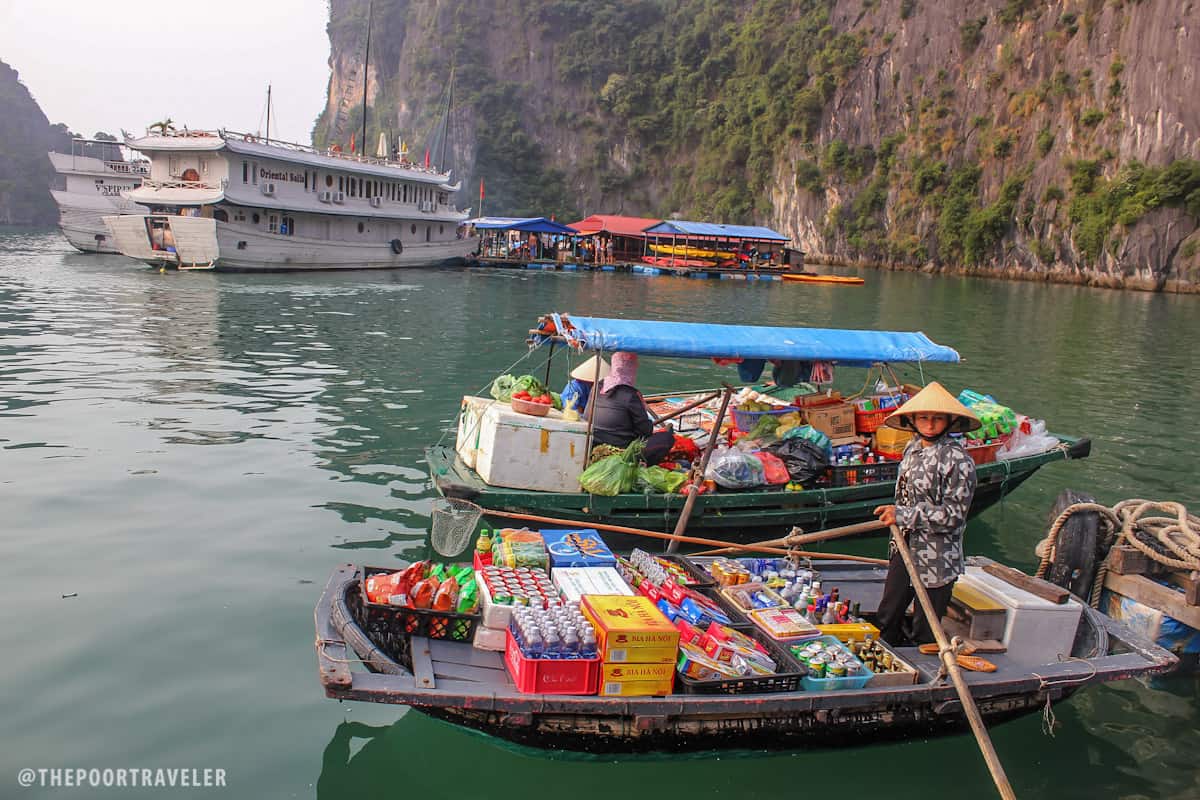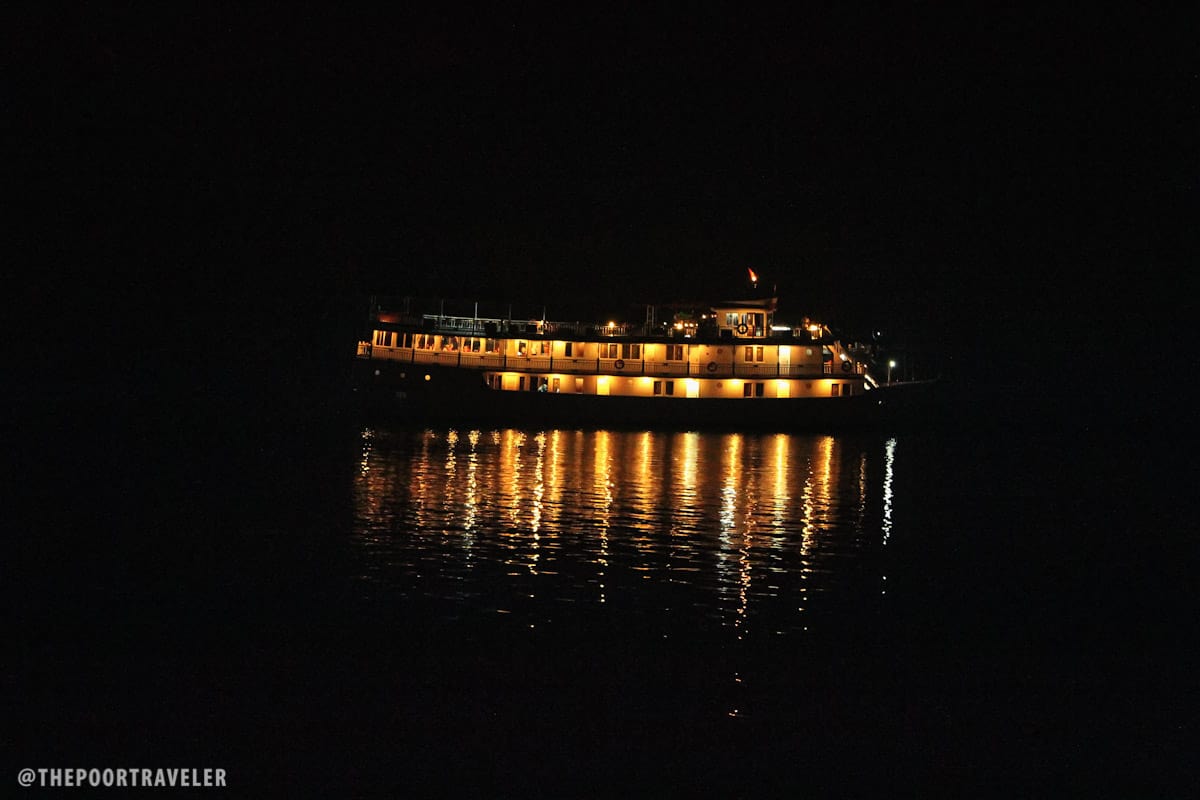 The cruise was rather short. I realized it that evening on the top deck, after I finished another chapter of the book I had brought with me. It was a memorable experience, but I could not help but wish I had stayed longer. I did not see much, and those I did see were overrun by walkers tourists. Perhaps the 3-day tour would have offered a better experience. Perhaps, I should have booked with a better tour operator. Oddly, it was those moments on the top deck of the boat, where I watched the starless sky, that became the peak of the entire journey.
---
---
More Tips on YouTube ⬇️⬇️⬇️