Seoul has three unofficial tourist districts because of the high concentration of budget lodging options: Jongno, Myeongdong, and Hongdae. Which is the best? Well, I hate answering with "It depends," but I have to say, "It depends." Haha.
The thing is, all three districts are easily accessible from the airport and are all close to major tourist spots, so it ultimately boils down to two things: the vibe and your itinerary. Vibe, because all three foster their own unique atmosphere. Your itinerary, because they are within walking distance of some key attractions. You might want to consider staying in the area where most of the places you will visit are located.
Myeongdong. Seoul's main shopping district, dotted with boutiques and department stores. Close to Myeongdong Shopping Street and Namdaemun Market. If you love shopping, stay here. Check rates of Myeongdong hotels here.
Hongdae-Sinchon. Seoul's university belt. This place is driven by Seoul's youth culture, nurturing a more romantic and underground atmosphere. Lots of creative and quirky shops and food places. Close to: Hongik University Street, Hongik Mural Street, and Ehwa Women's University. If you're a foodie, stay here. Check rates of Hongdae hotels here.
Jongno. Seoul's historic core. Its map is littered with shrines, temples, and other traditional sites. In fact, four of the city's five grand palaces can be found in Jongno. It is also where the Bukchon Hanok Village, Gwangjang Market, and Insa-dong are located. If it's your first time in Seoul, stay here. Check rates of Jongno hotels here.
I have experienced staying in all three districts, and I personally prefer Jongno. There's just so much to see and explore here.
Here are the hostels and a hotel that I have tried.
---
Fully Hong Hostel
Aka Fully Guesthouse. Located in Jongno. Tidy rooms, and excellent service. Perfect if you're also interested to meet other travelers. Location couldn't be any better: Seoul's key historic sites are all within walking distance. Easily accessible from the airport.
How to get there from Incheon Airport: Board Bus 6002 at Gate 5B or 12A and alight at Jong-no 3ga station.
Rates: We paid KRW 58,000 (USD 49.6, EUR 46.4, PHP 2470) per night for a twin room.
---
Hongdae Pencil Guesthouse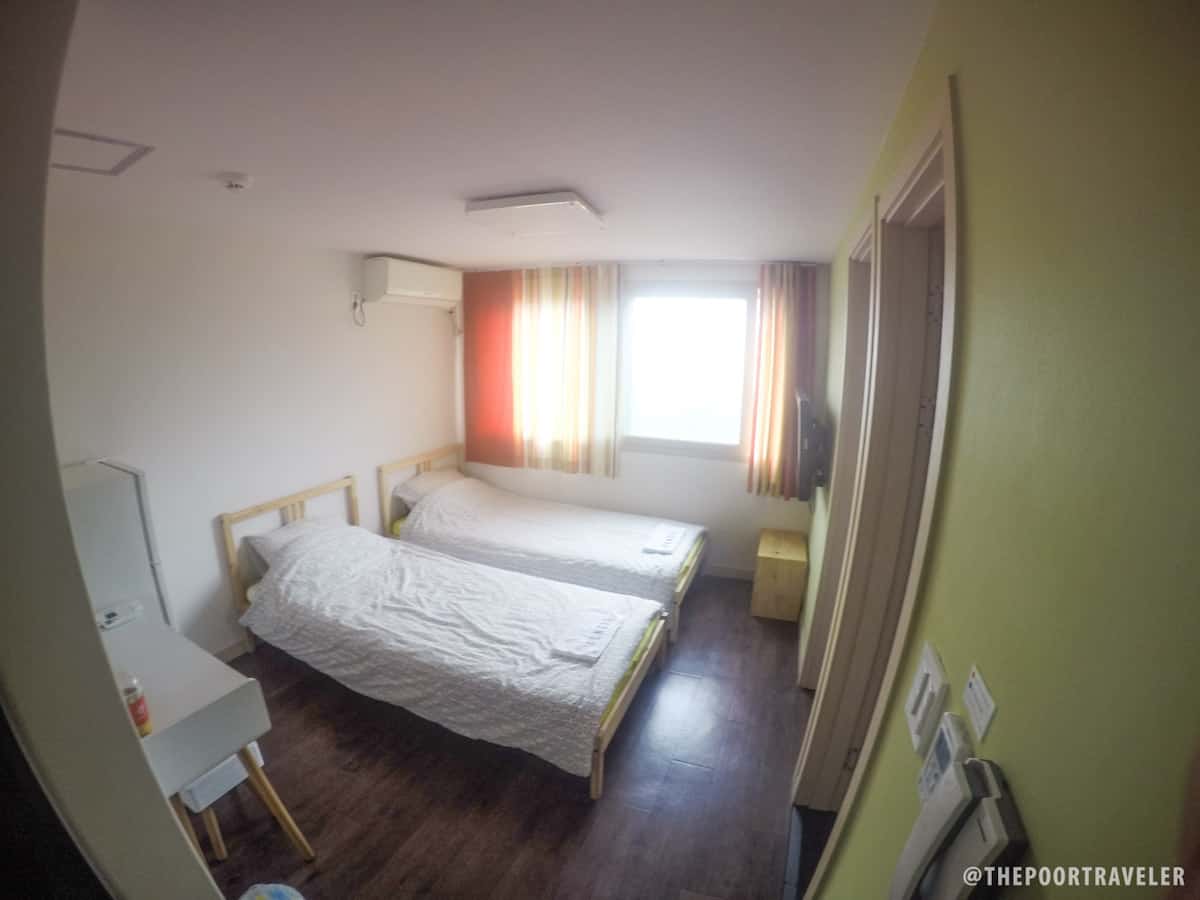 Located just one block from Hongik University Station (Exit 3) and a short walk from Hongdae University Street. Lots of great but cheap food places and convenience stores around. Room given to us was neat and properly maintained. Common areas were a bit small, but during my stay, they were never crowded. Staff wasn't as friendly as I am used to, but still okay. Overall, pleasant experience.
How to get there from Incheon Airport: Board Bus 6002 at Gate 5B or 12A and alight at Hongik University Station.
Rates: We paid KRW 68,000 (USD 58, EUR 54, PHP 2900) per night for a twin room.
---
Namsan Hill Hotel in Myeongdong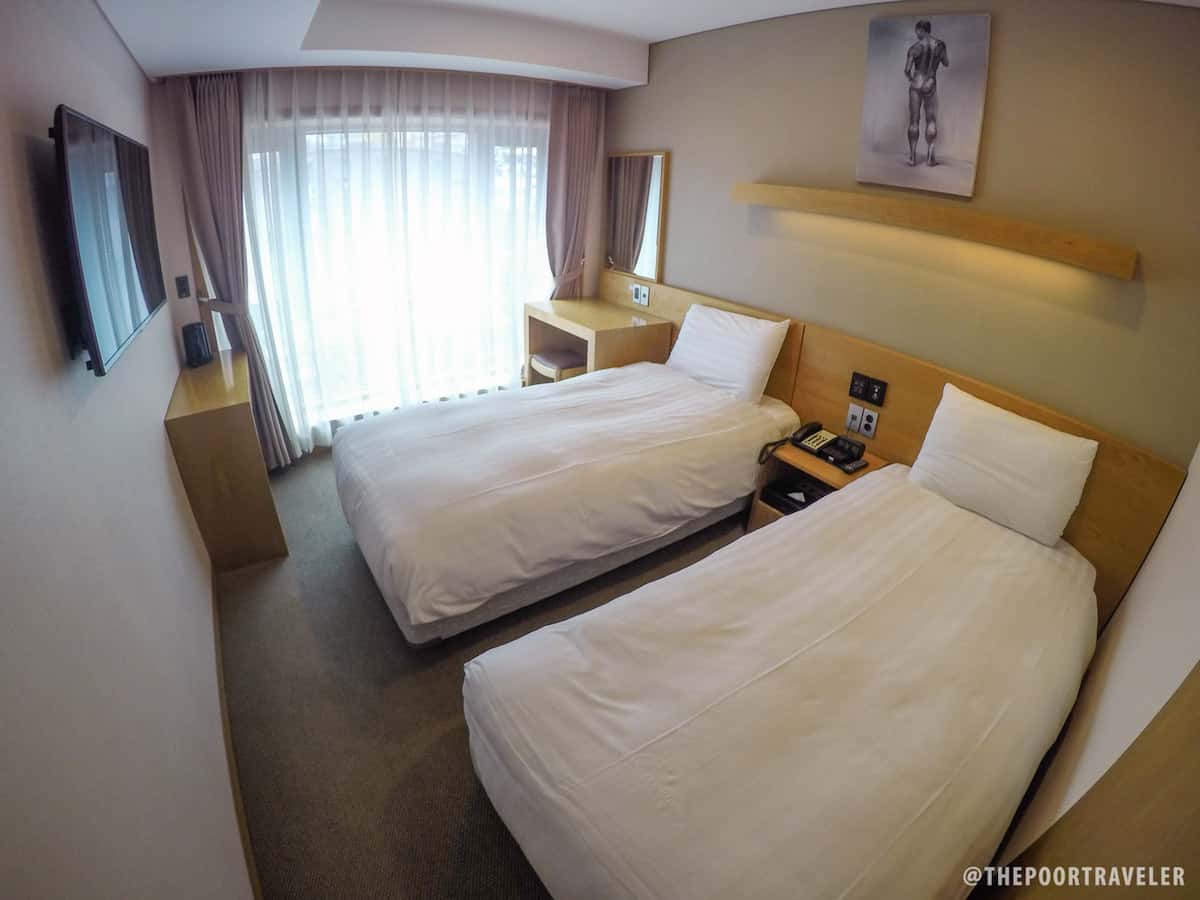 I don't normally stay at hotels, but when I saw that the cost wasn't that far from hostels, I decided to give it a try. It's a limited-service hotel but a legit hotel nonetheless. The room I was given was small but super clean and had hotel quality beds (because, again, it's a hotel, haha). Myeongdong Shopping Street is just a walk away, albeit a long one. But it's just one station away by subway, which is convenient because Namsan City Hotel stands just a few meters from Exit 3 of Hoehyeon Station.
How to get there from Incheon Airport: By bus. Board Bus 6015 at Gate 5B or 11B and alight at Namdaemun Market. Walk across the market and you'll find the hotel on the other side of the road. You can also reach it easily by train. Just ride the Airport Railway Express (AREX) train to Seoul Station, transfer to Line 4 and get off at Hoehyeon Station. Take Exit 3.
Rates: We paid KRW 78,700 (USD 67, EUR 63, PHP 3355) per night for a twin room.
✅ Check updated rates or book here
---
---
---

2️⃣0️⃣1️⃣9️⃣ • 3️⃣ • 2️⃣5️⃣ – last update
2️⃣0️⃣1️⃣7️⃣ • 1️⃣ • 2️⃣6️⃣ – first up