Getting tricked is probably the last thing you want to happen to you when traveling. But not in Hongdae.
Smack in the middle of this youthful Seoul district is a museum. Here, visitors come for the tricks.
I did not intend to be here at the time. I was lost. I had been for about 20 minutes. I was supposed to go to the Coffee Prince Coffee Shop when I stumbled upon a large river of humanity flooding an alley of Hongik-ro. After squeezing through the crowd, I took a turn and found what I was set to visit much later that night. In front of me was the Trick Eye Museum. And in an attempt to dodge the swarm, I went inside.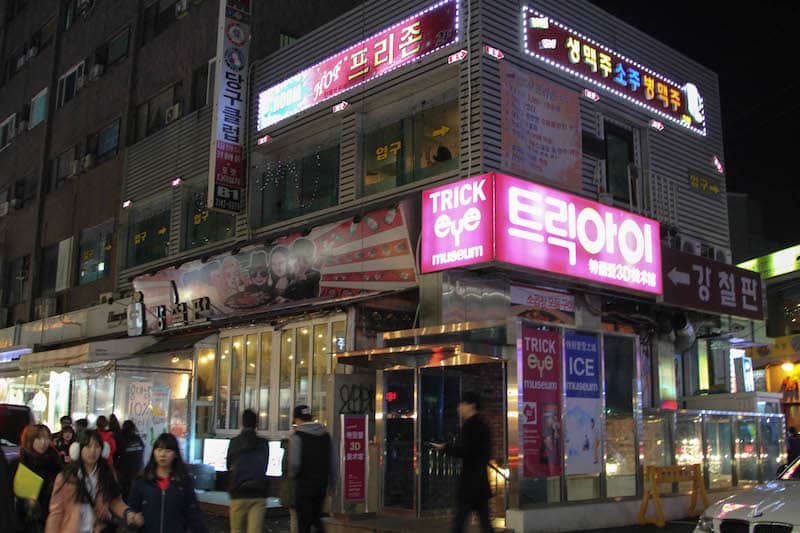 The first to greet me was a man in the wall. And he was asking for a hug. He grabbed me, that man. How dare he!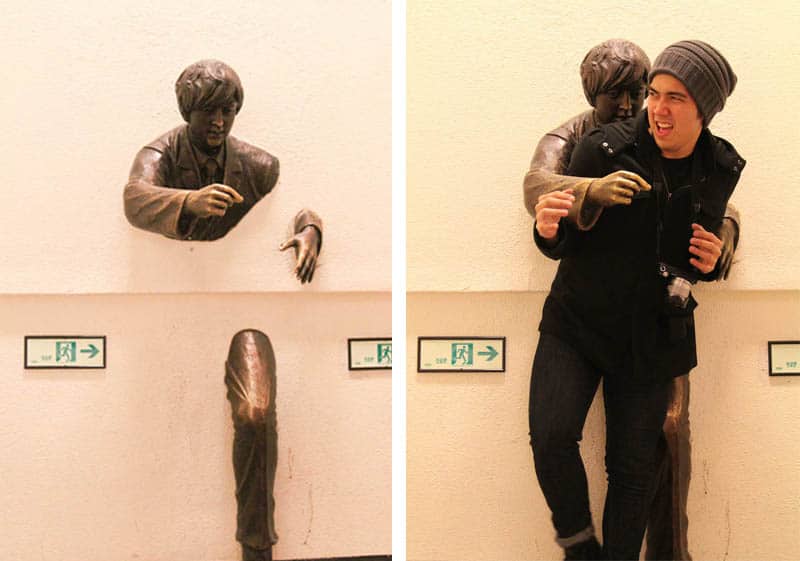 Trompe-L'oeil
Such an intimidating word, trompe-l'oeil. It literally means deceive the eye. And deceive the eye is exactly what the Trick Eye Museum does. It showcases the art technique of trompe-l'oeil, using realistic imagery to create optical illusions that fool viewers into thinking that the pieces have come to life. Unlike in conventional museums, visitors are not just allowed to touch the art pieces. They are encouraged to even be the subject, making this a highly interactive gallery.
The lobby is distinctly Greek. And why wouldn't it? It is part of the Seoul Santorini Gallery, a cultural complex in the basement of Homi Atelier, an art supplies store.  Just by the entrance is a Greek-style cafe, and an educational room for Greek mythology is also located here.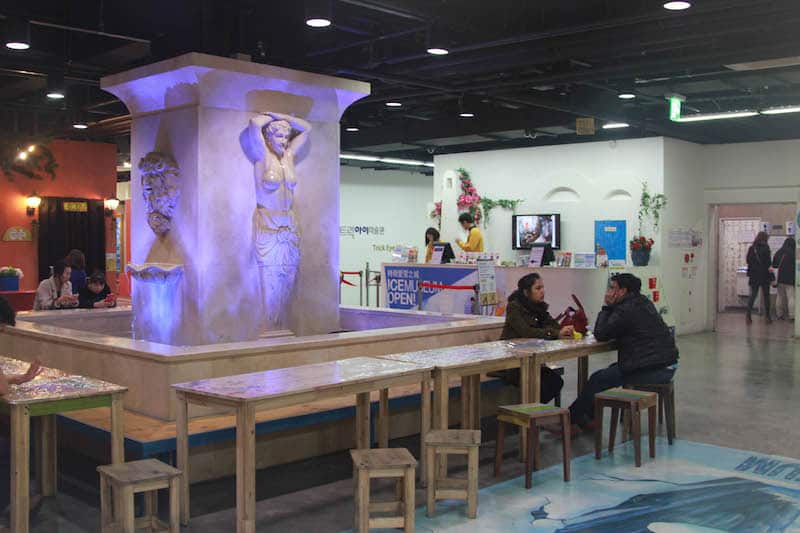 But Greece faded into wonderland as soon as I made it past the entrance. Inside the museum's first zone, world-famous two-dimensional paintings transform to three-dimensional installations for the camwhoring amusement of its visitors. What was I to do? I prepped my camera, and did what I was there for — get vain and all.
Here are the products of my hour-long affair with my camera inside the Trick Eye Museum.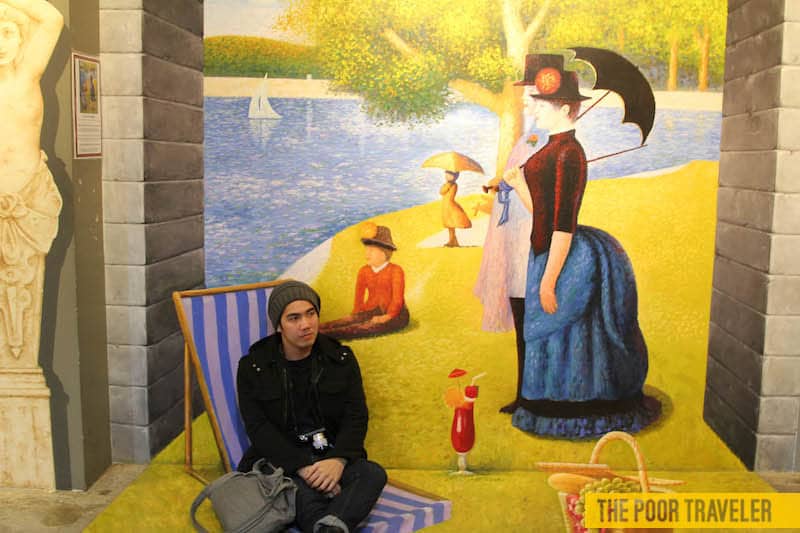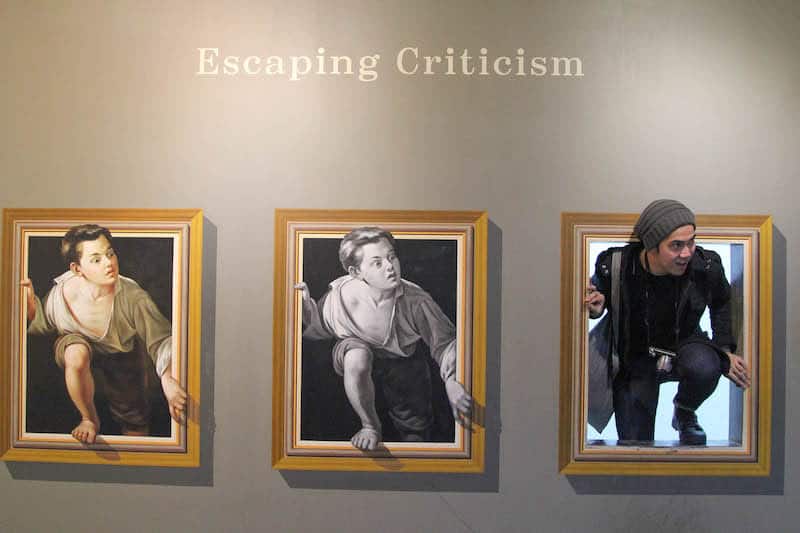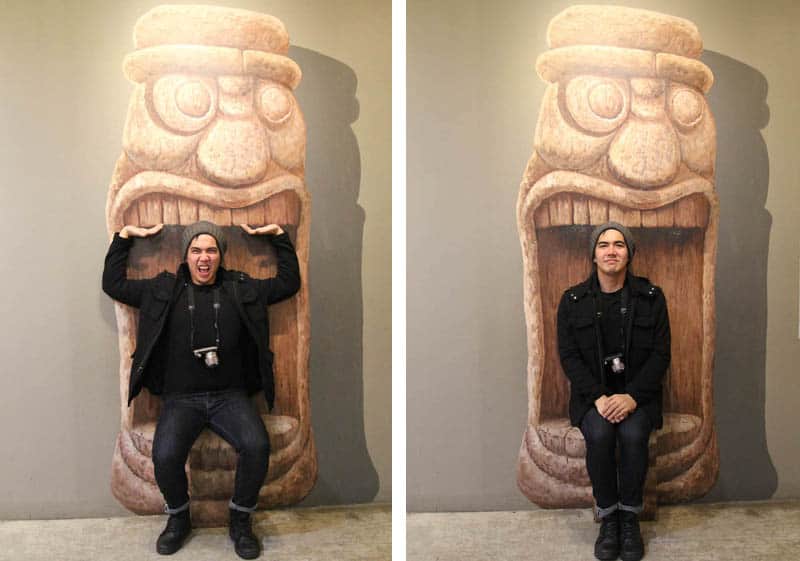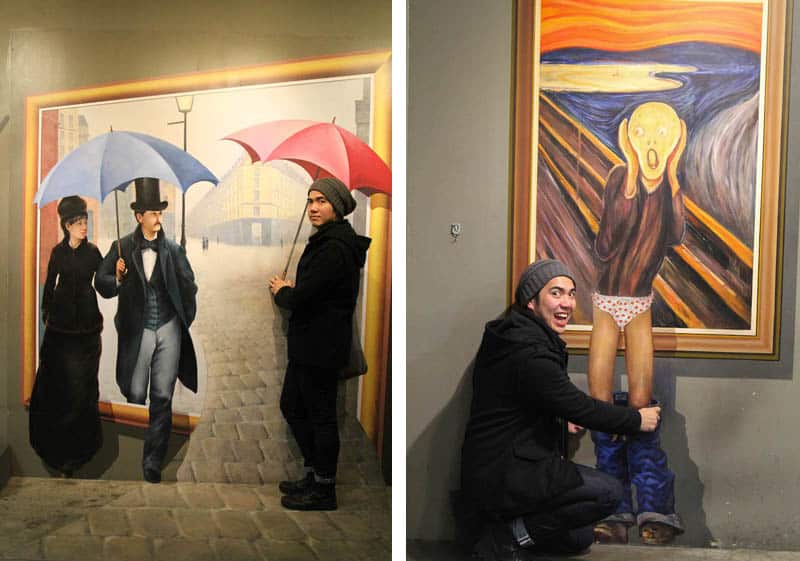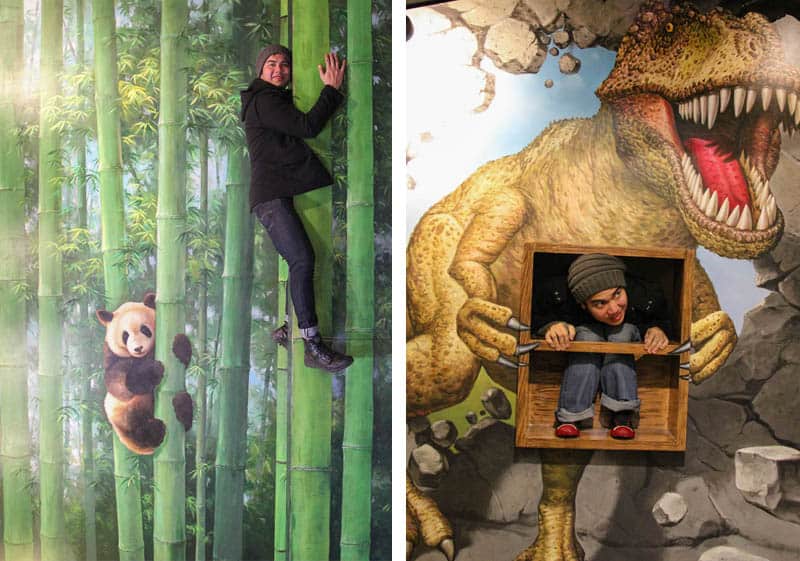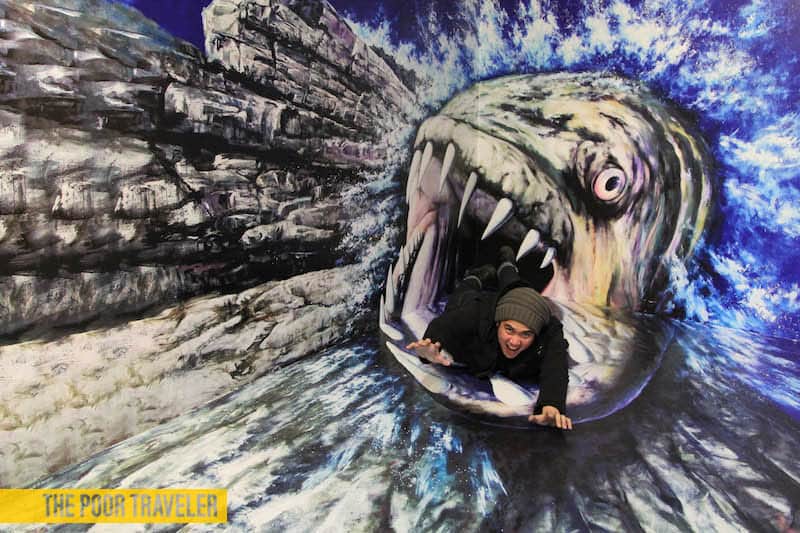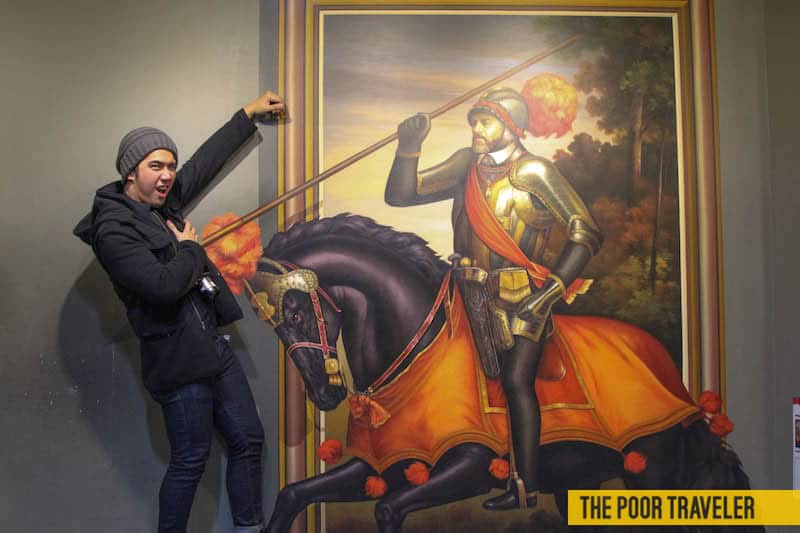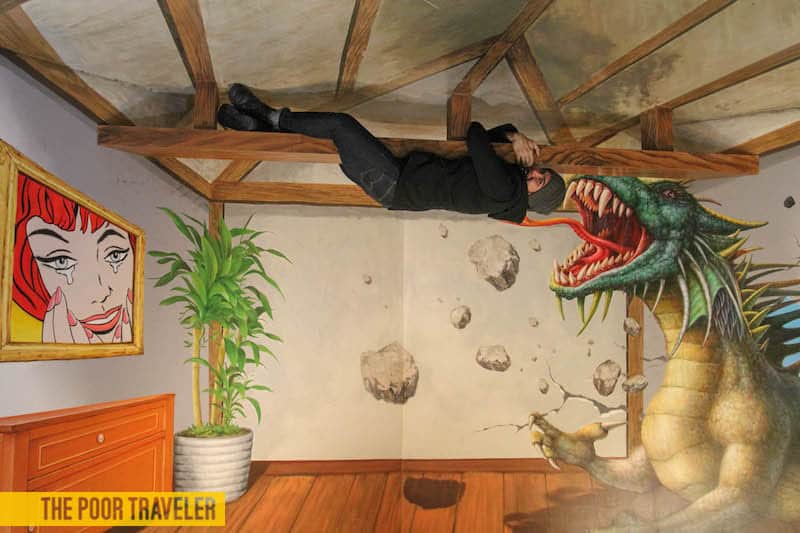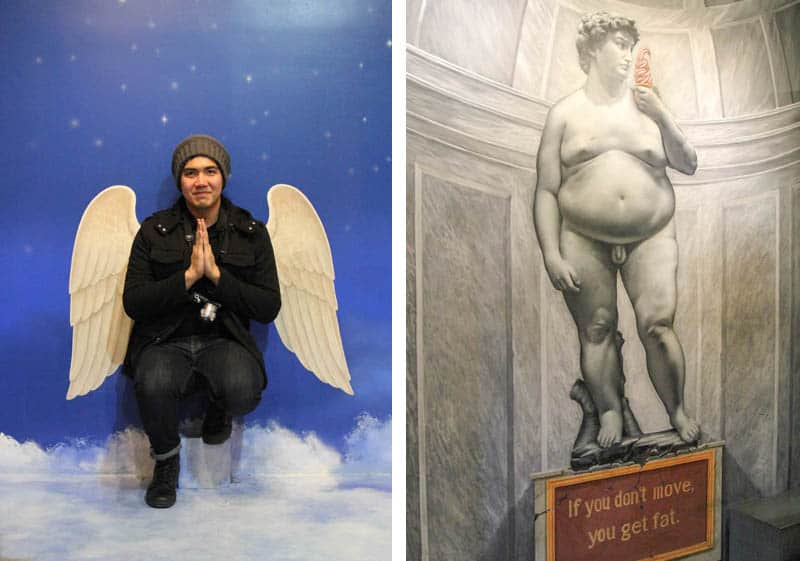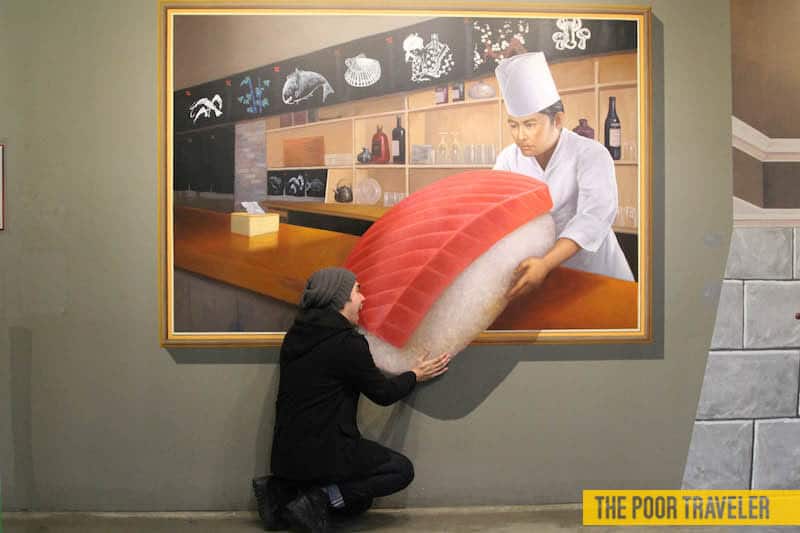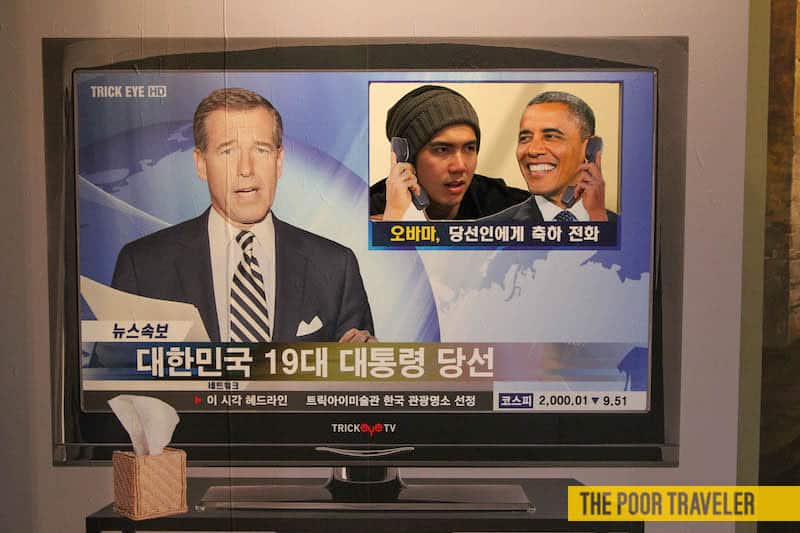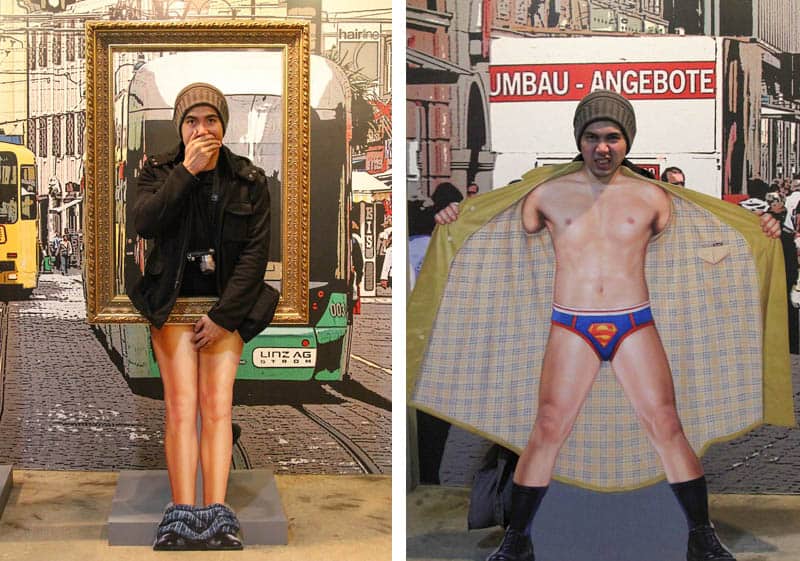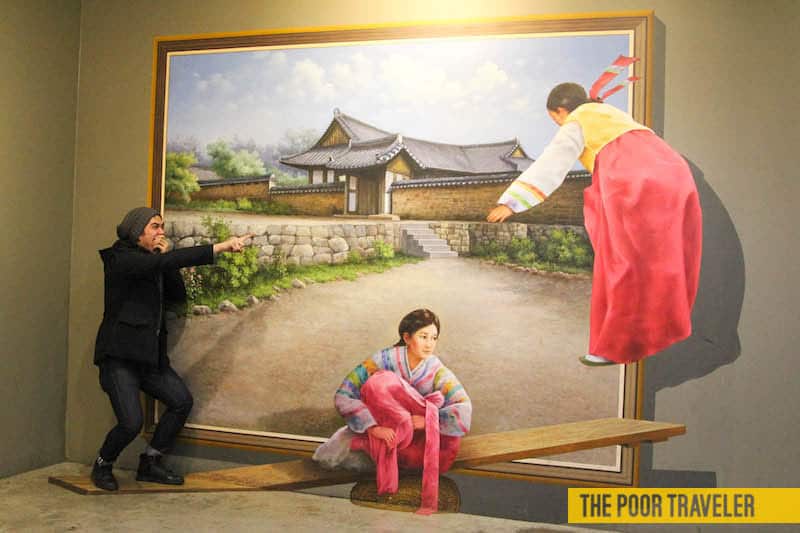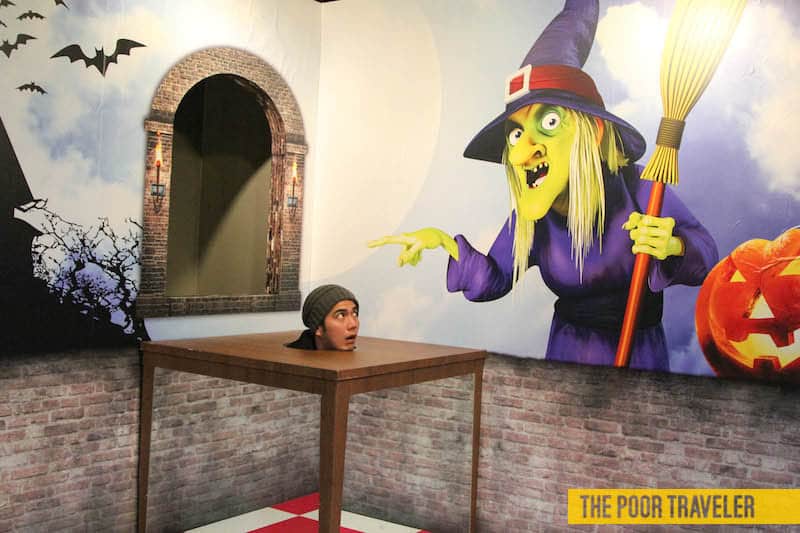 The lights were installed at strategic corners so the images would look flawless from certain angles. Make sure you're at the right spots when taking the pictures.
Ice Museum: Eye Tricks to Ice Treats
The 15,000-won admission fee covers entrance to the adjacent Ice Museum. It is small, and it can get really crowded inside. (I found myself battling fellow little kids for my five-second turn for a photo-op with each piece. Haha. Not really. Sort of.)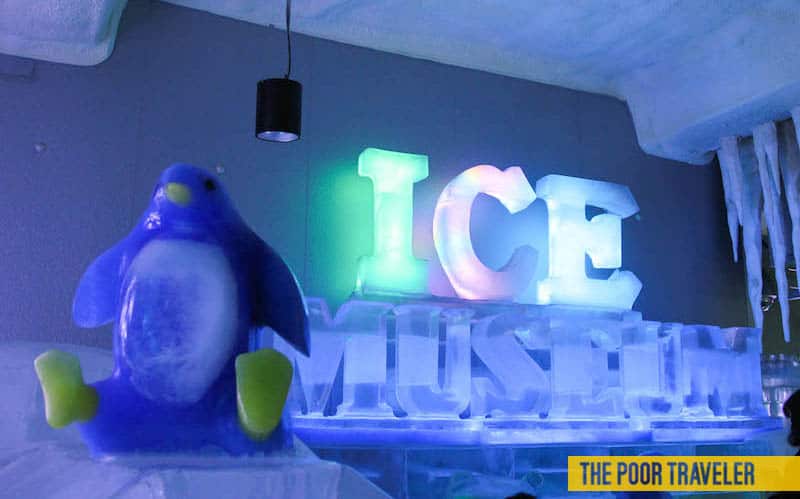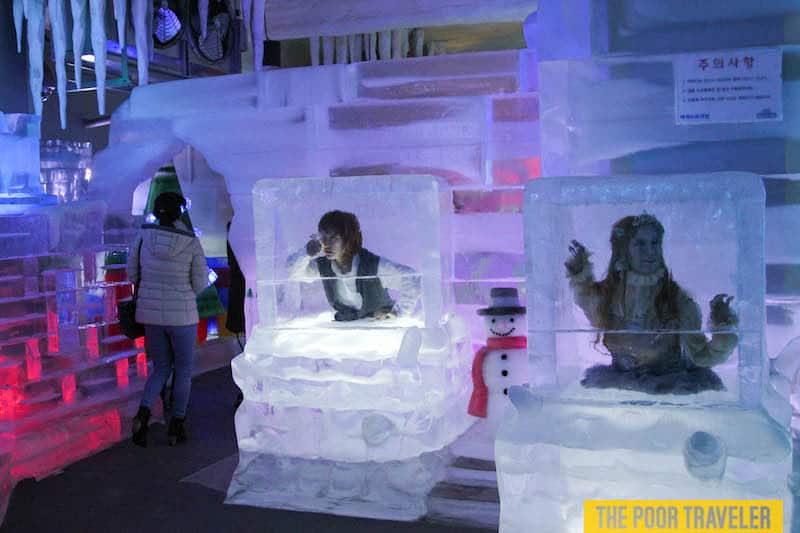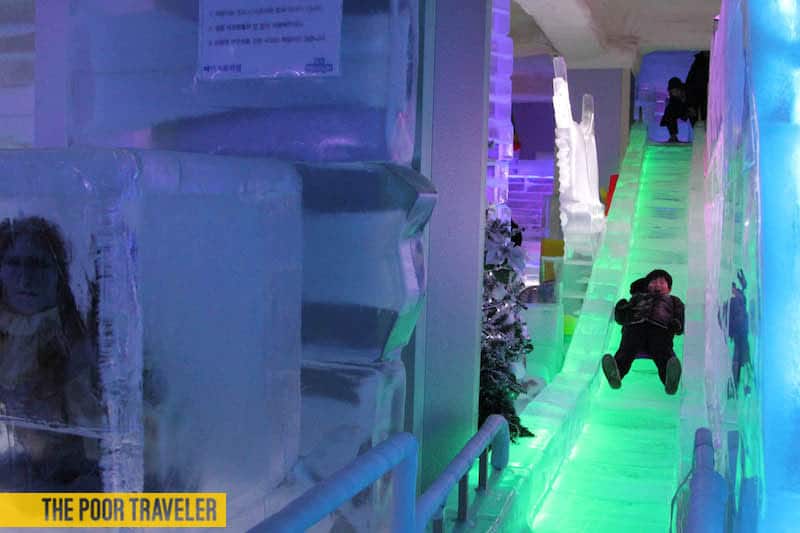 It did not feel any less cold outside. The freezing weather had kicked in and the crowds had thinned a bit when I emerged from the basement. Nevertheless, Hongdae remained vibrant and energetic. The night was long, and I still had a couple of places to check out in the area. But I was hoping I had my share of tricks for the day.
Trick Eye Museum
20, Hongik-ro 3-gil, Mapo-gu, Seoul

Admission Fee: KRW 15,000 (Adult), KRW 12,000 (Child)
Opening Hours: 9am-9pm (Last entry: 8pm)

How to get there: Take the subway to Hongik Station (Line 2, Exit 9). Walk along Yanghwa-Ro. Turn left onto Hongik-Ro, walk two blocks, and then right to Hongik-Ro-3-Gil. You'll find the Trick Eye Museum after the first corner.
---
---