We're supposed to be in India now. For months, we had planned going on a backpacking trip from Nepal to India to Sri Lanka. We had almost everything taken care of including our hotels and an India visa. But something personal came up so we had to cancel the whole thing. I'm still a little bit bummed, but I guess some things are really just out of our control.
The good news is, because I have tried applying for an India visa, I can now write about the experience. I was actually quite surprised to learn that we needed a pre-issued visa to enter India. Filipinos used to be able to avail of visa-on-arrival, but that had been discontinued a couple of years ago.
Today, Philippine nationals visiting India may apply for an e-Tourist visa, e-Business Visa, or e-Medical visa. In this post, we'll be focusing on the e-Tourist Visa only. It's actually pretty easy. I finished my application in an hour and got my visa the next day. Here's how to do it.
1. Make sure you're eligible for an e-Visa.
Apply for an e-visa if at least 4 days in advance of the arrival date with a window of 120 days. The Embassy site gives this example: If you are applying on September 1 then you can select arrival date from September 5 to January 2.
Your sole objective in India is recreation (tour, sightseeing), visit friends or relatives, or casual business visit.
Your passport must have at least 6 months validity from your arrival date. It must also have at least two blank pages.
You must have a return ticket or an onward journey ticket and enough money to spend during your stay.
Appy for an e-visa only if you're entering India via any of the following airports because these are the only ones that would accept it:
Ahmedabad
Amritsar
Bagdogra
Bengaluru
Calicut
Chennai
Chandigarh
Cochin
Coimbatore
Delhi
Gaya
Goa
Guwahati
Hyderabad
Jaipur
Kolkata
Lucknow
Mangalore
Mumbai
Nagpur
Pune
Tiruchirapalli
Trivandrum
Varanasi
It is also accepted at the following seaports: Cochin, Goa, Mangalore.
If you're planning to enter India through another gateway, you will have to get a visa the old-school way. Apply at the Embassy. In that case, I won't be able to help because I haven't tried that one.
2. Complete the requirements.
It's the shortest list of requirements for a visa application that I've seen. Haha. Basically, before you apply online, you must have the following:
Scanned copy of the your passport's bio page.
Recent photo. Front facing and against a white background.
Fee, which costs USD 50 + USD 1.75 bank transaction fee. So that's a total of $51.75. You can pay via credit card or PayPal.
In addition, you should also have the following details of your trip because you will be asked for these during the online application:
Travel Dates
Airport of entry
Hotel Address and Contact Number
That's it. Now all you need to do is apply and pay online.
3. Apply Online.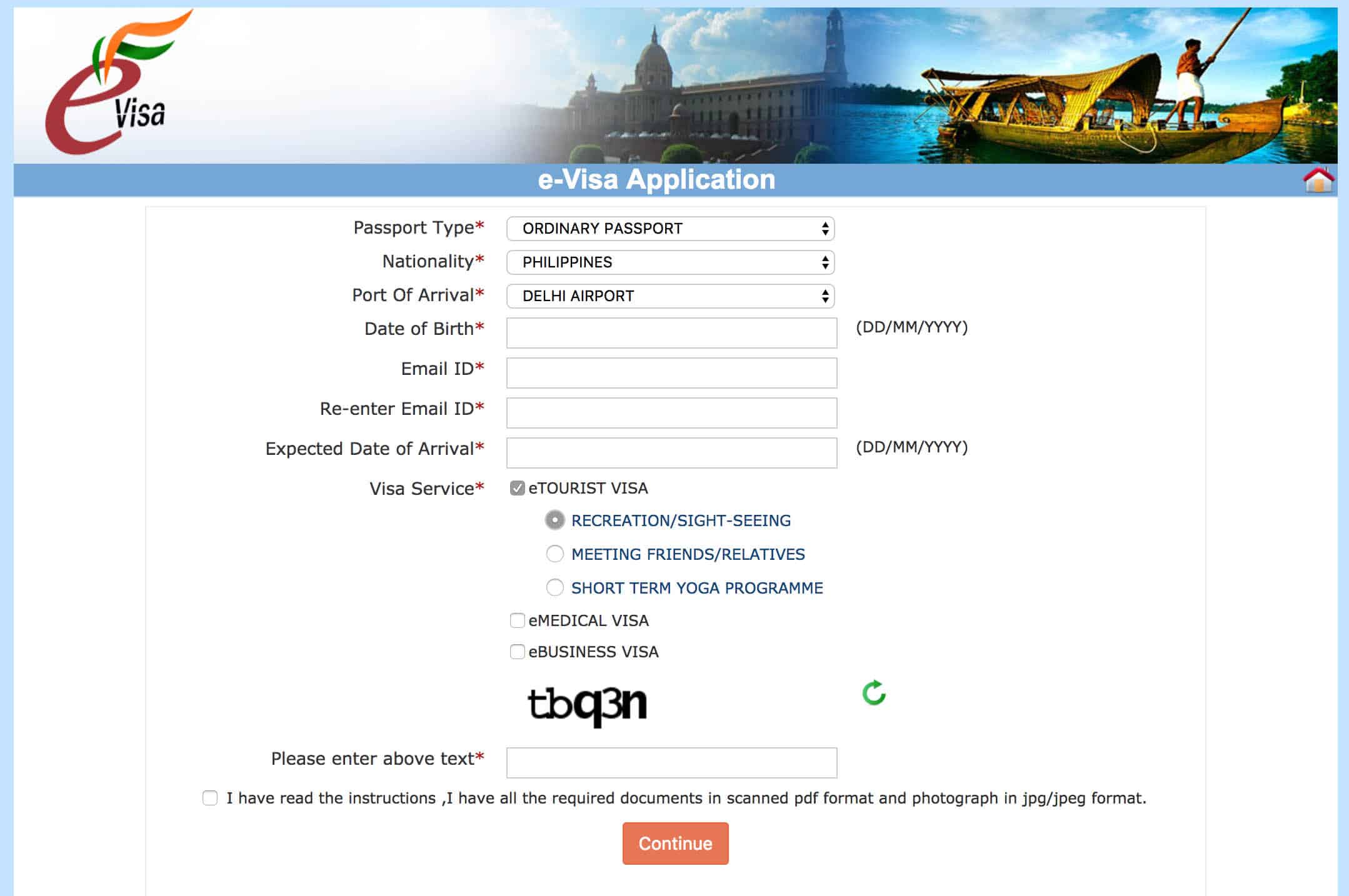 Go to India's e-Visa Application Page.
Accomplish the short form. Don't forget to tick e-Tourist Visa, and then choose Recreation/Sightseeing. Once you're done. Click Continue.
On the next page, fill out the form. You will be asked for your Personal Details, Family Details, Employment Details, and the details of your trip. It's pretty straightforward. The only thing that confused me a little bit was the part that asked for References in India. If you're not visiting anyone, you only need to enter your hotel, its address, and contact number. You will also be asked for your reference in the Philippines.
On the next page, upload your photo and a scan of your passport's bio page.
4. Settle the visa fee.
You will be asked whether you want to pay via SBI or Axis. These are payment gateways. SBI stands for State Bank of India. I chose SBI.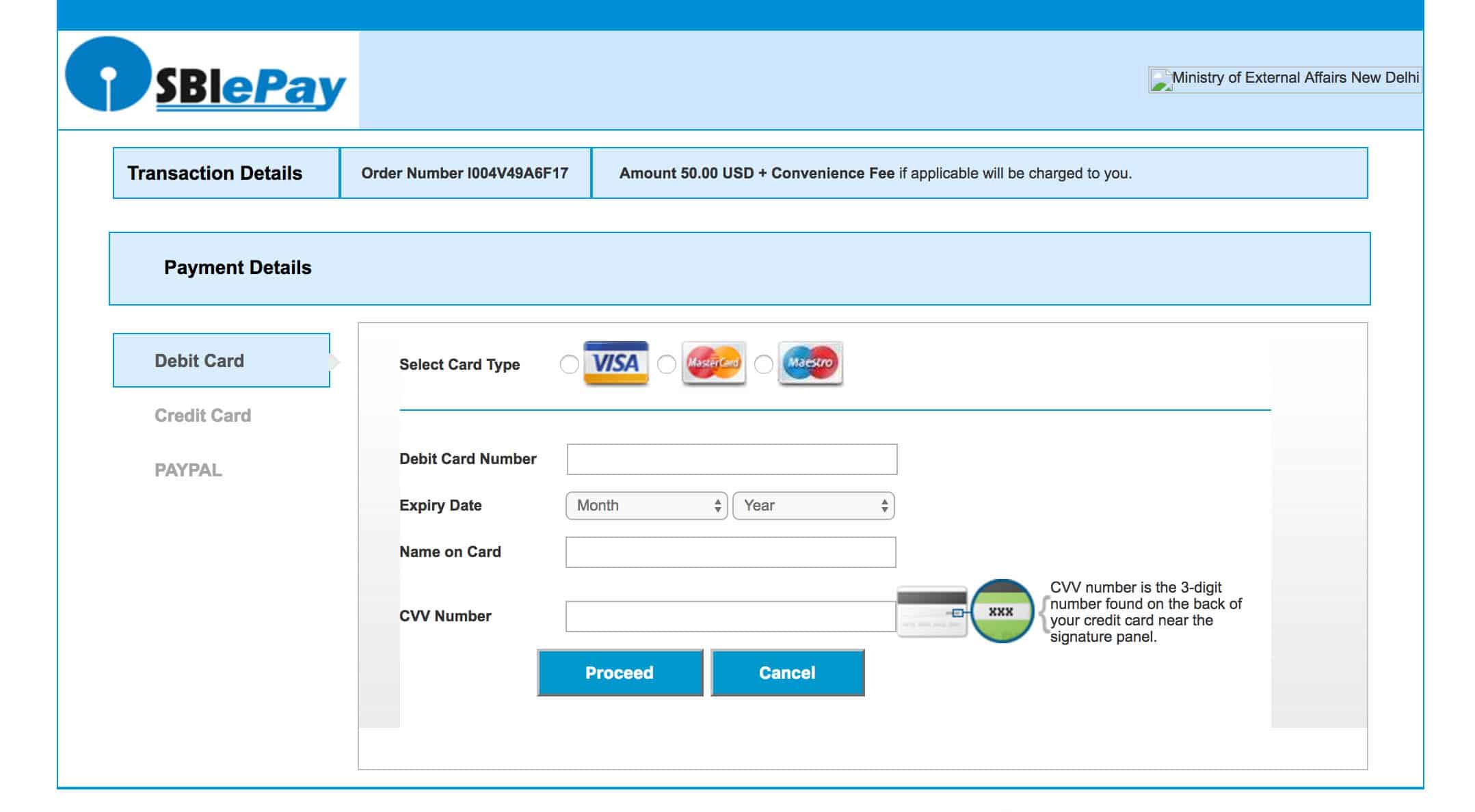 Then you will be asked if you want to pay via PayPal, debit card, or credit card. For Credit Card, Visa and MasterCard are accepted. For Debit Card, Visa, Mastercard and Maestro are accepted.
The fee is USD 50 + USD 1.75 bank transaction charge. Total of $51.75.
5. Wait for your visa!
That's it! After that, the waiting game begins.
What you're actually waiting for is an email from them containing your Electronic Travel Authorization (ETA). Here's what it looks like.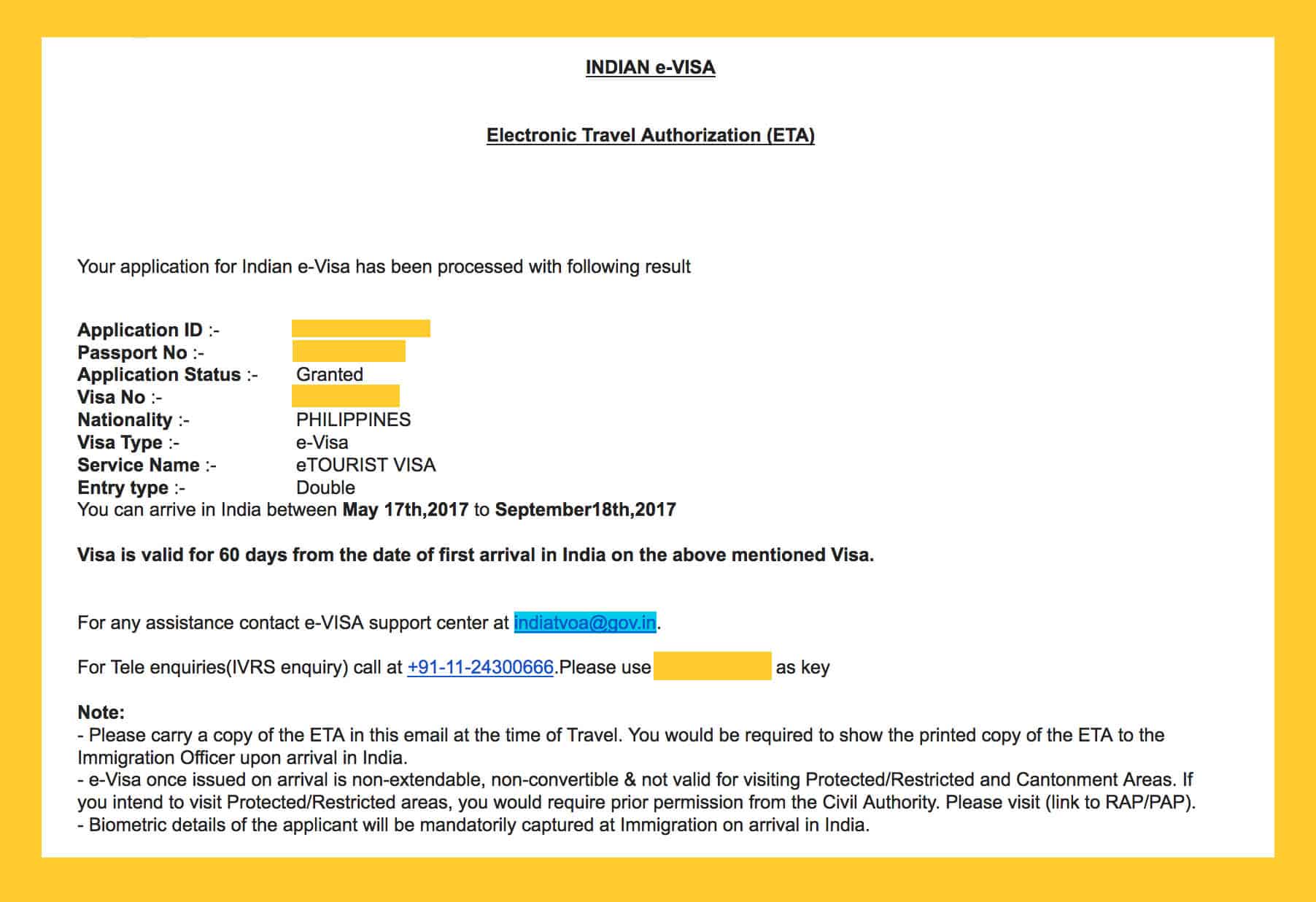 Normally, it takes 72 hours. But I finished my application on May 17 at 4pm and received my visa at 9am the next day. That was super quick.
The visa is double-entry and valid for 60 days!
The visa can also be used within 120 days of issuance. This means that even though my trip was canceled, if I want to, I can still use it within the next four months. Hooray!
6. Confirm that your visa is granted.
Before your journey, you have to double-check that the status of your visa is GRANTED.
To do that, enter your Application ID and Passport Number on this page: India Visa Status.
If everything looks fine, you're good to go! If not, contact the e-Visa Support Center by sending an email to indiatvoa@gov.in.
Top Hotels in New Delhi, India
| | |
| --- | --- |
| The Imperial Hotel | Leela Palace New Delhi |
| Colonel's Retreat New Delhi | Devna Bed and Breakfast |
Watch our Latest Video!