El Nido is a town in the northern part of Palawan which encompasses 45 islands in Bacuit Bay. It is popular for white sand beaches, snorkeling and diving sites, and steep karst cliffs. Although famous, reaching this tropical paradise can be quite a challenge to travelers because of its remoteness.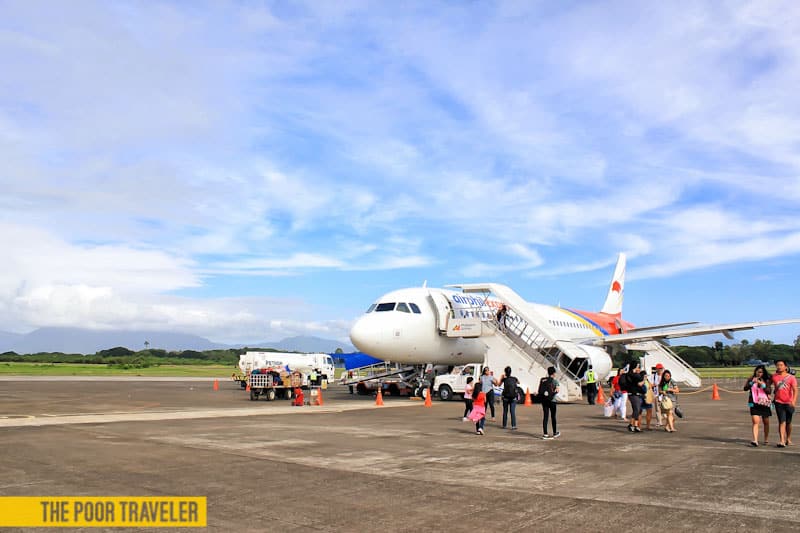 Choose Your El Nido Gateway
There are several ways to reach El Nido and here are three of them.
Direct Flights. El Nido has its own airport but its short runway prevents most airlines using relatively big planes to land here. There are direct flights to El Nido but tickets are expensive (compared to other destinations in the country) most of the time. There are also other companies offering chartered flights but the rate might be a little too much for many travelers.
Via Coron. You may also consider flying to Coron. From there, big outrigger boats that travel to El Nido. The catch is that travel time is around 8 hours. And it also proves more expensive as you will have to fly to Coron first and then shell out a couple of thousand pesos to boat to El Nido.
Via Puerto Princesa. For me, the wisest choice have to be the Puerto Princesa route. From Manila, there are several cheap flights to Puerto Princesa City, the Palawan capital. From there, there are buses and vans that can take you on a road trip to El Nido. Travel time is five to six hours.
Our choice was obviously via Puerto Princesa because we had already booked a flight with PAL Express when they slashed their base fares to only P100 last March for their anniversary sale. We took the 7:30am flight and we arrived at 8:40am, as scheduled.
Upon arrival, we approached the Tourism Booth near the Baggage Claim section of the Puerto Princesa Airport and asked for their recommendation on the best way to reach El Nido. The two friendly staff members manning the booth explained the bus and shuttle options to us. But before that, you need to get to San Jose Terminal.
Puerto Princesa Airport to San Jose Terminal
San Jose Terminal is where buses and shuttles in Puerto Princesa leave from. To get here from the airport, take a 15-minute tricycle ride. Fare is P120.
But if you have the time, you may also take a trike to Junction 1 (P8.00) and then ride a multi-cab to San Jose terminal (P12.00).
Bus vs Van
If you're traveling to El Nido via Puerto Princesa City, you may choose to take the bus or van (shuttle).
Roro Bus: There are now Roro buses going to El Nido from Puerto Princesa every 2 hours from 6am-10pm. This means saving a lot of time (and a hotel night) because you can sleep in the bus on the way to El Nido. Fare: P380. Travel time, 6-7 hours.
Fort Wally Shuttle Services, on the other hand, carries passengers to El Nido every day at 5am, 7am, 9am, 11am and 1pm. It usually takes 5-6 hours and stops only once. The best part about the van is that they are willing to pick you up at the hotel or wherever you are in downtown Puerto Princesa. Fare: P700. Travel time: 5-6 hours.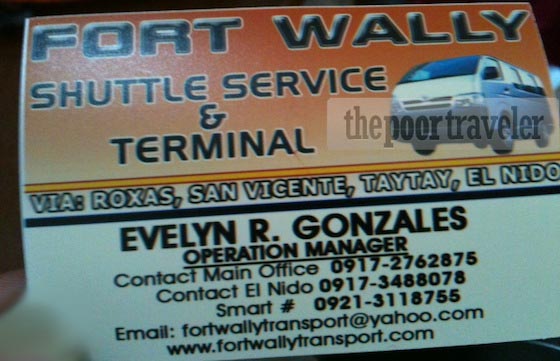 The Fort Wally staff members who entertained us offered us a deal — P1200 for roundtrip, which we gladly took. We asked them to pick us up at the Balinsasayaw Restaurant where we planned to have brunch. We also got their number so we could inform them where they would pick us up in El Nido for our return trip to Puerto Princesa.
At 11am, the van picked us up at the restaurant, made a quick stop at their office to pick up more passengers and then we were on the way to El Nido.
The Long Road to El Nido
Six hours. I knew exactly how I would spend the six hours that we would be on the road to El Nido — SLEEP. Because I did not have enough sleep, trying to look for a place to stay online the night before, I decided I'd sleep the entire time. And I did, almost. When the van pulled over in front of an eatery, I grabbed a quick lunch. And once we were back on the road, I slept again. Up until the rough road started to rattle my slumber. I wasn't able to sleep since then.
Don't worry, though, because the rocky part wasn't that long. The paved road made a comeback several minutes later but then the scenery caught my attention.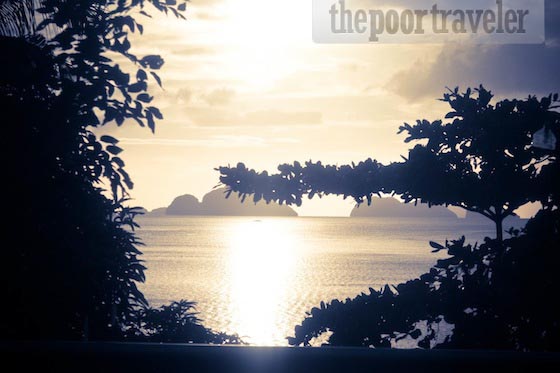 If you're on the left side of the van like I was, you'll have a great view of the sea and other islets playing hide and seek with you as trees cover and reveal them every now and then. It was a fantastic experience having a glimpse of what was in store for us!
Arriving in El Nido
The sun was nearly kissing the horizon when our van stopped at a small terminal. I knew it was time to hop out. We were there. Hey, El Nido, nice to meet you.
The first thing I noticed was the imposing limestone cliffs surrounding the quiet town. While our driver was helping us with our bags, I was busy falling in love with this giant wall-mountain as though it was etched by the gods. The holes in the wall were not flaws but signs of life as birds flew in and out of them like little children running around at a playground.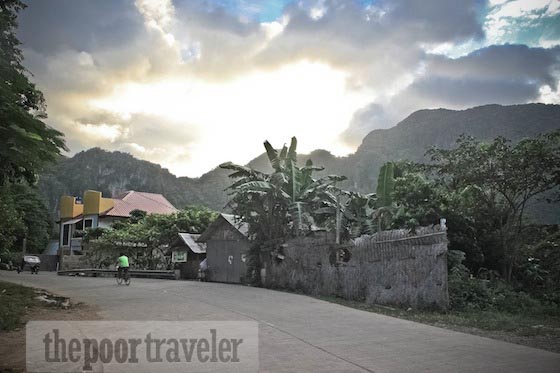 As soon as we got our things, we were approached by tricycle drivers who offered to take us to our hotel. There were seven of us in the group and it took two trikes to get us all to the Cliffside Cottages.
"It has started," I said as I stared at this giant cliff towering above me. The break that I had always wanted, "It has started."

View Larger Map