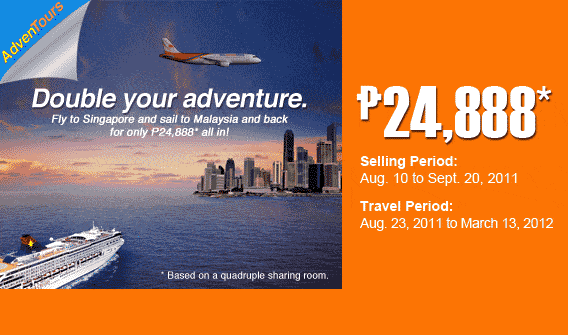 2011 • 9 • 4
I had never been on a cruise before. I had traveled by ship many times — to General Santos City, to Puerto Princesa, to Calapan, Mindoro. Although I enjoyed these journeys very much, I had never experienced being on board a cruise ship, with many luxurious amenities. That's why I was thrilled when I received an invitation from Airphil Express to try their newest travel package — Fly and Sail!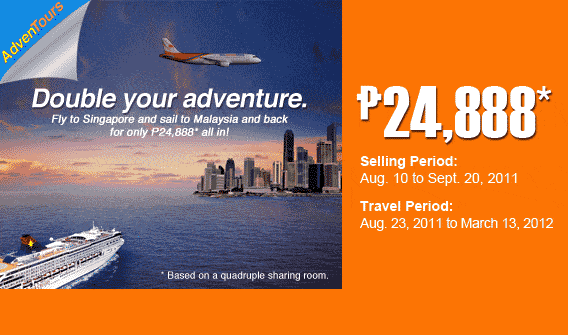 The Philippines' fastest growing airline, Airphil Express partners with another travel giant — Star Cruises. Together, they created a package that made the "cruise experience" a lot more affordable, thus closer to many people. FLY AND SAIL offers a double adventure! You fly to Singapore via Airphil Express and then hop onto SuperStar Virgo and cruise to Malaysia! You may choose which Malaysian destination to visit — Malacca, Redang Island, or Port Klang (gateway to Kuala Lumpur).
Their lowest offer is only P24,888! ALL IN! Enjoy four days and 3 nights (4D/3N) of island adventure, sightseeing or shopping in Singapore and Malaysia! Here are the other options: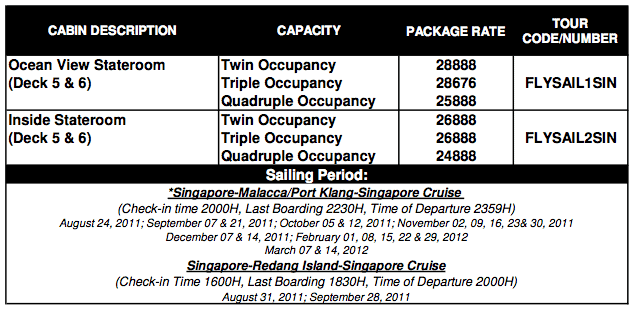 Packages are inclusive of the following:
Roundtrip airfare (Manila-Singapore-Manila) including fuel surcharge
3D/2N accommodation aboard Star Cruises' Superstar Virgo
Overnight accommodation at Oasis Hotel or Fragrance Rose (first night)
Transfers (Airport-hotel-port-airport)
All access to Superstar Virgo's facilities and live entertainment
Meals on board (up to 6 meals per day at selected restaurants)
Philippine and Singapore taxes
Travel period: August 23, 2011 – March 13, 2012
Selling period: August 10-September 20, 2011
I think it's a very good deal! Looking at my previous Singapore trip where I spent almost P16,000 for 4 days and 3 nights, I think this package is a steal! Note that I stayed at a hostel the last time I was in SG. APX's Fly and Sail offers not just stay in Singapore but also Malaysia, via cruise ship! Sweet!
Itinerary
Day 1
Flight to Singapore, passengers check-in at NAIA Terminal 3 via 2P 800 ETD 1650H
Arrival in Singapore ETA 2020H, a Singapore Guide will meet them at the airport and proceed to their transfers
Passengers will be transferred via coach to either Fragrance Hotel Rose or Oasis for their overnight Accommodation
Day 2
Free time in the morning
1200H check-out from the hotel
1230H Pick-Up time for transfers from Hotel to Sentosa Port via coach to await check-in time for the Cruise
Check-in time for Cruise will depend on the destination of the Cruise
Departure of Cruise Ship from Sentosa port
Day 3
0700H ETA at the destination of the Cruise, passengers may avail of the optional tour offered on board. Charges for the tour is on personal account of the passengers.
Should passengers avail of the tour, they have to be on board by 1700H – Cruise Ship leaves for Singapore
Day 4
1300H ETA at Sentosa Port, Singapore
A guide will meet the passengers at the port for their transfer to Airport – Check-in for their flight back to Manila via 2P 801 ETD 2050H
It was my third time in Singapore; I was just there the month before. But I had never been to Malaysia before. And that's another thing I was really looking forward to. I will be sharing all the fun that I had on this trip with all of you in my next posts! Read on!