It only takes one quick look to see that Seoul is one giant shopping mall. Outside its grand palaces and hanok villages and in between cafes (and mind you, there are countless of them), fashion shops tempt passersby with its endless barrage of apparel, accessories, and souvenirs. While you can find them almost everywhere, tourists flock in many of the city's most frequented shopping streets and districts. Here are eight of them.
WHAT'S COVERED IN THIS GUIDE?
Myeongdong
Seoul's premier shopping destination, Myeungdong (or Myeong-dong) boasts a wide range of shops from the more reachable brands (the familiar Forever 21 and H&M) to designer labels. The place covers the area from Myeongdong Subway Station to Lotte Department Store (Euljiro). In between, several department stores rise, including Myeong-dong Migliore, M Plaza, Shinsegae Department Store, and Noon Square. If you have a not-so-deep to bottomless pockets, this is your best bet because many of these carry midrange and premium brands.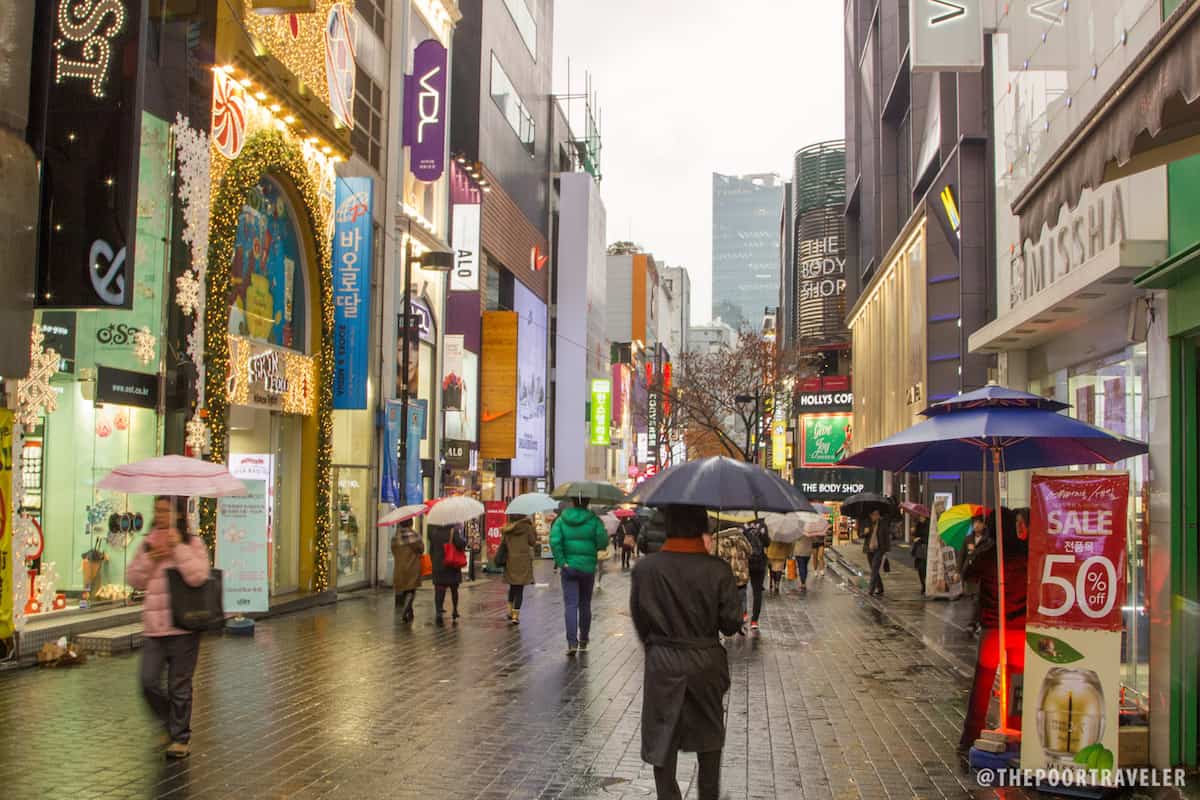 And oh, there are also record stores for those into K-Pop!
And if you ever get hungry, you'll find plenty of munchies in the streets: from tteokboki (chewy rice cakes in sweet and spicy sause) to GyeRanBang (egg muffin) to toasted shredded squid.
How to get there: Take Subway Line 4 to Myeong-dong Station, Exit 6.
---
Dongdaemun Market
Not too far from Myeung-dong lies Dongdaemun Market, the city's shopping mecca. Here you'll find everything fashion: from the trendiest fabrics to bridal wear. Many distributors from all over Korea come here to buy wholesale. Those street stalls you see in the streets, they get their products from here. But retail is absolutely alive too. And thriving. Many up and coming designers launch their creations here.
Five distinct shopping districts harbors 26 shopping malls scattered around 10 blocks. The place houses 50,000 different manufacturers and 30,000 specialty shops. Now, if you're a true-blue shopaholic, ain't that perfect?
Aside from clothes and shoes, you will also find electronic items, office supplies, and sporting goods. Don't forget to try many the area's food counters for another taste of your favorite Korean dishes and snacks.
How to get there: Take Subway Line 2, 4 or 5 to Dongdaemun Stadium Station. Use Exit 1.
---
---
Namdaemun Market
Built in 1414, Namdaemun Market is the oldest traditional market in Korea. But that's not its only claim to fame. It is also the largest, covering an area of over 66,000 sq. m. and housing almost 10,200 stores. Its 400-year history alone adds an air of charm around it, but most visitors come not for a lesson but a look at its wide, wide range of products. Clothes, kitchenware, and accessories dominate the site, but electronics and eyeglasses are also a common sight.
How to get there: Take Subway Line 4 to Hwehyeon Station. Take Exit 5.
---
The atmosphere at Gwangjang is so different from Dongdaemun and Namdaemun. While it is not as frequented by tourists, Gwangjang is a favorite among locals looking for silk and custom-made hanbok. The market takes a different form at night when food stalls open and patrons come flooding into the building. Sealed traditional korean food products are also available for those wanting to take some home.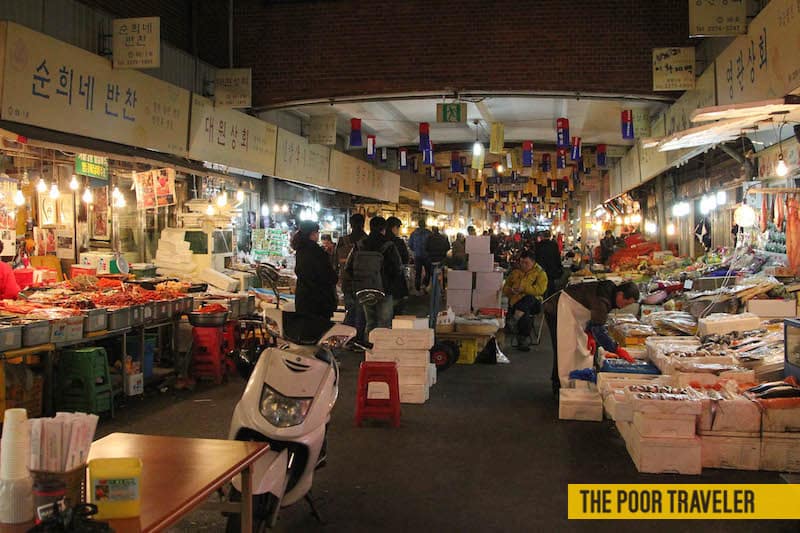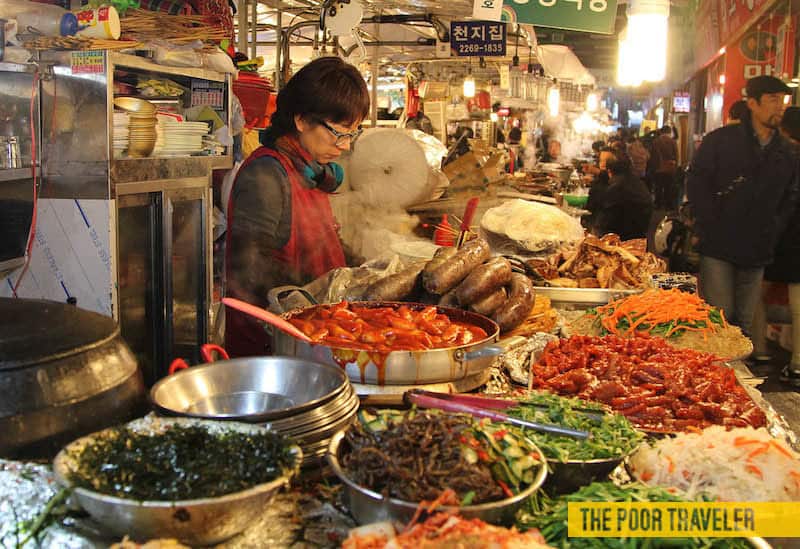 How to get there: Take the subway to Jongno 5-ga Station (Line 1, Exit 8) or Euljiro 4-ga Station (Lines 2 or 5, Exit 4)
---
Itaewon
Itaewon Street straddles 1.4km, between Noksapyeong Station and Hangangjin Station. When god showered Seoul with foreign influences, it looks like this place caught them all. In many ways, Itaewon is Seoul's global district. It's obvious just by looking at the establishments that thrive here. It is multi-cultural — a hiphop shop here, a Mexican restaurant there, an Irish pub over there.
Among locals, it is most famous as the place to go for tailored suits. You will also find a lot of really good designer label knockoffs, if you're into that.
How to get there: Take Subway Line 6 to Itaewon Station, Noksapyeong Station, or Hangangjin Station.
---
Insadong
Traditional is the name of the game in Insadong. Traditional souvenirs — artworks, ceramics, paper goods — are what most tourists come here for, if not to try one of those traditional teahouses or check out the many antique shops that fill the blocks surrounding the main street. If you're looking for having a piece of Korean history, this is where you should be headed.
Sunday is the best day to visit because they close off the road from vehicular traffic. More vendors (and even fortune tellers) also set up stalls here attracting more shoppers than usual.
How to get there: Take Subway Line 1 to Jonggak Station, use Exit 3, and travel on foot to Jongno 2-ga. Turn right at Kum Kang Shoes building. Alternatively, you may take Subway Line 3 to Anguk Station, take Exit 6 and walk 30 meters to Crown Bakery.
---
Ewha Women's University
Calling all young female shoppers, all female shoppers. We found your paradise right here, in front of Ewha Women's University. Many of the items sold here are those you won't find elsewhere, not even in bigger markets like Dongdaemun. You'll find a whole bunch of accessories and footwear, and quirky apparel. Since they cater to students (mostly), prices are much friendlier to the pockets!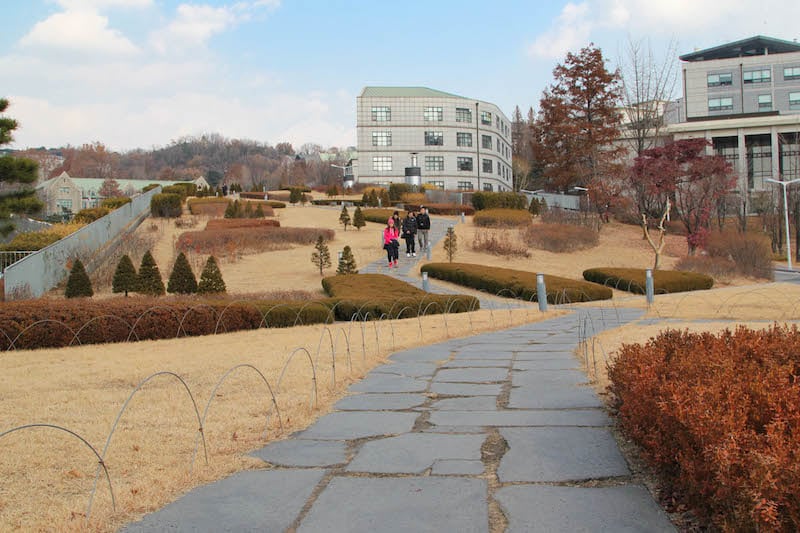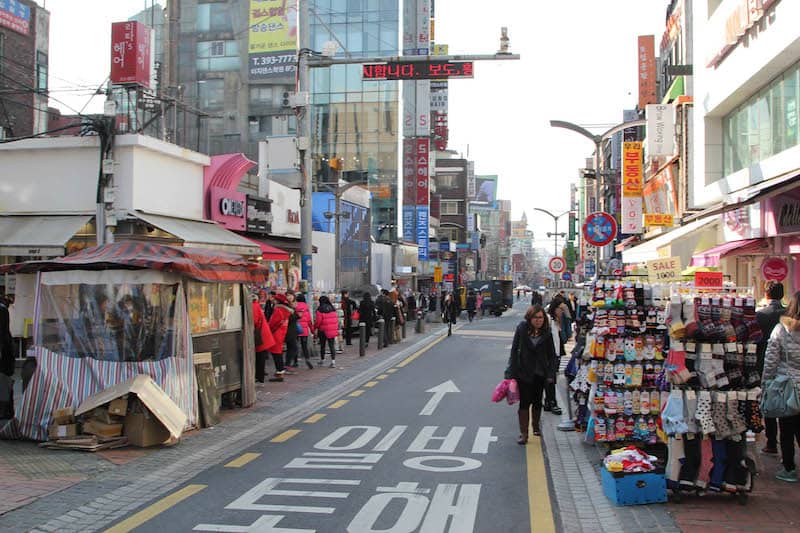 The street runs from the main gate of the university to Sinchon Subway Station. And if you're a dude, you'll also find something for you here, but you won't be as happy as your female companion.
How to get there: Take Subway Line 2 to Ehwa Women's University Station. Use Exit 1, 2 or 3.
---
Hongdae
Shopping isn't always the reason why tourists swarm around Hongdae. For starters, many cheap hostels are located here. For pop culture vultures, the Hello Kitty Cafe and the Coffee Prince Coffee Shop are also around the area. The Trick Eye Museum is also one pretty popular attraction.
But shopping cannot be helped if you find yourself here. A lane of stores take over its main street. Like in Ewha, prices here won't burn a hole because of its student clientele. (It is located just outside Hongik University.)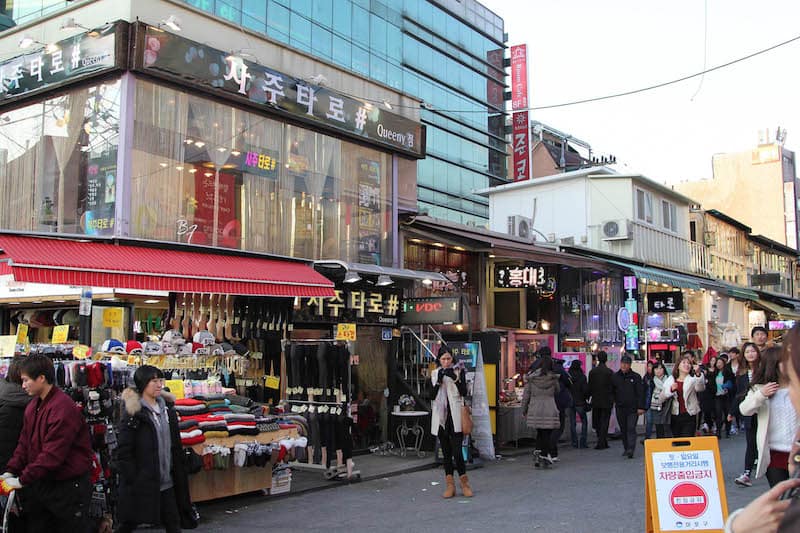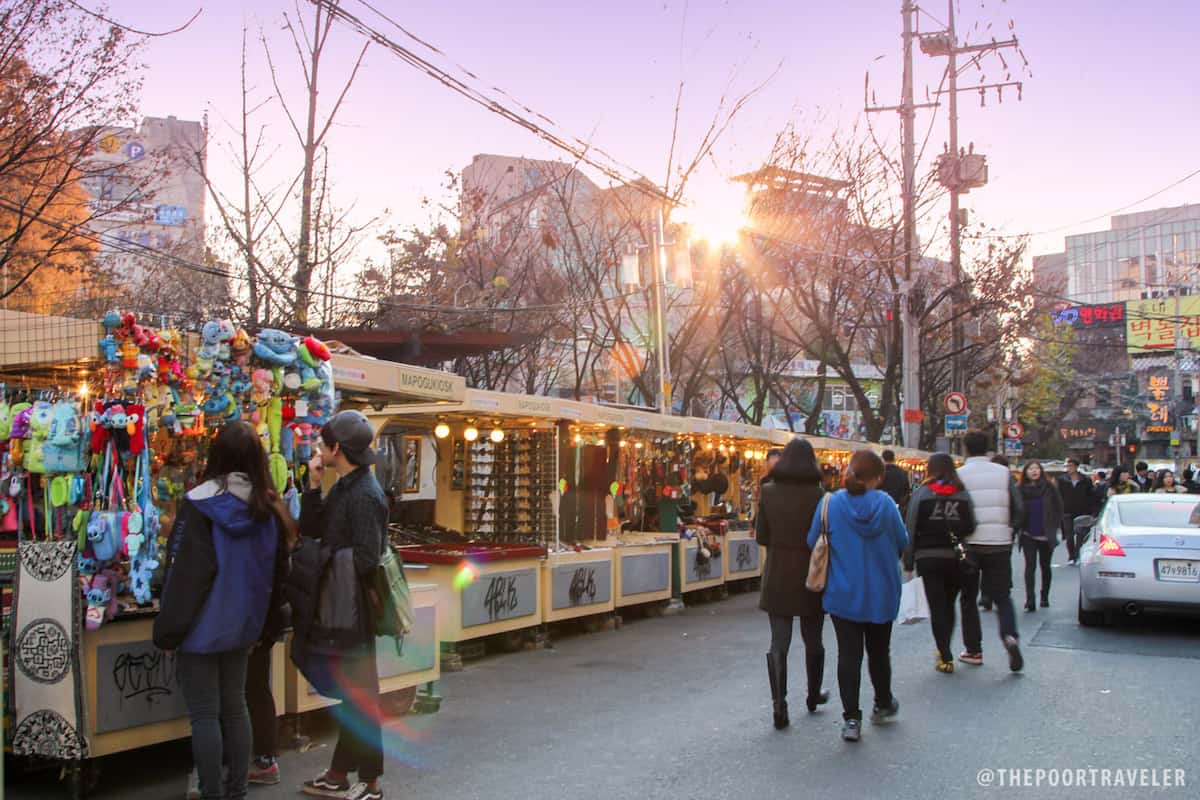 The best day to visit is Saturday, when the Hongdae Free Market comes to life. It is a flea market, not that big but it offers some unique items that are often handcrafted by young student artists, who are driven primarily by creative expression more than actually making profit. You might also chance upon performers showcasing their talents!
How to get there: Take Subway Line 2 to Hongdae University Station, Exit 9.