All the reasons why I wanted to visit Kumamoto can be succinctly put in two words: Kumamon and ramen. Kumamon is the official mascot of Kumamoto prefecture, but he has taken over the entire country by storm. In my early years of traveling around Japan, I could see this cute mascot almost everywhere, which sparked my curiosity. Kumamoto ramen, on the other hand, was the last item on my ramen checklist.
Although these are my two main motivations in setting foot in Kumamoto, this underrated destination has a lot more to offer. Recently, JR Kyushu invited us to explore and see for ourselves the many natural and historical attractions scattered throughout the prefecture.
Kumamoto is one of the seven prefectures that make up Kyushu Island. It's situated south of Fukuoka and west of Oita and Miyazaki. Its most prominent feature is Mt. Aso, the largest active volcano in Japan, towering over the larger ancient Aso caldera. While most tourists only get to see the cultural heritage of Kumamoto City, the capital, many countryside tours are centered around the caldera area.
If you're planning to visit Kumamoto, here are some of the best things to do and places to visit in both Kumamoto City and Kumamoto Prefecture.
WHAT'S COVERED IN THIS GUIDE?
Daikanbo Peak
Perched on the tallest of Aso caldera's rim, Daikanbo (sometimes spelled Daikambo) is a lookout point that offers a breathtaking panoramic view of the caldera. The most fascinating sight here are the five peaks of Mt. Aso, which together form a silhouette of a sleeping Buddha in the distance. If your timing is right, you might even see it as though the Buddha is floating on a sea of clouds.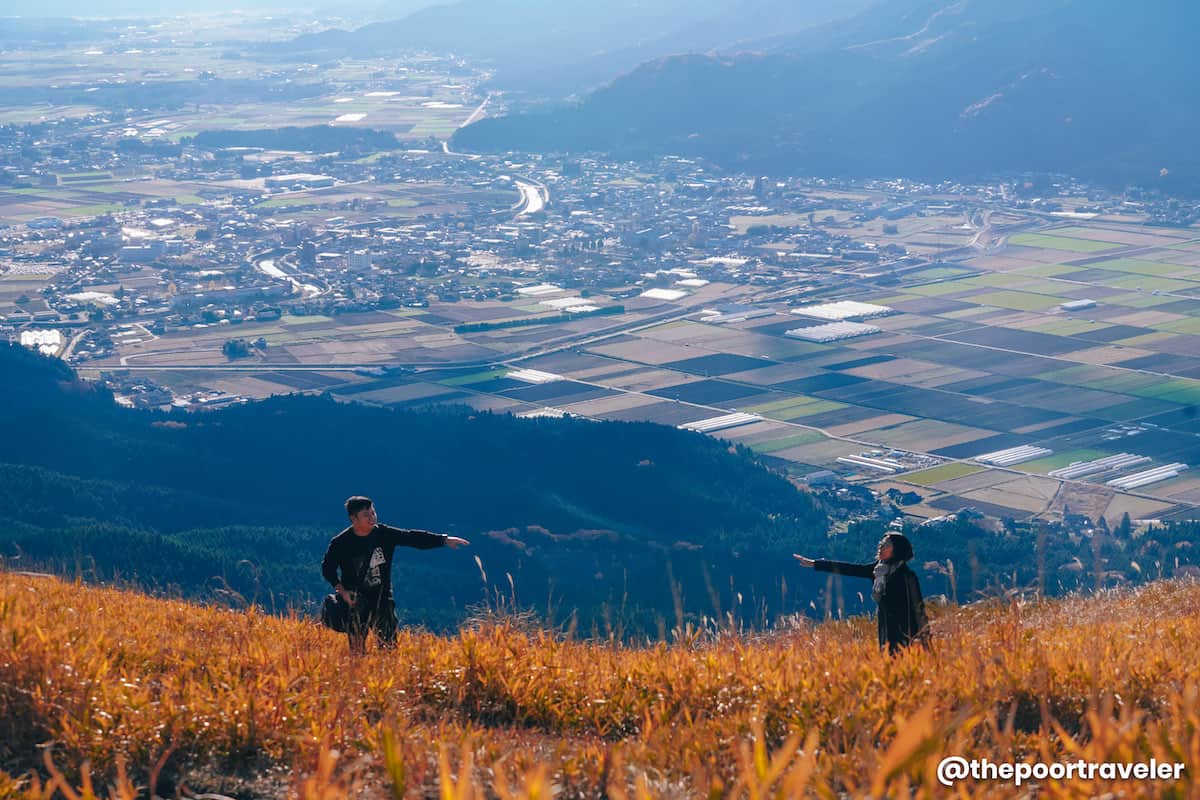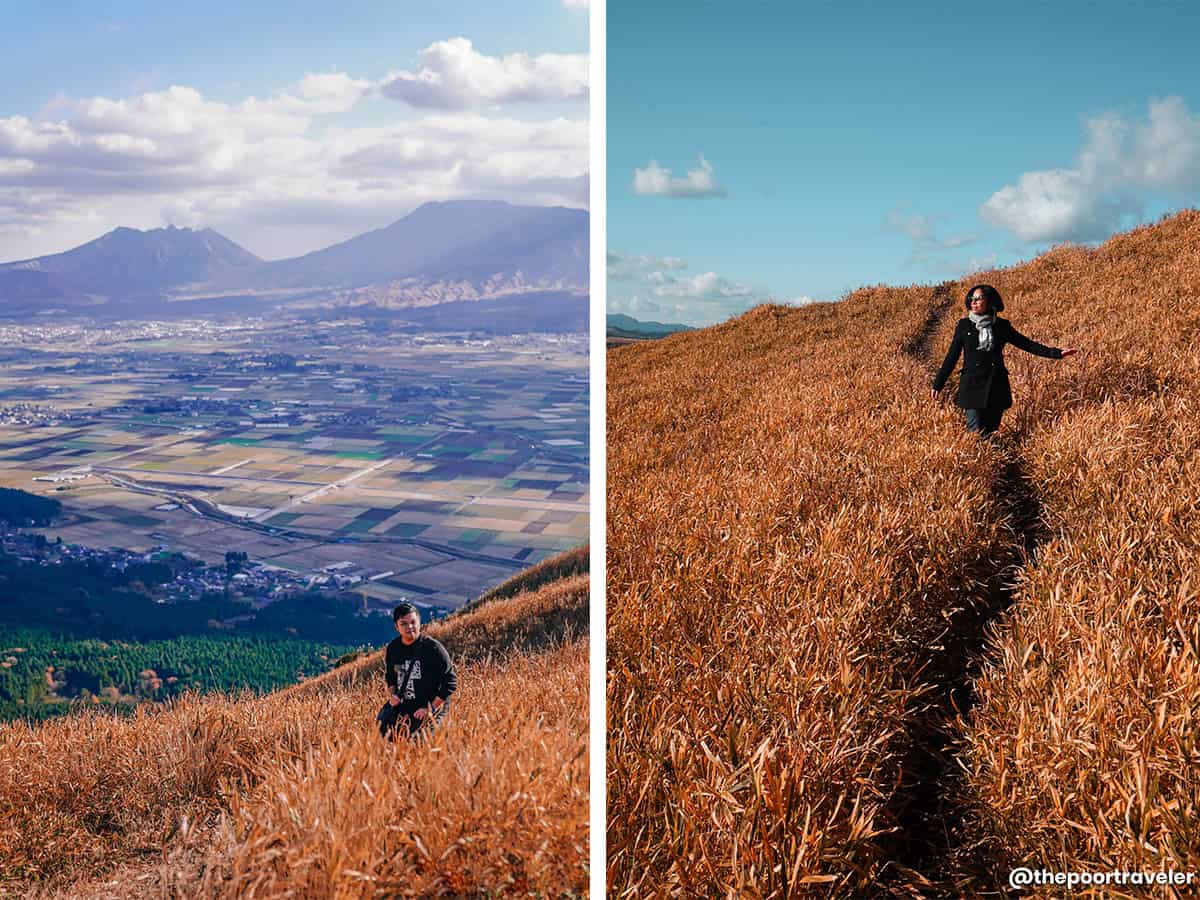 You'll also enjoy a full view of Aso City below and the grass-carpeted rolling hills that surround the viewpoint. The site is very Instagram-worthy that we spent a lot of time just taking photos in the grass. If you get hungry, the souvenir shop near the parking area also sells some Japanese snacks.
---
Kumamoto Castle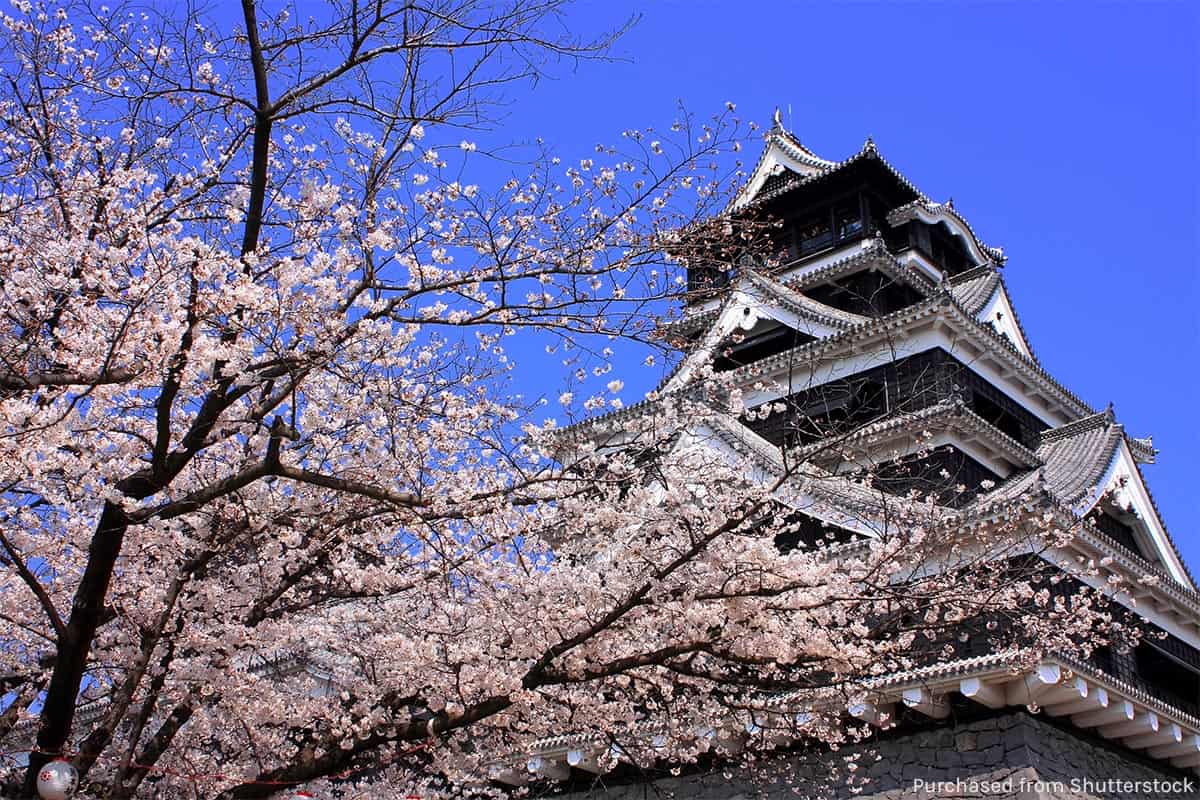 Many Japanese cities that flourished in the olden days take pride in their own magnificent castle, and Kumamoto is no exception. Kumamoto Castle is a massive, commanding structure in the heart of the city. The original building was constructed in 1607, but most of what stands today are just faithful reconstructions. Still, it is worth your time if you're a history or architecture buff.
Hundreds of cherry trees also surround the castle, which makes it a stunning sakura watching site every spring!
Important! Much of the castle was severely damaged by the 2016 earthquakes. Some parts are restricted and open only on weekends. Make sure to check the updated schedule before your visit.
---
Sakura-no-baba Johsaien
Ushering tourists to the entrance to the Kumamoto Castle grounds is Sakuranobaba Johsaien, a new tourist hotspot which has the look and feel of an Edo-period town.
The main attraction here is the Wawakuza, an interactive exhibit that showcases the history of the city. Another highlight is the Sakuranokoji Shopping Arcade, composed of over 20 specialty stores and local restaurants. A stage is set up in the middle, where occasional samurai performances are performed. There is also a tourist information center, which makes it an essential stop when visiting the castle area.
---
Shimodori Street Arcade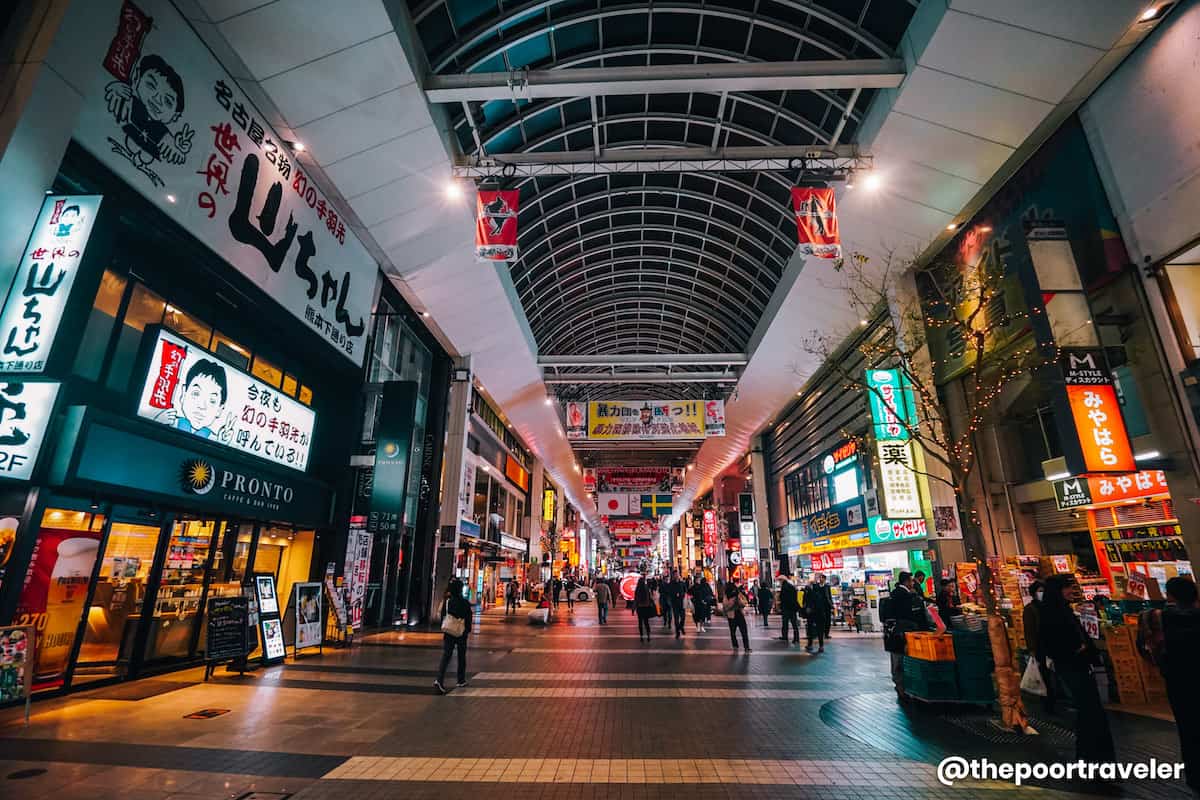 Every major modern Japanese city also has their shopping arcade. In Kumamoto, it's Shimodori, which straddles a number of blocks. This covered shopping street and stemming alleyways are flanked by dozens of stores, including a branch of Don Quijote, and a wide selection of restaurants — from fast food to yakiniku to sushi bars.
---
Suizenji Garden
Not too far away from Kumamoto Castle is Suizenji Jōjuen. It was originally part of a temple complex built in 1632 by the Hosokawa family. Today, it is an oasis of peace in a growing city. The arrangement of the garden gives a nod to the 53 post towns punctuating the old Tokaido highway that connects Kyoto and Tokyo back in the day.
---
Kumamoto Ramen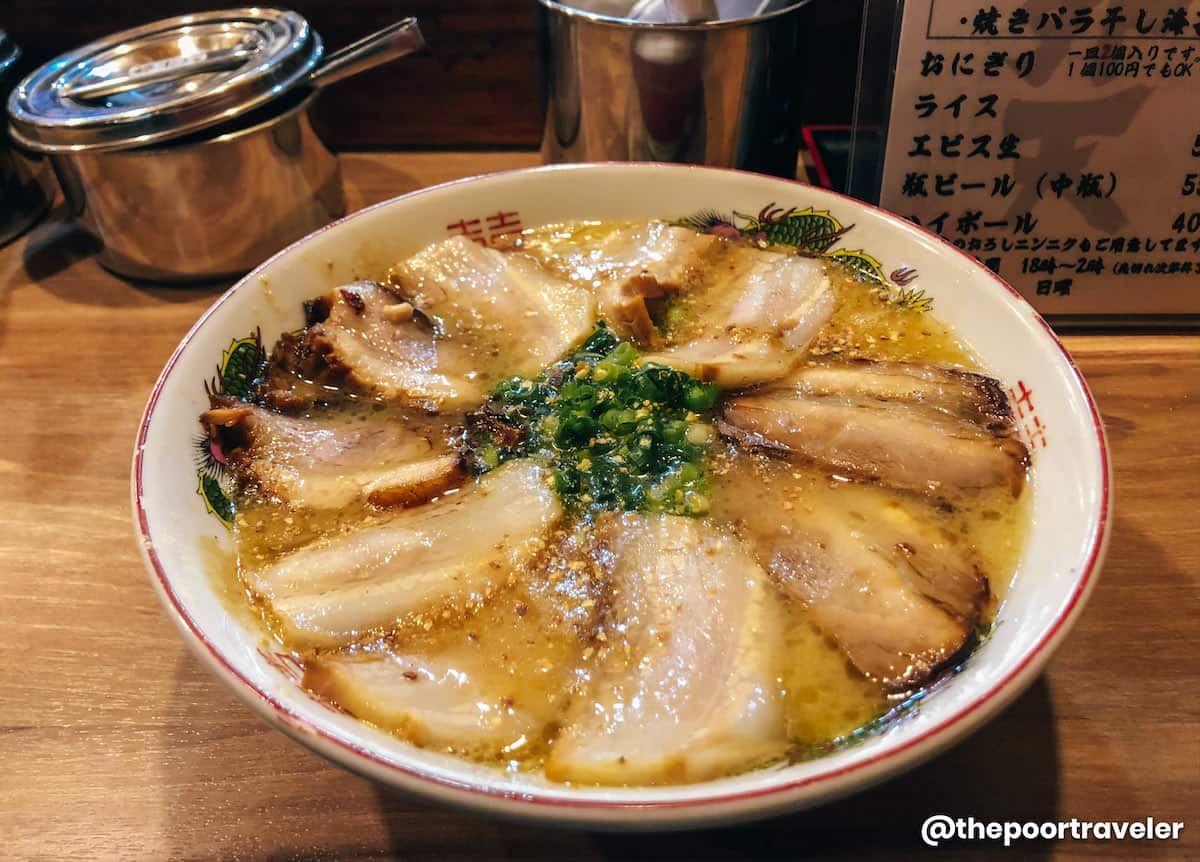 Like I said earlier, one of the reasons I was so excited to visit Kumamoto was the opportunity to fill my flabby face with authentic Kumamoto ramen.
Most people are very familiar with Hakata Ramen but not Kumamoto Ramen. They have lots of similarities. For starters, both has tonkotsu-based broth, which uses pork bones that are boiled and simmered for hours. Both ramen styles can also trace their roots to Kurume, where the original tonkotsu soup was created. But like close brothers, Hakata and Kumamoto went on their own separate ways.
While Hakata ramen would grow and become the most recognizable type in Japan, Kumamoto ramen isn't as popular or even heard of outside Japan. Kumamoto often uses much thicker noodles than its northern neighbor. Hakata's stock is often kotteri, which is rich, thick and opaque, while Kumamoto's is usually assari, which means light and thin, most likely because most versions are blended with chicken stock. That said, despite being lighter-bodied, Kumamoto ramen also packs a ton of bold flavors. Thanks to the copious servings of garlic, which may come in many forms. Some bowls have a layer of rich mayu (burnt garlic oil), some with rather generous sprinkles of fried garlic chips, others have both. Regardless, it is this distinctly strong garlic flavor that sets it apart from other ramen styles.
I am a sucker for garlic and strong, bold, punch-ful flavors so Kumamoto ramen is definitely my cup of tea (or bowl of ramen?). It's right up my alley. So I made sure that I would be able to try it while in the city. And I can say definitively that it's one of my top three favorites.
---
Aso Beef (Akaushi)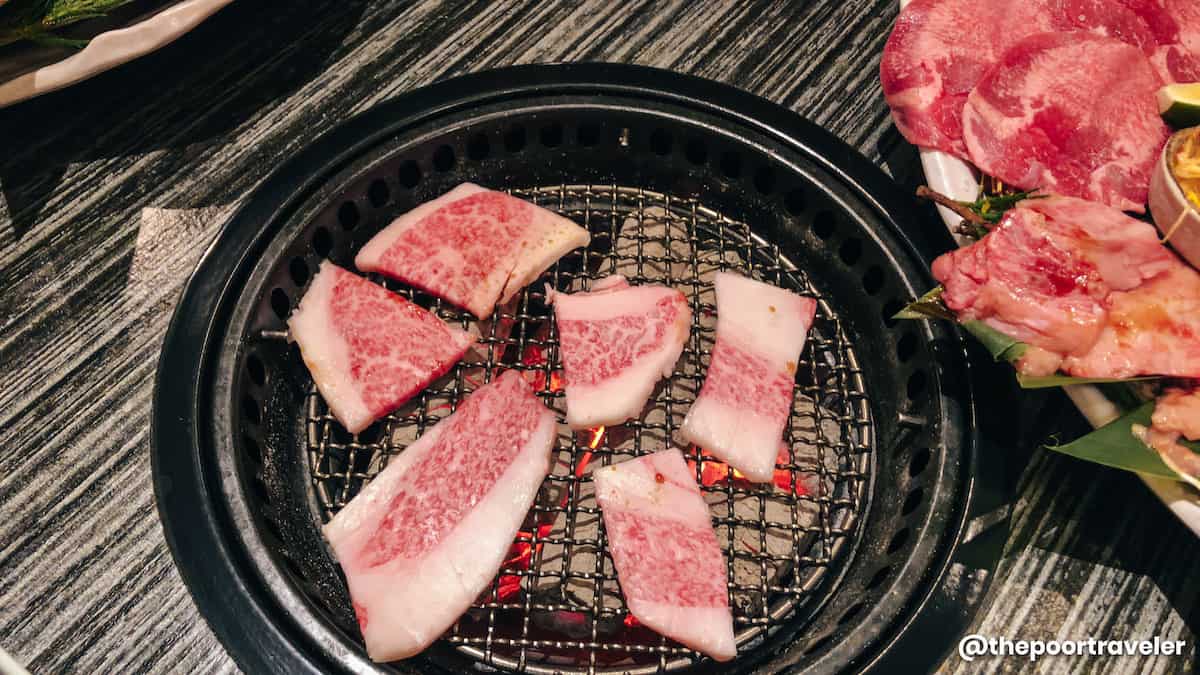 Kumamoto's land may be volcanic, but its map is shaded with miles of grasslands that are ideal for grazing cattle. One of the prefecture's signature food product is Aso beef, which comes from Akaushi (Japanese brown cow or red cow), one of the four breeds of wagyu.
The term Aso beef is reserved for the meat from cows that are raised in the expansive grassland of the region. Like Kobe beef (which is from Japanese black cow), Aso beef is prized for its high-quality marbled meat. You can enjoy it as a donburi (rice topping) or yakiniku (grilled/barbeque).
---
Horse Meat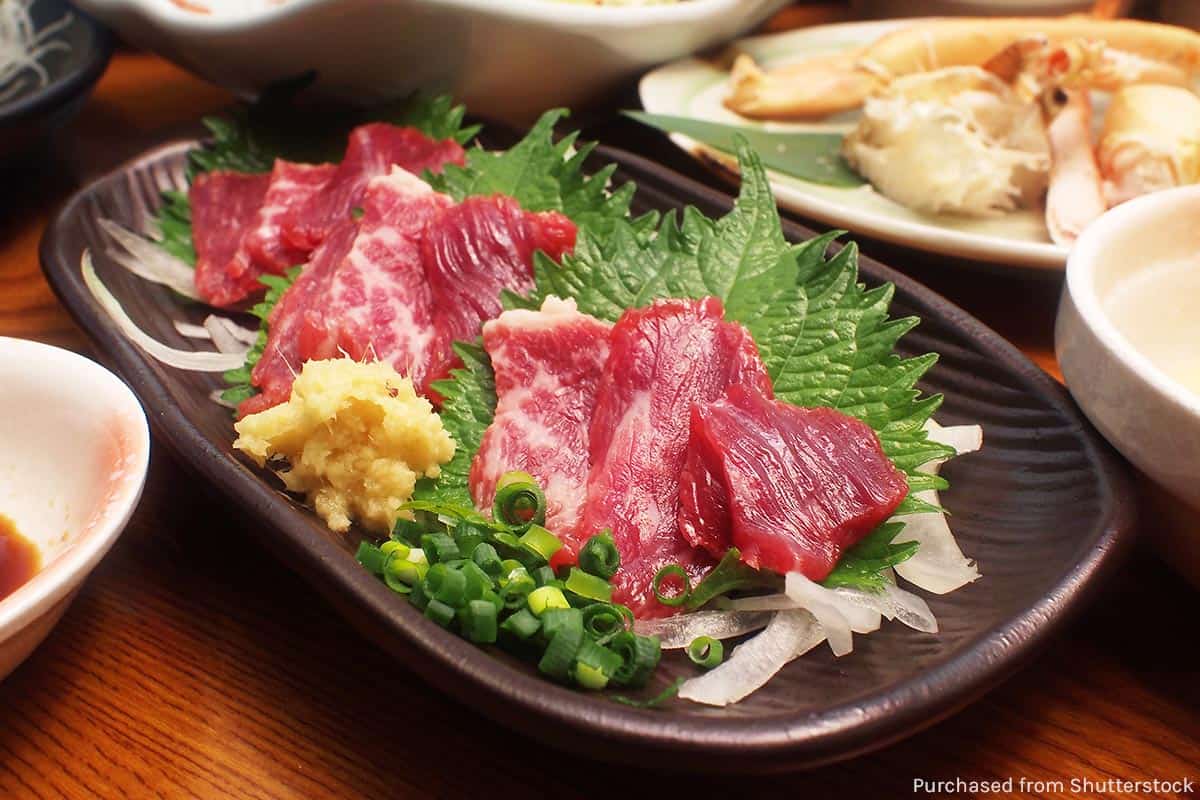 Another meat delicacy in this part of Japan is horse meat. It's not clear how horse became food in Kumamoto. Some say its origins can be traced back to the tale of samurai who were trapped with their horses in a castle for 2 months, without any other food source. Another account points to the period after World War II, when the horses became obsolete.
Horse meat is served at some yakiniku places, where you can grill it, and But the most usual way that locals enjoy this is by eating it raw. Called basashi, horse meat sashimi is a regular item at many restaurants not just in Kumamoto but other places in Kyushu. I spotted basashi at a restaurant in Saga and Fukuoka!
And yes, I tried it. We had a platter of basashi from different parts of a horse. This was already my second time eating horse meat, so I wasn't averse to the idea. (The first time was in Kazakhstan.) The loin was really good and tender. It tasted much like beef but leaner. Some parts — I forgot which exactly! — are a bit chewy. Like fish sashimi, it is dipped in a sauce.
---
Kurokawa Onsen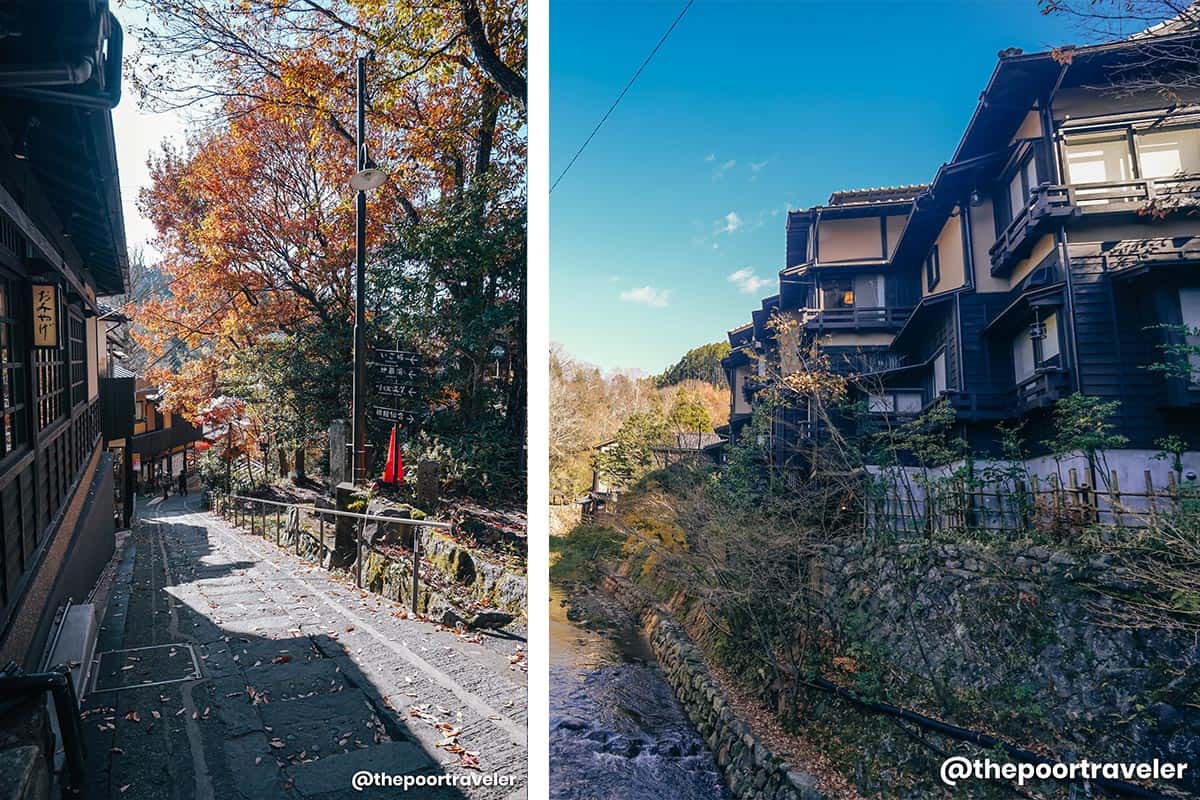 For those who want to stay away from the hustle and bustle of big cities, Kurokawa Onsen is a place to consider. It is the most well-known hot spring towns in Kumamoto and fosters a traditional, rustic atmosphere. Tourists, mostly domestic, come here for rotenburo (outdoor baths) and ryokan (traditional Japanese inn). Its few streets are also lined by restaurants and shops.
---
Amakusa Dolphin Watching
Amakusa is a chain of islands off the coast of mainland Kumamoto. While much of the prefecture has embraced farming and the gifts their volcanic lands bring, the life in Amakusa revolves around the sea. From Amakusa, you can hop onto a tour boat to see some of the 200 wild Indo-Pacific bottlenose dolphins that frequent Ariake Sea.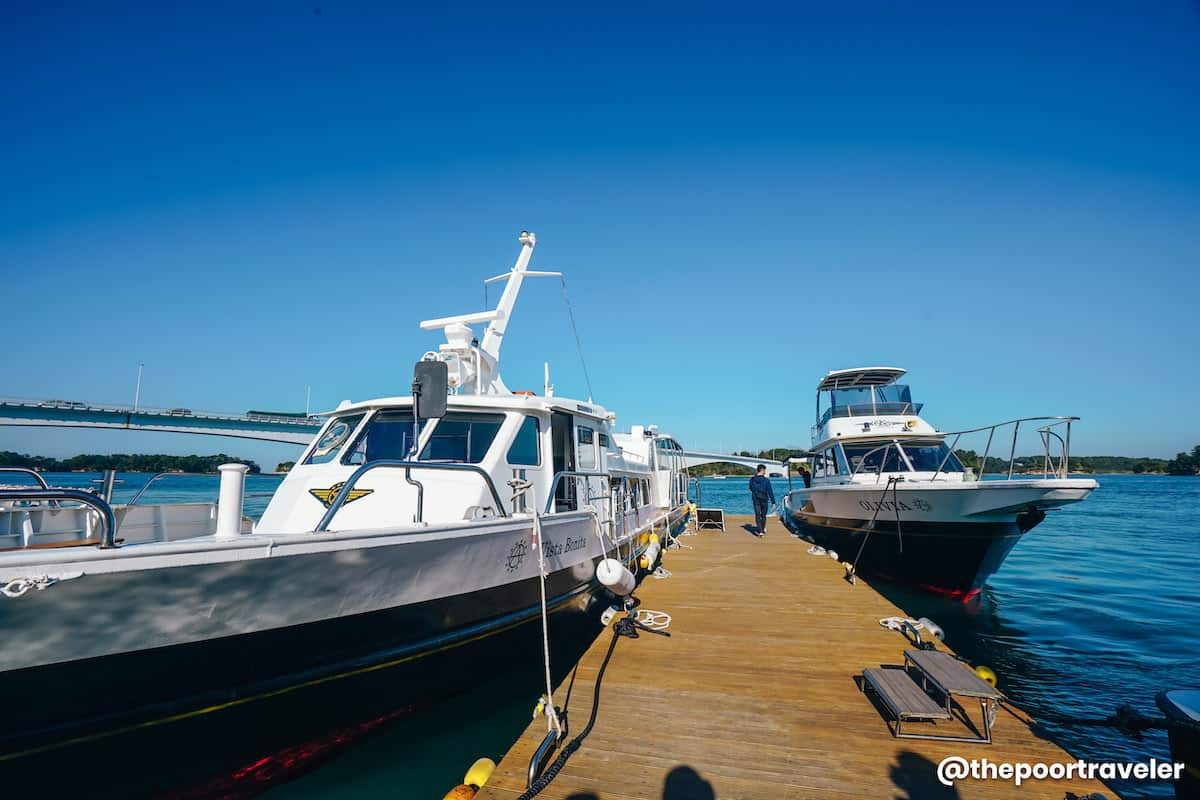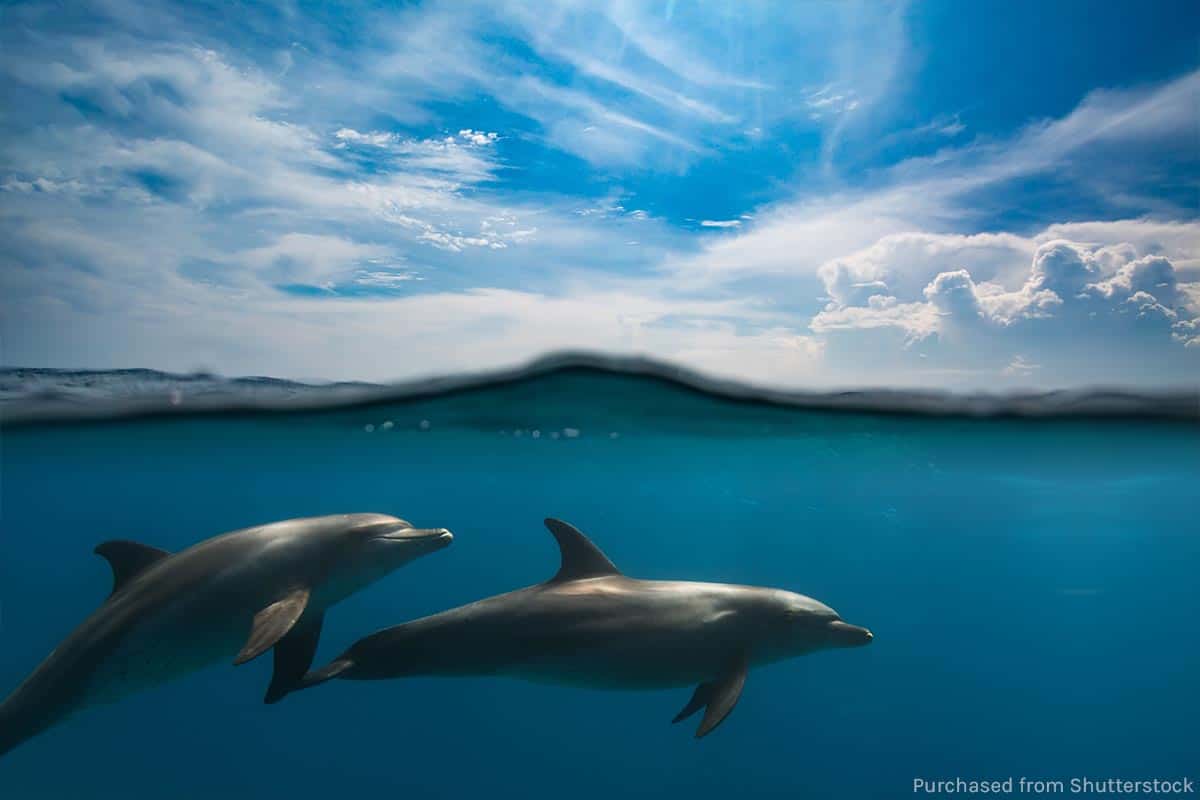 The dolphins come to these waters every day, so tour guides are confident that you will see the dolphins. It is very, very rare that they don't show up, according to them. Our tour guide said that in all her years in the business, the dolphins didn't appear on only one occasion.
If the dolphins are a no-show during your visit, you will be given a voucher that entitles you to come back on another day and try again for free.
---
Kumamon
When it comes to popularity, economic success and cultural impact, few Japanese mascots can hold a candle to Kumamoto's cute and cuddly Kumamon.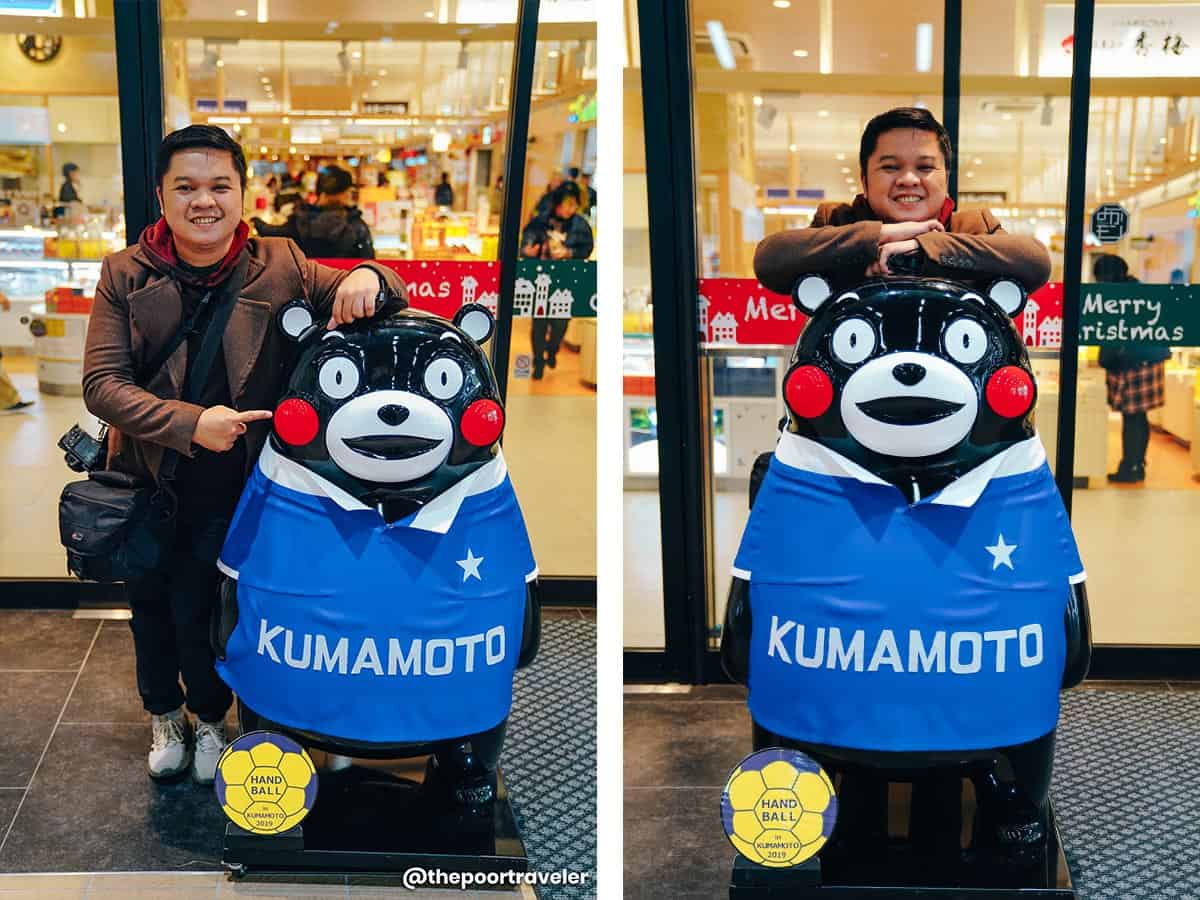 Kumamon is Kumamoto Prefecture's official mascot, a wide-eyed red-cheeked black bear created to attract more tourists. Yet, his presence and influence is not limited within the confines of Kumamoto. He's everywhere in Japan! I always see him in some form — stuffed, plastered, key-chained, projected — in other parts of the country.
According to South China Morning Post, "In just two years, Kumamon has generated US$1.2 billion in economic benefits for his region, including tourism and product sales."
He's also a YouTuber now, my gulay! Truly, Kumamon is not just a mascot. He's a superstar! So I was really glad to set foot in his home prefecture!
---
Ride Special Trains
If you're like me, you enjoy train rides tremendously. But not all trains are created equal. In Kumamoto, the journey can also be the attraction! Whether you're traveling to or from Kumamoto Prefecture, you can catch two themed trains: the Aso Boy and the A-Train.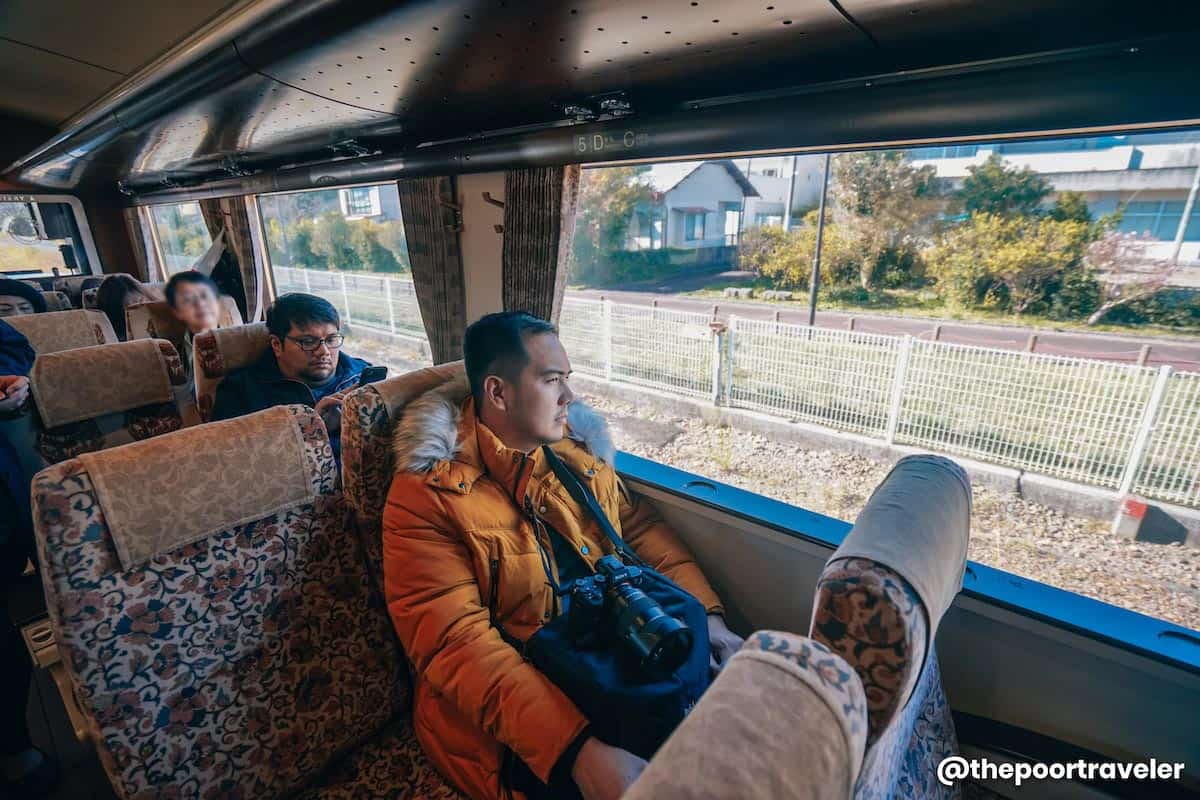 The Aso Boy is a limited express train that runs on Nippo Main Line and Hohi Main Line, connecting the cities of Oita and Bepu to Aso City in Kumamoto. The train's mascot is Kuro, whom you'll see everywhere on the train. This pretty boy will treat you to amazing views of the Aso caldera and the Kumamoto countryside.
But what makes Aso Boy different from all the other trains isn't just in the packaging. It is loaded with amenities that passengers will surely appreciate including the following:
A Panorama Section (Car-1, Car-4) with large front windows for a great view of the surrounding landscapes
A spacious lounge where you can also enjoy the view and relax
Kuro Cafe, which offers a selection of snacks and other original products
A pool filled with wooden balls, perfect for children and children at heart
A Japanese-style room
A mini-library with a collection of picture books for kids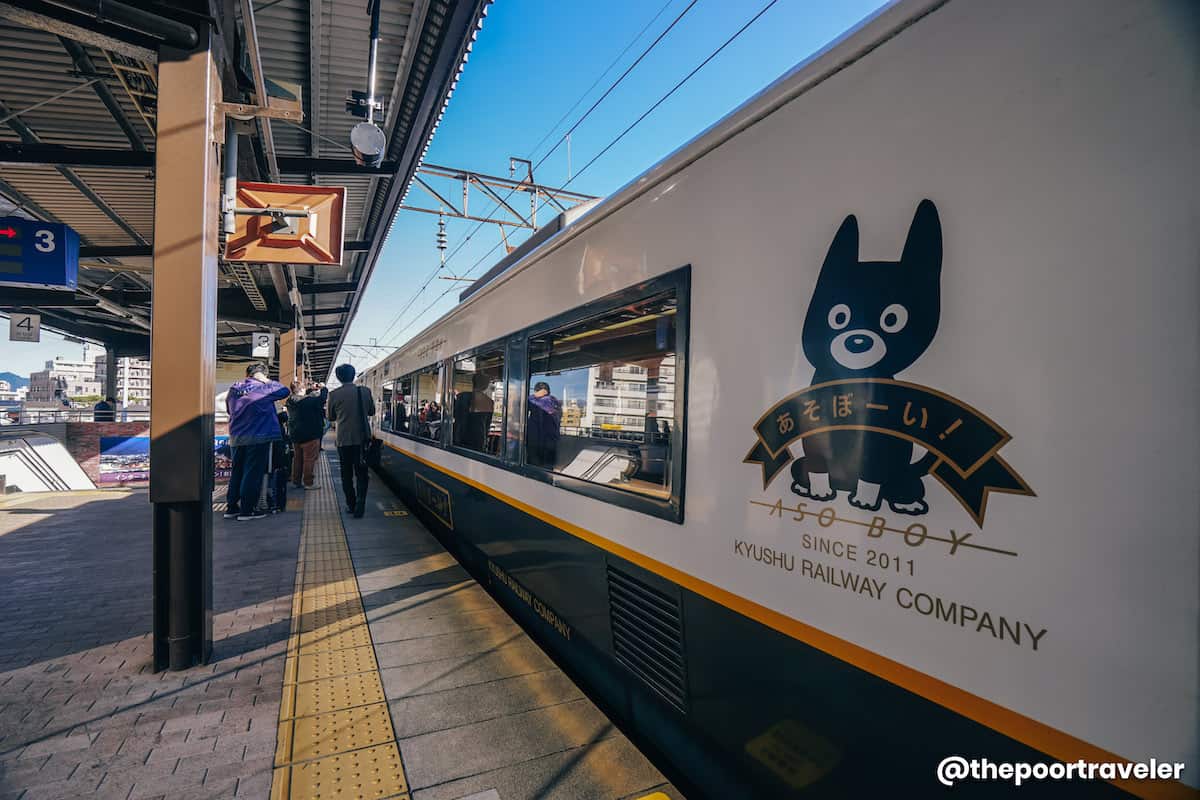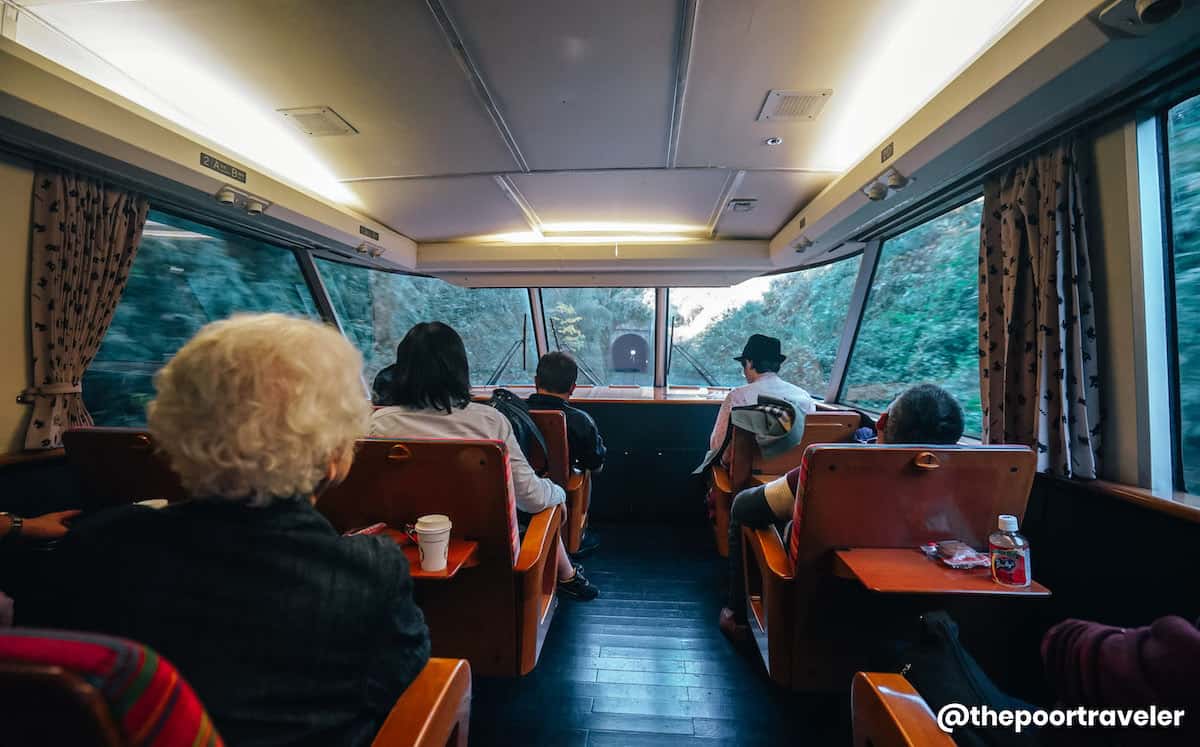 Another special limited express train running across Kumamoto is the A-Train, which operates on Amakusa-Misumi and Amakusa-Takarajima lines. Named after the jazz standard "Take the A-Train," the A-Train is a vintage-themed beauty that will take you down the memory lane!
In the 16th century, Amakusa had a strong Southern European influence, which the A-Train takes on and showcases. Inside the cabins, you'll find a dark wood and stained glass motif. Aside from its cool design, you'll also find a bar on board, where you can watch the idyllic rural scenes pass by as you enjoy a glass of "A" Highball infused with local Dekopon oranges. Or if your sweet tooth is aching for dessert, munch on some Amakusa salt caramel or salt vanilla ice cream.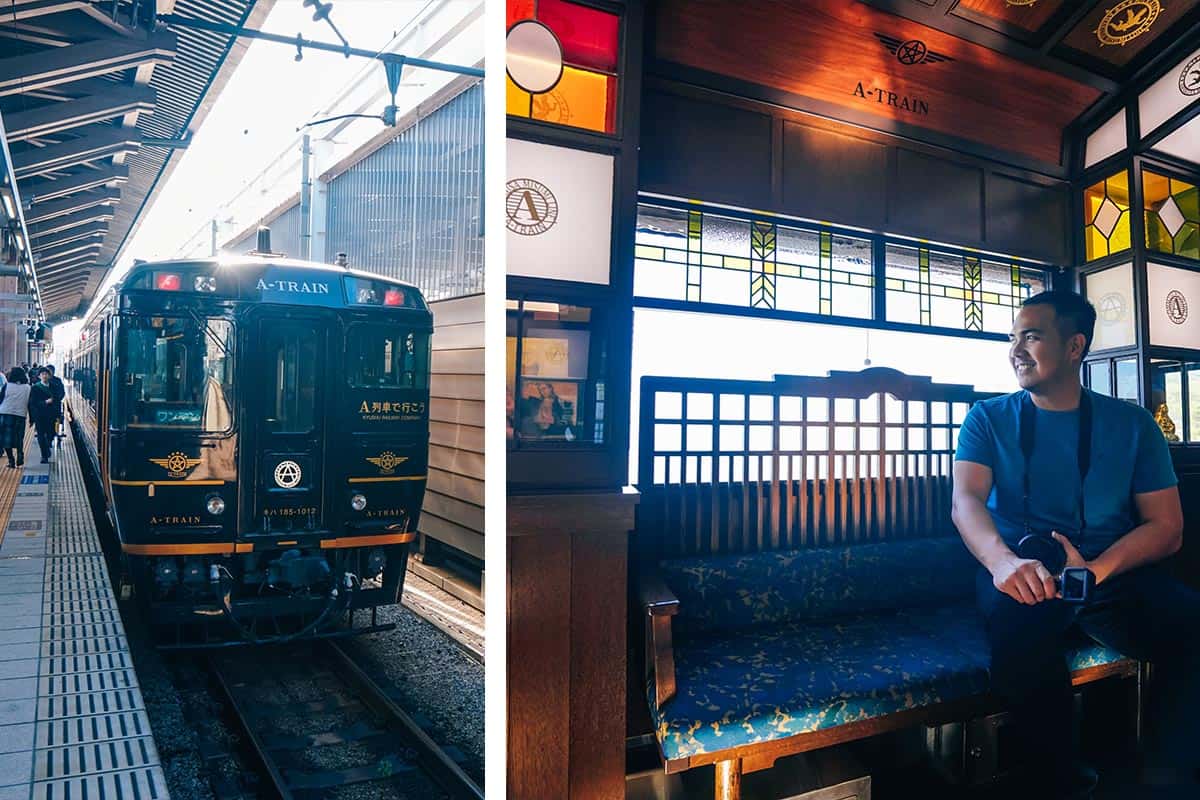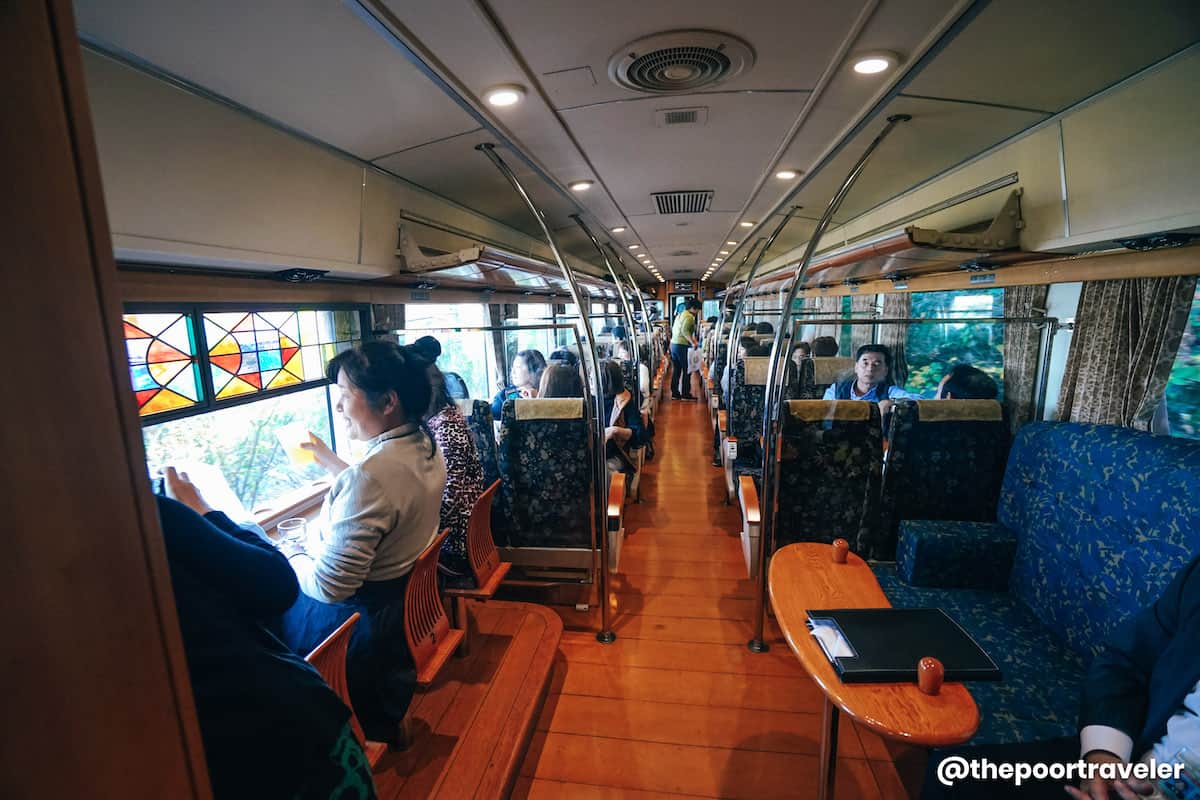 Both trains offer a quick photo op! Both are also covered by the JR Kyushu Rail Pass, which we will discuss below.
---
How to Get to Kumamoto
The nearest international airport is in Fukuoka. From here, you need to get to Hakata Station. Here's how.
From Hakata Station, catch a shinkansen (bullet train) to Kumamoto.
Travel time: around 40 minutes.
Fare: ¥2,170 (one way)
Seat Fee: ¥2,530 (unreserved)
Total cost: ¥4,700 (one-way)
To see the schedule, you can check Hyperdia.
If you're traveling from Fukuoka to Kumamoto or you plan to explore many parts of Kumamoto and other prefectures, consider getting a JR Kyushu Rail Pass to save a lot on fares! On our most recent trip, JR Kyushu gave us a JR Kyushu Rail Pass so we could use it extensively and see how far it could take us.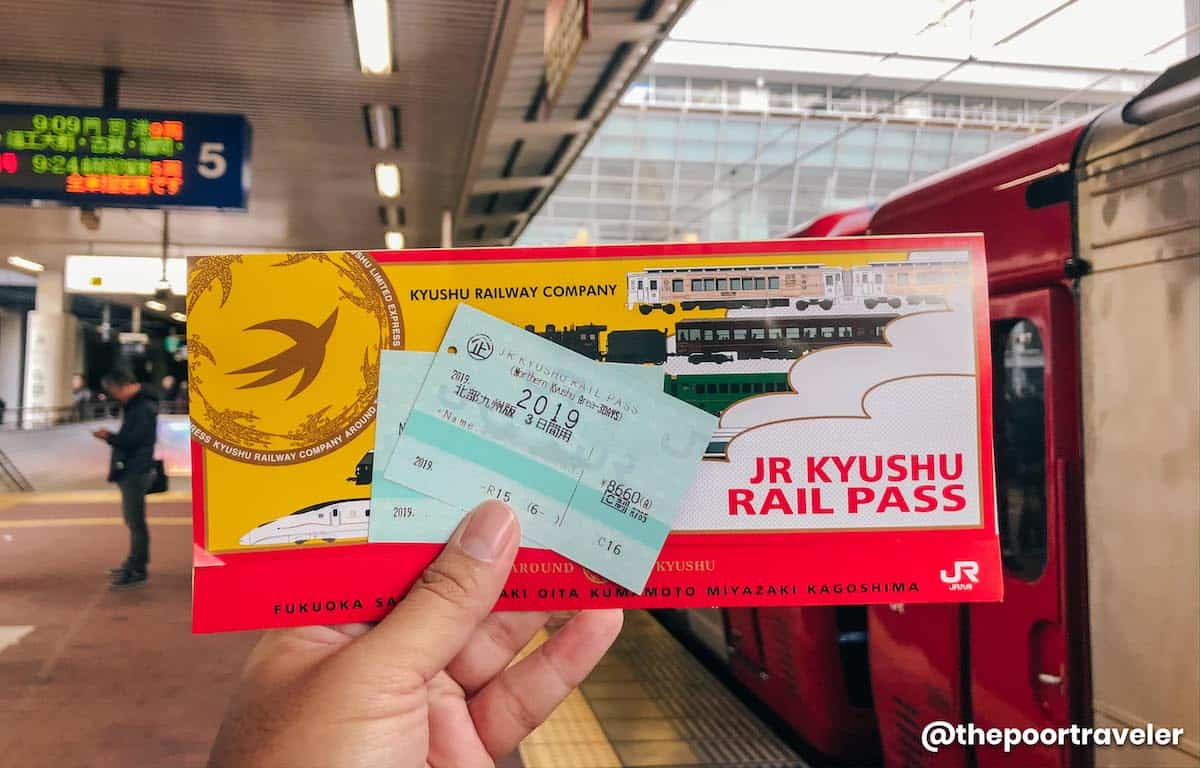 The JR Kyushu Rail Pass comes in three versions: Northern, Southern, and ALL Kyushu. But let's focus on the two passes only: Northern and ALL Kyushu.
If you're interested to see Kumamoto City, Aso, and Misumi, the JR NORTHERN KYUSHU AREA PASS can suffice. It covers most of the key tourist attractions in the northern half of the prefecture as well as Fukuoka, Saga, Nagasaki, and northern Oita. However, you won't be able to use it to travel to stations south of Kumamoto Station or Aso Station.
– Can be used for: Local trains, limited express trains, and Hakata-Kumamoto Shinkansen
– Price: ¥8660 (3 days); ¥10,190 (5 days)
– Number of seat reservations allowed: 10 (for 3 days), 16 (for 5 days)
If you're going to Shin-Yatsushiro and Hitoyoshi, you will need to purchase single tickets. However, if you also plan to visit more destinations in the south like Miyazaki and Kagoshima prefectures, consider getting the ALL KYUSHU AREA PASS instead.
– Can be used for: Local trains, limited express trains, and Hakata-Kagoshima-chuo Shinkansen
– Price: ¥15,280 (3 days); ¥18,330 (5 days)
– Number of seat reservations allowed: 10 (for 3 days), 16 (for 5 days)
To give you an idea on how much savings you can get, here's an example. The fare from Hakata (Fukuoka) to Kumamoto alone is roughly ¥4700 one-way, with unreserved seats. Round-trip, that's almost ¥9,400.
Just by purchasing a NORTHERN KYUSHU AREA PASS for those two trips, you would already save over ¥740. But this pass can also give you unlimited access to trains to explore the area and up to 10 seat reservations. Every other train ride you're gonna make in between will fall under your savings.
You can purchase via Klook. You can book any of three versions through the link below.
✅ GET A JR KYUSHU RAIL PASS HERE!
---
How to Get to Fukuoka
For international travelers, Fukuoka is the gateway to Kumamoto. If you're flying from Manila, Cebu Pacific offers some of the cheapest flights to Fukuoka. Travel time is about three hours.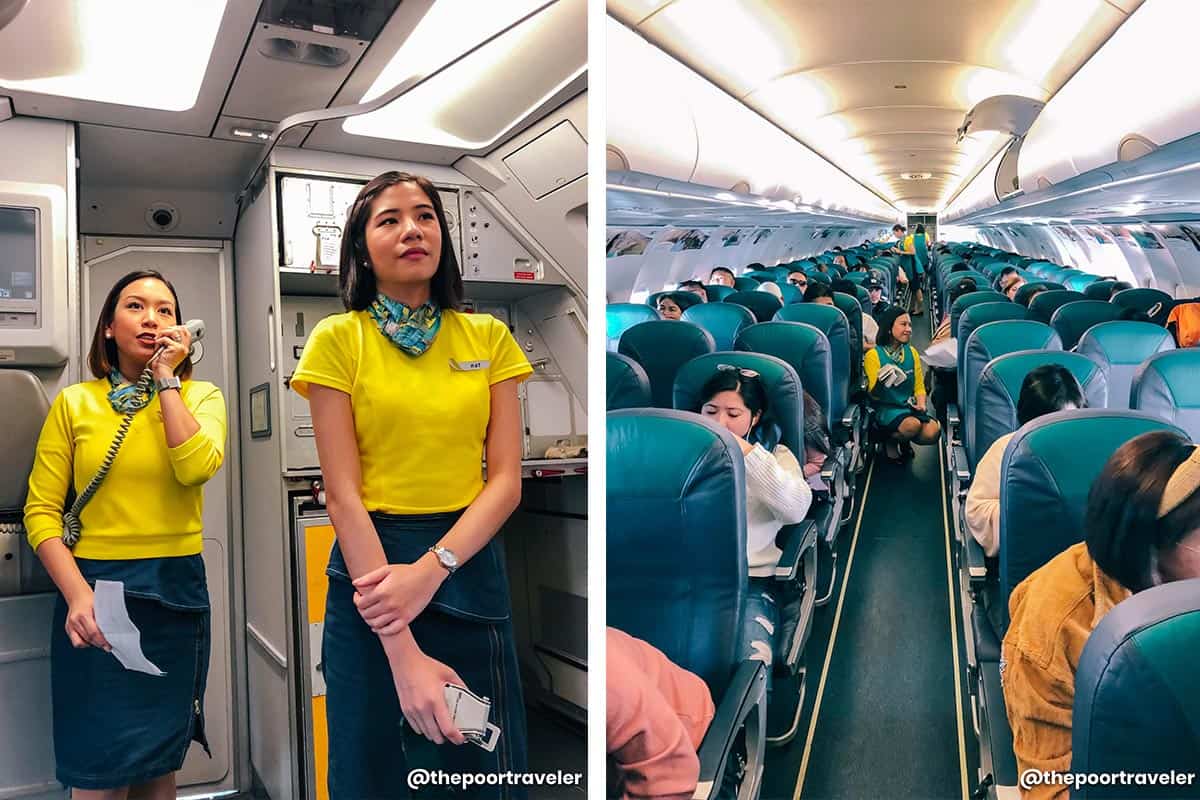 Getting to the city center (Hakata/Tenjin) from Fukuoka Airport is very easy. You can take the subway, the bus or the taxi. It will take about thirty minutes from the airport to either Hakata or Tenjin. You can read the detailed post on how to get to the city center from the airport here: FUKUOKA AIRPORT to HAKATA STATION & TENJIN: By Bus, Subway & Taxi
---
Special thanks to JR Kyushu, Kyushu Tourism Promotion Organization, and Cebu Pacific for making our Kyushu trip possible! Opinions are our own.
2️⃣0️⃣1️⃣9️⃣ • 1️⃣2️⃣ • 3️⃣0️⃣
---
More Tips on YouTube ⬇️⬇️⬇️