Last updated: December 2012.
2012 • 12 • 4
It's been two years since I last stepped on the island of Balicasag in Bohol, and things had changed tremendously. It was one thing that became obvious to me during my last visit. Yes, the dolphins were still there. The tourism was still booming. The beaches remained gorgeous. What actually changed? I put on my snorkeling mask, dipped my face in the water, and found exactly what it was.
WHAT'S COVERED IN THIS GUIDE?
Dolphin Watching
At 6am, we were already on the boat. We wanted to see the dolphins swimming gloriously in the wild. It was important for me to see the dolphins again. It was my first time to go on a sea-tour with the kids in the family. I wanted them to see these cutesy mammals in the wild so they could appreciate it better and would not be interested in going to dolphin shows at an early age. I feared that it wouldn't happen given how severe my niece's motion sickness was, and I was wishing so hard that the mammals would appear before us early.
Luckily, they did!
They swam and jumped out of the water many times to the delight of the kids. Dolphins came passing by in groups. It was so exhilarating seeing them in the wild, just doing their thing — swimming great distances. Our energy suddenly surged upward. Everyone was so thrilled. Several times one or two dolphins would emerge from the water, making this move as if they were standing. Some of them even swam right beside our boat. In less than ten minutes, my niece announced she had seen more than a dozen and was already getting dizzy. We had to bid the gentle dolphins goodbye.
Lunch at Balicasag Island
The last time I was in Balicasag, my friends and I, aware of how expensive food was at the beach, bought food from the main island. If you want to save money on food, here's a tip. The night before your island hopping, drop by the Tagbilaran Market (if you're coming from the airport or the countryside tour) and shop. Before we came to the resort we already bought the ingredients we would need for our lunch and asked the staff of Bagobo Beach Resort to place them in the refrigerator overnight. We brought the food with us when the boatmen fetched us.
When we hopped out of our boat, we immediately looked for the person to talk to for "paluto." The fee was just P300. Although it sounded expensive, it was definitely cheaper than buying lunch from them.
This time, however, we did not have enough time to shop for ingredients so we just decided to buy lunch from the locals. After all, it would mean we would be helping the local community too. We were presented with a basin filled with their fresh catch. We were a group of four adults and two kids, and we ordered two squids and one fish. The squids were to be grilled and the fish fried.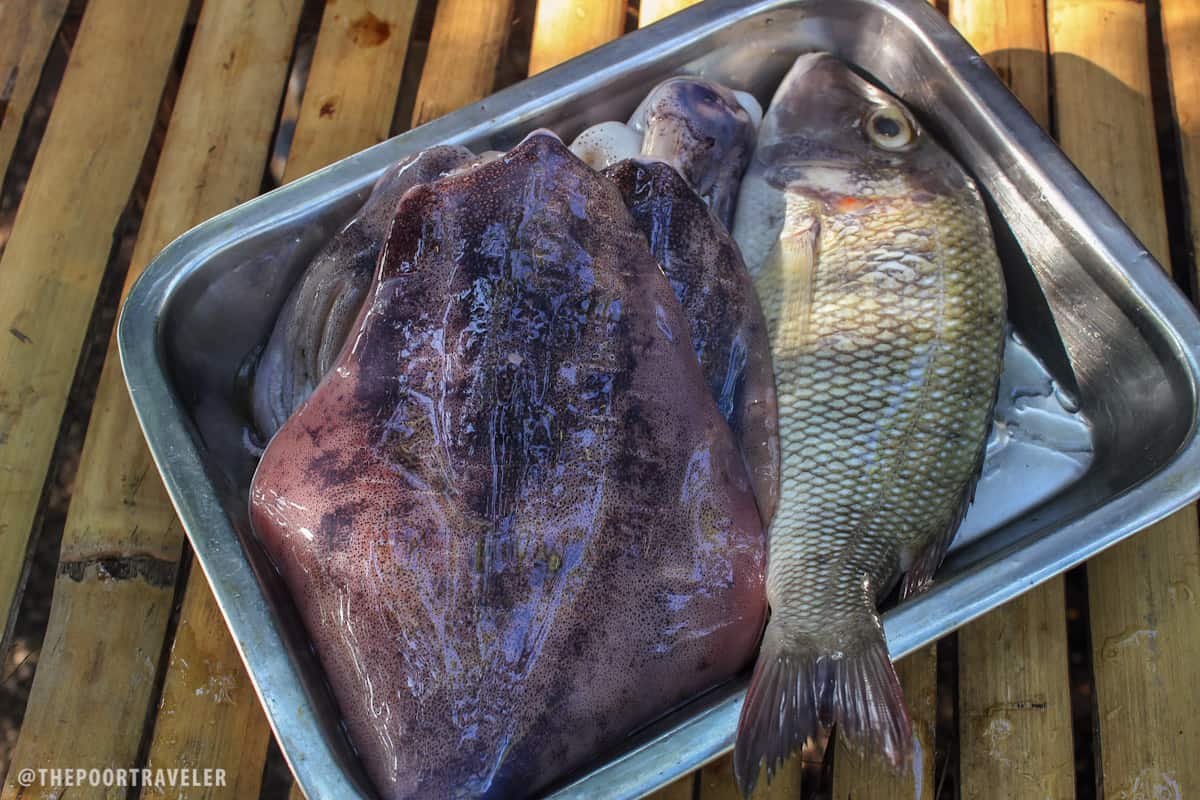 Swimming and Snorkeling
While our lunch was being prepared, we got on a boat that took us to the snorkeling site. Another tip, if you're going to visit Balicasag Island, bring your own mask, snorkel and aqua shoes. Although boatmen rent these gears out for around P150 per item, it's still best to bring your own. After all, you can find a cheap pair of aqua shoes at SM Department store for less than P200; and mask for less than P300. You'll need these to really appreciate the view beneath the waves.
I still remember the first time I was here for it was also the very first time I had seen such rich and vibrant underwater world. I remember watching in awe as a school of fish passed by, as I floated over colorful corals, as I swam towards and past the dropoff, and as I searched for the prettiest fish I could find at the site. I also remember how saddened I was that people would walk on the shallow parts and step on anything indiscriminately.
In a way, I kind of expected that the condition of corals here would turn bad. What I didn't expect was that it would happen this fast. It had only been two years but what I saw was a long shot from the Balicasag that I remember. The corals were dead and there were fewer fish. The colors had faded, eaten away by the blues and greys. Of course, don't trust my word for it. Maybe it's just me. I don't have statistics or studies to back it up; I'm speaking from experience and memory. Maybe I'm wrong. I hope I'm wrong.
But seeing a table coral with a three letters etched on it was heartbreaking for me. See for yourself.
Nevertheless, it was sea-heaven for my 8-year old nephew who was snorkeling for the first time in his life. All he did was try to find Nemo and he did; he found many Nemos. My niece however was so scared of the depth that she asked me to just join on the beach, where she stayed and played with the sand and pebbles for the rest of the time.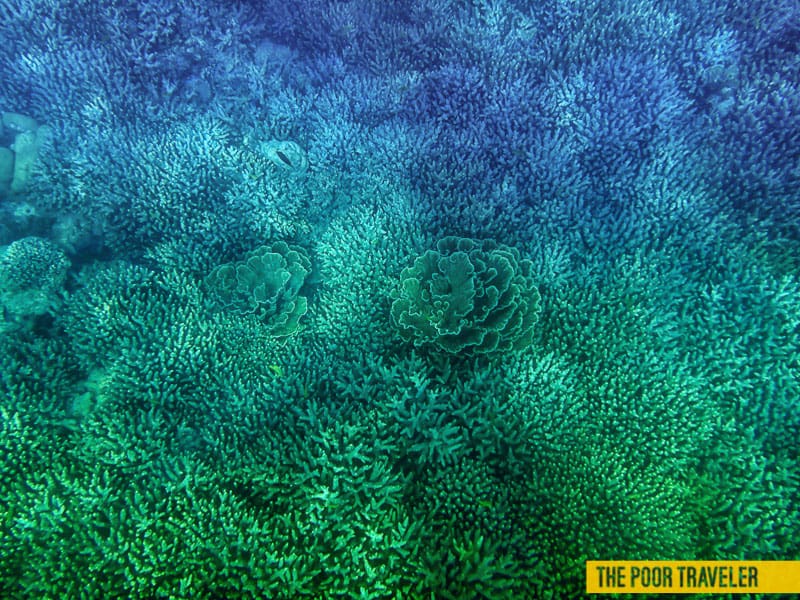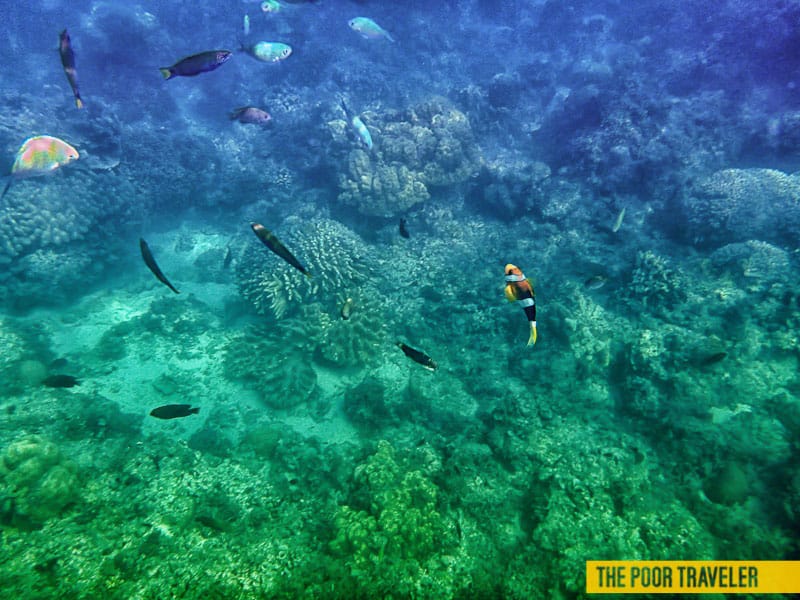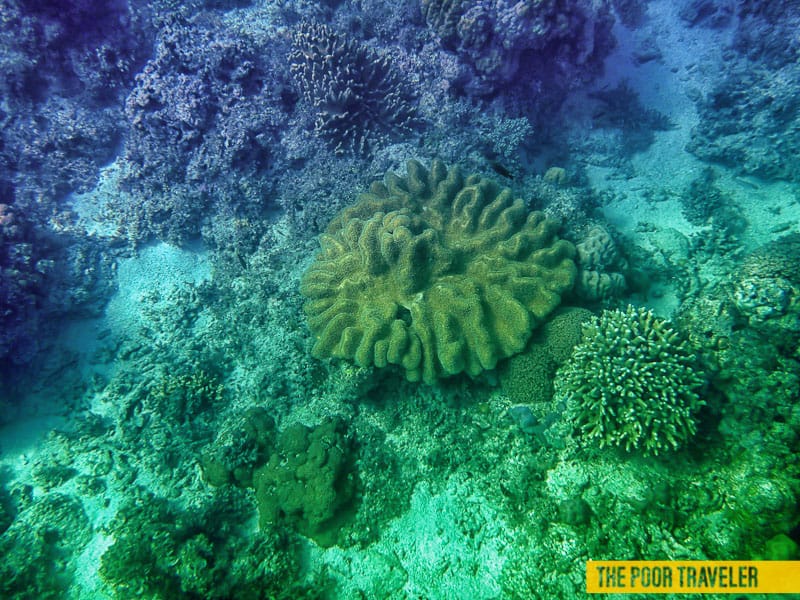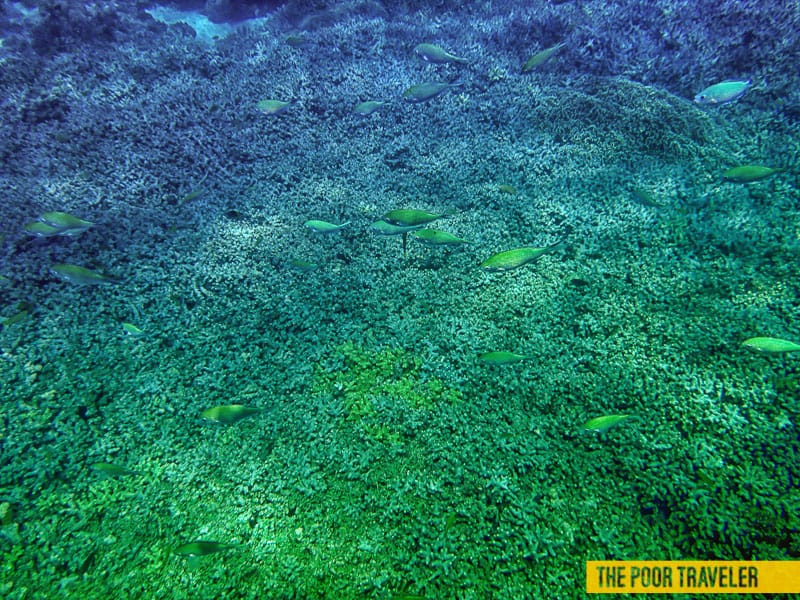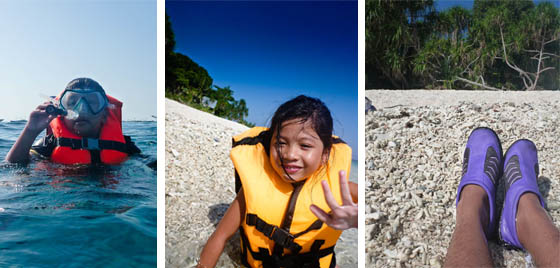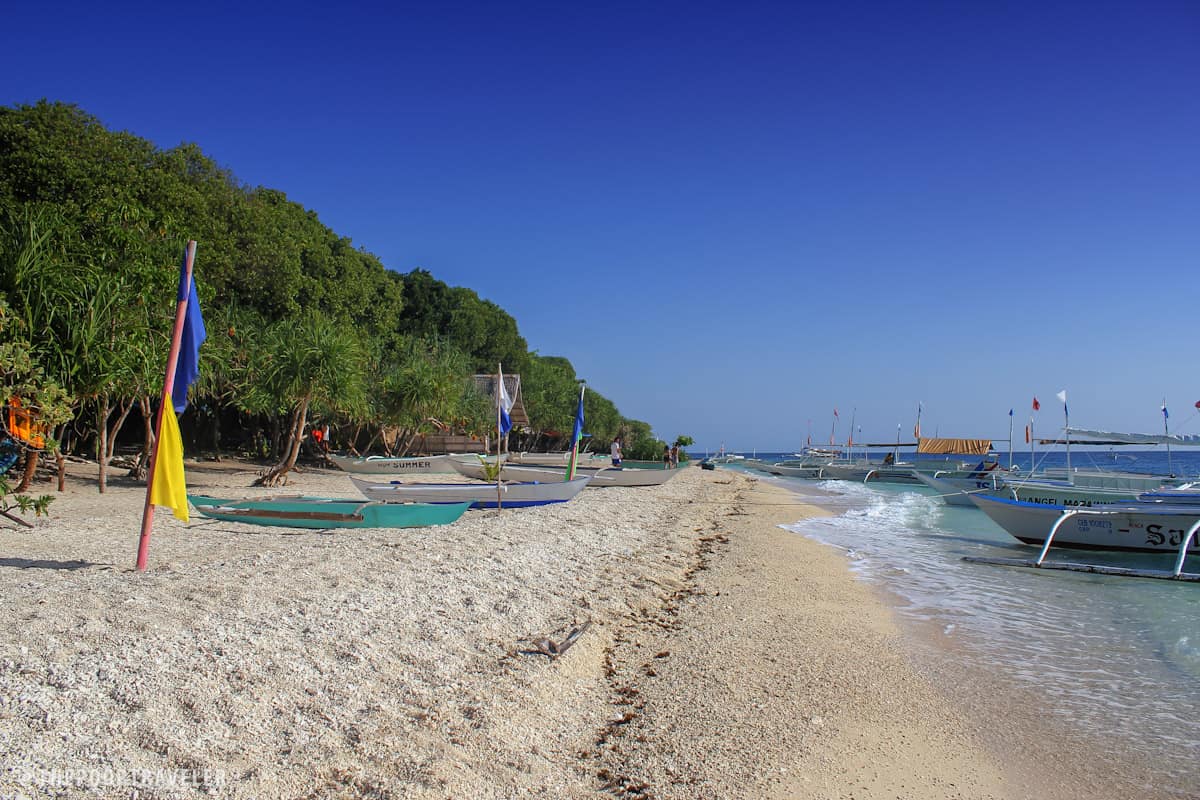 After going back to our hut for lunch, my sister and I walked along the beach to the other side of the island. I was really glad I did because I had never been to that part of the beach. The sand may not be as fine as that in other beaches but the water is super crystal clear. It was one of the things that struck us.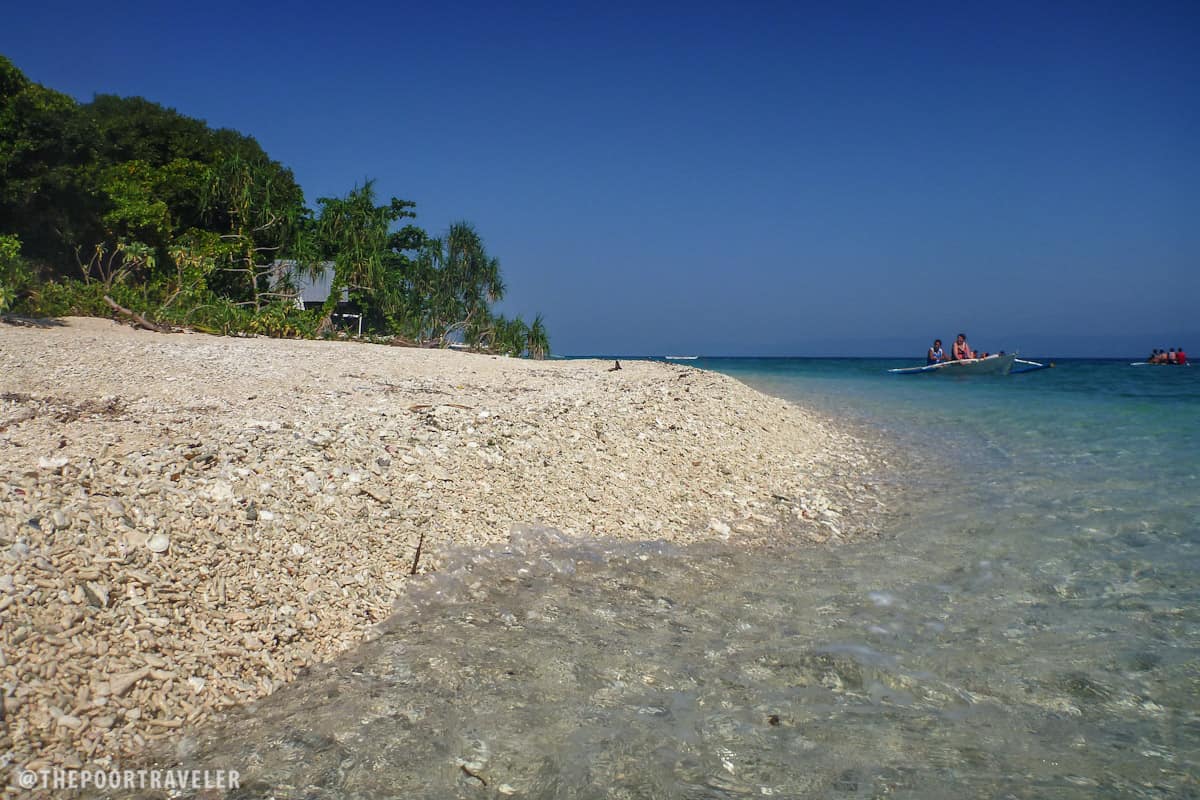 I can return to Balicasag again and again. I don't think I will ever get used to it. But having been here a few times has made me realize that a lot can change in a short span of time. It was truly painful to see the conditions here worsen right before my eyes. The good news is that it remains beautiful. The bad news is, for how long? Something has to be done here. And at the rate the destruction here is going, it has to be soon.
How to get to Balicasag Island: Most hotels, resorts, and travel agencies offer island-hopping tours that include a stop at Balicasag Island. You may also charter a boat in Panglao Island to do the same tour.