Where I'm from, when you say traveling to China, it means touring one of these five cities: Hong Kong, Beijing, Shanghai, Macau and Guangzhou. Outside the travel circles and blogging communities, only a few have heard of other Chinese destinations. Everything else can already be considered "off-the-beaten-path." But if there's one thing that my journey from Guilin to Zhangjiajie has taught me, it's that this vast, vast country has a gazillion surprises tucked in its provinces.
We asked travel and food enthusiast Wai Zhou, co-founder of Eating Adventures Food Tours, for other marvelous places in China that every explorer must experience. She has traveled extensively throughout the country with a particular interest in Yunnan, Guangdong and Xinjiang provinces. Here are her recommendations, words and photos by her.
WHAT'S COVERED IN THIS GUIDE?
1. Wan Feng Lin (10,000 peaks) in Guizhou Province
Wan Feng Lin, which means "ten thousand peaks", is a collection of around 20,000 karst peak formations that stretch over a length of 200km in southern China. We stumbled across this near Xingyi in Guizhou province during one of our overnight stops on a leisurely train adventures between Guangzhou and Kunming.
Like most Chinese tourist sites, the government has a very well set up and structured way of viewing the site, with shuttle buses taking loads of domestic tourists to and from the viewing point. Not being fond of sticking with the hordes of tourists, we decided to follow a dirt path that weaved through some small farms and then up into the mountains.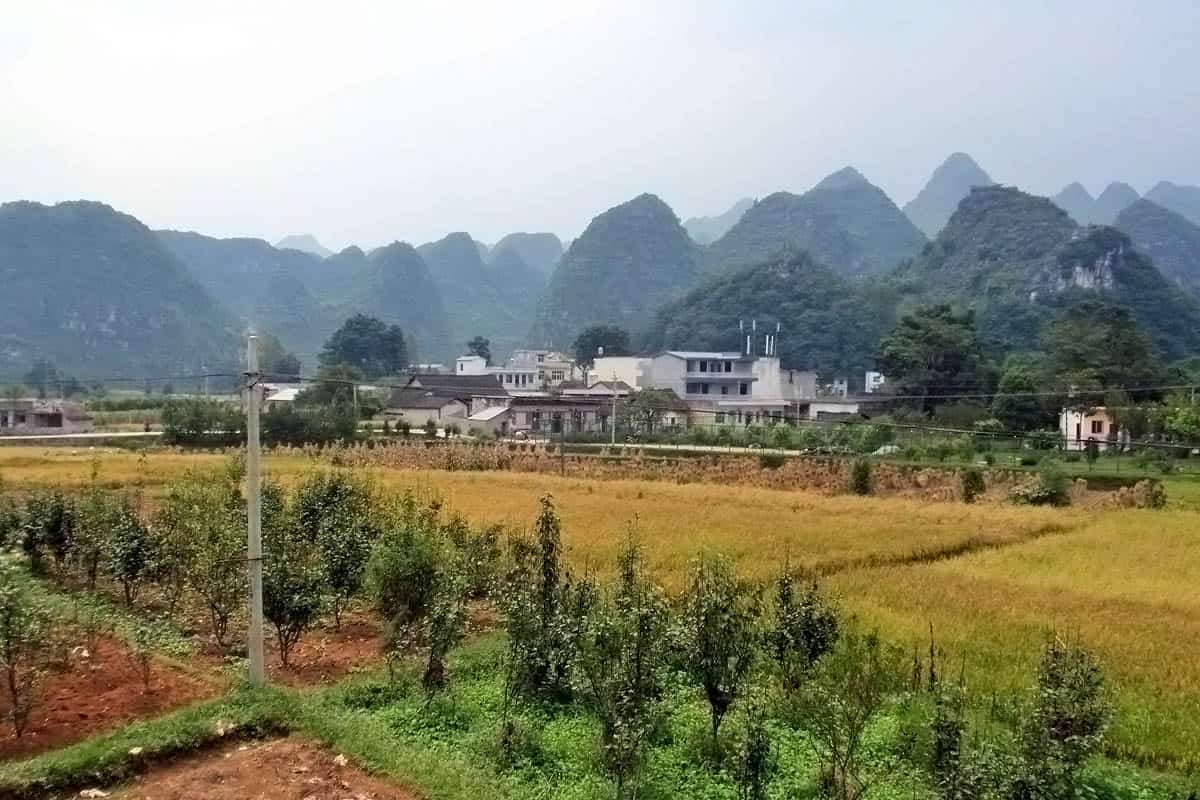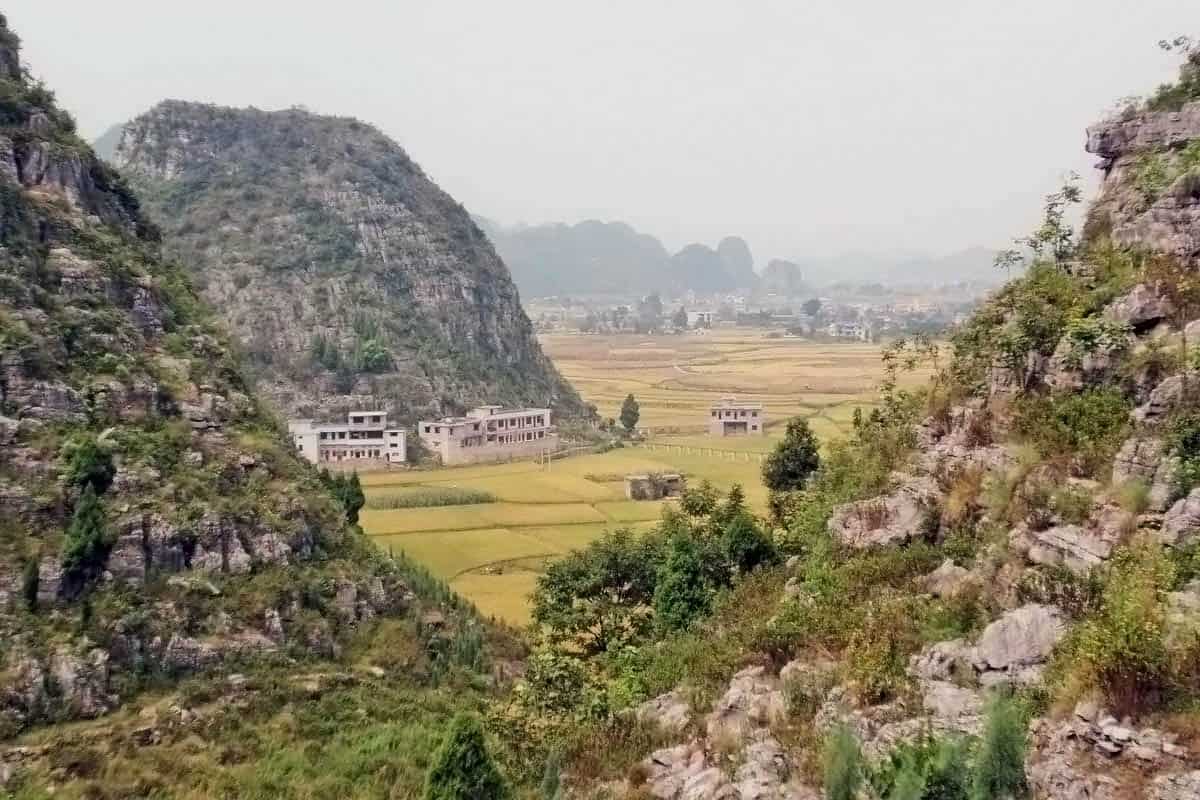 The walk through the farms immediately connected us to another world, with friendly old ladies attending to their crops, local people drying chillies outside their front doors and keeping pigs near their homes. A family was building their new home – it was mansion by Western standards. We started walking up one of these peaks. For a long time, we did not see anything of interest. Just when we were about to turn back, we persisted a little longer and arrived at a small Buyi village hidden between the peaks.
Most of the Buyi people live in Guizhou province. They have their own language and normally live in small villages and work as farmers. We saw a young man in front of a simple old house and yelled out "Ni Hao" which means "hello" a few times but he didn't turn around. We thought what unfriendly locals! Then the young man turned around and we could see the surprise and delight in his face. He ran into the house to grab his elderly parents. They invited us into the house and insisted we stay for lunch. We witnessed true hospitality from these people who live such simple lives themselves. We found out later that the young man was mute and deaf.
How to get there:
Xingyi is on the train line from Guangzhou to Kunming.
From Xingyi, take bus no.19 (40 minutes) or take a taxi to Wan Feng Lin (costs around CNY35)
Entry fee: CNY80 (Shuttle bus ride extra CNY50)
Opening hours: 8:00 – 18:00
Contact number: 0859-3342299
 
2. Shangri-La in Diqing Tibetan Autonomous Prefecture, Yunnan Province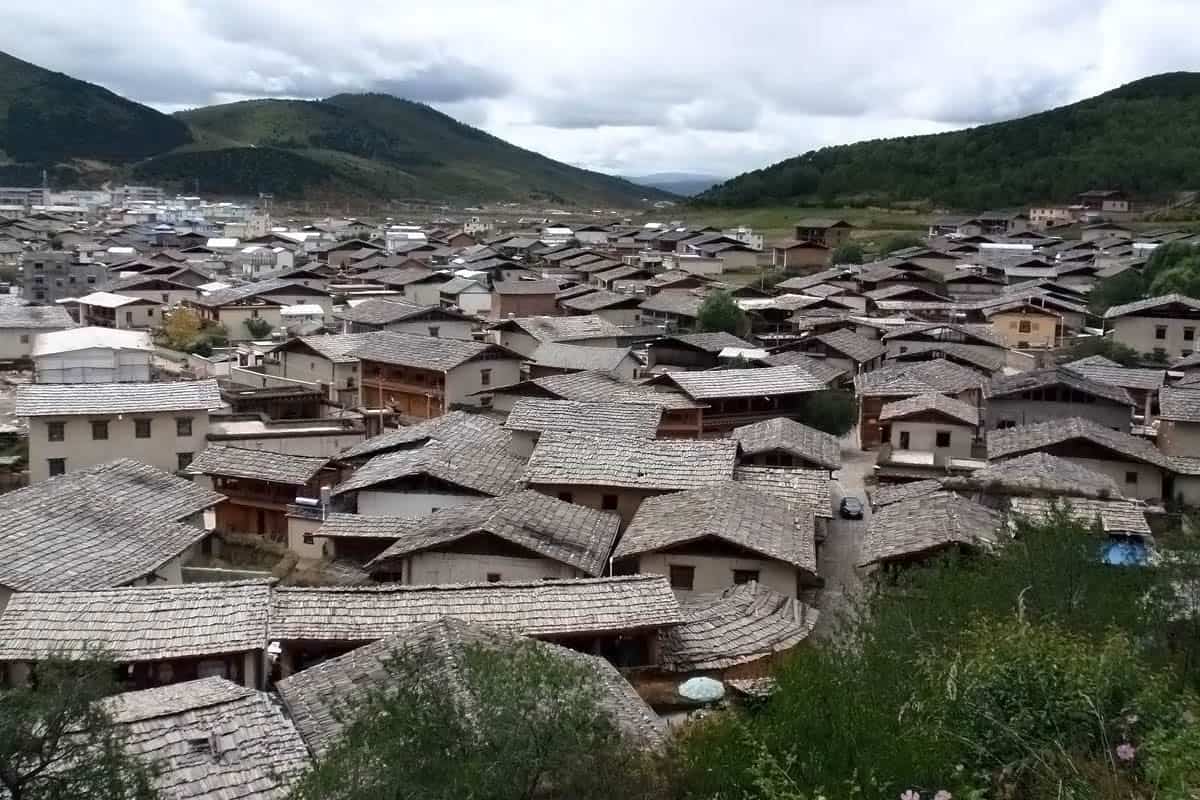 Shangri-la is a fictional place featured in Lost Horizon, a novel written in 1933 by British author James Hilton. He describes Shangri-La as a mystical, harmonious valley, enclosed in the western end of the Kunlun Mountains. Shangri-La is actually a Tibetan word which means "sacred and peaceful land." People associate the word to an unearthly paradise, a utopia. In 1996, the search for Shangri-La in Yunnan province began. In 1997, the Yunnan government declared they have found this utopia in Zhongdian. Zhongdian was then formerly renamed to current Shangri-La in 2001 to attract more tourists. With many snow-capped mountains and glaciers, hundreds of alpine lakes, gorges and meadows, I think it is well worth the title.
When we arrived Shangri-La town, we felt the effect of Shangri-La has instantly. We were more relaxed but could not think properly. We felt a bit light-headed and sleepy. Well, that was probably due to the high altitude – Shangri-La is 3450m above sea level.
The town itself is very interesting with a large Tibetan population. You see groups of Tibetan women dressed in traditional dresses with their bright pink hair wraps shopping together, all carrying a basket on their back and snuff in their hands. We saw Tibetan men running antique shops, where you can find Tibetan prayer flags and prayer wheels to silver snuff boxes, mingling with other locals.
We were expecting the Tibetan monks to be simple vegetarians and do not indulge in the materialistic world. However, we saw them driving nice four-wheel drives, smoking, talking on their fancy mobiles and eating meat in the best restaurants in town. While we were in this restaurant enjoying our yak hotpot, we saw a group of monks and out of curiosity we asked the waitress what the monks were eating. She replied "Everything! Same as you."
Just 5km outside town, there is a big Tibetan monastery called Gadan Songzanlin Monastry. It is the biggest Tibetan monastery in Yunnan province. Built in 1679, it is often referred to as "Little Potala Palace". If you are not visiting Tibet and are interested in seeing a Tibetan monastery, it is worth a visit.
The best way to explore and enjoy the beauty of Shangri-La is by hiring a bicycle and start riding away from the town. You are not going to only ride through beautiful meadows and lakes but you will meet a lot of friendly locals. On the day we went riding, it was raining and the local Tibetan invited us into his house for a tea to get out of the rain. We helped out some locals who were trying to move a log and we got invited into their grand Tibetan house, an impressive two storey structure elaborately decorated with Tibetan wooden carvings with the tea making stove at the centre of their living room. Shangri-La is living museum with so much to offer.
How to get there:
You can fly into Diqing Shangri-La Airport from Beijing, Chengdu, Kunming, Lhasa, Shanghai and Chongqing.
However, most people will be coming from Lijiang. From Lijiang, you can either take a bus (4 hours) or hire a car with driver to take you to Shangri-La.
Bicycle rental: There are several places to hire bicycles or mountain bikes in town. Please check the condition of the bikes carefully.
Songzanlin Monastry: 5 kilometres north of town. You can either take bus no. 3 or a taxi (CNY10). Entry fee is CNY115. Open from 7:30 – 18:30. Enquiry number: 0887-8222455
 
3. Longji Rice Terraces and Longsheng Hot Springs in Guangxi Province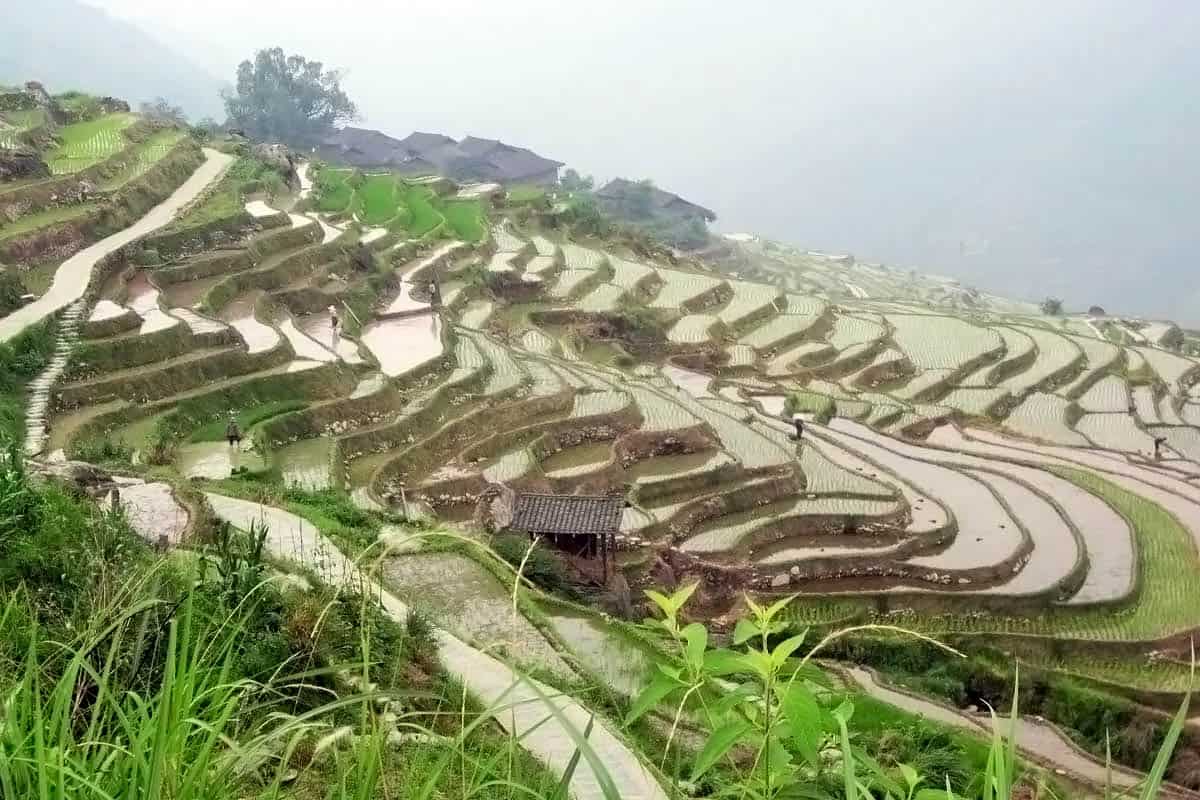 Longji Rice Terraces is one of the highlights in the Guilin region. Located 75km from downtown Guilin, the rice terraces are cut into the mountainside from an elevation of 380m to 1180m and spans across an enormous area. The rice terraces are over 700 years old and there are 7 heritage listed buildings in the area over 150 years old. One of these buildings and a museum are opened to public for free. It is beautiful area to visit and makes for a relaxing stroll around through the rice paddies and villages. The villages are populated by Zhuang and Yao minorities with their noticeable distinctive architecture.
You need to pay an entry fee to enter the area. Whilst there are plenty of tour guides who will offer to take you around, our suggestion is to stroll around by yourself. This way, you can avoid the tour groups, have a private experience and meet friendly locals. The two main villages to visit are Ping An Zhuang Village and Jin Keng Hong Yao Village.
How to get there: From Guilin, there are buses every 30 minutes from Guilin Qing Tan Bus Station to Long Sheng town. It takes around 1.5 hours and costs CNY27 per person. Alternatively, you can hire a car with driver to take you from Guilin.
From Long Sheng town, there are buses to take you to different villages of Longji which is about 13km from town.
Entry fee: CNY80
Opening hours: All day
Contact number: 0773-7583088
The Longsheng hot springs are set in the mountainside in a truly natural and relaxing environment. The hot spring water originates from 1200m underground, with the source water varying in temperature from 45 to 48 degrees Celsius. There are 16 pools with varying temperatures. There are also a 4 star and a 5 star hotel attached to the hot springs if you would like to stay overnight.
How to get there: Longsheng hot spring is 32km from Longsheng town. There are buses from Longsheng town which takes around 40 minutes and costs CNY8 per person. Alternatively, simply take a taxi.
Entry fee: CNY98
Opening hours: All day
Contact number: 0773-7482241
4. Jade Dragon Snow Mountain near Lijiang, Yunnan Province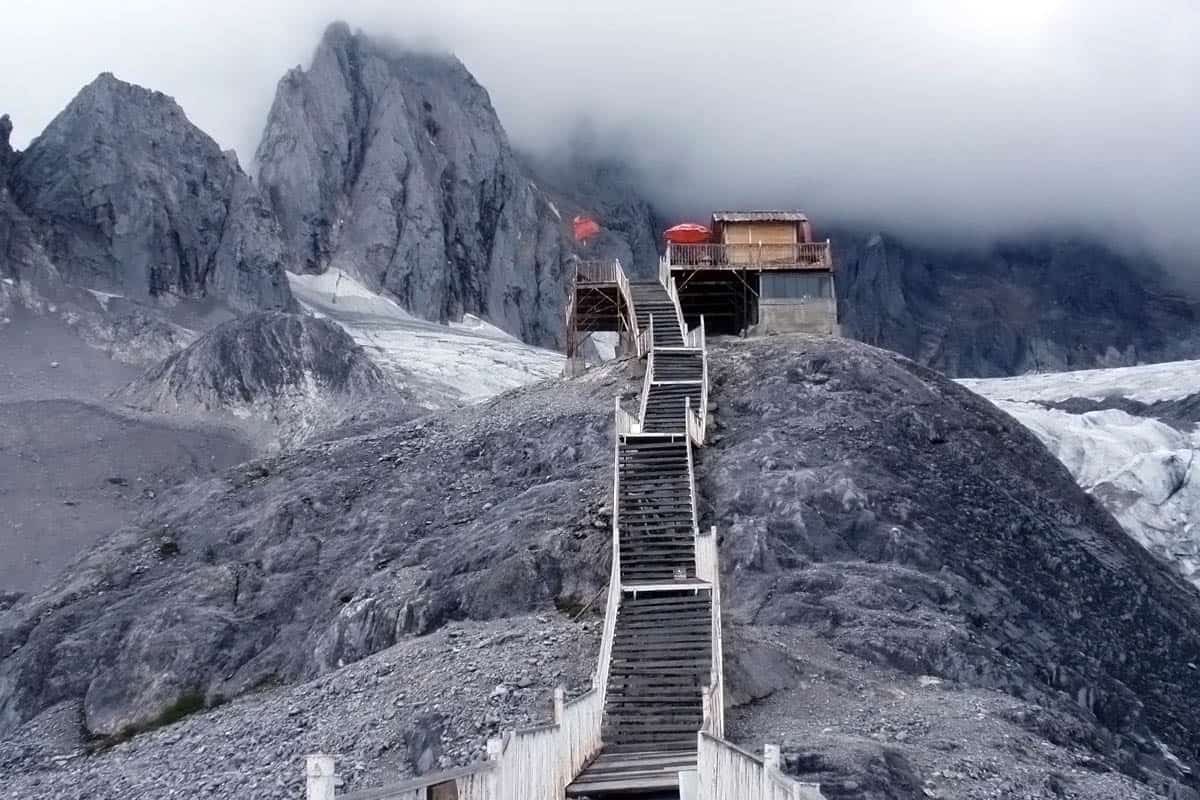 Jade Dragon Snow Mountain (or "Yu Long Xue Shan" in Chinese) is located 15km north of Lijiang city. There are 13 peaks in total and Shanzidou is the highest peak with an altitude of 5596m. It stretches 35km long and 20km wide. It is the southern-most glacier in the Northern Hemisphere. As such, you can experience scenery from a Subtropical zone, Temperate zone to Frigid Zone all in one place. It is also a holy place for the Naxi people who lives in this region.
There are few scenic spots in the area. The most important experience is undoubtedly the trip on the Long Ropeway. The Long Ropeway departs from an elevation of 3356m. We were there in September and the temperature was not too low and quite pleasant. However, I can imagine in winter, you probably want to hire one of their thick down jackets before going up the ropeway. We weren't sure how we will cope with the high altitude so we bought a small tank of oxygen each to bring with us.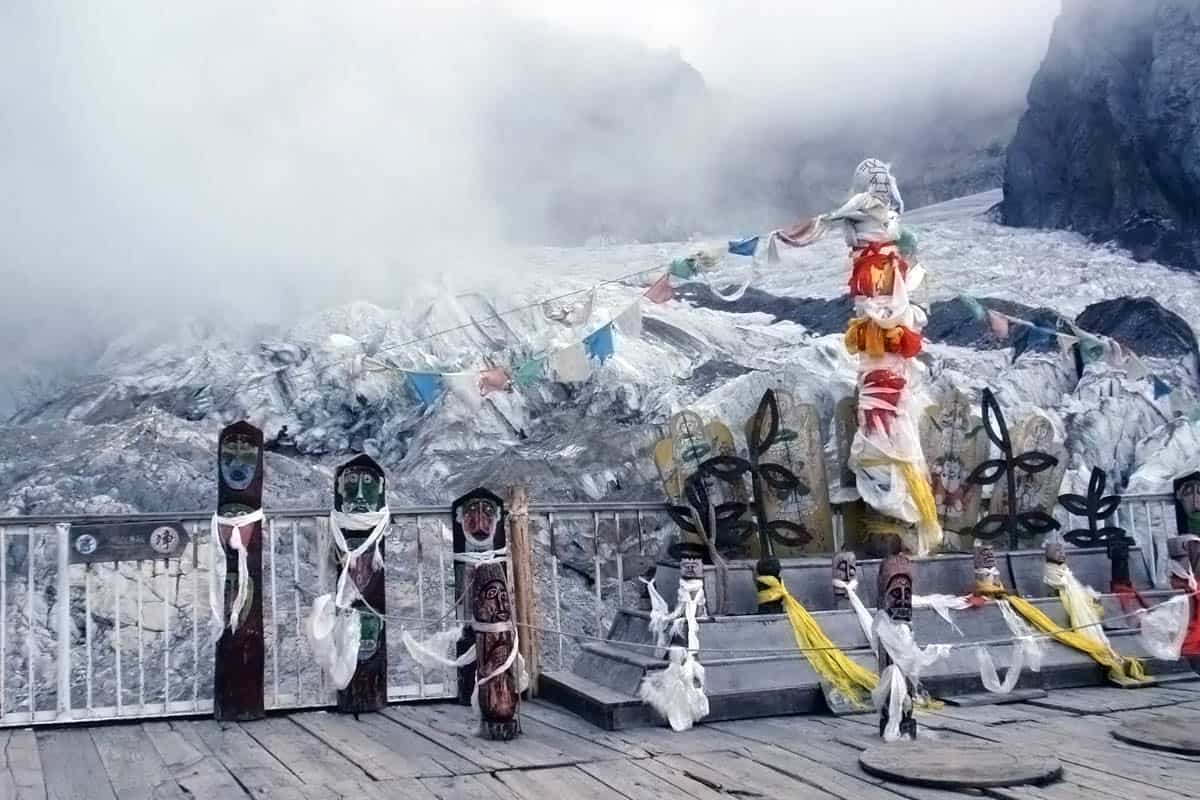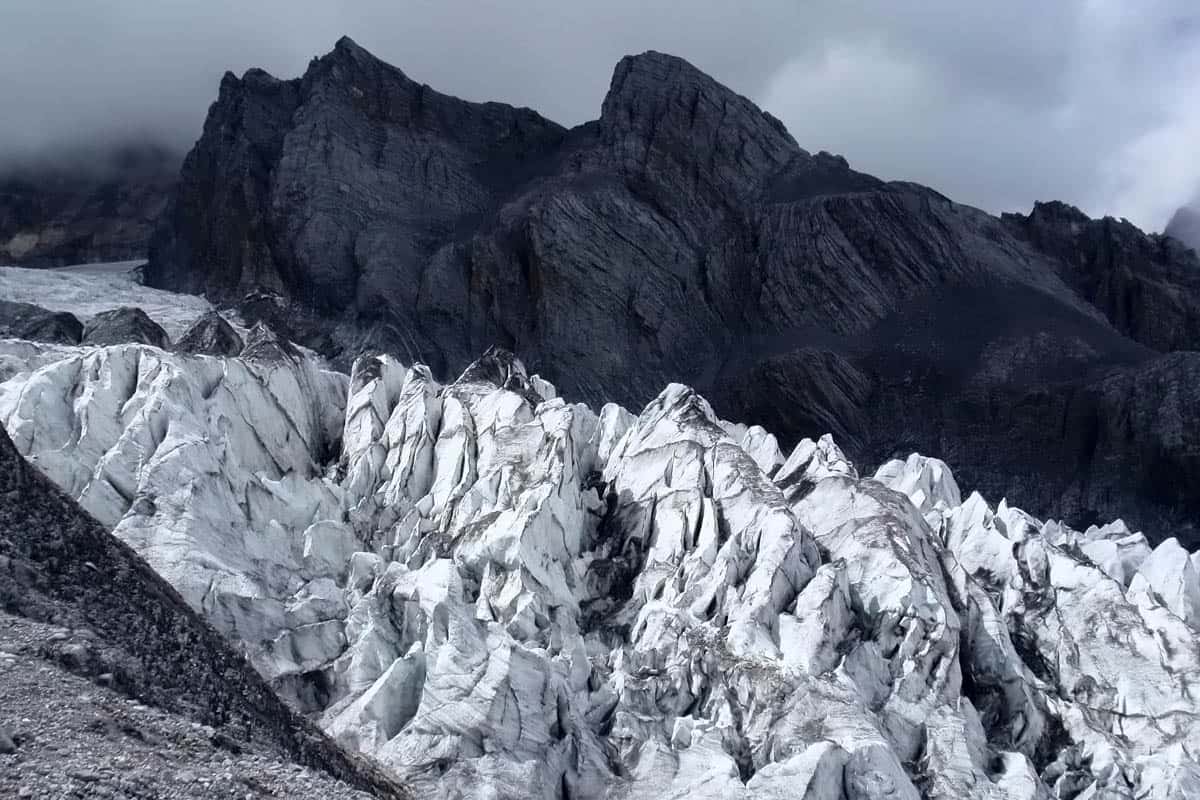 The ropeway took us from an elevation of 3356m to 4506m and the scenery changed very quickly. At the bottom, we could still see green vegetation but they quickly turned into barren charcoal colour mountain faces with glaciers embedded in the valleys, sometimes hidden behind clouds. When we got off the ropeway, we walked up the wooden path to an altitude of 4680m right into the glacier. At the top, you can see a shrine from the Naxi people's religion standing strong in the wind.
Ganhaizi (Dry Sea) situates at the foot of Jade Dragon Snow Mountain. It is a beautiful meadow formed after an alpine lake dried up. You will see local shepherds herding their yaks, sheep and cows in the meadow in spring. At an altitude of 2900m there is also a wide variety of plants. From here, you can see the full view of Jade Dragon Snow Mountain with all its 13 peaks in sight.
After a long day in the mountain, head back to Lijiang town to enjoy a donkey meat hot pot. There is a saying in Chinese "There is dragon meat in heaven and there is donkey meat on earth." It is full of protein and low in fat and cholesterol. It claims to cure back pain too!
How to get there: Best to charter a taxi there for CNY100-200 a day. There are public buses from Red Sun Square (Hong Tai Yang Square) in Lijiang which cost CNY15 per person.
Entry fee:
CNY125 to enter the scenic area
CNY180 to take the cable to the highest point
Oxygen tanks are also for sale at CNY50 per tank and you can hire down jackets also.
CNY80 entrance fee to Ganhaizi
Opening hours: 7:30 – 16:00
Contact number: 0888-5161501
 
5. Xinjiang Uyghur Autonomous Region in Far Western China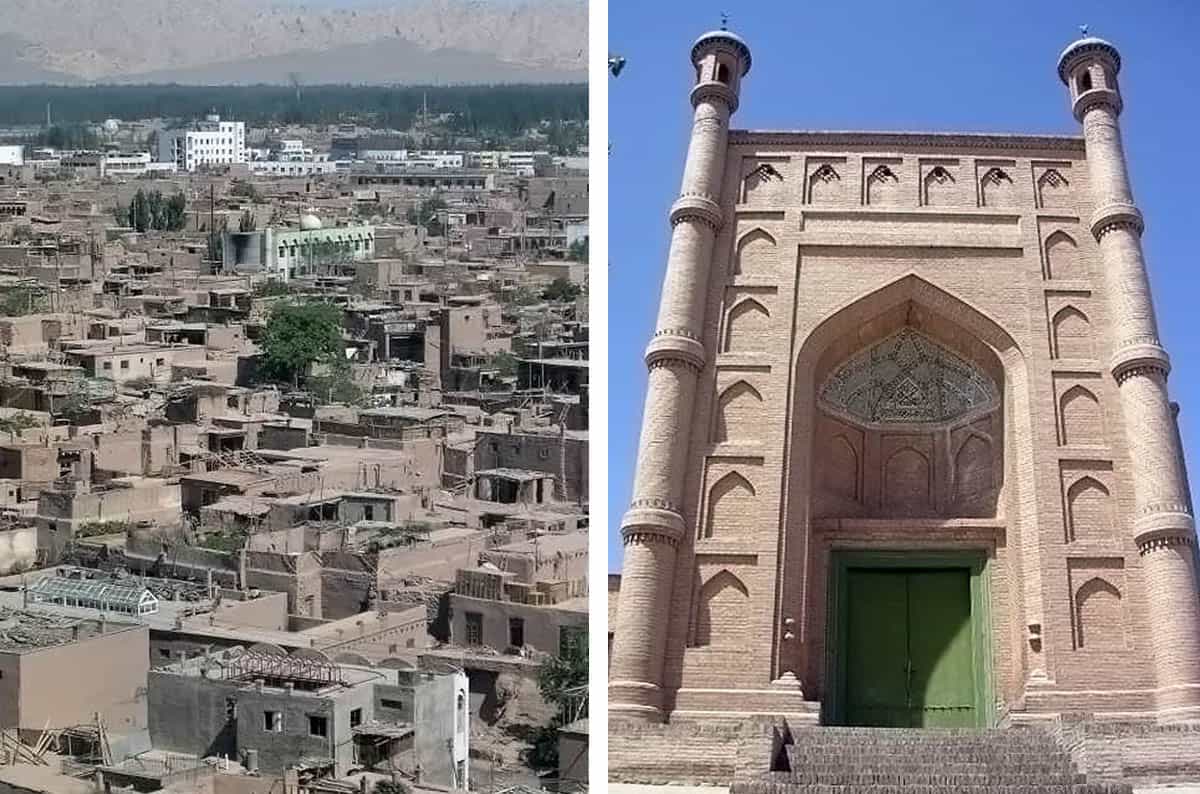 Officially it is part of China but it is located in far western China which borders Russia and all the "stan" countries, it feels like a world away. Think Chinese temples replaced by grand old mosques, motorcycles replaced by donkey carts and lamb on the menu instead of pork. One other thing that is hard to get used to is the time difference. Here they still run on Beijing time, however, geographically it is about 2 hours behind Beijing so the sun sets here at around 10pm in summer.
Xinjiang is the largest province in China and it is mostly populated by the Uyghur minority people who are a Turkic ethnic group and believe in Islam. They have their own Turkic language but also speak Chinese with a thick accent. Their cuisine is of Central-Asian style distinctly different from other Chinese cuisines.
The capital, Urumqi is a busy, bustling city. You can see kebab stands and outdoor lamb butchers everywhere. Fruit vendors selling the best looking melons you have ever seen. Freshly baked naans coming out from the round stone ovens and shops selling Islamic skull caps.
A short flight will take you to Kuche where suddenly cars are replaced by donkey carts. We visited a mosque in Kuche old town. The keeper there was very welcoming and friendly. We were the only people there and he showed us around the mosque. We were invited into a small room at the back where he proudly showed us an Islamic book dated back in 1298. In any other countries, this book would be kept behind glass in a museum but this book just sat in the open and we were allowed to carefully flip through it. We also held the leather baton which was used for enforcing Sharia law punishments in the past.
From Kuche, we took the slow train to Kashgar. This train is really basic with open windows and wooden benches but the friendly locals made the train trip felt short and much more tolerable. When we checked into our hotel in Kashgar, I opened the windows and my breath was taken away. Just behind our modern hotel, there lies an old town with sand-coloured brick houses that stretches as far as I can see. We took a walk into town and realised it was Friday afternoon. We heard calls to prayers and flocks of worshippers were heading to the biggest mosque in China, the Ida Kah Mosque. All the women had their faces totally covered with a thick brown cotton cloth so not even their eyes were showing.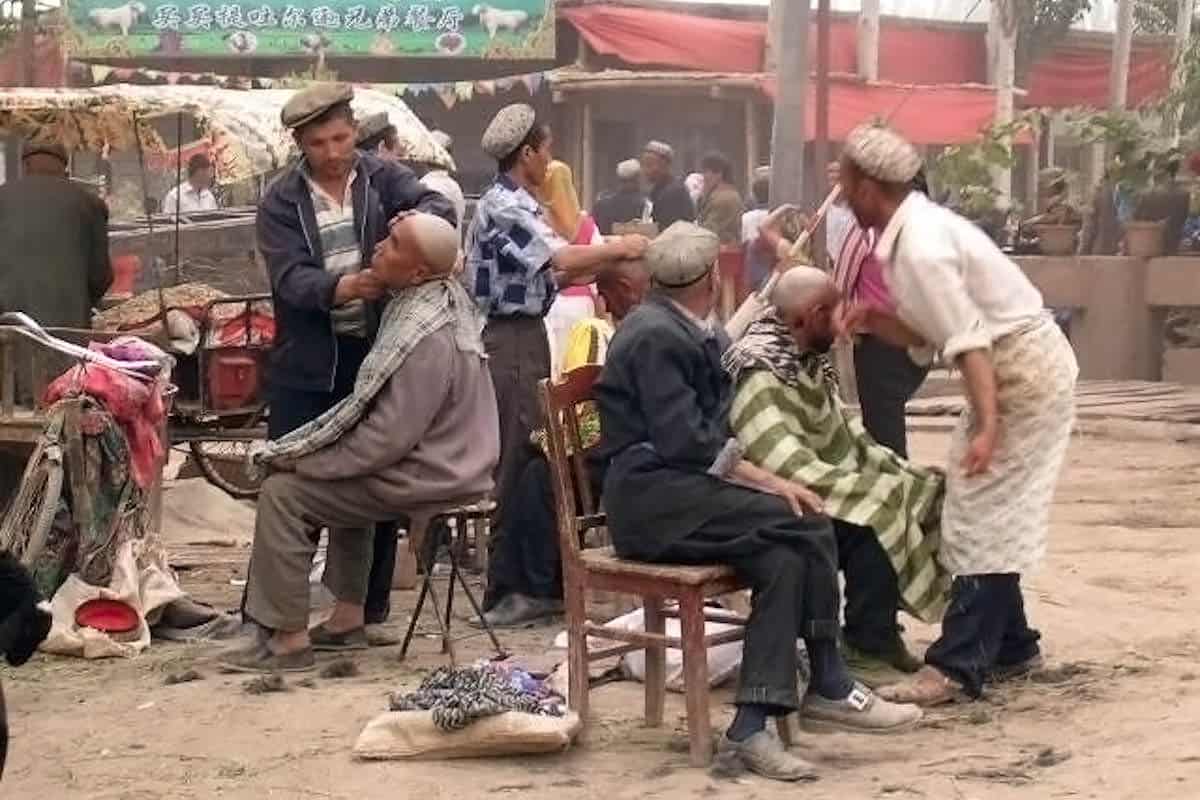 No visit to Kashgar is complete without going to the Sunday Livestock Market. Truckloads of fat-tailed sheep, goats, donkeys and cows are being transported to the market from early morning. When I say "truck", I am referring to both real trucks and donkey "trucks" and it is hard to find a "car-parking" spot here.
There are a lot of activities going on – traders inspecting the sheep, buyers and sellers haggling on the price, buyers test-riding the horses at the back of the market and locals taking a break from business to get a shave and a hair-cut in the open.
How to get there: Urumqi the capital is connected by direct flights from most major cities in China as well as international flights Moscow, Almaty, Istanbul and other Central Asia cities. There are direct flights from Urumqi to Kuche and Kashgar. There are also trains connecting Urumqi all the way to Kashgar which takes around 20 hours. Kuche is about half way between Urumqi and Kashgar.
A note on security: There has been some security concerns in Xinjiang in recent years. Please check your own government's website for up to date security warnings before going to Xinjiang.
About the author: Wai Zhou is the co-founder of Eating Adventures Food Tours. Wai has travelled extensively throughout China with a particular interest in Yunnan, Guangdong and Xinjiang provinces. Eating Adventures specializes in foodie tours in Hong Kong and Shanghai. Learn more about her tours here: Hong Kong food tours and Shanghai food tours.
More Tips on YouTube ⬇️⬇️⬇️