Traveloka is a handy travel app because of the promos and discounts you can get when you book flights and accommodation through it. Some don't use apps like this one because they think they can only pay using a credit or debit card. However, Traveloka has multiple payment options for those who want to save money for their upcoming trip.
In fact, it's a great workaround for airlines or hotel companies who only accept credit card transactions on their own website. Booking them on Traveloka will allow you to pay via other channels!
WHAT'S COVERED IN THIS GUIDE?
Dragonpay (Online and Bank Deposit Payments)
The app has partnered with Dragonpay that allows you to pay online whether through mobile banking or bank transfer. The first thing you need to do is to activate your online savings account. One other thing you need to do is to check with your bank if it is necessary to enroll Dragonpay as a biller before you can do any transactions.
Once you have chosen the over-the-counter bank deposit option, you'll proceed to a separate page (Dragonpay) where you'll select which bank to go to for payment. Once you've made the selection, input your email address to receive detailed instructions. Check your inbox and click on the mail. After you open it, click on the link given to you. Here's a sample of the instructions.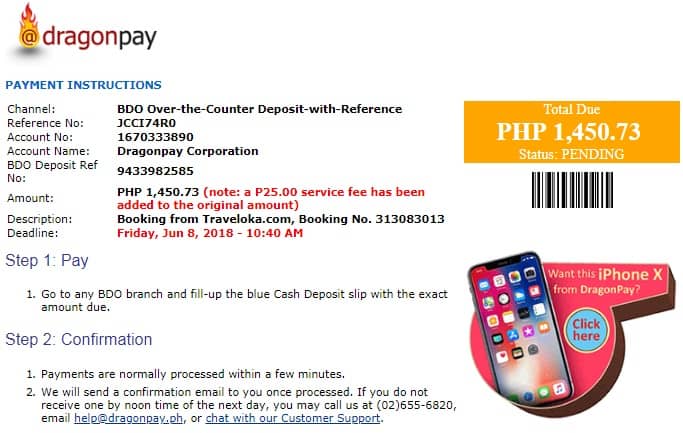 Paypal
If you have an account you can choose this option; once you select this method, you will be redirected to PayPal. Input your account details and once the page loads, proceed with the payment. After the transaction, you will receive a confirmation of your booking through the email address you gave.
Over-the-Counter
Traveloka also allows you to pay for bookings over-the-counter through 7-11, M Lhuillier and Cebuana Lhuillier. On the payment page, click on the 'Over-the-Counter' option; once you do so, click on the 'Pay with Over-the-Counter' button. On the proceeding page, you'll see four squares with the three mentioned choices along with Coins.ph.
If you choose 7-11, you'll get both a reference number and a barcode. Go to the nearest 7-11 branch and pay by either providing the former or scanning the latter. After payment, you'll receive a confirmation about your booking.
If you pay through Cebuana, go to your nearest branch and fill out the bills payment form. Input the following details as shown in the sample below.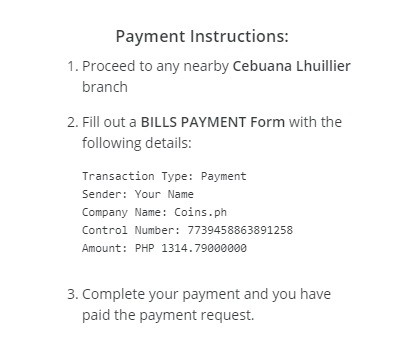 If you choose M Lhuillier, you will get a transaction code along with instructions. Write down, take a photo or print out the code. Go to the nearest branch and tell the counter you'll use E-Pay service. Fill out the form given to you and input 'Coins.ph' on the 'Merchant Name' section and the EXACT amount of your booking. After payment, you'll receive a confirmation and voucher.
If you have a Coins.ph account, simply log in and check your payment requests. Make the payment and after doing so, you'll receive the confirmation and voucher.
Reminders:
You are given a specific amount of time to pay for your booking. If it lapses, you'll lose the reservation and restart the process.
ALWAYS pay the exact amount down to the last centavo.
There is an additional fee you have to pay depending on the option you choose.
2️⃣0️⃣1️⃣8️⃣ • 5️⃣ • 3️⃣1️⃣