When I first laid eyes on it, I didn't realize what it was. The team was documenting our Verde Island trip in Batangas when we spotted a huge structure, prominently sticking out from a hilly area on the mainland. It was hard to miss. It turned out to be the massive Montemaria Shrine.
Montemaria Shrine, more formally known as Montemaria International Pilgrimage and Conference Center, overlooks Batangas Bay. From the observation deck, you could get a good look at the surrounding areas including Tingloy, Verde Island, and even parts of Oriental Mindoro. It is a vast estate that serves as a retreat place, a pilgrimage destination, and a tourist attraction. The most outstanding feature is the massive Statue of Mary, Mother of All Asia, said to be the world's tallest statue of the Virgin Mary.
A lot of developments are still in progress but some of the finished structures are drawing not only devotees and pilgrims but also curious travelers. If you are planning to visit soon, here are some of the things you might want to know.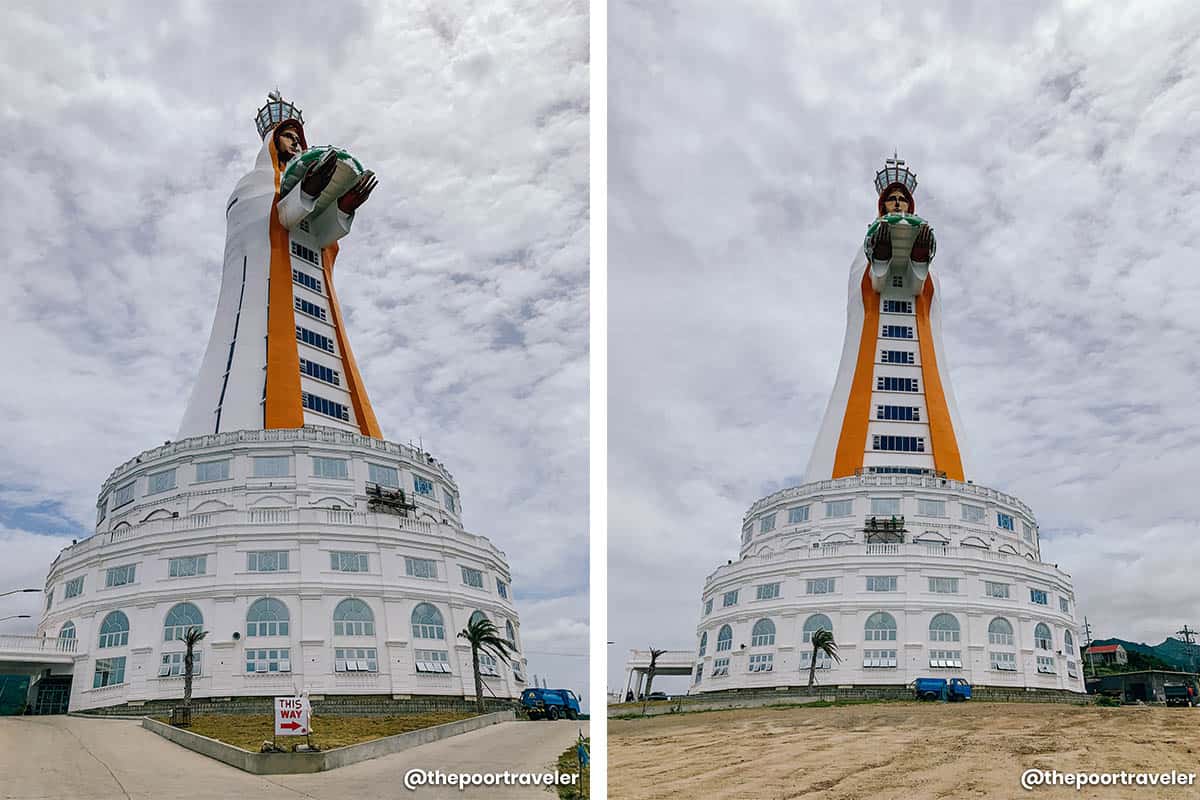 WHAT'S COVERED IN THIS GUIDE?
MANILA TO MONTE MARIA SHRINE
Montemaria Shrine is located at Barangay Pagkilatan in Batangas City. From Manila, the travel time to Montemaria Shrine is 3-4 hours, depending on the traffic and road condition.
By Bus and Jeepney
From Manila (Buendia Bus Terminal), board a bus bound for Batangas Grand Terminal. DLTB and JAM are running this route. Get off at Batangas Grand Terminal. The fare is P197. If coming from Cubao, the fare is P206.
From there, take a jeepney to SM Batangas.
From SM Batangas jeepney terminal, take a jeepney bound for Ilijan. Tell the driver to drop you off at Montemaria Shrine. The fare is P40.
By Private Car
From Manila, take South Luzon Expressway (SLEX). Drive the stretch all the way to Calabarzon Expressway (Star Tollway).
Continue driving until you reach the end of Calabarzon Expressway (Star Tollway). Take Batangas (Balagtas) Exit. At the roundabout, take the 4th exit onto National Road/President Jose P. Laurel Highway.
Continue driving then turn right after JC and CK Store (on your right) onto Gov. Antonio Carpio Road.
Take a slight right turn toward Batangas – Tabangao – Lobo Road.
Look for the road signs leading to the shrine. Make a right turn to Montemaria Shrine.
---
Things to Do and Places to Visit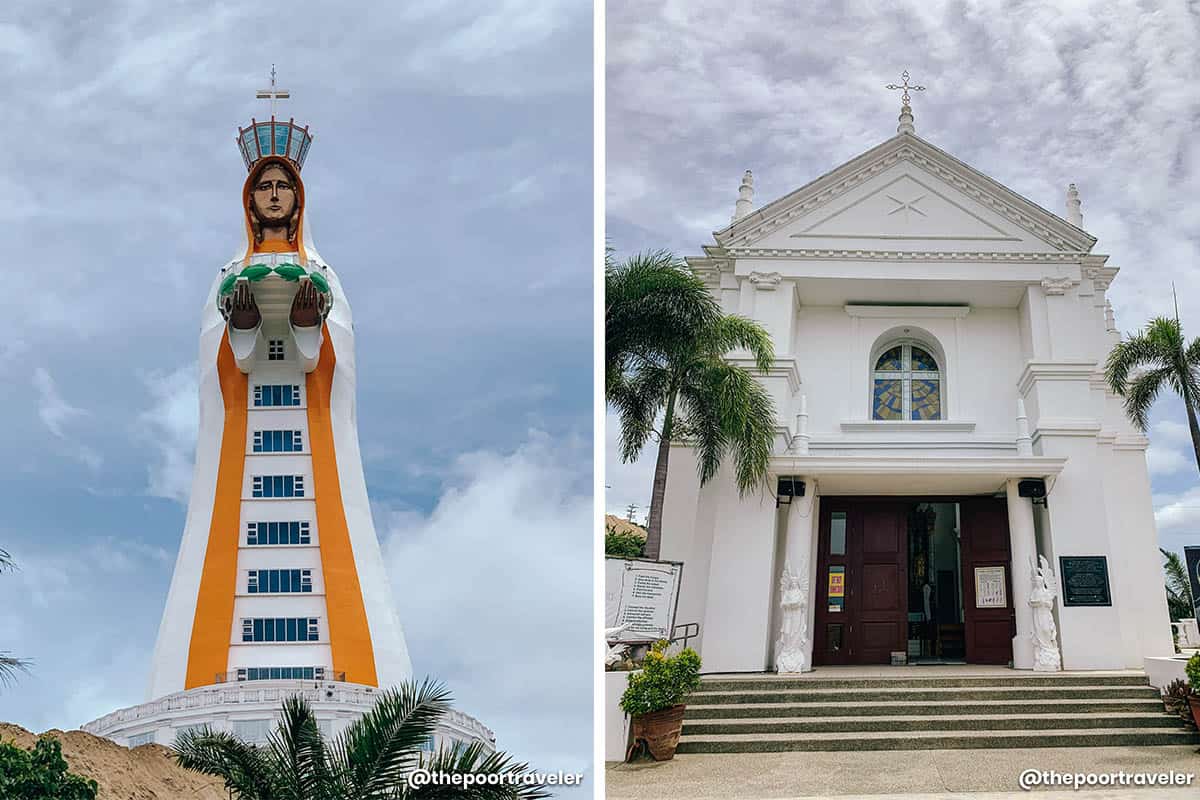 The Gigantic Statue of Mary. Officially named the Statue of Mary, Mother of All Asia, this colossal landmark is inarguably the most iconic structure in the expansive pilgrimage and retreat/retirement estate. It towers at over 98 meters, taller than the Statue of Liberty in New York, U.S.A. and the Statue of Christ the Redeemer in Rio de Janeiro, Brazil. From the observation deck, you could get a good look at the surrounding areas including Tingloy, Verde Island, and even parts of Oriental Mindoro.
The chapels. There are two chapels within the property — the Sto. Niño Chapel and the St. John Paul II Chapel.
Cenacle Restaurant & Event Center. If you get hungry, you can grab some grubs here. The building is also a venue for events.
Other Landmarks. Gate of the Archangels, Punta Santa Cruz (La Pieta), and Way of the Cross.
Retreat Facilities. The property offers retreat and retirement facilities. In addition to that, organizations and companies can hold their team building here.
Souvenir Shop. You can purchase rosaries, bracelets, keychains, books, and other religious items.
Work-in-Progress Facilities. Here are some of the facilities that are currently undergoing construction and development: Rosary Trek, Marine Museum, Recreational Facilities, Hotels, and Residences.
---
Montemaria Mass Schedule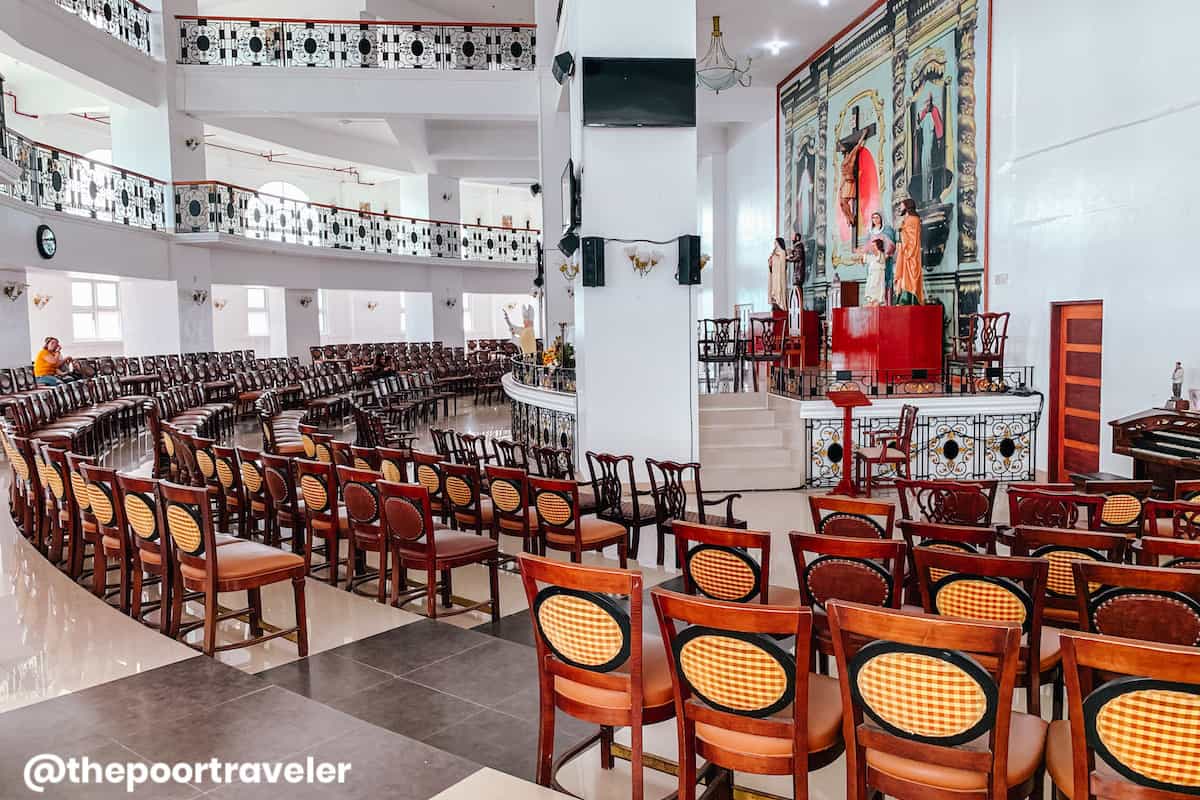 Note that there are two chapels where mass services are held. Below are the details:
First Fridays
Sto. Niño Chapel – 4:00 PM
Saturdays
Sto. Niño Chapel – 8:00 AM / 9:30 AM / 11:00 AM / 3:30 PM
Sundays
St. John Paul II Chapel – 7:00 AM / 8:00 AM / 9:30 AM / 11:00 AM / 12:15 PM
Sto. Niño Chapel – 3:30 PM
Public Holidays
Sto. Niño Chapel – 10:00 AM
---
Montemaria Wedding Rates and Requirements
Wedding Rates & Schedules
RATES
P15,000: Chapel Use Only
P12,000-P14,000: Montemaria Cenacle Restaurant & Events Venue
Note: Cenacle catering services can accommodate 50-100 pax only. For the price list, you may contact this number: 0917 829 1356
SCHEDULE
They are not too strict on dates and time slots, but there is one restriction — you can pick any dates EXCEPT those that fall on a Monday.
Montemaria Wedding Requirements
Baptismal Certificate for Marriage
Confirmation Certificate for Marriage
Marriage License
Pre-Cana Seminar
---
Room Rates
There are rooms offered at Cloister @ Montemaria, a residential tourism project featuring condotels and villas. It provides accommodations for tourists, pilgrims, devotees, and retirees. Here are the rates as of writing. Note that rates may change without prior notice.
Superior Room: P4,500 (with breakfast for 2 pax)
Executive Suite: P4,000 (with breakfast for 2 pax)
Family Room 1: P5,500 (with breakfast for 3 pax)
Family Room 2: P5,000 (with breakfast for 3 pax)
---
Sample Montemaria Itinerary
Here's a sample Montemaria day trip itinerary, with breakdown of expenses.
06:00 AM – Manila to Batangas Grand Terminal, P197 (Bus)
09:00 AM – Jeepney to SM Batangas
09:30 AM – Jeepney to Ilijan, P40
10:30 AM – Explore Montemaria Shrine
11:00 AM – Mass
12:30 PM – Lunch at Cenacle Montemaria, P100
01:30 PM – Jeepney to SM Batangas, P40
02:30 PM – Jeepney back to Batangas Grand Terminal
03:00 PM – Bus Back to Manila, P197
This sample itinerary should cost you around P680 (USD13, EUR12, SGD18).
More sample itineraries with other side trips will be added here, so don't forget to check back.
---
Side Trips from Montemaria Shrine
Batangas City. Explore Batangas City and its coastal areas. It's also the jump-off point to Puerto Galera via Batangas Pier (Port of Batangas).
Verde Island. From Batangas City, another destination you might want to consider is Verde Island. Nestled in the Verde Island Passage, cited by a Smithsonian study for having a high concentration of marine species — the "center of the center" of the world's marine biodiversity. The towering statue of Mary is visible from the island — Mahabang Buhangin area.
Lobo. A neighboring town that is famous for its pebble beaches and Malabrigo Point Lighthouse. Check out also Lawas Seaside Resort if you are planning to do an overnight trip.
San Juan. You may also opt to go beyond Lobo to San Juan to check out the beaches of San Juan. There are numerous resorts lining the shores of Laiya. You can also hike Mount Hugom or Mount Daguldol if you are into mountains.
---
Montemaria Shrine Office Contact Info
Mass Schedule and Pilgrimage Booking
Email Address: stoninochapel01@gmail.com
Contact No.: 0905 494 4276
For Wedding Inquiries
Officiating Parish: St. Michael the Archangel Parish
Address: Ilijan, Batangas City
Contact No.: 0917 877 0910
Office Hours: 8:00 AM – 4:00 PM (Daily)
---
Frequently Asked Question
Is there an entrance fee?
There is no entrance fee. You may visit Montemaria Shrine for FREE!
Is there parking space?
Yes. There are ample parking spaces for those who would like to travel by private car.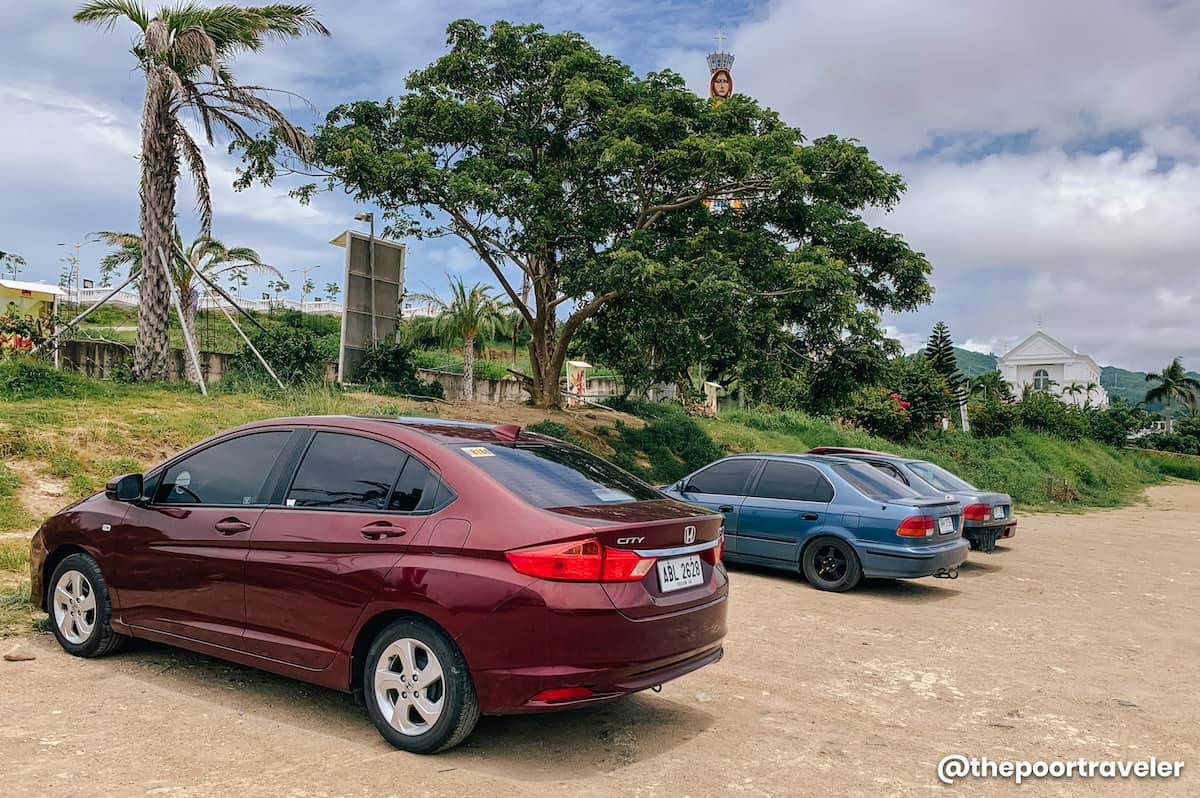 What are the contact numbers for other inquiries?
Mobile Numbers: 0905 494 4276 / 0917 577 0910
E-mail Address: stoninochapel01@gmail.com
Official Website: www.montemaria.com.ph
Facebook Page: Montemaria International Pilgrimage & Conference Center
---
Photos and research by Pycan Leynes
Words by Astrid Alvarez
2020 • 1 • 27
---