2021 • 07 • 06
It has been more than a year when the pandemic had us cooped up in our homes, trying to adjust to the community quarantine protocols. While businesses are gradually getting back on their feet — given that they fulfill all the requirements set by the IATF and their LGUs — those of us who want to unwind and recharge by going on a quick getaway opt to stay in hotels or resorts. Because of the stricter and costlier airport and flight processes, many of us prefer traveling to somewhere not too far away. And if you ask most Manila-based travelers, chances are, it's BATANGAS.
Batangas is perhaps the most popular beach destination near Manila. Planning a day trip or overnight stay? Here are some of the operational beach resorts in Batangas as of this writing.
We know that requirements vary per area and can be confusing, so we included contact information or the link to the latest requirements per resort. Note, however, that policies and requirements change every now and then, so make sure you double check before your trip.
---
WHAT'S COVERED IN THIS GUIDE?
Acuatico Beach Resort
Address: Barangay Laiya Aplaya, San Juan
San Juan is a popular resort town in Batangas, best known in particular for Laiya, an area composed of a couple of barangays. San Juan, in general, is known for its ivory coast. The sand may not be as fine as Boracay's, but the town beckons a great number of sun-chasers to its beaches. The peaks of San Juan also summon mountain huggers to Laiya, the jump-off point to Mount Hugom and Mount Daguldol. Laiya is also home to many resorts, from budget to high-end, offering beachfront accommodations including Acuatico Beach Resort.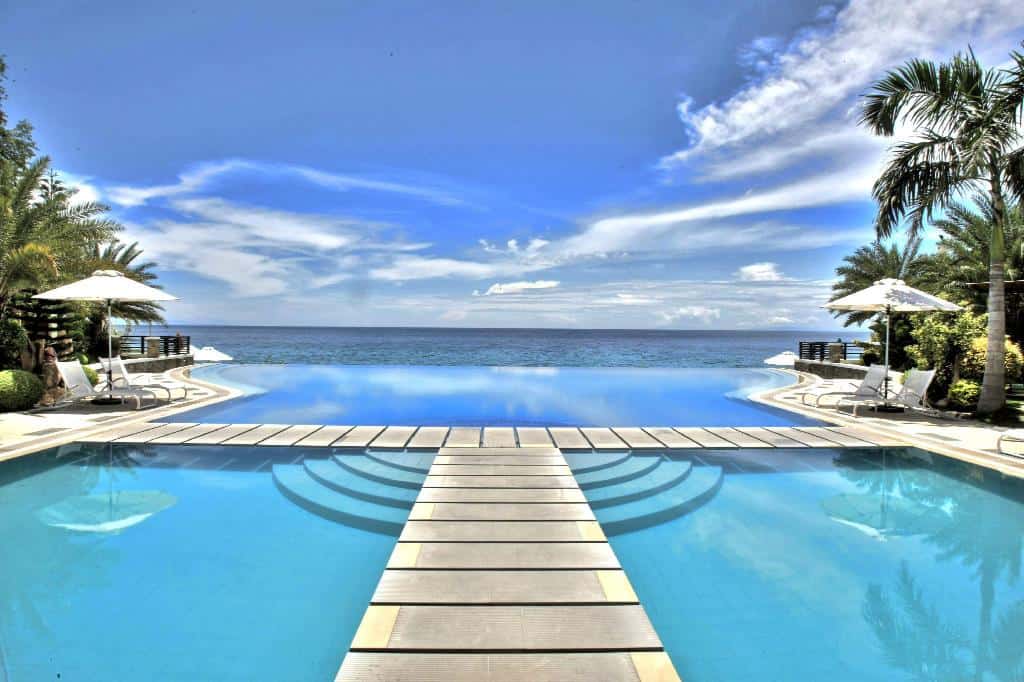 Acuatico is a multi-awarded luxury resort along the coast of Barangay Laiya. It has two main areas — the family-friendly Main Wing rooms and the high-end La Prima villas. The latter area is perfect for honeymooners and romantic getaways. The resort's main feature is the beachfront infinity pool, providing gorgeous views of the beach.
Other facilities are the in-house restaurants and bars, spa services, indoor games, a kiddie playroom, a gift shop, water sports, and a gym.
Acuatico is one of the six properties in San Juan that have a Staycation-CAO, which means it's allowed to accept guests outside the 18-65 age range. Kids and seniors are welcome, but certain requirements apply.
TRAVEL REQUIREMENTS:
---
Acuaverde Beach Resort
Address: Barangay Laiya Aplaya, San Juan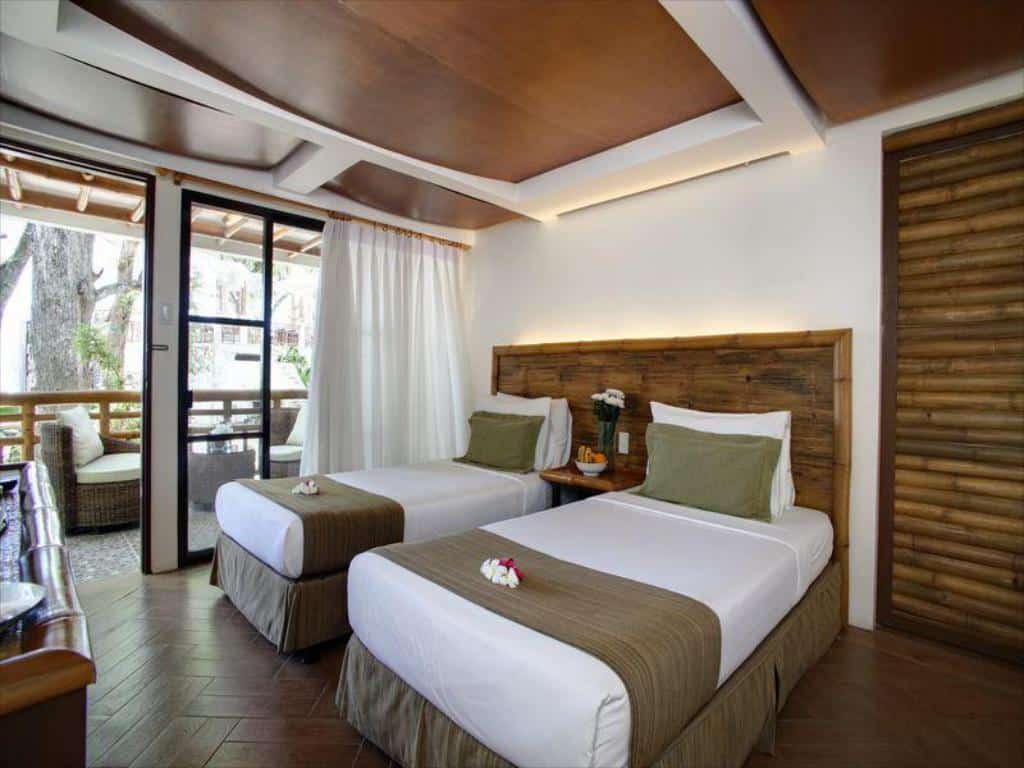 Acuaverde doesn't have the infinity pool that Acuatico is best known for, but it remains among top choices especially for company outing, team building, and family getaways.
But what sets Acuaverde apart from other resorts is that it's pet-friendly! It prides itself on being one of the most preferred pet-friendly resorts in Batangas. It has a dedicated zone for pets, different care packages, and even an exclusive pet menu. It also boasts having one of the widest beaches in Laiya, hosting different beach activities and lounge beds for relaxation. It also offers water sports like kayaking, jet skiing, flyboarding, and others.
Acuaverde features 32 rooms with air-conditioning, LCD cable TV, WiFi access, and a hot/cold shower. Other amenities are the in-house restaurant and bar, beachfront sunbeds, spa services, kid's zone, and pet zone.
Day trippers are welcome too, but prior reservation and other requirements still apply.
TRAVEL REQUIREMENTS:
---
Palm Beach Resort
Address: Palm Beach Resort, San Juan – Laiya Road, Barangay Hugom, San Juan
If you want to get away from the crowd, consider Palm Beach Resort, which lies on a secluded coast, providing exclusivity and privacy. It's also technically outside Laiya — it's located in neighboring Barangay Hugom — but it's still primarily marketed as a Laiya property since the term is now almost synonymous with the entire stretch.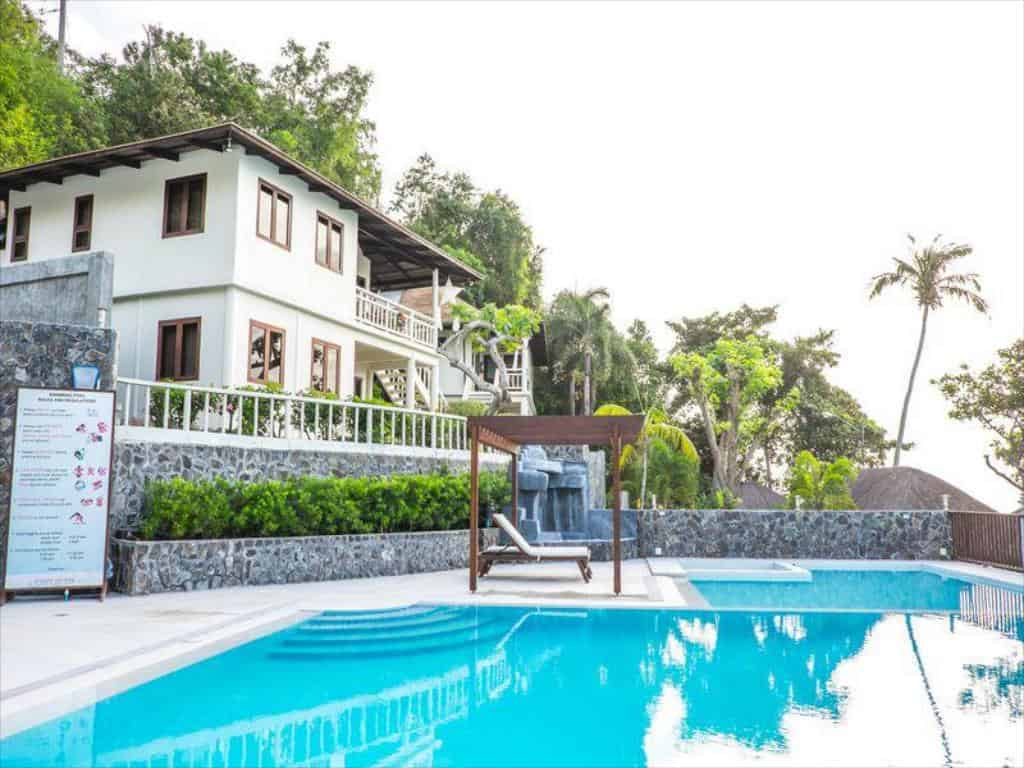 It caters to families, friends, corporate outings, and couples. The rooms are fully furnished and many offer views of the beach. It features infinity pools, kiddie pools, jacuzzi, beachfront cabanas, outdoor and water sports, a multi-purpose pavilion, an air-conditioned function room, a restaurant, specialty dining experience, horseback riding zone, and team-building areas.
Palm Beach Resort is also among the six properties that can accept kids and senior citizens during the pandemic.
TRAVEL REQUIREMENTS:
---
Paseo Verde Beach Resort
Address: Paseo Verde Beach Resort, Pook Magalang, Barangay Laiya Aplaya, San Juan
Paseo Verde Beach Resort offers a budget-friendly beachfront experience. The resort covers an area of over 6,200 square meters, housing several day trip native cabanas, casitas, overnight rooms, a private resthouse, a mini-park, and a swimming pool with a kiddie pool. Find your spot on the sand strip for sunbathing or playing beach-friendly games and sports.
TRAVEL REQUIREMENTS:
---
Stilts Calatagan
Address: The Stilts, Barangay Sta. Ana, Calatagan
Calatagan is an open secret. It is one of the coastal towns in Batangas with fair sand and shallow waters, perfect for those with kids. The coast is lined with accommodation options, varying from rugged beach camp resorts to high-end resorts. The best thing about Calatagan is that it's not as crowded as other resort towns in Batangas.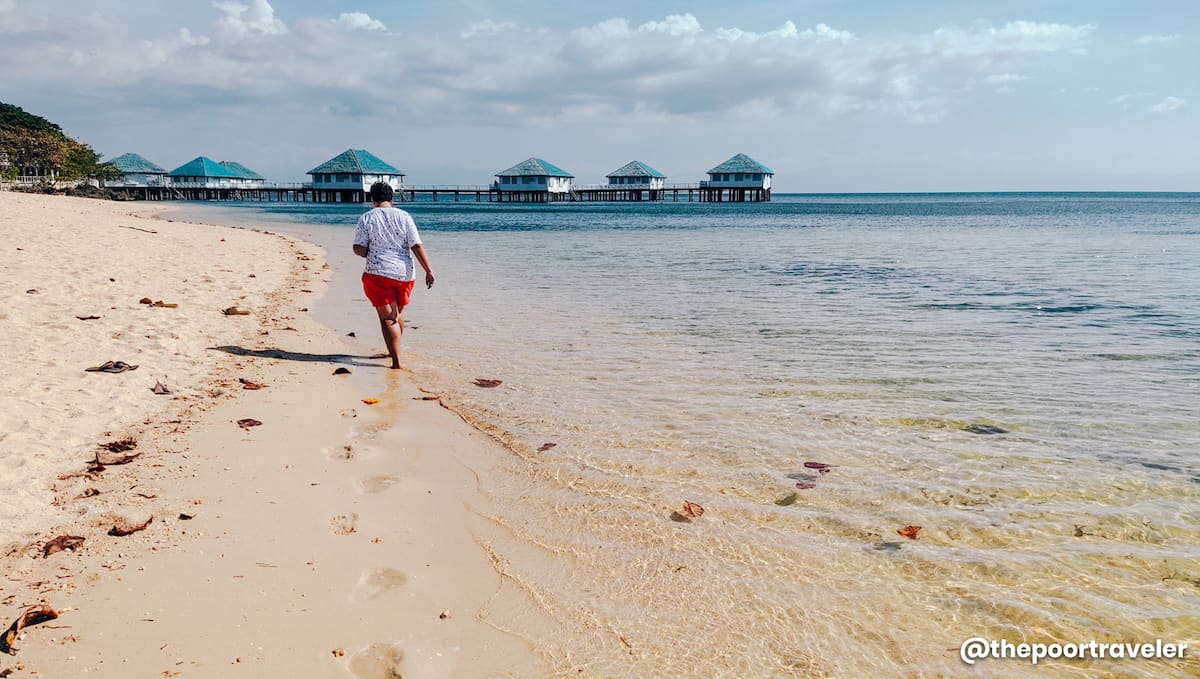 The Stilts Calatagan is a favorite venue for events, especially beach weddings. Don't let the narrow and humble entrance fool you, because Stilts Calatagan is extensive! It houses three beaches (Serenity, Harmony, and Destiny), dotted with cottages, pavilions, and tables. It also has two swimming pool areas: the main pool and the infinity pool; both have kiddie pools. There are numerous restrooms, a restaurant, two huge parking lots, and souvenir shops. The resort also offers outdoor activities, water-related activities, and boat tours.
Aside from the above-mentioned accommodations, there are cabins and a couple of treehouses. But the most iconic feature is the cluster of overwater bungalows, connected by wooden boardwalks. Think of the water villas in the Maldives. Similar but not close, to be honest.
We have visited Stilts a few times over the years, the most recent of which was during the pandemic. And we always have a good time here.
Budget-wise, Stilts is on the higher end of the spectrum, but there's a workaround for budget travelers — day tours. Or book an overnight stay if you've been wanting to do it anyway.
Stilts is one of the very few resorts in Calatagan that accept children and senior citizens. Additional requirements may apply.
TRAVEL REQUIREMENTS: For the latest travel requirements, contact Stilts via e-mail or mobile numbers: stilts.sales.@gmail.com, 0917-5863343, 0917-5807653, 0917-5237777, or 0908-8662254. In our case, we sent an e-mail, to which the management promptly replied.
As of 15 November, here are the requirements:
Advance Booking Form or Guest Confirmation Voucher, to be provided to you by Stilts management upon booking confirmation.
Health Declaration Form. The Stilts management will forward the soft copy of this form to you after your booking confirmation. One form per guest.
ANY of the following:

– Vaccination card, for fully vaccinated guests;
– Negative test results dated 1 to 3 days before check in date, as per Stilts. According to Calatagan Tourism, it can be a negative RT-PCR test result issued within 48 hours or rapid antigen or saliva test issued within 24 hours.
– Medical Certificate OR Barangay Health Certificate. Medical certificate must be issued by a government or private physician and should state that you're not on the list of probable suspects or confirmed COVID-19 cases in your area.
✅ MORE INFO: 2021 STILTS CALATAGAN BEACH RESORT New Normal Travel Guide + Requirements
---
Aquaria Water Park
Address: Calatagan South Beach (CaSoBe), Barangay Sta. Ana, Calatagan
Aquaria is a beachfront water park in Barangay Sta. Ana, Calatagan. Although the resort has a "water park" in its name, don't expect colossal slides and thrilling rides. Think of it as an upgraded family-friendly resort with more prominent fun amenities.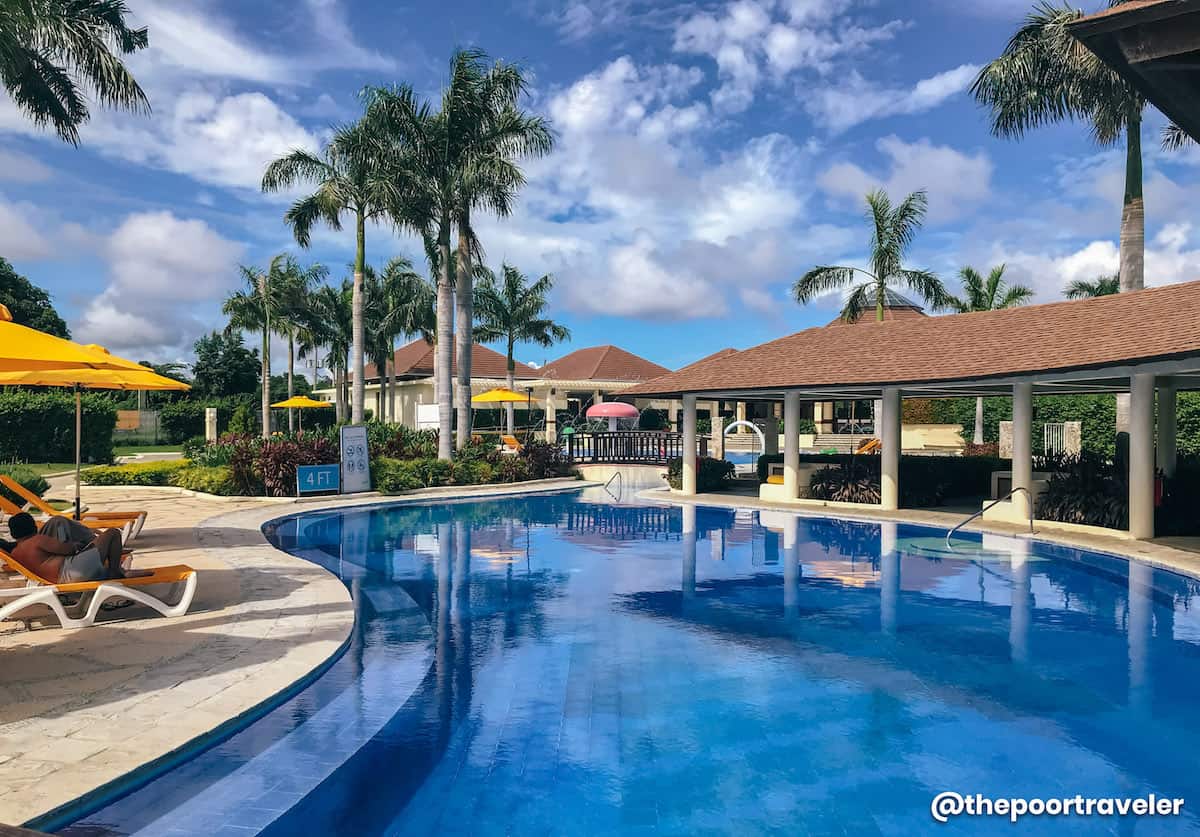 The highlight feature is the three-story high slide with a six-foot-deep landing pool. Other amenities include swimming pools (cove pools), a fun kiddie pool, three dining places, cabanas, and rooms.
The resort also boasts a 500-meter stretch of sandy shore, so you can also enjoy the natural beachfront setting sunbathing, lazing around, or waiting for the glorious sunset. Aquaria Water Park is located within Playa Calatagan Residences, part of Calatagan South Beach, a leisure tourism estate developed by Landco Pacific Corporation.
If you wish to spend a night or two, you may book a room at their accommodations arm, which is Crusoe Cabins!
✅ CHECK CRUSOE CABINS RATES & PICS!
TRAVEL REQUIREMENTS:
MORE INFO: 2021 AQUARIA WATER PARK New Normal Travel Guide & Requirements
---
Cocoons – CaSoBe (Calatagan South Beach)
Address: Calatagan South Beach, Barangay Sta. Ana, Calatagan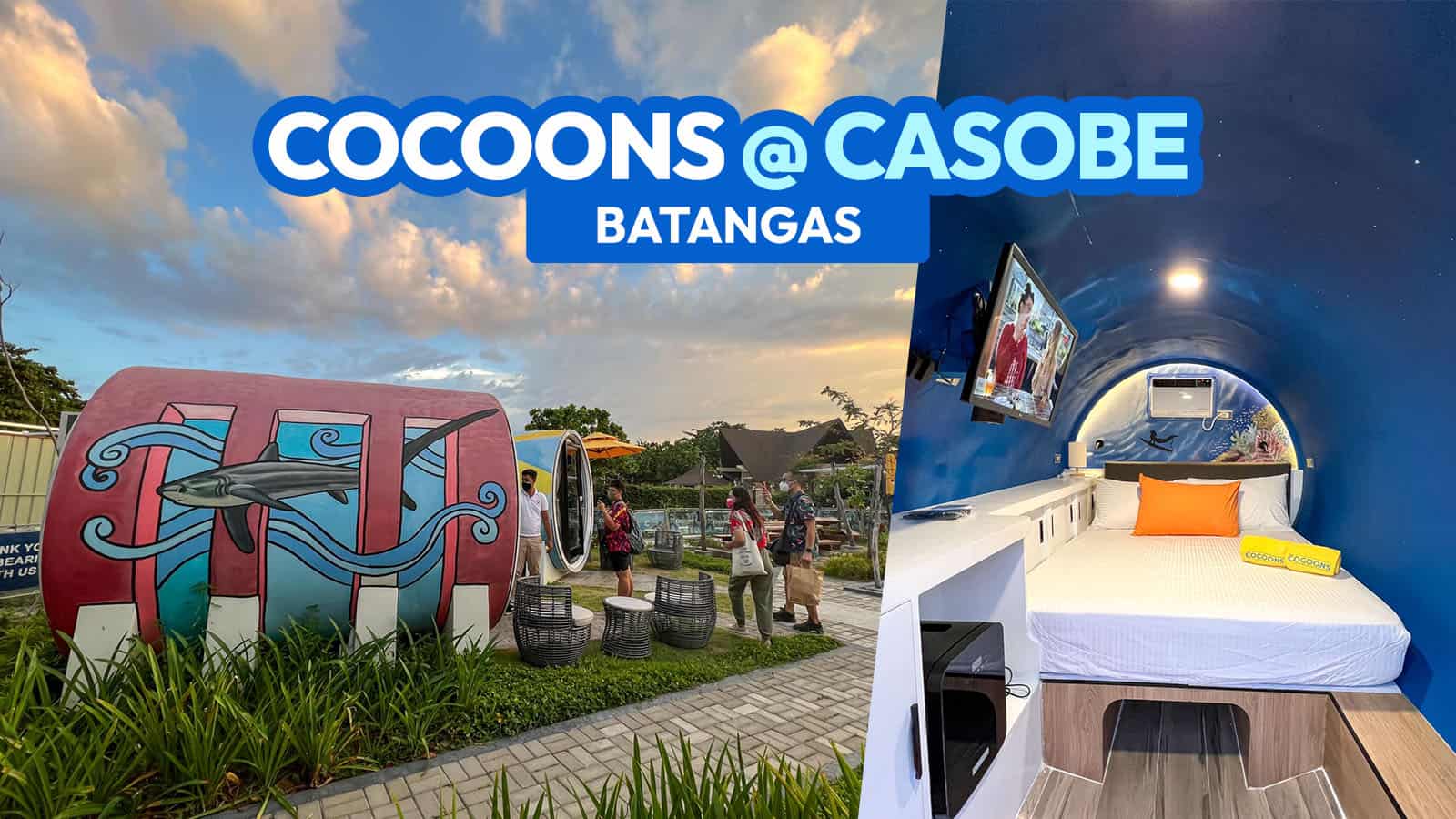 For the more budget-conscious or budget-savvy, COCOONS might be the better choice! Also nestled in the 15-hectare Calatagan South Beach estate, Cocoons offers an out-of-the-ordinary lodging experience. The brainchild of Millennial Resorts, the "cocoons" are reminiscent of huge cylindrical concrete drainage pipes, transformed into unique colorful private nooks.
There are a total of 18 Garden Cocoons in the CaSoBe property, all fully furnished and with free WiFi. You may also access the amenities of Aquaria Water Park and the beach when you book your stay at Cocoons CaSoBe.
TRAVEL REQUIREMENTS:
---
Altamare Dive and Leisure Resort
Address: Altamare Dive and Leisure Resort, Barangay San Teodoro, Mabini
Mabini is one of the resort towns in Batangas that underwent tourism development ahead of others; thanks largely to Anilao, one of its barangays, often regarded as the birthplace of scuba diving in the Philippines. Anilao is also the preferred jump-off point to Mount Gulugod Baboy and other nearby attractions such as Sombrero Island and Masasa Beach. In general, the shores of Mabini are mostly pebbly and rocky and lined with mostly dive resorts, but there are still regular beach resorts.
Formerly named El Pinoy, Altamare Dive and Leisure Resort caters to both divers and non-divers. It offers diving packages as well as other water-related activities such as kayaking, snorkeling, island hopping, and fishing, among others. It features an infinity pool, the Vista Lounge, massage services, a dive shop, a game room, a conference room, and an in-house bar and restaurant. All rooms are fully furnished.
TRAVEL REQUIREMENTS:
---
Blue Ribbon Dive Resort
Address: Blue Ribbon Dive Resort, National Road, Ligaya, Mabini
Blue Ribbon Dive Resort is a resort that serves divers and would-be divers. It may be small, but make no mistake, this PADI five-star dive resort has everything a diver and aspiring divers need. It caters to regular leisure divers, beginners, and even underwater photographers. It offers both introductory diving lessons and advanced diving courses. Aside from full-time instructors, the resort also brandishes having full-time certified divemasters.
The resort has a swimming pool, a bar and restaurant, and seven air-conditioned rooms with flat-screen TVs and digital cable, a hot/cold shower, personal safe, and storage closets. The room rates are inclusive of breakfast.
TRAVEL REQUIREMENTS:
---
Bentrina Diving Resort
Address: Bentrina Diving Resort, Barangay Ligaya, Mabini
Bentrina Diving Resort is a no-fuss resort that caters mostly to divers, experienced and beginners alike. The rates depend on the package inclusions, which are usually customized to suit your preferences or what the course requires.
All rooms are air-conditioned with a tea and coffee area, a refrigerator, a satellite TV, own bathroom, hot/cold shower, and ocean views. The resort has a bar and restaurant. It also provides guests with free WiFi and access to the beachfront swimming pool.
TRAVEL REQUIREMENTS: For the latest travel requirements, contact Bentrina via e-mail or mobile numbers: info@bentrina.com or 0906-3373643.
---
Vivere Azure Resort
Address: Vivere Azure Resort, Sitio Aguada, Barangay San Teodoro, Mabini
Vivere Azure Resort was once a family resthouse, hidden in a lush landscape between the sea and the mountain. The property faces the Maricaban Islands, nestled between Balayan Bay and Batangas Bay, presenting guests with panoramic views of the sea, the islands, and the sunset (for those staying overnight).
The House, hosting all the suites, is the most prominent structure in the property, but the main highlight is the infinity pool, overlooking the sea. Other resort amenities are the in-house restaurant, island hopping arrangement, adventure tours, diving activities, and watersports. The rates are inclusive of full-board meals.
TRAVEL REQUIREMENTS:
---
Camp Netanya Resort & Spa
Address: Camp Netanya, Bauan – Mabini Road, Barangay Ligaya, Mabini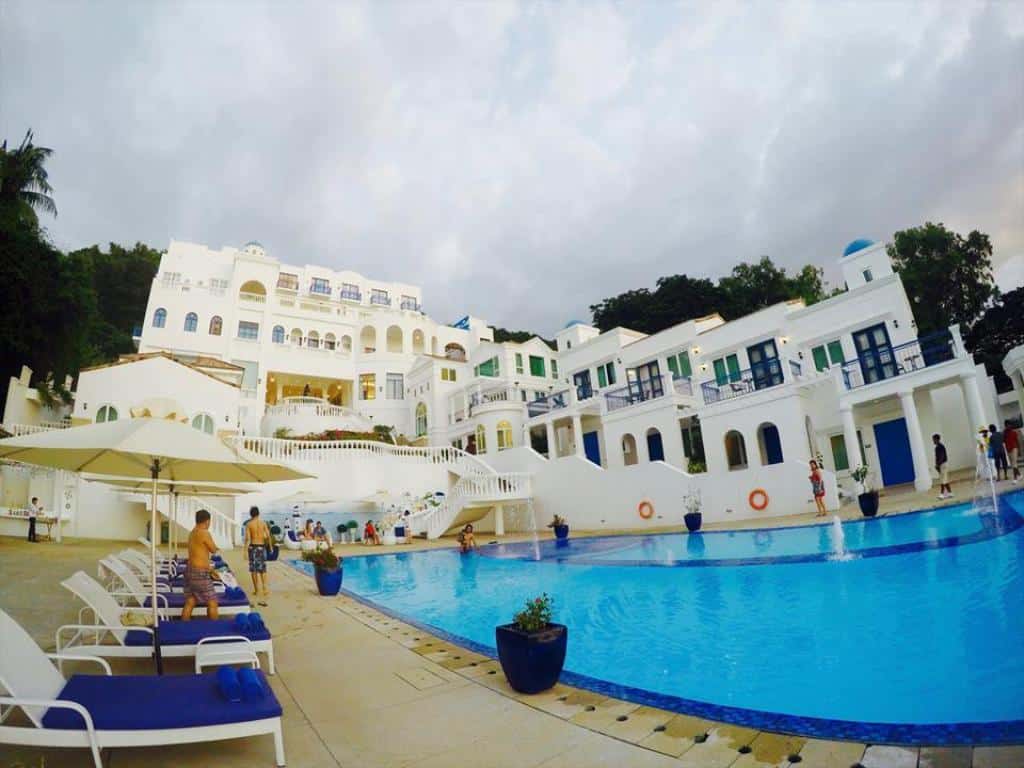 With the tagline "Santorini of Batangas", the architectural design of Camp Netanya Resort & Spa is undeniably inspired by the structural aesthetics of Santorini, one of the Greek islands in the Aegean Sea. Facing Balayan Bay, the buildings adopted a whitewashed appearance with a blue accent, particularly the domes.
The property houses 48 guest rooms and villas. At the heart of the resort lies the 25-meter infinity lap pool with varying depths between three feet and twelve feet to cater to all types of guests — kids, adults, and intro divers.
Other resort amenities are a dive shop, wellness center, fitness center, music lounge, souvenir shop, kid's hub, a restaurant, a bar, and a poolside bar. The resort offers diving courses and packages, trekking trips, island hopping activities, and water rides.
TRAVEL REQUIREMENTS:
---
Anilao Awari Bay Resort
Address: Anilao Awari Bay Resort, Barangay Solo, Mabini
With its private stretch of sand and extensive property, Anilao Awari Bay Resort captures different types of guests — couples, family, friends, corporations, and divers (or those who want to learn). It has amenities and facilities that cover company outings, corporate team building, special occasion celebrations, and other events. It offers activities including swimming, diving, island hopping, boat services, and other water activities.
Overlooking Balayan Bay and located near the Matu Point diving site, it provides perfect spots for sunset watching and diving. The swimming pools accommodate regular swimmers and those taking diving courses.
It also features a chapel, deck area, sand and volleyball area, a boutique shop, a spa, a restaurant and bar, function rooms, and lecture rooms. All lodgings/rooms are air-conditioned and fully furnished with a hot/cold shower, complimentary tea and coffee, and TV and cable connection.
---
Matabungkay Beach Hotel
Address: Matabungkay Beach Hotel, Barangay Matabungkay, Lian
Lian is another coastal town sandwiched by two more popular resort towns — Nasugbu to the north and Calatagan to the south. But is more popular among local tourists. Lian's beaches are usually covered with fine ash-colored sand. One of the well-known is Matabungkay, whose waters are freckled with floating bamboo raft cottages.
Nowadays, beach camping is slowly gaining popularity in Lian, especially among those looking for alternative beach experiences. But for those who don't want to rough it out, there are well-appointed resorts around.
Matabungkay Beach Hotel has served regular guests and tourists, both local and international, for over 30 years. It's good for couples, friends, and family as well as golfers. We have returned to Matabungkay over the years. We even spent a full six weeks here once as part of our job, when we used to work for an English camp. During our stay here, we shared the resort with foreigners visiting the country to play golf. It was January or February, so it was wintertime in their home country.
The resort has a spacious restaurant, a sports bar (billiards, darts, table tennis) and music lounge, a swimming pool, a souvenir shop, spa services, and a salon. It offers various aqua sports, basketball, volleyball, giant chess play area, beach cove hopping, helmet diving, bamboo raft ride, and diving, both intro and fun diving.
Besides beach houses and rooms, the resort also features water villas. It caters not only to beachgoers but also to corporate events, weddings, and other celebrations.
TRAVEL REQUIREMENTS:
---
CML Beach Resort & Waterpark
Address: CML Beach Resort & Waterpark, Barangay Nonong Castro, Lemery
Lemery might not be the top of mind choice when you think about beach destinations in Batangas, because the sand here isn't fair or fine. Lemery's coast is strewn with black volcanic sand, which some might not find appealing, especially those used to white sand. To make up for this, many resorts' marketing focuses more on the amenities, which have improved a lot through the years. Most are budget resorts and are local favorites.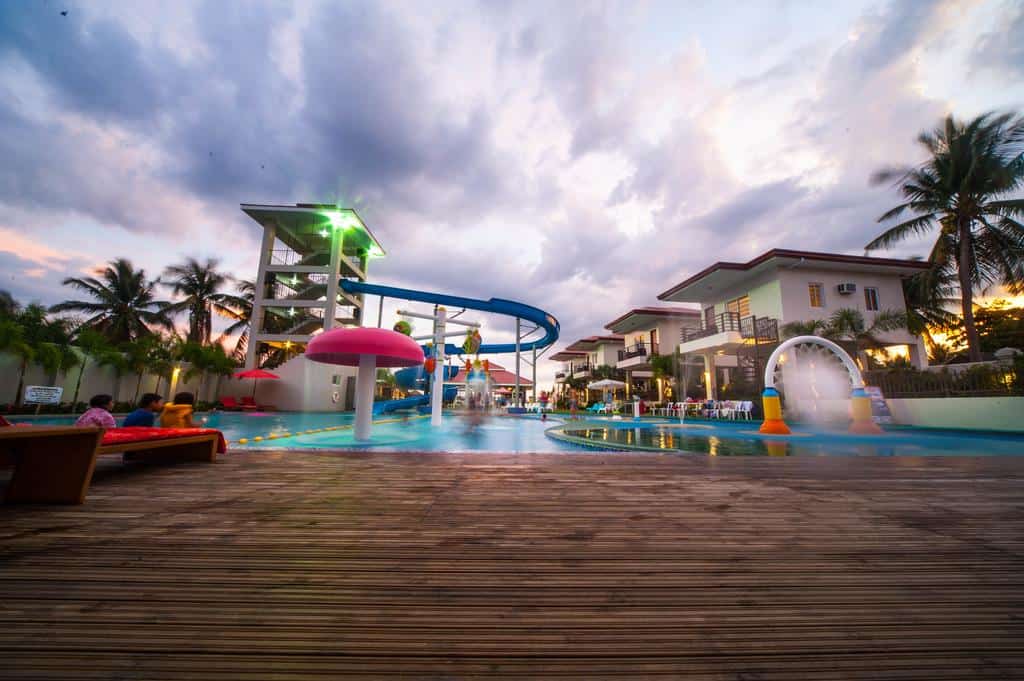 One of the most well-known beachfront properties in Lemery is CML Beach Resort & Waterpark, a usual venue for company outings and events, and celebrations like weddings, birthdays and other parties. It has 21 rooms and suites, private cabanas, BBQ facilities, water park amenities, family and infinity pools, the beach, and an in-house restaurant. The highlight is the water park's five-meter-high water slide.
TRAVEL REQUIREMENTS: For the latest travel requirements, contact CML Beach Resort & Waterpark via e-mail or mobile numbers: reservation@cmlbeachresort.com, 0917-9483901, or (043) 706-0640.
---
---
NEW NORMAL TIPS
Each municipality sets its own rules based on current local conditions. The policies, including travel requirements for tourists, differ per municipality. It's best to check for updates with the LGU of your destination prior to your trip.
Contact the resort before booking. The resorts also need to meet the LGUs requirements for them to operate, so they are usually briefed on the policies and updates. Some resorts also implement additional requirements on top of the government's. Most of the resorts inform their guests of the latest requirements and protocols on their official websites and/or Facebook pages. Get in touch with the resort first to double-check the requirements before booking.
Make sure you gather all the requirements. Have secured copies of the documents because some areas have checkpoints and they might ask for a copy. Although many areas don't have checkpoints, it's best to fulfill all the requirements to avoid delays and problems.
Always comply with the COVID-19 health and safety protocols. Always observe physical distancing. Wear a face mask at all times except when eating or swimming. Wash your hands regularly. Make sure you bring alcohol, sunscreen, and other sun protection.
Always check the inclusions and mandatories. Some hotels implement mandatory meals that are not yet included in the published rates. Again, we recommend contacting the hotel management and inquire about their mandatories.
Some resorts offer day trips. If you are not planning to stay overnight, there are resorts that accept day-trip guests. Note that some destinations still require tourists to present booking confirmation from the resort.
Avoid visiting on weekends and holidays as much as possible. Traveling on a weekday is relatively safer because there are fewer people, which means less contact with other guests.
Some public beaches are open. However, they tend to get crowded because people can freely come and go.
---