So you finally have an RFID sticker. Congratulations! You now have your RFID account(s), the actual sticker tag, and a physical card. But is your load enough? Whether you are subscribed to one or both RFID service providers — AutoSweep and EasyTrip — you must keep watch of the maintaining balance to avoid delays and inconvenience.
How to check your RFID account balance? For both AutoSweep and EasyTrip subscribers, here's an overview of the different ways to check your balance:
AutoSweep: toll gates, official website, mobile app (Android), and SMS
EasyTrip: toll gates, official website, and mobile app
When you use AutoSweep or EasyTrip at the toll gates, the RFID's balance is displayed on the monitor or LED screen, along with the cost of the toll fee. But you can't always rely on this method of checking balance because there's a chance that you will forget about it or that you already have insufficient amount.
It's always a great idea to check your balance prior to your trip. You can do so via mobile app, website, and SMS. These will prompt you to reload ahead of time if you are about to go below the maintaining balance. In this post, we'll tackle just how to do all these.
If you don't have an RFID sticker yet, you need to register for one first. READ: HOW TO APPLY FOR RFID! ✅
---
WHAT'S COVERED IN THIS GUIDE?
How to Check AUTOSWEEP Balance
AutoSweep covers these expressways: Skyway, SLEX, NAIAX, STAR Tollway, MCX, and TPLEX. As stated in the terms and conditions, here's the maintaining balance for AutoSweep subscribers per vehicle class:
Class 1: P100
Class 2: P200
Class 3: P300
Via Official Website
After you subscribe to AutoSweep, you need to register your account on the official website (www.autosweeprfid.com) to avail of the services such as balance inquiry and statement of account summary requests.
To register, just provide these details: account number, plate number or card number, email address, and full name.
Log in to your account. Just provide your registered email address and password. When you are logged in, you will see your account details.
Go to ENROLLED ACCOUNTS and click the BALANCE button. Finally, you will see your account balance.
If you want to request your SOA (Statement of Account), just provide the details (month and year) and click "Request SOA" button.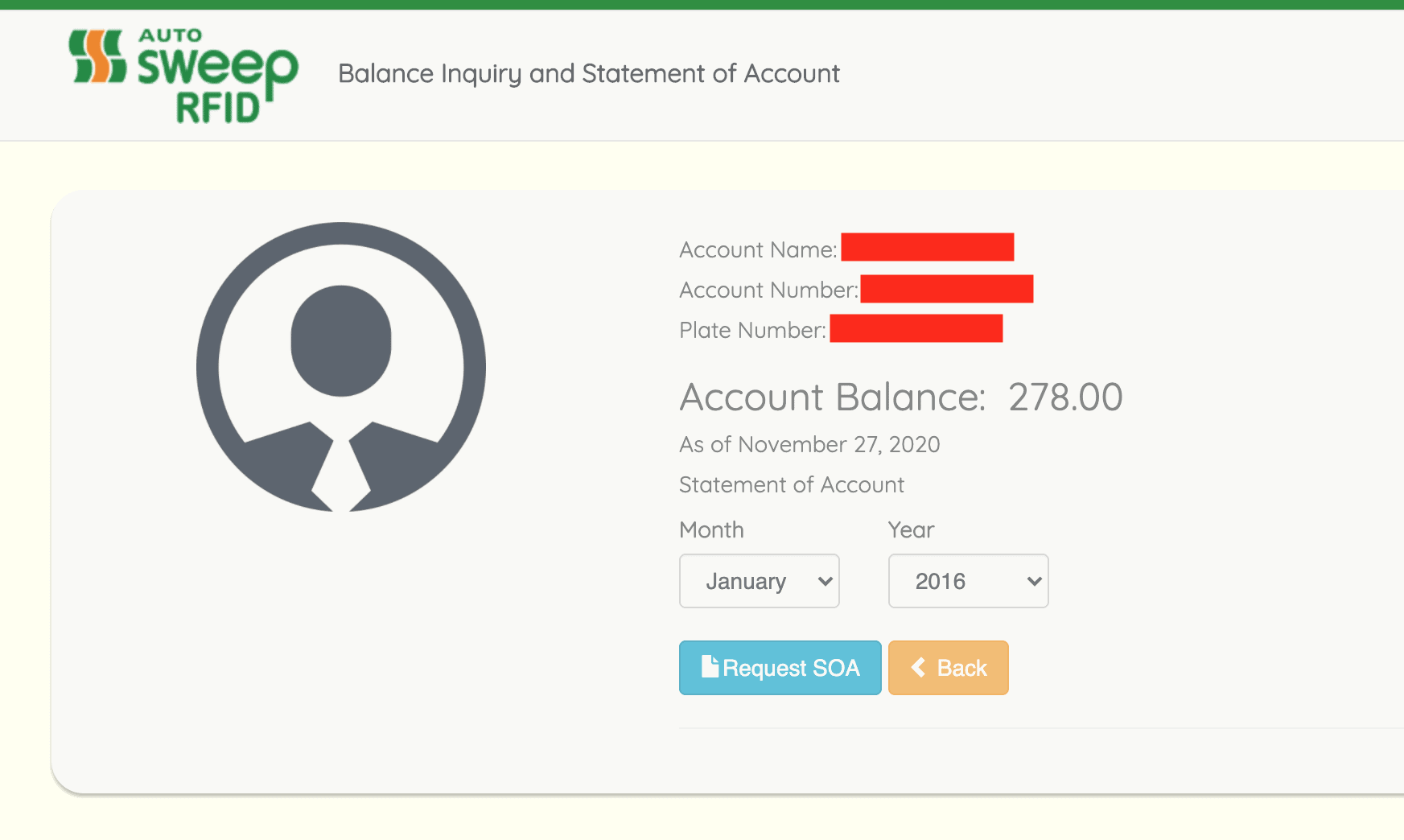 ---
Via Mobile App
Note: As of writing, this is only applicable for Android mobile phones.
Using your mobile phone, go to AutoSweep official website: www.autosweeprfid.com.
Look for the green box with the header: "How to Install the Autosweep RFID Balance Inquiry App". (See image below for reference.) You will see the instructions there and the "Download" button. Download the app.

After downloading, launch the app. If you haven't register your account on the website yet, you can do it using the mobile app too. Make sure you register first.
Log in to your account and tap on the BALANCE button.
---
Via SMS (Mobile Text)
To check your RFID balance via SMS, here's what you need to do: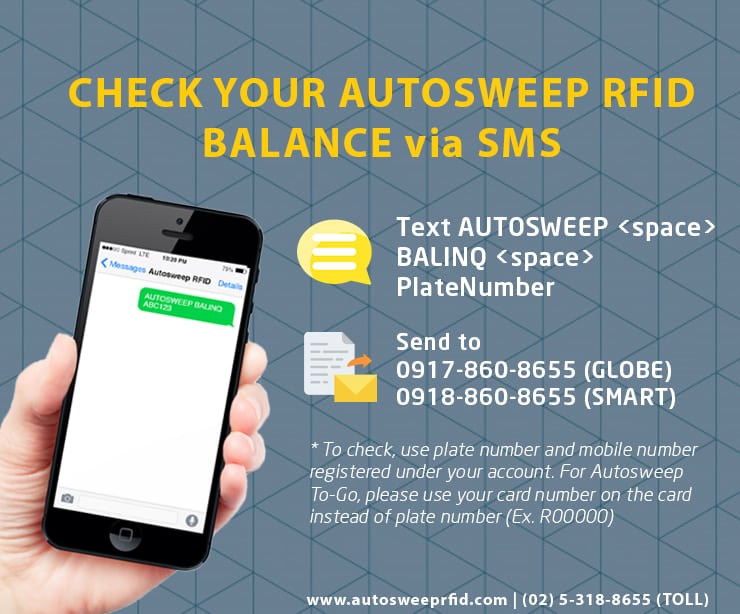 Text "AUTOSWEEP [space] BALINQ [space] Plate Number (premium subscribers) or Card Number (To-Go subscribers)". For example: AUTOSWEEP BALINQ ABC123
Send to 0917-860-8655 (Globe) or 0918-860-8655 (Smart).
Note: For you to check your account balance via SMS, you need to use the mobile number and the plate number (or card number) registered under your account. Again, ensure that you registered your RFID account(s).
---
How to Check EASYTRIP Balance
EasyTrip covers these expressways: CAVITEX, CALAX, C5 Link, NLEX, and SCTEX.
Via Official Website
To check balance and request statement of account summary, register your EasyTrip account on the official website, easytrip.ph.
To register, click SIGN UP and then supply the necessary details.
Log in to your account.
Click your registered account to check your balance.
But there's an easier and simpler option. This is actually one option to reload your EasyTrip account and since it also shows your current balance, you can use it to check if you still have enough balance before you travel.
Go to your browser and type: easytrip.reload.ninja
Type your EasyTrip account number to access it.
Tada! You can now view your current balance.
You can proceed with reloading if your balance is running low already.
---
Via Mobile App
Good news! Both Android and iOS (Apple) can download the EasyTrip mobile app.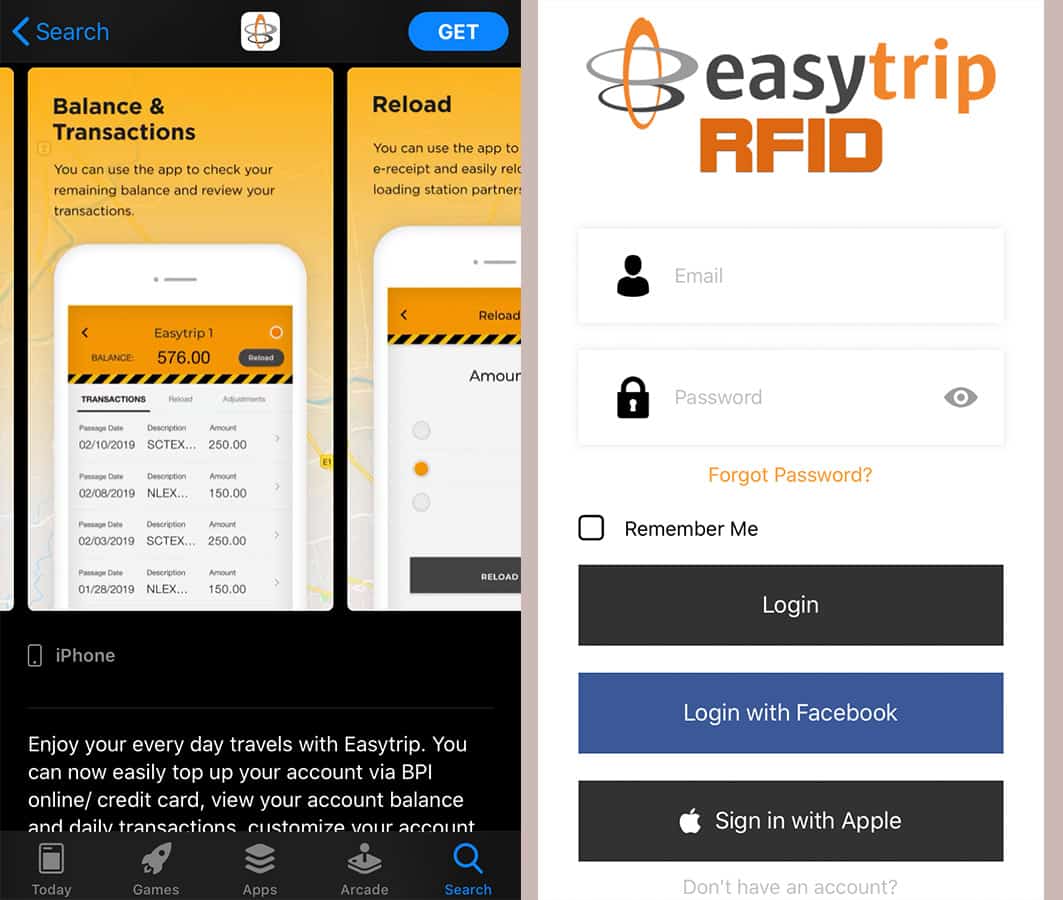 Download the app on your phone.
Log in to your account. If you haven't registered yet, please sign up and register your account first. You can log in using your email, your Facebook account, or your Apple ID (for iOS users). Choose the one that suits your preference.
After logging in, add your vehicle and supply all the necessary details. Click SAVE.
Click your account/vehicle. You can now view your current balance.
Aside from that, you can also see your past transactions, reloads, and adjustments (if there are any).
Note: Ensure that your EasyTrip account(s) are registered to check your balance or to request the SOA summary. Go to the official website of EasyTrip to check your status.
---
Reminders
If you have insufficient balance, the barrier will not activate and might cause inconvenience not just to you but also to those behind you. This might even lead to getting issued a traffic citation/violation ticket for obstruction with at least P1,000 fine.
For the cashless transaction adjustment period between December 1 and January 11 (or until further notice), no penalty fee and ticket will be issued for the insufficient balance. But then again, it's still highly advised to reload before you go below your maintaining balance.
It's best to check your balance hours or days before your trip so you can reload immediately when needed and save yourself from the hassle of technological glitches. Remember that mobile apps and online transactions may fail us sometimes.
Based on personal experience, even if you reload through an e-wallet (GCash/PayMaya) or online payment, the transaction won't reflect real-time or the RFID scanner will fail to read/detect it.
If for some reason you failed or forgot to reload before leaving home, the staff manning the toll gate will ask for your RFID card. The amount that you lacked for that transaction will be deducted from the amount of your next reload.
---
More Tips on YouTube ⬇️⬇️⬇️